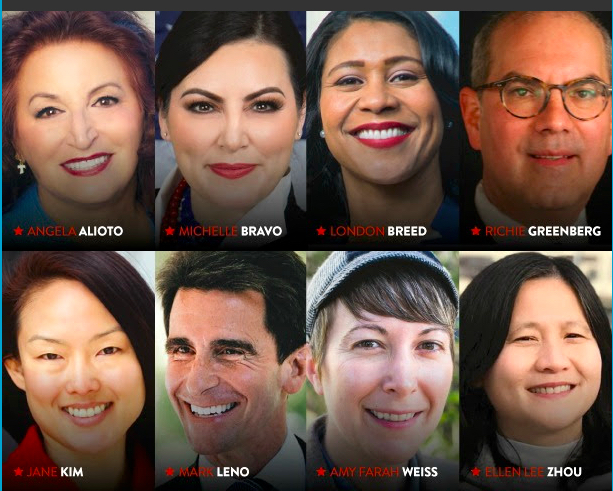 In April, the GLBT Historical Society published something unique. It sent out a survey to the SF mayoral candidates specifically about queer history and culture—and received responses from every single one. The survey, shepherded by Historical Society communications liaison Gerard Koskovich, asked the following:
What have you done to ensure that our diverse LGBTQ history and culture are preserved in San Francisco, and why does this matter to you personally?
Do you support the GLBT Historical Society's initiative to create a full-scale museum, archives and research center in San Francisco dedicated to LGBTQ history and culture? Why do you think such an institution is or is not important? As mayor, what will you do to help make it a reality?
Obviously, the third question held a bit of self-interest for the 33-year-old institution (I'm a former board member), which hopes to find a new home big enough to combine both the GLBT History Museum in the Castro and the society's vast archives in SoMa. But all the questions brought out interesting, if subtle, contrasts in the candidates—from lay-it-on-thick pandering to the "I'm not gay, but…." approach of Republican candidate Richie Greenberg. (We know, dear—despite all those skeletons rattling around in your party's closet.)
Still, all were positive in terms of generally supporting the LGBT community. (You may even discover candidates you haven't heard about!) Below are some excerpts of candidates' responses: You can check out the whole survey here.
Ellen Lee Zhou: "I will maintain the current livelihood for LBGTQ/X cultural and community for the sake of humanity. We are equal in God's view. It is important to preserve and treat each culture as a different support group to identify individuals who want to belong to such a group, yet the with the same equal access with equal right for protection. Keep up your hearts to support each other. Try to live a full potential life to honor your parents and human nature." 
Mark Leno: "The waves of gentrification that have crashed against San Francisco's shores in recent years, displacing members of all of our marginalized communities, have been particularly hard on LGBTQs — especially queer and trans women, and those born into communities of color. We don't have numbers (because the census doesn't count LGBTQs, and thanks to the Trump Administration, probably won't anytime soon) but we can see the impact in the loss of once vibrant LGBTQ-owned small businesses and gathering places like Esta Noche, the Lexington Club, and now the Gangway."
Richie Greenberg: "I do not immediately sense any loss of the LGBTQ culture, per se, rather I believe it has thrived and evolved. The lifestyle certainly has become so accepted that one who was previously compelled to remain in the Castro area as a safe haven, can now instead choose to live in virtually any part of San Francisco without a second thought."
Michelle Bravo: "I have always been supportive of friends, colleagues, and clients who are LGBTQ. I have had the honor to support many patients including trans patients going through MTF and FTM surgeries as my practice specializes in pre- and post-op lymphatic drainage. LGBTQ individuals, couples, and families have always been welcome in my holistic health practice."
Amy Farah Weiss: "As a teenager growing up in San Jose, I fell in love with the LGBTQ culture and history of San Francisco by sneaking into the living room to watch Armistead Maupin's "Tales of the City" on KQED after my parents had gone to sleep. I have since come out as queer/bisexual/nonbinary and I know that the efforts of queer political trailblazers such as Harvey Milk, Harry Britt, and Mark Leno paved the way for people to be judged on the merits of their policies and character rather than be kept out of the democratic process due to sexuality or gender identity."
Read more—including from London Breed, Jane Kim, and Angela Alioto—here.