Fall, the best season, is built for slipping into new music like a comfy sweater or those fresh suede boots. To that end, here are 11 unbelievable, recently-or-about-to-be dropped album releases for your autumnal auditory pleasure. We're assuming you've gone through all of the standard "most anticipated" lists, and have come to 48hills for the the real-deal must-haves. Appreciate 'cha.
DIVORCE FROM NEW YORK, SAUSALITO (HIGH PRAISE)
Alvaro Granda, a San Sebastian-based producer, returns with seven flavor-packed tracks on his new LP. Sausalito is a dance-floor-oriented journey whose sun-kissed atmospheres are delivered via blinking light technology and polyrhythmic gait. It draws from classic jazz, soul, and disco, making the project familiar, yet whimsical. Granda, producing something so look-good-feel-good in fragrance, has tripped up into material that feels quite fantastic.
Purchase here.
CHARLES STEPNEY, STEP ON STEP (INTERNATIONAL ANTHEM)
When anthology projects are created using lost tapes from masters who died far too young, we get a clear picture of what kept them awake at night. No annoying assumptions from pesky music writers are required (AHEM.) Instead, we get an exact audio visualization of where they wanted to go and how they intended to get there.
The genius of Charles Stepney could not be denied. Step on Step, the new double LP anthology of previously-unreleased tracks from International Anthem, reinforces that message.
The 23 tracks on this collection hint at a whole new universe that he was about to explore—and whose existence makes Stepney's 1976 death even more heartbreaking. His deep catalogue of work with Earth, Wind, and Fire, The Dells, Ramsey Lewis (RIP), Howlin Wolf, Deniece Williams, Rotary Connection, and Minnie Ripperton wasn't enough.
Step on Step demonstrates that those collaborations were merely portals to a larger sphere. His sketches for future music, using mostly drum machines and his mini-Moog, second or third off the line, reveal a greater facility that Stepney had bubbling beneath the surface, ready to emerge in a new phase that he would never launch. God bless his three daughters Eibur, Charlene, and Chanté Stepney, for once again sharing their father with the rest of the world through this new release. This anthology is a must-have.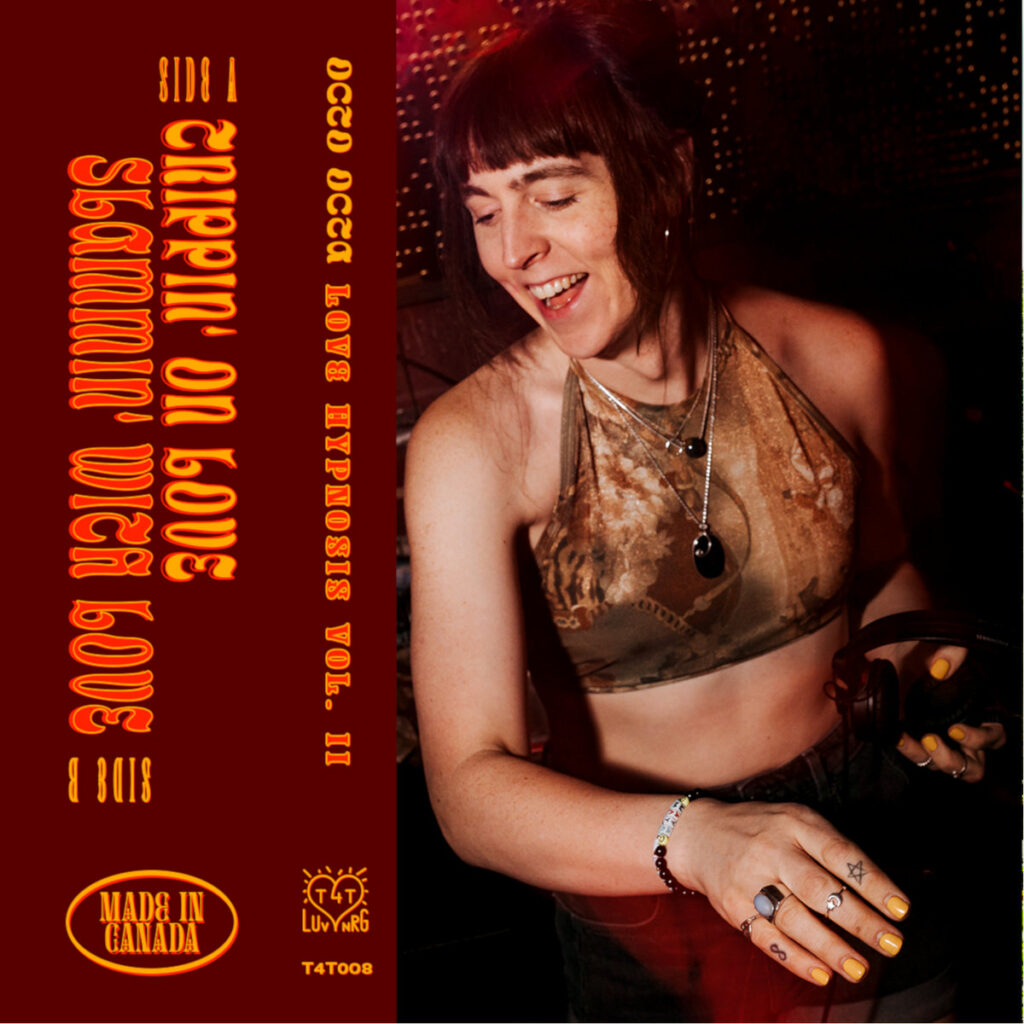 OCTO OCTA, LOVE HYPNOSIS VOL. 2 MIXTAPE (T4T LUV NRG)
So let us simply set the table: If your idea of a mix includes an airhorn or the fire emoji, exit left. We have some parting gifts for you. (No we don't.)
I'm still waiting for Octo Octa to drop that drum and bass mix or 12-inch I know she's been saving for us. I enjoy reading interviews or posts by the DJ, producer, and label boss in which hardware gear talk erupts. I keep a candle in the window for that upcoming drop.
But this mixtape, like all others on the T4T LUV NRG imprint, is the business.
Not to be outdone or to squander an opportunity, Octo Octa has one side dedicated to long-melded blends and the other to fast, tight radio-style cut mixes. What a teaching opportunity. When it comes to presenting this house music, both of her styles serve a distinct and special purpose. Keep your cool DJ moves for the 'gram, and come get some sweat and love right here.
Fifty percent of the profits from this mix will be donated to the Sylvia Rivera Law Project (SRLP), which works to ensure that all people, regardless of income or race, are free to self-determine their gender identity and expression without facing harassment, discrimination, or violence.
MAKAYA MCCRAVEN, IN THESE TIMES (INTERNATIONAL ANTHEM)
By today's standards and for my money, Makaya McCraven's rep holds strong. So much so, that I would blindly buy a ticket to his October 23 show at The Independent, happily rolling the dice on his upcoming album.
In These Times is an 11-song suite that McCraven's team describes as a, "highly personal but broadly communicable fusion of odd-meter original compositions from his working songbook with orchestral, large ensemble arrangements and the edit-heavy organic beat music that he's honed over a growing body of production-craft."
With contributions from over a dozen musicians and creative partners from McCraven's tight-knit circle of collaborators—including Jeff Parker, Junius Paul, Brandee Younger, Joel Ross, and Marquis Hill—the music was recorded in five different studios and four live performance spaces, while McCraven engaged in extensive post-production work from home.
That October show can't arrive quickly enough.
Out September 23. Pre-order the release here.
SAY SHE SHE, PRISM (KARMA CHIEF RECORDS)
Say She She, a robust Brooklyn-based, hip-hugging, time-traveling group, has a vibe. Its distinct essence harkens back to late-1970s girl groups. Prism, the group's debut album, is as tough and breezy as these days are complex, with three strong female lead voices: Piya Malik (who appeared in El Michels Affair and backed up Chicano Batman), Nya Gazelle Brown, and Sabrina Cunningham. However, the languid bass patterns, porn-tastic wah-wah guitars, mood-altering synths, and flute-y accents make this trio as enticing as the funk they bring. You won't be able to stop yourself from moving.
Out October 7. Pre-order here.
CHARLOTTE DOS SANTOS, MORFO (BECAUSE MUSIC)
Morfo, Charlotte Dos Santos' new long-player, is a pandemic album in many ways, having been written in between the springs of 2020 and 2021. According to its liner notes, it calls up the familiarity of love, romance, and the sensation of falling away from yourself, and into someone else's comfort. Percussion and instrumentation with subtlety can transport you to another time or place. Filled with Brazilian harmonics, acoustic guitar, strings, and super-warm vibes, Morfo serves as the fluffy pillow and 1500-thread-count sheets that we could all use in this crazy-harsh world.
Out October 14. Pre-order here.
LTF, CINEMATIC WAX (RUCKSACK RECORDS)
LTF (short for Light The Fuse) is a Russian producer with end-to-end moxie who is a vinyl campaigner and wax enthusiast. He's in the building if you're looking for crisp breaks, brassy horns, and non-Jethro-Tull-style flutes. On new project Cinematic Wax, LTF's adventure into the unknown continues. Its productions take us up a notch after the retro-futuristic, Soviet jazz-funk sample madness of 2020's Monolith.
I've heard this new album, and it's fantastic. Make room for the Omsk, a Russia-based producer who sources rare platters from countries such as Georgia, Tarastan, Poland, Greece, and Hungary.
"The 1970s were the pinnacle years of musicians' skill and imagination," LTF says in a statement. "The only thing I can do is dig deeper and deeper into the crates to resurrect these masterpieces."
Out October 14. Pre-order here.
DRY CLEANING, STUMPWORK (4AD)
The London-based quartet Dry Cleaning will release their sophomore album Stumpwork in October—and rest assured their jangle-pop arrangements and honey-voiced hooks will arrive intact. By the sounds of the projects lead single "Gary Ashby," Florence Shaw, the poker-faced vocalist who speaks stories using vivid and surreal notes, continues to match her possessed band. Constructed from post-punk verve and nervy rhythm grooves, Shaw builds on this structure with her acerbic wit of an introvert gone rogue.
Out October 21. Pre-order your copy here.
DAWN RICHARD AND SPENCER ZAHN, PIGMENTS (MERGE RECORDS)
New Orleans electro-revival dynamo Dawn Richard and the multi-instrumentalist, producer, and composer Spencer Zahn join forces to recreate textures kindred to those found on the influential Windham Hill imprint from the '80s and '90s.
Pigments, the duo's first collaborative album, tells the story of self-discovery through dance, self-expression, and community, as seen through the lens of New Orleans' contemporary art scene. The project is one long composition that, according to its liner notes, flows through several "movements" guided by five lead instruments: clarinet, saxophone, guitar, strings, and Richard's stripped-down vocals.
Make time for yourself this fall to enjoy one of the most unexpected-yet-desperately-needed releases of the season.
Out October 21. Pre-order here.
ANJA LAUVDAL, FROM A STORY NOW LOST (SMALLTOWN SUPERSOUND)
Anja Lauvdal is a Norwegian pianist, synthesizerist, and electronic musician with a discography dating back to 2013. She has been a member of a number of ensembles and collaborations that explore sounds from noise to jazz, and beyond.
Lauvdal surveys her own voice on her debut solo album From a Story Now Lost, which is produced by Laurel Halo. The release comes after more than a decade of collaborative improvisational playing, beginning with Lauvdal's stint in Trondheim, Norway's jazz conservatory.
The album is an awareness-seeking sound bath, with lead single "Fantasie for Agathe Backer Grondahl" establishing a tone of bohemian experimental process by way of electronics, utilizing recorded improvisations, synth loops, and textures. Halo tweaks those sonics in turn with manipulation, processing, and additions of countermelody and harmony.
Out October 28. Pre-order here.
rROXYMORE, PERPETUAL NOW (SMALLTOWN SUPERSOUND)
Face to Phase, the critically-acclaimed debut long-player from this French-born, Berlin-based producer, blue-penciled the DNA of underground house. It opted to shift away from the expected "thump and grist" techno presentation that Berlin typically amplifies.
rRoxymore's upcoming release Perpetual Now sees her expanding on that "light your own path" pedigree of rewired club sound, using its four tracks to explore between the margins.
Out November 4. Pre-order here.