2SCREEN GRABS With as little ado as possible, let's launch this newcolumn highlighting the week's film picks — an attempt to provide an easy checklist of highlights for people who might miss the kind of one-stop-entertainment-list service something like the late SF Bay Guardian provided for decades. 
This is not intended to be all-encompassing, even within the realms of arthouse, rep-calendar, and other non-mainstream film openings and events we'll be highlighting. It will be selective — and I'm doing the selecting, so you're stuck with my taste. We'll have room for the occasional wide release of special interest, particularly as we're now entering in the "awards season" of year-end prestige films. But you can rely on not getting much if any intel on movies like this week's big guns Justice League (more superheroics), Wonder (Julia Roberts + Owen Wilson = inspirational tearjerker), or animated feature The Star ("A small but brave donkey and his animal friends become the unsung heroes of the first Christmas") because… er, life is too short. Anyhow, if you're primarily interested in the latest mall flicks, surely you got here by mistake. That burly man in a tutu will escort you to the exit. 
Hopefully this column will be of some use not just to readers, but also to the many Bay Area film institutions (BAM/PFA, SF Cinematheque, Artists Television Access, the Roxie, et al.) that are still hanging on, but have been hard-hit on myriad fronts—not least the ever-shrinking number of local media outlets that promote or even list their programs. 
Unless otherwise noted, individual films included here are opening regular commercial runs of a week or more on Friday of or immediately following the column's posting date. Click on the link provided for showtimes, ticket prices etc. If a link is not provided, the film is at multiple theaters in the area, so check Fandango, SFGate, or whatever you normally do. 
MY FRIEND DAHMER 
Once relatively rare onscreen, black comedies are pretty common these days, as the collective sense of humor has grown more cynical and (you might argue) mean-spirited. But a genuinely creepy comedy is hard to find, a niche amply filled by Marc Meyer's feature, which in turn is based on the graphic novel memoir by Derf Backderf, an actual former classmate of the titular, late notorious serial killer. It sketches the late 1970s Ohio high school career of teenaged Jeff Dahmer (Ross Lynch), who's perceived as a minor weirdo but nothing more — not even by his parents (an excellent Dallas Roberts and somewhat caricaturing Anne Heche), who are too busy fighting their way toward divorce to notice their eldest son's increasingly strange behavior, including an obsession with dead animal anatomy. When some boys decide Jeff's odd "spaz" behavior is "hilarious," they use him to perform pranks — and for a while he's gratified by the attention, even if on some level he realizes he's the joke. Meyer gets the midwestern Me Decade vibe just right, and ekes sly humor out of a potentially bad-taste conceit. Nevertheless, the film's portrait of acute mental illness hiding in plain site eventually arrives at a truly disturbing (but not at all graphic) endpoint. Fri/17-Wed/22, Roxie Theater, SF. More info here.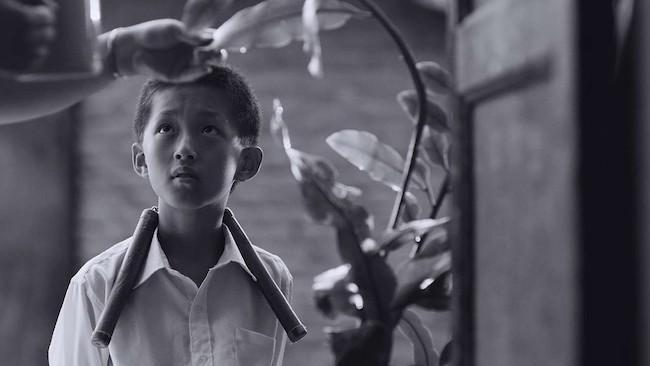 CHINESE AMERICAN FILM FESTIVAL
The 4 Star Theatre is hosting a week-long program of recent features from mainland China. Among the half-dozen on tap (some of which will play more than once) are Dalei Zhang's drama The Summer's Gone, set in early 1990s Inner Mongolia; The Blood Hound, a tale of blood vengeance between two forest rangers stationed on Western China's Tianshan Mountain; plus patriotic spectacles The Founding of an Army, Battle of Xiangjian River and A Preacher's Long March. Fri/17-Thu/23, 4-Star Theater, SF. More info here. 
SUSPIRIA
Italian suspense master Dario Argento's masterpiece is this 1977 international horror hit in which an American student (Jessica Harper of fellow cult favorites Phantom of the Paradise and Shock Treatment) at a European ballet school discovers something very sinister—even Satanic—behind the tutus and plies. So out-there that Udo Kier plays the most "normal" character, this surreal nightmare was ideal for its director's indifference towards niceties of plot logic, while giving full rein to a flamboyant visual imagination that would never be so eye-poppingly well deployed again. The innovative rock score by Gobin has proven influential enough to keep that Italian instrumental band touring on its reputation 40 years later. A new digital restoration of the gory classic's "uncut, extended version" plays midnights this weekend only at the Clay. (Note: In addition, former Bay Guardian editor Cheryl Eddy will introduce one of Argento's best later films — 1985's Phenomena, starring future Oscar winner Jennifer Connolly as a teen with a supernatural link to insects — at the Alamo Drafthouse next Tuesday) Fri/17, Sat/18. Clay Theater, SF. More info here. 
LA 92 
Hot on the heels of John Ridley's epic Let It Fall: Los Angeles 1982-1992 comes another impressive documentary probing events of a quarter-century ago, when the acquittal of four LAPD who'd beaten unarmed, non-resistant speeding driver Rodney King senseless—on videotape, unbeknownst to them—exploded protests against systematic police brutality into the massively destructive, six-day "LA riots." Though it begins with a flashback to the Watts riots nearly 30 years earlier, Daniel Lindsay and T.J. Martin's film otherwise maintains a tight focus on the '91-92 timeline, with no narration or latterday interviews as outside commentary. The result is a powerful you-are-there chronicle of justified anger boiling over in a way that ultimately was used to simply justify more injustice. Unspoken but unavoidable here is the thought that relations between police and minority (esp. African-American) communities have only grown worse since. Fri/17-Wed/22. Roxie, SF. More info here.  
BILL NYE: SCIENCE GUY 
The PBS educator has turned on generations of kids to science via his 1990s Bill Nye, the Science Guy. Now he uses that celebrity-ambassador status to plea for continued scientific education, research and popularization in an era when climate change has created a global emergency—and its deniers are pouring gas on the fire. This pleasing documentary by David Alverado and Jason Sussberg shows the 60-ish bachelor (he has intimacy issues) interacting with fans, today's youth, famous allies like Neil deGrasse Tyson, and a few notable foes—such as when he confronts personnel and visitors at a Creationist "museum" spreading the anti-science "gospel" to gullible young minds. Opens Fri/17 at Opera Plaza Cinema, SF. More info here. 
ALL THAT JAZZ
1979 ended a fascinating cinematic decade with a bang, although now it may seem bizarre to us that the Oscars were swept by nice little drama Kramer vs. Kramer rather than Apocalypse Now—or Bob Fosse's equally ambitious autobiographical fantasia, which is seldom revived these days yet remains one of the major creative leaps of that Hollywood era. Roy Schneider (a surprising but brilliant choice, cast after Richard Dreyfuss dropped out) plays the womanizing, chain-smoking, perfectionist director-choreographer of stage and screen standing in for Fosse (of Broadway and film triumphs like Cabaret, Chicago and Lenny) himself. This flashy jazz-dance 8 1/2 remains uneven but exhilarating. Its two screenings this weekend conclude YBCA's Fosse retrospective. Sat/18 and Sun/19. YBCA, SF. More info here. 
BLOW UP 
The combination of Michelangelo Antonioni's arty existentialist mystique, an actual murder-mystery plot, brief nudity and the "Swinging London" setting made his first English-language feature also his first (and last) true popular success. David Hemmings plays the fashion photographer who inadvertently snaps a possible crime scene, getting drawn into a potentially dangerous puzzle involving elusive Vanessa Redgrave and Sarah Miles. In 1966 Blow Up seemed the height of daring, as well as tantalizing insider's peek at a rarefied scene (complete with actual scenesters like The Yardbirds and supermodel Veruschka) that Antonioni viewed with more skepticism than most audiences recognized. What did it all mean? Today it may be a tad clearer that it doesn't mean all that much — but it's still a fabulous objet d'art. The PFA is screening a new digital-restoration print three times through Dec. 1. More info here. 
Need a car to get there? Rent one in your neighborhood on Getaround. Sign up today, and enjoy $50 off your first trip: http://get.co/48h. [Sponsored]