Last weekend saw the 75th anniversary of V-J Day, when Emperor Hirohito's official surrender signaled the de facto end of World War II. You might think this milestone would have stirred more attention, but I guess the present is keeping us a little too preoccupied to think much about the past. It's worth noting that while the US managed to survive two world wars (as well as nearly 250 years) without suffering foreign occupation, we now seem to be imploding all by our little selves, with scant outside help required.
One thing that was actually timed to acknowledge that historic marker is the release of Erik Nelson's Apocalypse '45, a new documentary that is currently playing virtual cinemas (including CinemaSF and the Rafael Film Center) in advance of premiering on the Discovery Channel this Labor Day weekend.
Though the somewhat unfortunate title choice may lead some viewers to think it's about Trump (really, why not Apocalypse 1945?), this is not just an insightful overview of mid-20th-century events, it's one featuring a considerable amount of previously unseen footage. Much of that was culled from 700 U.S. government-shot reels given a 4K restoration after decades in National Archives vaults. More was drawn from a cache of color film shot in the Pacific theater by no less than John Ford, who like many major Hollywood directors spent much of the war working for the armed services—in his case heading the photographic unit for the Office of Strategic Services, in addition to creating documentaries for the U.S. Navy, two of which won Oscars.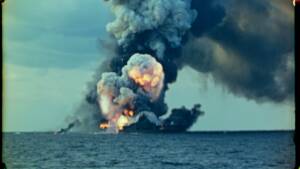 Entirely composed of those archival visuals, Apocalypse '45 begins with testimony from a Japanese man who was 15 when bomb was dropped on his native city of Hiroshima. But the primary narration here is from surviving (now mostly nonagenarian) American soldiers, who recall their participation in the last months of the war—when an Axis loss was already assured, but Japan's leadership had determined to fight to the bitter end. There is emphasis on the major battles of Iwo Jima and Okinawa, with some really grisly casualty footage.
Even more than Peter Jackson managed by colorizing and transferring to 3-D the WW1 footage that comprised They Shall Not Grow Old last year, the relatively pristine original color-stock images here make the events feel immediate for modern viewers, being shorn of black and white film's antiquated, distancing quality. In particular, views of Hiroshima devastation (and numerous maimed burn victims who survived the blast) towards the end are more discomforting than you've probably seen before. And as in the Jackson assemblage, there's not much "glory of battle" sentiment here, either in the recollections or the filmmaking tenor, with the focus staying on grunts' experience rather than the "big picture" of tactical decisions or general timeline.
The soldiers heard from note that they'd duly learned to hate the Japanese as an enemy, yet came to admire their bravery in combat. Opinions vary among them (as they still do worldwide) on whether dropping "the bomb" to end things was necessary, or not. (That action cancelled a planned November 1945 "Operation Deadfall" of conventional warfare against mainland Japan that might well have had an even higher death toll.) Some break into audible tears recalling experiences they'd done their best to "block out" for decades, and can still remember the smells of death and burning flesh.
Despite a slight overload of "chaptering" onscreen text, Apocalypse '45 refrains from outside commentary, let alone relating this historical conflict to our largely very different sorts of global peril today. Still, you've got to wonder what its more alert veterans would say if asked what they think of having lived to see a moment when our fellow major former Allied nations now look aghast at a United States that seems to be drifting haplessly towards fascism, with the parallels towards mid-1930s Germany harder and harder to deny.
Last Friday also happened to mark the 76th anniversary of the Allied invasion of Southern France aka Operation Dragoon. It was one of several major Allied operations participated in by one Audie Murphy, born amongst 12 children to a Texas sharecropping family whose matriarch died and patriarch eventually fled. He dropped out of school in the fifth grade to work, then falsified his birthdate (he was still under 18) to enlist in the US Army after Pearl Harbor. Ultimately he'd become the nation's decorated combat soldier, his 24 medals and demonstrations of hair-raising bravery creating considerable public celebrity that was consolidated with the 1949 publication of memoir To Hell and Back.
Its rather sanitized 1955 film version represented the popular peak of a movie stardom set in motion by James Cagney bringing him to Hollywood a decade earlier, then enduring the speed bumps of flop prestige literary-adaptation projects The Red Badge of Courage (which was drastically cut by MGM, over director John Huston's objections) and The Quiet American. His offscreen life was also turbulent: Murphy suffered from PTSD to the point of habitual insomnia, volatile mood swings, and keeping a revolver under his pillow at night. A first marriage to actress Wanda Hendrix was shortlived, not least because he apparently held her at gunpoint during one panicked "flashback" episode.
Nonetheless, he was a viable attraction for Universal in the 1950s, even if he never quite cracked the list of top 10 box-office attractions. They used him primarily in "B" westerns that were seldom inspired but provided reliable entertainment—albeit not enough such to stanch movie audiences' exodus to the new home medium of television, which provided hours of formulaic western shoot-'em-ups for free. A good sample of his career output in that vein can be found in Kino Lorber Studio Classics' new Audie Murphy Collection, a box set of three Blu-ray discs.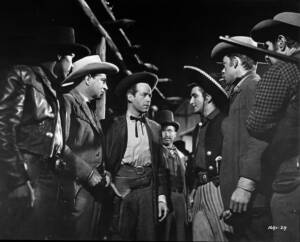 The films themselves are solid enough, but they underline why Murphy's stardom didn't last (and in fact why it's surprising it went as far as it did). Physically unprepossessing at 5'5", with average looks and no great screen charisma, he was a passable actor at best, invariably shored up by more colorful character actors and pretty starlets in support roles. In 1952's The Duel at Silver Creek, directed by Don Siegel (later of Dirty Harry and other Clint Eastwood vehicles), he's a fast-shooting miner out for vengeance after his partner is killed by a gang of claim-jumpers that include Lee Marvin in one of his early "sleazy loudmouth" roles. A year before The Wild One, Murphy roams the Old West in an incongruous tight black leather motorcycle jacket—though he lacks Brando's natural "rebel" panache.
His status boosted by 1955's To Hell and Back film (which is so little-remembered today, it defies belief as Universal's single most lucrative release until Jaws two decades later), Murphy stuck with its director Jesse Hibbs on several more projects, including Ride a Crooked Trail. That 1958 "oater" has him as a fleeing bank robber mistaken for a US Marshall who'd accidentally died while pursuing him. While Duel is more of a suspense drama until its action climax, this is a largely humorous fish-out-of-water tale hinging on the "crooked" hero's discomfort in (and seduction into) the respectable life. That comedic duality is more than this actor is prepared to do much with. Fortunately, the film has pre-stardom Walter Matthau as the (almost equally crooked) chief local lawman, stealing every scene he's in.
After making some of the decade's greatest sci-fi features like Creature From the Black Lagoon and The Incredible Shrinking Man (and before largely turning to episodic TV, including a whole lot of Gilligan's Island and Brady Bunch), director Jack Arnold gave Murphy arguably his best Western vehicle with 1959's No Name on the Bullet. Again, his role is more complex than the actor knows what to do with—nearly any other leading actor of the era might have given it more irony and menace—but the plot conceit is clever enough to do most of the heavy lifting for him.
He's a stranger who throws an entire frontier town into a tizzy upon revealing that his name is John Gant: An infamous gunman hired to settle others' scores, which he manages without jail time by always provoking his targets into drawing first (making it a case of self-defense). Once he shows up, every local with a guilty secret begins sweating bullets. They're so panicked they even begin offing themselves, without his having to lift a finger. Given a great lead performance (it would have been perfect for Paul Newman or Kirk Douglas) in that juicy role, this would have been a minor classic. With Audie Murphy, it's something less, but still a strong example of what the already-ebbing major studio system was capable of. In Eastmancolor and CinemaScope, No Name offered spectacle that the boob tube couldn't as yet equal.
The writing was on the wall, however. Two years later, Murphy would have his own shortlived TV western series, Whispering Smith. When that ended, his big-screen career quickly tapered off amidst low-budget mediocrities. Gambling, poor investments, and tax evasion added to his financial woes, though notably he refused contracts to endorse tobacco or alcohol products, believing he needed to provide a role model for youth. He'd already seemed to live the lives of 10 men (and in WW2, taken the lives of more than that) when his own was abruptly terminated in a 1971 private plane crash. He was all of 45 years old.
Though new Westerns (as well as war dramas) are scarce amongst streaming releases these days, there are plenty of additional documentaries to follow Apocalypse '45 with. Of particular note is Taghi Armirani's Coup 53, edited by the Bay Area's own Walter Murch and narrated by Ralph Fiennes. It's a nonfiction "conspiracy thriller" that charts the Anglo-American orchestrated overthrow of democratically elected Iranian Prime Minister Mohammad Mossadegh—one of the first indicators that WW2 "good guy" the U.S. would pursue postwar imperialist policies around the globe, via a CIA plot that would play a large part in creating the political minefield of today's Middle East. It plays BAMPFA's virtual cinema program Wed/19 only, as well as the Roxie and Rafael (see here for all screening options.)
Beginning this coming Friday, CinemaSF, the Roxie, and Rafael will also make available veteran Barbara Kopple's new Desert One, in which Jimmy Carter, Walter Mondale, and others recall the 1980 US Special Forces attempt to rescue American citizens held hostage in Tehran during the Iranian Revolution—which overthrew the Shah's regime that the US had surreptitiously installed years earlier. It offers an interview- and archival footage-based take on the same events that were dramatized in Best Picture Oscar winner Argo eight years ago. (Here's a directory of all Desert One's Bay Area virtual cinema outlets) Both it and Coup 53 are among 2020's best-reviewed documentaries to date.