Someone makes a mark. Someone else responds with another. A few moments pass. Perhaps there is one more gesture to be made, a pull of black ink across blue paper. Silhouettes against the sky. Then, a flicker of ink. Somehow—wordlessly, alchemically—the drawing is done.
THE WEATHER IS NOWADAYS CRAZY, an exhibition by Etel Adnan and Lynn Marie Kirby on view at Cushion Works through January 29, is a dialogue. Adnan and Kirby collaborated on a set of drawings in Paris in 2018, abstractions of black India ink on two shades of blue paper. The artists worked on each drawing simultaneously, adding marks on the paper until both felt the drawing was complete. These exhibited works are a conversation between the artists, speaking in brushstrokes in lieu of words.
As if windows, Adnan and Kirby's drawings invite viewers to peer into their abstract worlds. Theirs is a language that only close companions can know. It can be tempting to seek recognizable shapes in each drawing, hoping to find a visual code of sorts. Perhaps one might find a question mark in one drawing, or a moon, or a coastline. However, the drawings ultimately elude such efforts to decode. Instead, Adnan and Kirby draw closer to sound than image: their lines and shapes form elongated notes, syncopated beats, and raspy whispers.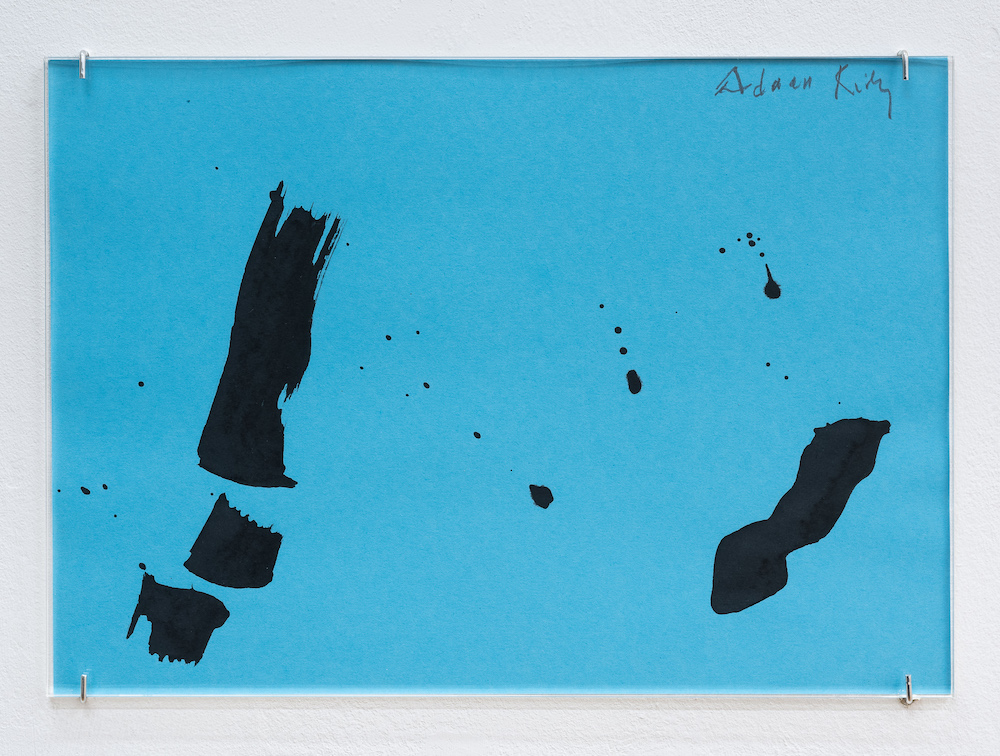 Etel Adnan passed away in late 2021, less than a month before the show would open. For Kirby, the spirit of partnership had to stay at the core of the exhibition to see it through. Adnan and Kirby were longtime friends, working together for over twenty years on a variety of interdisciplinary projects. THE WEATHER IS NOWADAYS CRAZY moves forward in the spirit of this relationship. Kirby organized four live, site-specific activations, again working with close collaborators across writing, dance, music, and art, to speak alongside the exhibition.
These multivalent activations continue the dialogic nature of the drawings, and provide much-needed space for viewers to gather together in this time of prolonged separation. They invite viewers to reconnect with familiar spaces, to see anew spaces for gathering and creation.
On a Saturday afternoon in mid-January, a crowd formed at the entrance to Cushion Works, filling 18th street with the warm hum of friends, colleagues, and strangers meeting after much time apart. As the sun faded to twilight, a spotlight was lit, the crowd quieted, and a cellist began to play. Without words of introduction, a dancer began to move at the doorway, followed by the light. Across the street, opposite the iconic Whiz Burger, a live video projection of the scene filled the side of a building. "a line and two shakes" was the second activation in the series, featuring cellist Mia Pixley, dancer James Kirby Rogers, and video artist Kedar Lawrence.
The score to the work, to which these artists responded, was composed by Kirby and Simone Bailey, and distributed at the event as a newsprint broadsheet. Words from the score like creak, shuffle, and thump could be felt in Pixley's rhythms and Kirby Rogers' movements across the street. Lawrence's drone swept and buzzed over the scene, simultaneously filming and projecting the performance in a disorienting mirror of real-time.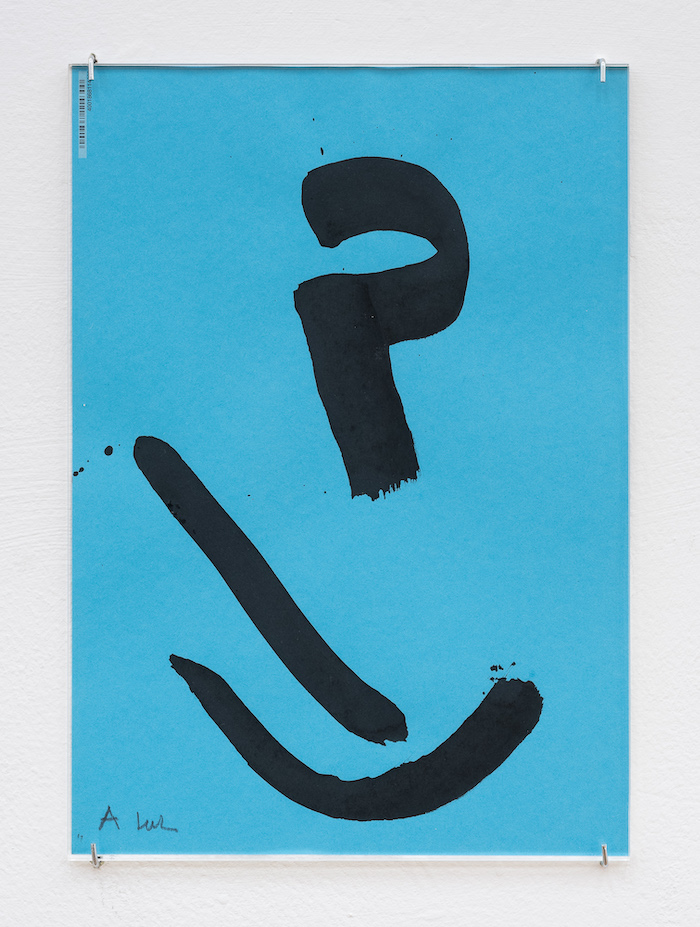 Last weekend, Kirby presented "i am a lover of the Night & i am a lover of the Moon," an in-gallery play performed with writer Denise Newman and percussionist Tom Hemphill. Hemphill filled the space with ebbs and flows of sound: at times cacophonous with drums and bells, and other times playing barely above a whisper. Kirby and Newman performed the two characters of the play, whose script consisted of text fragments from sources like Etel Adnan's book of poetry Moonshots and archives of the Apollo 11 moon landing. They often repeated the same lines, sometimes synchronously and other times a few beats out of step with each other.
Viewers faced towards a video projection, falling into an image of the cosmos overlaid with abstract images of color and light. Within this event's broadsheet, text encircles an image of moon phases. One line reads, "Moon only speaks to her favorite lover, Night. They discuss the possibility of eternal darkness."
The final activation, "walk to walk," takes place this Sat/29, on the exhibition's closing weekend. With artist Christoph Steger and composer Anne Hege, the event will present "a site-inspired media intervention generated from walks, marks, and glyphs."
THE WEATHER IS NOWADAYS CRAZY reminds us to continually connect and reconnect with the people and places around us, that what we create together can be so much more than the sum of our parts. Remembering that one need not work alone is particularly salient these days, as so many of us have been long separated from loved ones, collaborators, and comrades. One of the greatest powers of art, truly an alchemical force, is the potential energy of polyvocality.
THE WEATHER IS NOWADAYS CRAZY runs through January 29 at Cushion Works, SF. More info here.