PARTY RADAR I'm off for a wee break to restore my sanity and grow back some of my liver — who am I kidding I'll be in NYC — so below is two weeks' worth of Radars for your bleeping pleasure. Basically a handful of bright highlights in our continued plunge toward wintry debauchery. 
First, though, I finally made it to Ginger's, an actual underground gay bar downtown that's part cozy throwback cocktail spot (Japanese fans, tiki-like bar), part church basement, and part British bomb shelter circa 1941. Ginger's itself is relatively new, but it's also the ghost of Ginger's, Ginger's Two, and Ginger's Trois, the chain(ish)of downtown gay bars that served the thirsty of the Financial District for years. I may or may not have been spotted fishing for hefty portfolios in the bathroom stalls of those old school gems.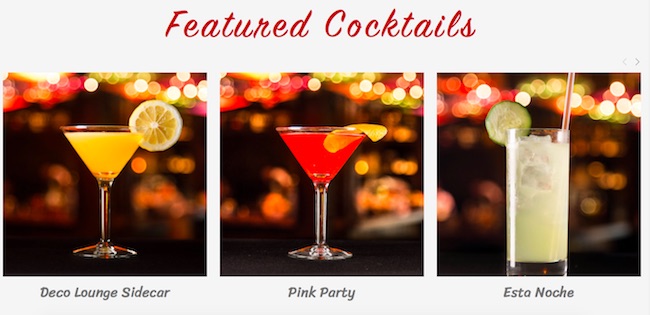 Ginger's Trois was closed in 2009 to make way for the trendy Rickhouse bar, and apparently the Rickhouse peeps wanted to raise Ginger's queenly spirit, reopening Ginger's in the basement around the corner of small alley Hardie Place earlier this year. Here's the crazy thing: The bar menu includes tribute cocktails to closed queer bars — the Esta Noche, the Deco Lounge Sidecar, the Lexington Manhattan, and even the Ghost of Ginger's. It was a trip, and of course Hunky Beau and I tried as many as we could.
The experience was unique — especially locating the unmarked door on the small dark alley and climbing underground, a thrillingly problematic mimesis of the oppressed gay experience of yore. The crowd, however, was hip and very mixed (straight people love this shit!) and the whole thing was only marred by an obnoxiously giant screen playing…. Forrest Gump? I think I felt the original Ginger, goddess bless her soul, rolling in her probably-mythical grave.   
PS Oh hey! Sat/18 sees an amazing cavalcade of nightlife movers and shakers coming together for a panel/party entitled "Shifting Spaces: Queer Nightlife in the City" — addressing the future, present, and past of creating spaces for queers to let it ll hang out. Check it out!  
Need a car to get there? Rent one in your neighborhood on Getaround. Sign up today, and enjoy $50 off your first trip: http://get.co/48h. [Sponsored]
COOL PARTIES
Fri/17 CLUB CHAI + RUSSELL E.L. BUTLER If you don't know that this insanely talented Oakland techno-outside-the-box crew is blowing up on an international level … well now you know. And you better go. The Midway, SF. More info here. 
Fri/17 GREG WILSON He was the first DJ to scratch on British television in the '80s, and then went on to become the king of the contemporary disco edit scene. Never fails to please the crowds while also making them think a bit. Monarch, SF. More info here.  
Fri/17 JACKMASTER He will jack you! The perennial, Glaswegian favorite returns to turn you out at the Lights Down Low party, with other guests Tiga, Carlos Souffront, and more — plus don't miss the Techno Clam takeover in the Red Room! Great Northern, SF. More info here.   
Sat/18 SOPHIE "Pop. Art. Lights. Music. Fashion. Rubber. Plastic. Latex. Persona. Personality." The brain-meltingly singalong maximalist pop from this once mysterious artist (now slowly revealing themself) has perplexed and excited the techno scene since breakout 2012 hit "Lemonade." The branded soft drinks, the PC Music label shenanigans, the possibly sardonic chipmunk-chirp of the melodies …  The Midway, SF.  More info here. 
Sat/18 NINA KRAVIZ The techno wiz from Russia brings effervescent energy to the decks and a winking deconstruction of the male-dominated techno-hierarchy. Oh, and her tunes smash. Public Works, SF. More info here.
Sat/18 FRINGE Dance like the 2000s are right behind you! This too-cute indie dance party will have you shaking like Yelle. This is their 100th party! Madrone Art Bar, SF. More info here. 
Sun/19 GARY NUMAN The godfather of electro pop once asked Are Friends Electric? Now he roams the earth (sometimes with his exquisitely-voiced daughter in tow!) as a darkly romantic electronic nomad, as heard on his new album, "Splinter (Songs From A Broken Mind)." Fillmore, SF. More info here.  
Wed/22 BONDAGE-A-GOGO SPANKSGIVING A true SF tradition! "Don't spend Thanksgiving trapped in a house with your blood relatives without an afterglow, a hangover, and maybe some lovely welts and bruises." Dancers and DJs and whips and chains. Hurray! Cat Club, SF. More info here.  
Wed/22 BASSGIVING Another beloved SF nightlife tradition, this time around featuring tons of DJs bringing you classic forward-thinking drum and bass bass baaaaasssss. Great Northern, SF. More info here.  
Thu/23 CREAM OF BEAT REUNION All the old hip-hop/turntablist gang comes together to celebrate umpteen years. With DJ Mind Motion, DJ Ivan, Dark Money, DJ Apollo, DJ D-Sharp, Big Von, Scotty Fox, Toure, Joe Quixx. Great Northern, SF. More info here. 
Fri/24 BLACK COFFEE I absolutely adore this South African house marvel (and the incredible South African house scene). He'll be here with Moscow's Geju for a true global house underground experience. Public Works, More info here. 
Fri/24 DJ DEEP French techno bliss from this slick mover, who's been at if for more than 20 years. With Exos, Muon, and U-SRD. F8, SF. More info here. 
Sat/25 PEGGY GOU Brilliant acid-techno colors from this Korean DJ, here at the As You Like It Party with Detroit's excellent Delano Smith. Great Northern, SF. More info here.
Sat/25 ELEXOS PARK Some enthrallingly lovely techno from the local boy Elexos Park (formerly Ghosts on Tape), who's celebrating a new cassette release with Roche at this Outpost party. This will be the priceless $5 underground vibe. Underground SF. More info here.   
Sat/25 BROWN AMY The incredible 45-soul DJ from Hard French has been surprising us all with some stunning all-vinyl, old school house sets at late night spots. Now she steps out to headline the Polyglamorous party. F8, SF. More info here.
Sat/25 BJORK RAVE It is a rave. It is all Bjork. "Dance to a massive dose of Bjork all night, spanning her entire career from Sugarcubes until now. All mixed with the artists she has inspired and been inspired by, with a focus on electronic, dance, and alternative of the 90s, and all on video." Public Works, SF. More info here. 
Need a car to get there? Rent one in your neighborhood on Getaround. Sign up today, and enjoy $50 off your first trip: http://get.co/48h. [Sponsored]