Angela Davis' image is one the most widely recognized in the world. But what generations of activists, especially those born of the Internet era, might forget is that behind the prevalence of her inspiring face were the tedious, steadfast efforts of collectors and archivists. One such archivist is Lisbet Tellefsen. Tellefsen has dedicated her life to tracking down, compiling and digitizing political posters and photographs. 
Tellefsen worked with Amy Sueyoshi to curate Angela Davis: OUTspoken, a returning exhibit (originally shown in 2018) brought to you by the GLBT Historical Society. The virtual display showcases rare Angela Davis ephemera and posters, chronicling Davis' lifelong commitment to liberation. The images evidence her incredible political journey, from "enemy of the state" to leading freedom philosopher.
Tellefsen took the time to discuss the exhibit as well as her personal journey as an archivist-artist.
48 HILLS: Can you speak about your work? How has Angela Davis inspired your journey as an archivist and collector?
LISBET TELLEFSEN: I've been a poster collector my whole life. You know, as a little kid growing up in the '60s, we all collected. And I loved little centerfold posters. And as I got older that grew into political posters. 
In the mid-'80s I made my first trip to Cuba. While I was there I stumbled across some old Cuban revolutionary posters. They were really disintegrating. This was a history that was in danger of disappearing. And so I started to collect Cuban posters. Because I was a collector and I was used to maintaining collections of materials, it dovetailed. 
In my Cuban poster collection there was a subset of solidarity posters around Angela Davis and the Black Panther Party. I started to focus on that subset of African American-Cuban Solidarity posters. Then all of the sudden this little thing called Ebay starts. I can now trade with Cuban poster collectors from all around the globe. And very quickly I had probably one of the best Cuban poster collections in the world. In the early days of Ebay I was one of the first people really using that to suss out materials like Angela Davis, The Black Panthers.
I started buying up everything related to Angela, the Panthers, the Young Lords… I digitized all this stuff, put it in a page protector, and before you knew it I had a seven-volume encyclopedia, maybe like 4000 pages of Angela Davis content. And by then, I was hooked.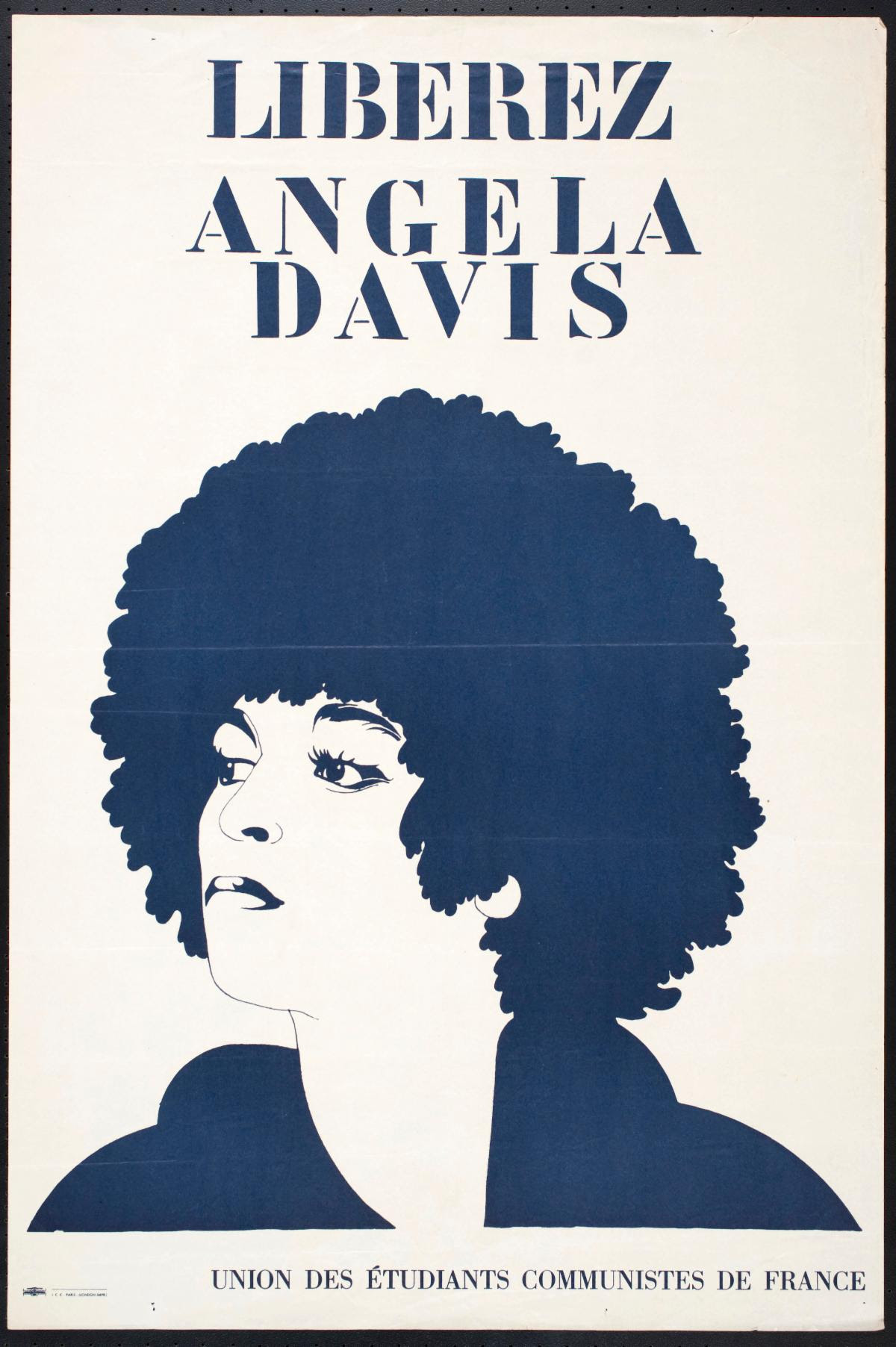 The beauty of it was I knew Angela. So she was able to interact with it. I made this discovery, it's kind of related to how memory works: Ericka [Huggins, Black Panthers member and Tellefsen's partner] and I were at Angela's house and I brought one of the binders. And Angela is turning the pages of the binder… and you can almost see her brain working to get back to these particular moments.
She stops at some photograph, where she's on a hunger strike in jail and she looks really gaunt, dark circles under her eyes, her hair is crazy. And Angela is looking at this picture and she says to Ericka, "Don't you remember when this article came out? It caused such an outcry that one day you were outside the jail and they let you come in, gave you a pair of scissors…so you could give me a haircut." 
And I went, "What?!" And so it may have been at that moment, but I just really realized, I'm kind of the natural person to do this. 
I love Angela. I have so much respect for her considering that the power of the state was bearing down on her, trying to take her life, and destroy people around her. So many people would never recover from that. And she not only held her head high but she devoted her life to the cause for social justice and uplifting the rest of humanity. 
48H Do you feel that Angela Davis is fully embraced as a Black LGBTQ icon in the same way that activists like James Baldwin, Audre Lorde, or Marsha P. Johnson are? 
LT The genesis of this exhibit is I had started to put forth the possibility of a show that talked about the early linkages between the Black Liberation Movement and the Gay Liberation Movement. And before you know it they start to publicize "Black lesbian activist, Angela Davis." 
And I actually had a reaction to it unique to my generation. And it is this: Angela was a global figure since 1969, but at home in the Bay Area she was a member of the lesbian of color community. We kept her privacy. 
The short answer to that question is that folks like Baldwin and Audre… their sexuality was bound in their public personas, and the work that they did. That's not true with Angela. We always claimed her because we knew. Whereas she might politically articulate that kind of advocacy, it was never that she led with her own personal life as an example. She basically used her podium to really articulate on behalf of virtually all the oppressed peoples that I can think of.
Had she been out like that, every question would have been about her sexuality. I understand it. If she was a different generation I think it would probably be different. You don't see [Black Lives Matter co-founder] Alicia Garza being asked about her partner every other question. So, we may have transcended that. I don't know. 
48H What should people take away from this exhibit? 
LT Being from the Bay Area, growing up in the Bay Area, people like Angela and the Panthers, because they were local, they are near and dear to our heart. And I think that what this exhibit has shown is that they are and remain globally relevant and of interest. Even beyond national borders. 
ANGELA DAVIS OUTSPOKEN can be viewed online at the GLBT Historical Society Archives and Museum website