Jhina Alvarado is a self-taught artist whose work has been featured in international magazines and books on art technique. And it is no wonder, as the refinement of her talent is worth study and emulation. She has been called a cinematographer with paint in her ability to capture subjects in celebrated, mundane, or self-possessed moments of their personal history.
Figures appear as they would in an old black and white photograph, with minimal contrasting elements, often with their faces cropped somewhere above the lips. Where identity is spare, as in her "Wallflowers" series, figures are set against floral or colored background pattern. In a set of portraits titled "Saints of Perseverance," identity is front and center, Alvarado expressing the wholeness and power of family firmly held by veiled, saintly motherhood.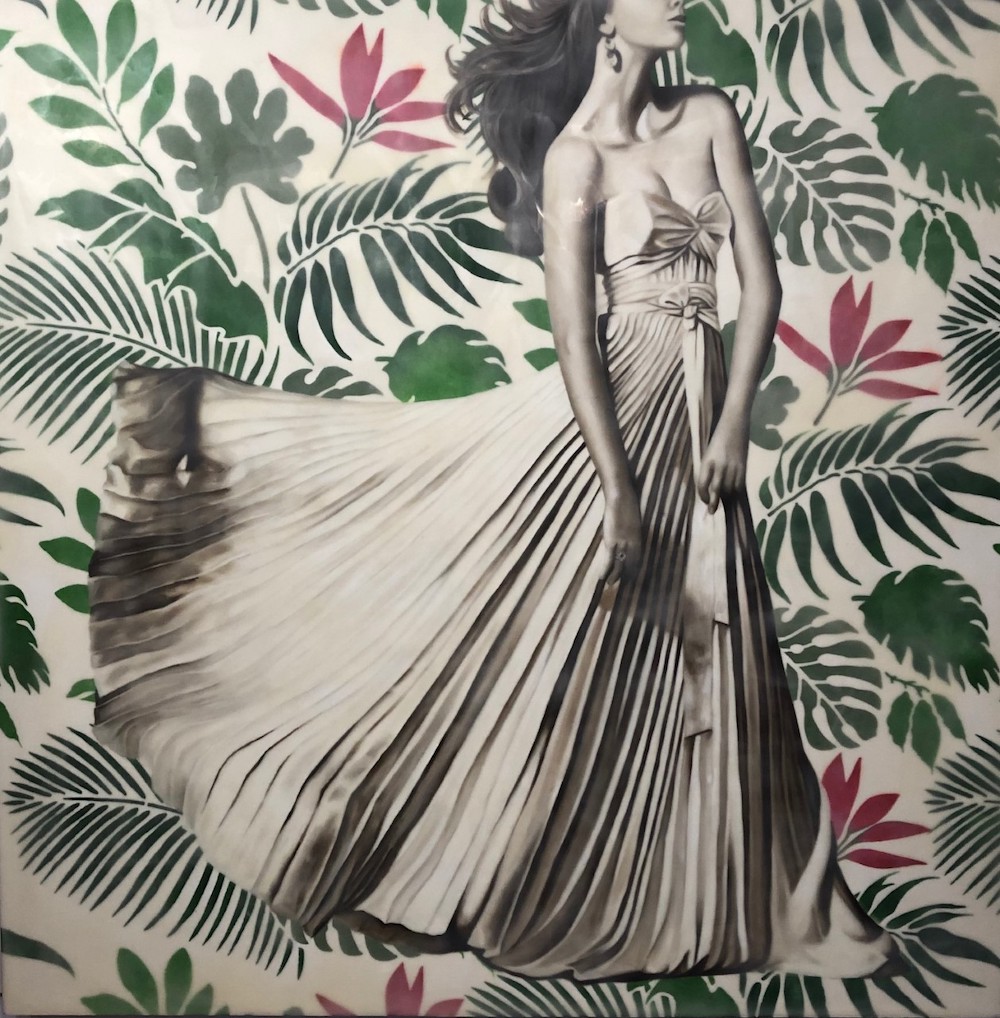 Alvarado grew up in Rancho Cucamonga, outside of Los Angeles. She followed a boyfriend to the Bay Area when she was 20, fell in love with the weather and all the creative people here. When they broke up, she settled in San Francisco. Becoming an artist was not a conscious choice, really. Being creative for Alvarado has always been therapeutic, whether it was writing songs and playing in a band or painting.
In her early years as an artist, she was very inspired by old photos and her work was solely based on them. Alvarado liked the idea of bringing the images back to life from a place that was, for the most part, forgotten. Though she continues that thread, her current work is mostly inspired by social activism and engaging with local community.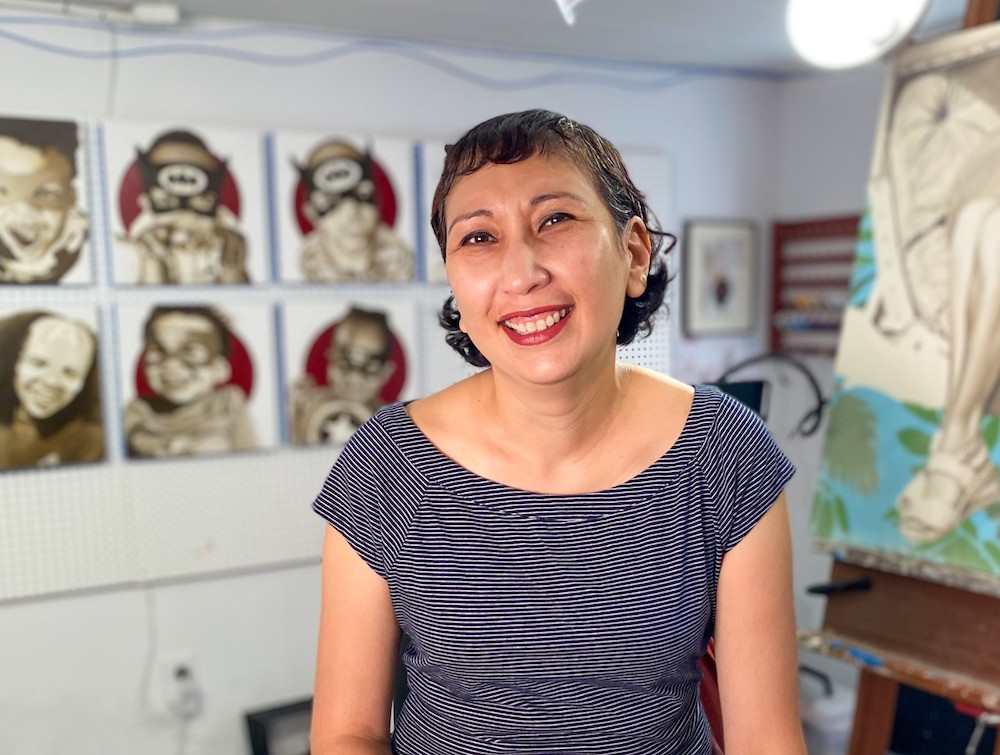 "I like having my work reflect what is happening now in society and it helps me deal with what is going on around me. I am still doing paintings that are based on old photos, but I am finding that I am doing more 'passion projects' that really feed my soul," Alvarado said.
Alvarado is passionate, dedicated to her work and driven to produce thought-provoking art. When house shopping nine years ago, one of the main requirements was a large space for her to paint. Her studio is on the ground floor of her home near Lake Merced in the city.
"It's not the prettiest studio, but there's a ton of space, sunlight, and the commute from my bed can't be beat," she said.
Alvarado also has a nice garden where she can take breaks from the creative process. Tending to her garden was a newfound interest which blossomed during the pandemic.
Alvarado works exclusively in oils on canvas covered in encaustic wax, which she applies to soften the image and create a yellowing effect akin to old photographs. Adding 8-10 layers of the hot encaustic wax on her finished works, Alvarado uses a blow torch in between each layer to smooth and fuse the wax. The last layer is the hardest as she tries to get a smooth and perfect surface.
"It's very time consuming and it takes a toll on my body," she said.
Plugging in to Audible in her studio, she listens to audio books to help drown out distractions going on in her head and maintain focus while working. Her latest paintings are depictions of mothers and their children, having been influenced by recent events. Alvarado describes the past year and a half as brutal, especially for mothers having to sacrifice so much to care for children who were not physically attending school while also being expected to maintain home and job, some women giving up careers.
"The amazing part was that it was just expected that we would do this," Alvarado said. "Women of color have had the added burden of all of the race issues that were amplified these past few years. I wanted to paint these women and show their strength and how fierce they are."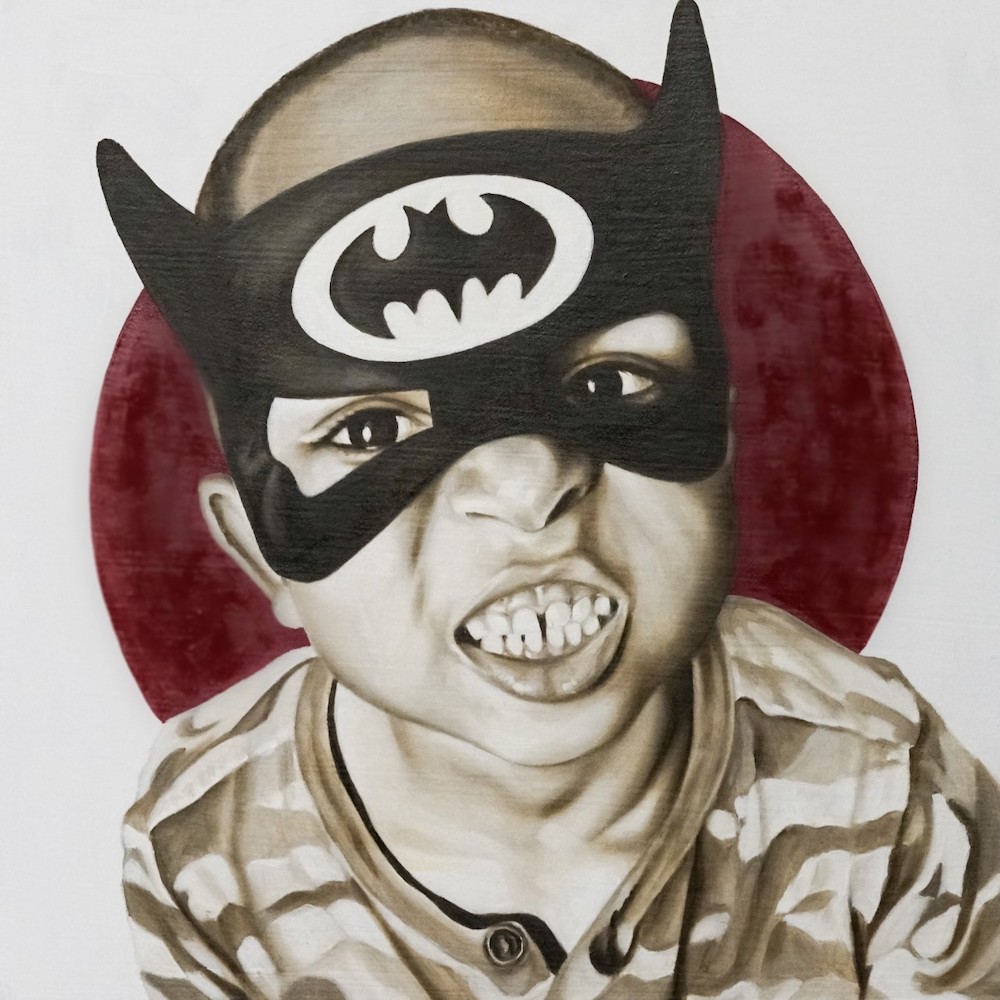 A mother herself of 6-year-old twins and a teacher of algebra and pre-calculus at Ruth Asawa School of the Arts, Alvarado always gets asked how she finds the time to paint. Her answer—and advice—is to just do it, even if it's just an hour where you get to move some paint around. She notes also the importance of having a designated space where you can leave things out and jump in when you have that free moment.
"You can't wait until you have a large block of time or until you are motivated," she said. "Try and carve out small chunks of time daily to do some art."
Exhibiting her work since 2008, Alvarado is represented by Simon Breitbard Fine Arts and ArtHaus + Consulting in San Francisco, James Bacchi Contemporary in Palm Springs, and Canfin Gallery in Tarrytown, NY. To view Jhina Alvarado's work, visit her website at jhinaalvarado.com and her Instagram, @jhina_alvarado.