Artist Marsha Balian creates playful compositions with found objects, collage, and paint on wood panels. Curious characters emerge from a theatrical backdrop of pattern, color and texture, posing as if they've been waiting for our arrival with our single question, "What's your story?"
"I never want to be too literal since stories in life don't always have a happy ending. I play with humor as much as possible," Balian told 48 Hills.
Retired from a 36-year career in health care, primarily as a nurse practitioner for Kaiser Permanente's Oakland Medical Center, she attributes her former daily immersion in myriad tales as a contributing factor to her narrative style. Nothing fascinates her more than hearing other people's stories.
Originally from San Diego, Balian is a self-taught artist living in the Rockridge neighborhood of Oakland. She thinks of herself as a hunter-gatherer in search of interesting materials, discovering the debris of lives moving on, at flea markets and on street corners. Filling her studio—an ADU (accessory dwelling unit) in her backyard with large windows and lovely greenery views—Balian works her magic with her treasure trove of found materials.
Objects, including children's blocks and dolls, antique household fixtures like doorknobs, faucet washers and potato mashers, found paper scraps, old book pages and stamps, are just some of things that inhabit Balian's artwork. Assembled into surreal narratives, we are rendered voyeurs peeking at the remnants of someone's secrets.
Balian works on several pieces at once in a series, with one piece leading to another, containing a common thread. In her signature wood panel work, Balian begins with a theme and lets serendipity take her along for the ride. Some works built from all manner of boxes—wine crates, cigar boxes, matchboxes — are inspired in part by the work of mid-20th century assemblage artist Joseph Cornell, whom she counts as a creative influence.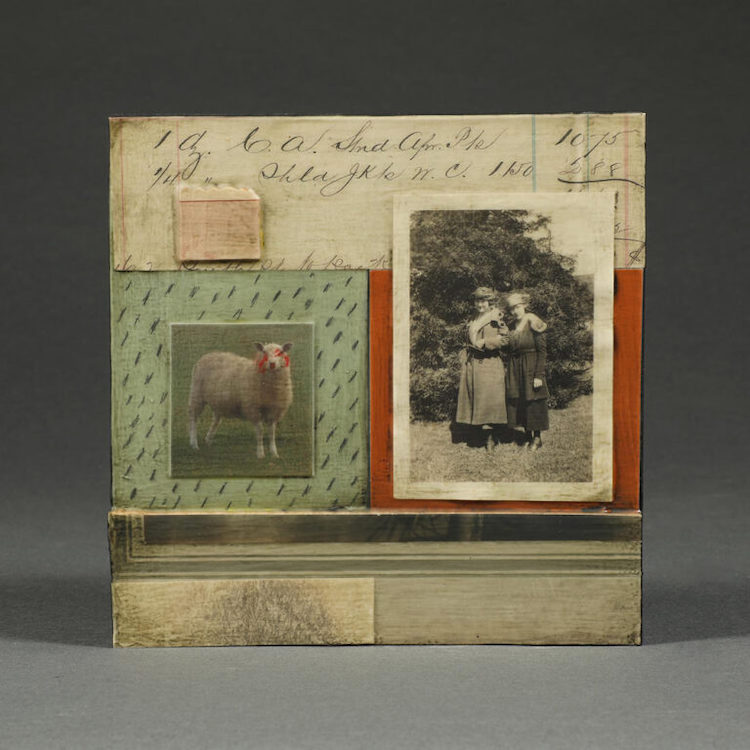 Having recently been given three small wooden drawers from a child's chest, Balian studied them for weeks before deciding to use each one as a frame with a smaller wooden panel within. Painting each surface to converse with the images on the added interior panel has created a complex and interesting challenge for the artist.
"Since I never plan anything in advance, all of this could change as I move forward. The work usually tells me what it needs," she said.
During the chaos of the pandemic, Balian said art making provided a refuge, a release and a relief.
"I have been very productive, in part because so many distractions are no longer available and in part because art making can soothe anxiety," she said.
Initially needing an expressive focus to deal with the complexity of the times, Balian created a series spoofing all that she calls "Pseudo-Science," playing with imagery that relates to how people made sense of a confusing world in the past: Tarot cards, phrenology and sleight of hand. Following that, she worked on a set of self-portraits with an intention not to replicate how she looks, but rather to affect a window into interior space and notions of identity.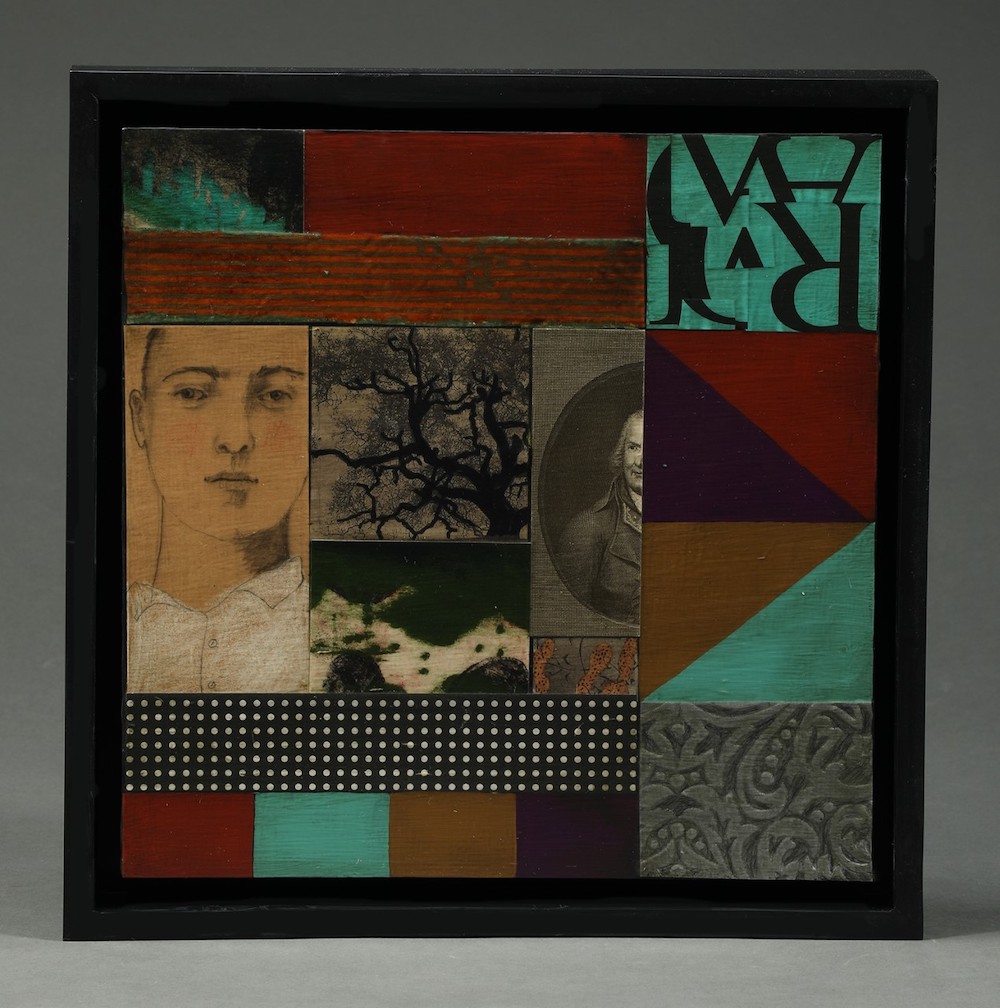 As a child, Balian was captivated by the evocative power of photography. Combing through her parents' piles of sepia-toned photos, she always wondered, "Who was this person?" How was their life?" Similarly, in another recent series, "Lost and Found," making use of hundreds of antique studio photographs in her own collection, Balian created new lives for the anonymous characters. Leaving some mystery, she simply suggests a narrative that the viewer can pick up and develop further for themself.
The pandemic also led Balian to think about the role of art and the experience of artmaking. From that perspective, her new series of works on totem-shaped wood panels, "Scenic Route," exhibited at Transmission Gallery in West Oakland, invites us to come along on a visual journey.
"Art won't necessarily make up for the losses we ourselves have suffered or the need to bear witness to the suffering of others, but it can function as an escape of sorts, a visual passage to another place, to something better, something engaging and perhaps scenic," she said.
Balian dedicates massive energy to her work, sometimes doing little else. When a series is complete, she will pause and direct her energy toward other things like writing, which she also loves. In short order, however, she is called to return to the studio. And after avoiding it for years, Balian is a new convert to Instagram, embracing the opportunity for connection. The immediate feedback has been a boon for Balian and a great antidote to the isolation that artists sometimes face.
"Conversation in an artistic dialogue has been amazing," she said.
Taking in the work of Balian is a treat, at once entertaining and mysterious as we are invited into intimate space. Her narratives nudge us toward reflection on our own histories, the heaps of detritus and ephemera of a human life, the things one cherishes or leaves behind. At the same time, it's like a visit to the circus in the heyday of Barnum & Bailey with its cast of odd characters, dreamy sets, and fantastical performances.
Exhibiting her work nationwide since 2004, she is a member of Transmission Gallery in Oakland and recently exhibited work at Vita Collage in Pt. Reyes Station. Upcoming shows include an exhibition in Formentera, Spain, a show at The Drawing Room in the Mission, and a juried show at Sanchez Art Center in Pacifica. For more information, visit her website at marshabalian.com and Instagram.