As always, time is a fickle bitch. Netflix's Umbrella Academy season three has arrived and yet again, the series' characters stare the end of their existence in the face. And then some: their crisis is even bigger this time around, going beyond our world to involve the entire universe. But in many ways, the Umbrella Academy itself—ostensibly a dysfunctional family of young superhero siblings drawn together by the mystery of their father's death— is changing. Adapting to the new reality that is this season's timeline, fighting its cosmic shift.
The show's third season (it was released June 22) expands its narrative scope further than its two prior runs. Stakes are higher, plus several new characters are introduced, managing not to sacrifice character development and interpersonal intimacy in the process. Showrunner Steve Blackman, who adapted Umbrella Academy from the Dark Horse Comics series created by My Chemical Romance frontman Gerard Way and Gabriel Bá, doesn't hit the audience over the head with muddled, complex concepts. Rather, he comically infuses new events into the narrative, creating a diverting viewing experience. The Grandfather Paradox, Kugelblitz, Oblivion, and even more time and space terminology are brought out to explain things as the show's universe implodes, and two rivaling families—Umbrella Academy and their would-be replacements, Sparrow Academy—crumble amidst a primal bond.
A brief list of sights viewers can expect: old-timey hotels, weddings, funerals, the afterlife, interdimensional portals, interstellar incest, intergalactic spaceships, cosmic monsters, zombified samurais, flesh-eating bugs, white buffalos, aliens, fights, dance-offs, fascistic Red Sparrow watchdog advertising, Kennedy assassination conspiracies, lethal practical jokes, plenty of daddy issues among and between the old and new siblings that comprise the two academies, mended childhood trauma, PTSD, self-referential humor, romance, moral quandaries, sketchy alliances, murder, deception, betrayal, space, time, and the grand cosmos. The whole shebang abounds with nods to the DC and Marvel Cinematic Universe universes.
With the introduction of the Sparrow Academy, we get a sense of how the Umbrella Academy may have operated if they hadn't broken up after fraternal integrant Ben's death. The new crew is full of discipline, brutal training exercises carried out by family members, high-tech workout regiments, fresh protein smoothies, T.J. Hooker binges, corporate branding, and a simian sensei in Pogo. In contrast, the Umbrella Academy Seven's inter-sibling bickering that was so endearing in the first two seasons remains—and is an important point of the conflicts that pushes the plot forward.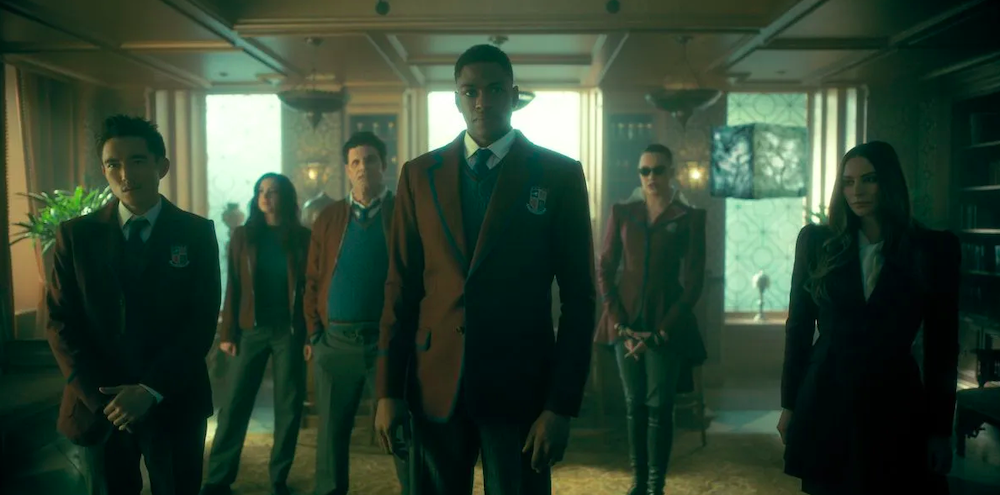 Unlikely but irresistible pairings include Luther and Sloane (Genesis Rodriguez in a tender, heart-warming performance), Diego and Stanley (Javon "Wanna" Walton, who continues to display his impressive range after his breakout role as Ashtray in Euphoria), Klaus and this timeline's Ben (Justin H. Min, displaying an entirely new side that opposes Ben's soft-spoken wisdom), Allison and Raymond as she battles the ghosts of her past, and Reginald and his long-lost beloved Abigail, who sets up the kind of giant cliffhanger that viewers have come to expect from the series.
Narrative dots cleverly connect when this season's timeline is introduced, and Reginald's masterplan unfolds like a long con. Perhaps Luther's time on the moon wasn't in vain, after all—perhaps, his mission was the most important one in the grand scheme of the universe.
Each character has their own way of dealing with their place on Reginald's vast puzzle board. Allison goes dark, relinquishing most of her ties to the present to mourn the pain of losing a husband and child. She fights white supremacists, takes up a drinking habit, and carries a grudge against Viktor for resetting the timeline. Klaus conquers death. Luther conquers love. Viktor conquers his powers. Five and Lila reckon with the remnants of the Commission's wrongdoings. This timeline's Reginald—medicated by the new children, docile and defeated—is painfully aware of his flaws and how he's failed his children. But soon enough, his otherworldly identity begins to shine through the cracks of the shell that he's so carefully crafted during his time on earth.
Paralleling actor Elliot Page's own recent transition, Page's character Vanya shares with his siblings that he is a trans man named Viktor. The storyline is crafted beautifully: This is the most nuanced narrative of the series. In its creation, Blackman consulted GLAAD and enlisted writer Thomas Page McBee, who worked in tandem with Page to ensure the story arc was told authentically. It translates. McBee deconstructs masculinity both trans and cis in his writing, making him the ideal consultant for Page's onscreen character transition. Viktor's coming-out isn't sudden—viewers realize that his gender identity has long lingered just beneath the surface, having finally emerge for air during his relationship with actress Marin Ireland's character Sissy last season. His identity is lovingly received by the siblings, and he is named best man for Luther's wedding.
It's a union that takes place in the midst of the collapse of reality itself. In the midst of all these developments, impending doom lies on the horizon. Oblivion is due to arrive in the form of a Kugelblitz, defined as a special kind of black hole that can suck up entire timelines.
And that's not even the half of it. Viewers can expect a plethora of even more twists, turns, mysteries, and marvels throughout the 10 episodes of Umbrella Academy's latest season. The extended ensemble doesn't hamper the expansive narrative, and each member of the cast gives a game performance, with Page and Gallagher as clear standouts. The series has never been more exciting, enthralling, droll, and disgusting as in its third season. Viewers will be left counting down the days until season four.
Arguably no line in the third season encapsulates the imposing end-of-reality narrative better than this one, uttered by a pensive voice on a TV in Klaus' ethereal afterlife:
"When we say reality, what do we really mean? In the 1800s, the best minds of the age theorized we live in a clockwork cosmos. In the quantum age, time and space are suspected to be a holograph. Ancient people believed we rode on the back of four flying turtles or on the horns of a white buffalo. These ideas beg the question, will we ever know the shape of reality? Or, odder still, does it have a shape other than the one we give it?"
Umbrella Academy season three is currently available on Netflix.
A typically stellar soundtrack grounds Umbrella Academy season three. Here's every single needle drop (!) in a mostly chronological order:
Kenny Loggins, "Footloose"
Gerry Cinnamon, "Sometimes"
The Stranglers, "No More Heroes"
Iggy Pop, "The Passenger"
Brenton Wood, "Oogum Boogum Song"
Engelbert Humperdinck, "Quando Quando Quando"
Steve Winwood and Lilly Winwood, "Higher Love"
The Lovin' Spoonful, "Do You Believe In Magic"
Chris De Burgh, "The Lady In Red"
Renditions of "House Of The Rising Sun" by The Animals and actor Jeremy Renner
The xx, "Crystalised"
An acapella cover of "A Change Is Gonna Come" by series actor Yusuf Gatewood (Raymond)
First Aid Kit, "My Silver Lining"
Gabin featuring Dee Dee Bridgewater, "Into My Soul"
Sonny "Golden Boy" Williamson, "I Gotta Cry"
Andrea Litkei and Ervin Litkei, "Little Girl"
Geier Sturzflug, "Bruttosozialprodukt"
Lucern Raze featuring Cherry Pickles, "Let's Be Badder"
Nelly, "Ride Wit Me"
Ugly Kid Joe, "Cats In The Cradle"
Queen, "Another One Bites The Dust"
The Ninth Wave, "What Makes You A Man"
The Rescues, "Teenage Dream"
Leopard Lounge Groove, "Opportunity" and "We Could Be Falling In Love"
The Cure, "Friday I'm In Love"
Billy Idol, "Bitter Taste"
The Heavy, "Short Change Hero"
Some hilarious karaoke scenes that include Luther singing "Total Eclipse Of The Heart"; Five, Klaus, Luther, Viktor, and Diego singing "(I've Had) The Time of My Life"
And, to boot, we hear the multifaceted Aidan Gallagher finally flex his singing chops that viewers may have heard from his music career, with Five singing along with him to Jerry Dyke's "Come In Mr. Lonely"