On July 16, Sacramento punk outfit Destroy Boys played the first of two sold-out gigs at Great American Music Hall: Band members Alexia Roditis and Violet Mayugba were obviously excited to be back in the Bay after touring, performing songs from their recent album, Open Mouth, Open Heart, to their core fan base.
Between powerful riffs from guitarist-vocalist Mayugba—such an instrumental presence—and acrobatic hops and swivels coupled with euphoric caterwauls from singer-guitarist Roditis, the band members brought a blush of energy. Their fervor was pushed by high octane percussion accents from drummer Narsai Malik, who pitched the full-tilt show into gleeful bedlam.
Punk remains the primary genre in which this band works, but it's apparent that progress has catapulted the group to new heights and genre explorations. Perhaps touring with one of their inspirations, Mannequin Pussy, has made their releases sound a little more polished. Tight choruses and hooks help promote an inclusive message, 'Be who you want to be,' which they declaim through blunt yet crafty arrangements, aiming their punk-rawk darts toward increased accessibility without reducing the message.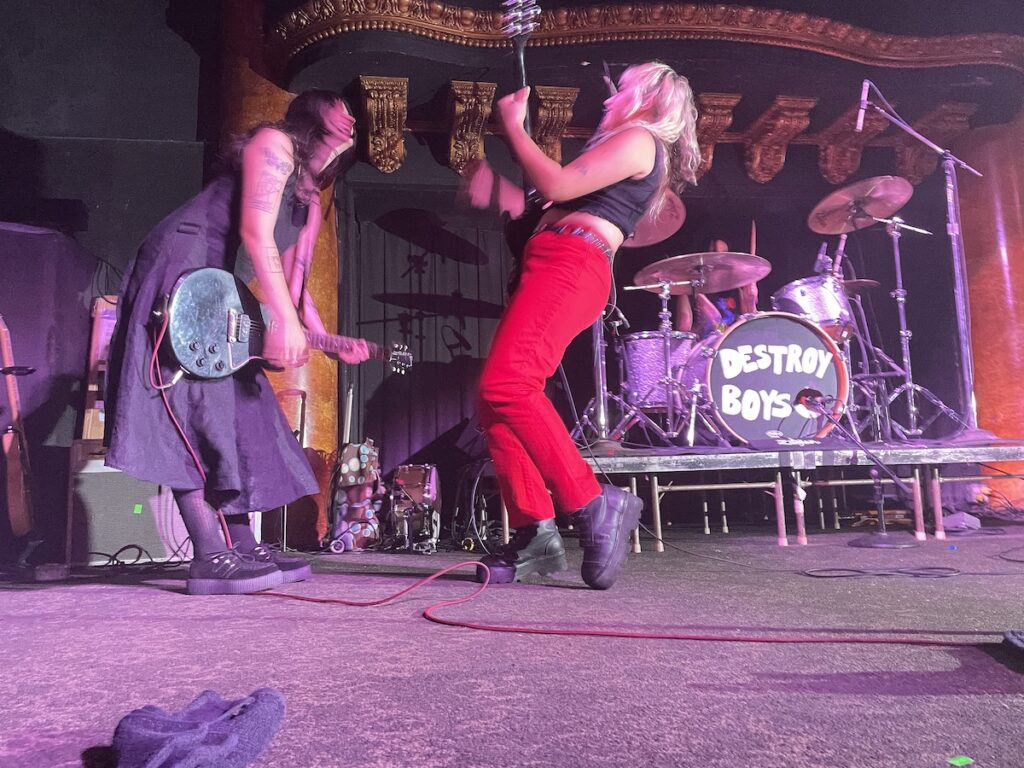 On this night, hundreds of young women (the majority of the crowd) shouted intensely along to quotable lyrics like, "Hunting witches has turned into hunting bitches," from the undeniable earworm "Locker Room Bully." That whip-smart bit of penmanship came soaked in adrenaline and a blitzkrieg communal summons: get punk AF. Witnessing this moment live was a true rush: Destroy Boys is unlocking new levels of connection and acumen.
Violet and Alexia continued peering past the lights throughout the nights performance. Searching, locating, and reconnecting with dads, brothers, friends, and homies they hadn't seen in a long time, who earned constant shout-outs from the band and collective recognition from the general audience.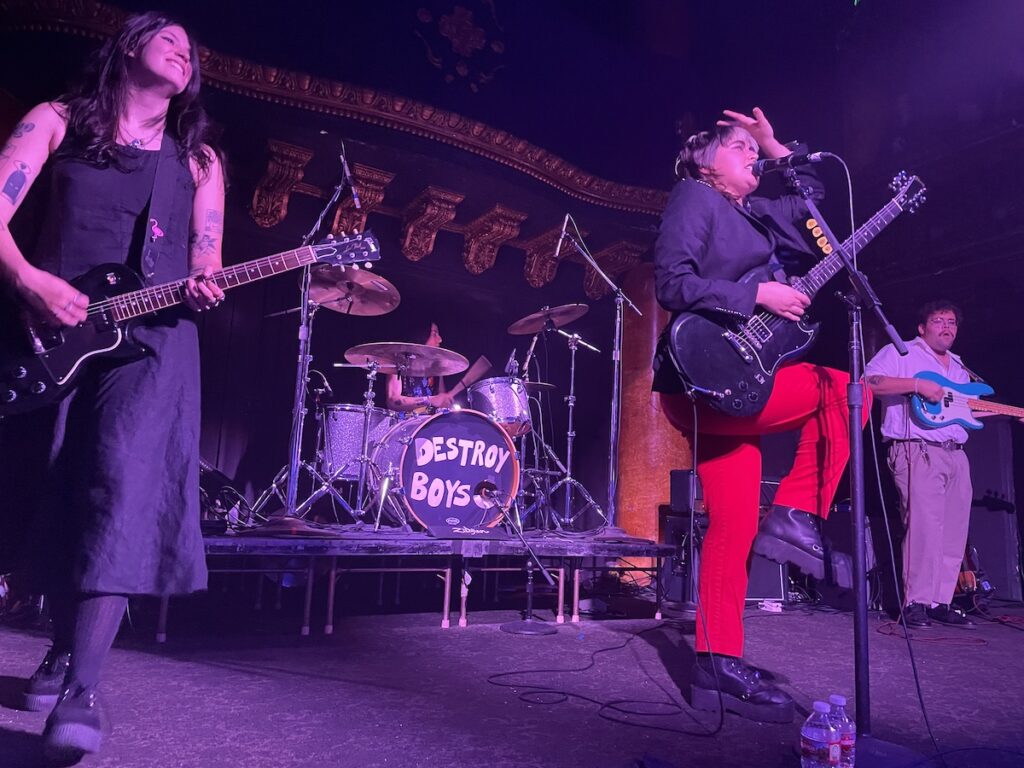 The band stressed that everyone has a voice and the potential to change society, urging the crowd to fight for its rights. When it came time for a nonbinary and trans mosh pit, commanded by this ensemble who act far older than their young years, shit got sorted quickly. Cis-dudes were happily tossed to the side.
Despite being compared, on multiple platforms, to riot grrrl bands like Bikini Kill, which is a tremendous compliment—Kathleen Hanna reached out and acknowledged them last year—Destroy Boys prefer to be characterized as "what would happen if Blondie fell into a Misfits recording session." And that's what materialized on stage.