There's a classic episode of Curb Your Enthusiasm where Larry David gets a sandwich named after him at his favorite deli. Trouble is, he hates the sandwich and goes to great (hilarious) lengths to ensure that the sandwich named after him is one that he actually wants to eat. 
But this is a story about a sandwich named after a guy who loves his sandwich. And in fact, its very construction was anything but random.
Rhea's Deli is on the bustling corner of Valencia and 19th Street in the heart of a vibrant Mission corridor. It's a fully stocked liquor store and corner grocery, but is best known among locals and the Dolores Park crowd for their stacked sandwiches like the pastrami, swiss, and avo-based Barney Rubble, or the erstwhile Korean Steak sandwich with kimchi, that still makes an appearance on the menu every now and again. 
But there's one sandwich that catches your eye when you marvel at its ingredients, The Studio Dad. Melty Colby Jack cheese hits you right away, alongside generously piled smoked ham and spicy salami that blend together to form a juicy, meaty backbone. Spinach gives it an earthy crispness, pepperoncini and creamy chipotle pesto come in with a smooth tangy spice, before crispy, krinkle cut dill pickle kettle chips form a crunchy juxtaposition with the edges of the salami that gets crisped in an oven in a light, and airy, but still crackling Acme roll.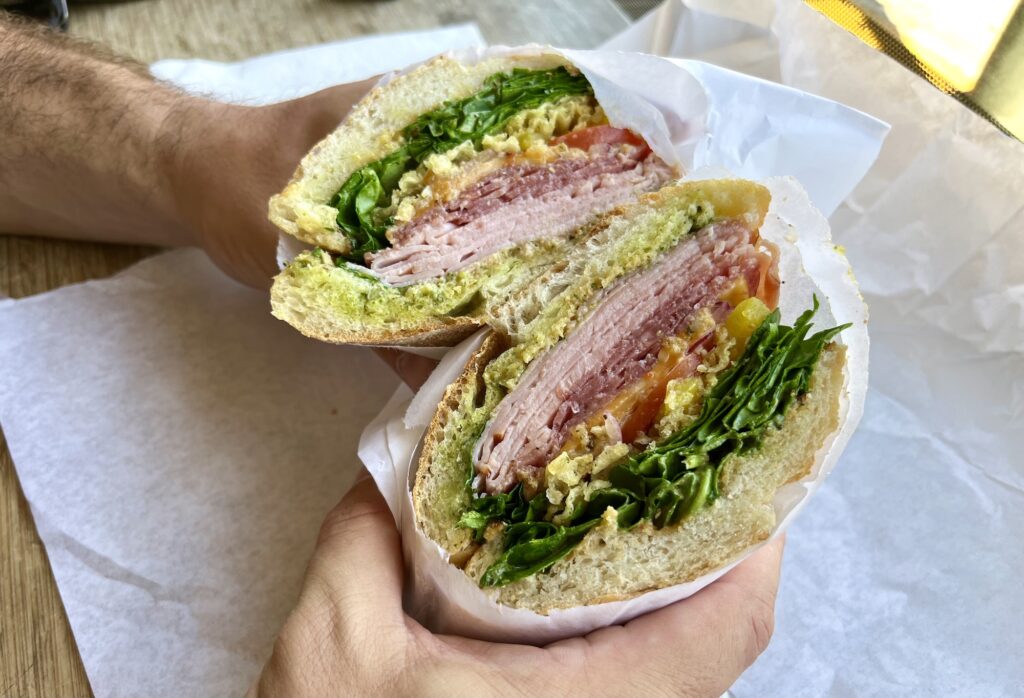 Frankly, it's a bit absurd, but no less delicious and endearing. And then when you get to know a bit about the man it was named after, it starts to make sense. You see, the sandwich is actually called the @Studio_Dad, named after the original Twitter and Instagram handles of Text Me Records label head, engineer, and producer Patrick Brown. He operates out of the famed Different Fur Studios, adjacent to Rhea's, which he owned until recently passing it down to two of his old employees. Brown is a staple in the Mission, who you're more than likely going to run into at any of the businesses within a 3-4 block radius of the Text Me and Different Fur Studio building. On social media, he's fairly unfiltered, hilarious, and often absurd. Sound familiar? 
"We didn't carry bologna, so we made it with ham," says Rhea's owner James Choi, poking fun at Brown, who's standing with us out on Valencia Street. There's a kinship between Choi and Brown, stemming from more than a decade of patronage from Brown and all of the musicians and staff that have passed through Different Fur and Text Me. They know each other well and Choi says he came up with the idea for the sandwich without any input from Brown, as Rhea's was in their pre-pandemic heyday in 2016 and he didn't have time for a full-on collaboration. But there was still a distinct intent and method to his madness as he tried to channel his loyal customer into a sandwich.
"Since he's a sound engineer, I wanted to be a taste engineer and create something that's not normally mixed," Choi says, before getting poetic: "I wanted to balance as many flavors as possible while at the same time flowing effortlessly."
"It's perfect," Brown says. "Although I've told a bunch of people that the joke is that I'm not a huge sandwich guy. I know SFers love their bread, but it's just that I don't like too much bread in my sandwiches."
It's true. I once posted a photo of a gorgeous sandwich at Molinari's on Instagram, beautifully stacked with salted cured meats and fresh mozzarella to boot, to which Brown—who could only focus on the large chewy roll—commented something along the lines of, "There's no way you're finishing all of that bread." (He was right.) 
The @Studio_Dad has a one-of-a-kind confluence of flavors, but let's be honest here, it's the dill pickle chips in the mix that make this one of the most unique sandwiches in San Francisco. It really ups the flavor profile of the whole.
(And personally, it takes me back to my high school days when the public school district would sell Subway sandwiches to kids with a bag of Doritos and we'd stuff the chips inside of the bread in hopes that we could add some flavor to this sad, sad excuse for a sandwich. Except with the @Studio_Dad, it adds this element of impossibility; like what you're not supposed to be doing with a sandwich, but dammit if it doesn't totally work in making the flavors explode.)
Brown is as gregarious as they come. Blunt, in a way that's sorely needed sometimes, and he never holds back. Truth be told, his Twitter handle is now @Studio_Daddy, as his original account got suspended, but that's another story altogether—which may or may not involve Soulja Boy being a flake. 
It's these slapstick antics pouring out on social media that make people gravitate further to Brown. Choi, an upbeat small business owner, always saw that. "We haven't done that before, naming a sandwich after someone we know," he says. "He's kind of an influencer in the neighborhood and represents the "cool" Mission to me."
Brown says he was "very honored" by the gesture and that he appreciates the choice of roll the most. "It's perfect. I can't stand too much bread," he reminds me again, before waxing philosophical on his namesake sandwich. "You know, it's got a little spice, a lot of meat and a wet sauce." He then looks at Choi and says, "You nailed it."