The next round of votes has been counted, but the total number still to count has grown—and some of the races are still very close.
As of yesterday, the Department of Elections said that 104,000 votes remained. Today's report shows that although some 9,000 more ballots were counted, the total still to count is now 137,000.
That's because more ballots that were postmarked on Election Day have come in.
So at this point, 45 percent of the vote hasn't been counted.
In most of the races, that won't matter. But in a couple of close ones, things could change.
For example: Proposition D was losing by 1,200 votes. It's now losing by 1390. The number of vote-by-mail ballots opposing Prop. D appears to be growing. That's interesting because D lost among Election Day voters, 12,968 to 10,907.
And although D and E defy traditional "left-right" lines, Election Day and later ballots tend to be more progressive than early mail-in ballots.
So as the trend is going now, Prop. D is losing ground, and it appears likely that both housing measures will go down.
That means voters don't seem to buy the argument that "streamlining" and more density are going to solve the housing crisis.
Some of this is clearly an anti-density westside vote; you can see that from the maps on both D and E. (Green is Yes, purple is No).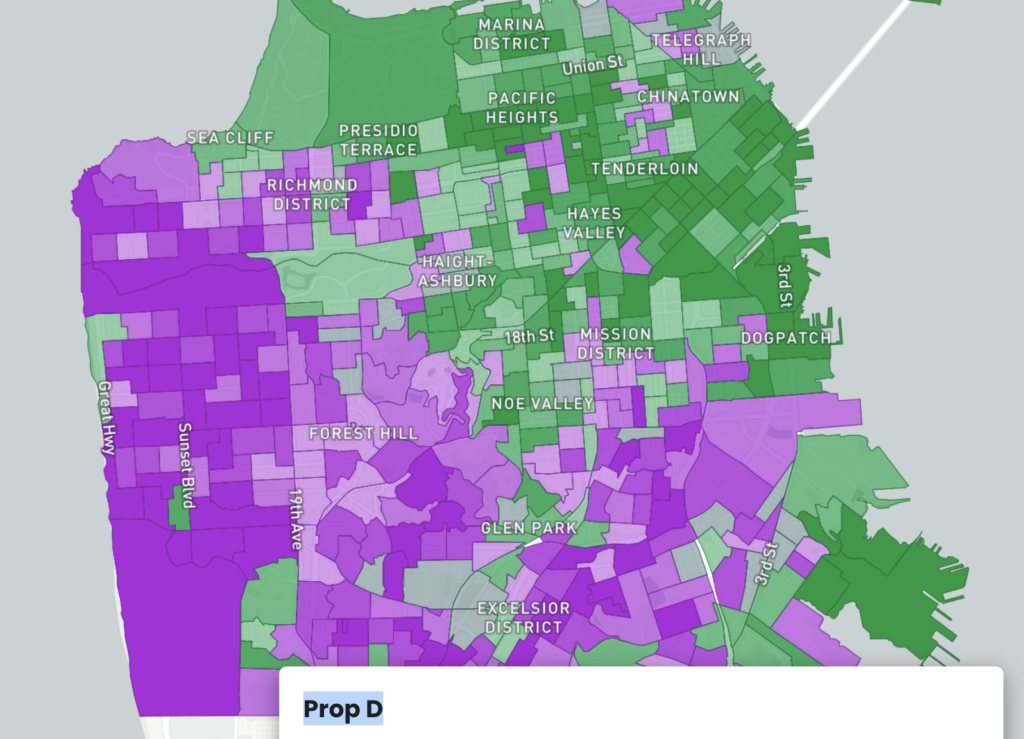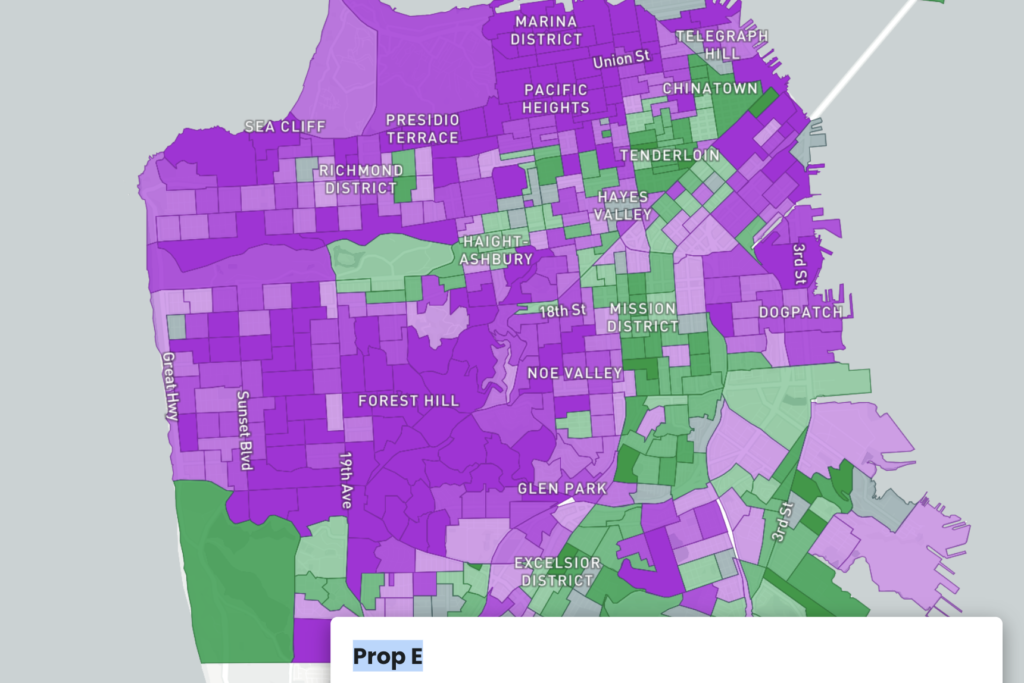 But the wealthy districts in the northern part of the city supported D, but opposed E. That's partially about the Yimby advertising—but it's also perhaps an indication that the rich folks were fine with market-rate housing everywhere, but not so much with affordable housing.
Of course, the reality on the ground is that all the streamlining in the world isn't going to get for-profit developers to build housing built in this market. More than 50,000 units are approved and could break ground today, but the financing isn't there.
That's a "free market" reality that the free-marketeers seem to have trouble accepting.
In District 4, the pattern isn't changing much: Gordon Mar was down 491 votes in the first results, and is now down 507 votes. But it now appears even more votes are still to count, and we don't know where they are from.
Mar would need close to 53 percent of the outstanding votes to win. In the precincts where he did best, and where reported turnout is the lowest, he was hitting 55 percent.
We will know more tomorrow, when the next set of votes are counted.