Variably not-so-fun games of life and death dominate some newly-arriving movies this week, their number including a couple dusted-off golden oldies.
Fun at least for some participants is the perverse pasttime that emerges as the central hook in Brandon Cronenberg's third feature Infinity Pool, which just premiered at Sundance and opens in theaters this Fri/27. James (Alexander Skarsgard) is a not-particularly-successful author staying at a gated Croatian luxury resort with wife Em (Cleopatra Coleman), whose family wealth foots the bill. He's terribly flattered when another guest, Gabi (Mia Goth), declares she's read his book—which is surprising enough—and LOVED it. So he allows himself and a reluctant spouse to be swept into the insistent company of this fan and her husband Alban (Jalil Lespert).
A boozy group outing to the beach provides sufficient walk-on-the-wild-side excitement until, on the drive back, disaster strikes: A car accident which leaves the tourists unharmed but takes the life of an unlucky local. The criminal-justice consequences are swift, albeit not what James expects. This is where the writer-director (as in his prior features Antiviral and Possessor) begins introducing elements of sci-fi body horror associated with the works of his father, David Cronenberg. We discover that the authorities here have hit upon a somewhat fantastical way to extract that pound of flesh desired by poor residents frequently abused and exploited by rich foreigners… without actually killing off the revenue stream such guests bring.
Suffice it to say there is cloning involved, and a side result of this futuristic justice is that people like Gabi and Alban are seasonal addicts to the unique high of committing crimes, then suffering harsh retribution from which they'll emerge unscathed. Keeping his wife in the dark, James too starts to become a thrill junkie in this bizarre mode. But his new best friends may not really be welcoming him into their exclusive club, so much as they are playing with him like a new toy.
Brandon C.'s movies keep getting incrementally better. But they are still over-indebted to Pop's model, and while such movies as the great Canadian weirdo's Videodrome, Crash, eXistenZ, and last year's Crimes of the Future may be hardcore fan-favorites, they are not really among a frequently-great director's best—they're simply his most outlandish. So far, the son's efforts still feel like an imitation of dad's showiest yet lesser work. (They have, however, reached a strange torch-passing juncture: This middling film is still better than Crimes of the Future, in which the senior Mr. C. seemed to be imitating himself.)
There's a familiarity to the insatiable conspicuous consumption of a decadent idle class here, particularly as it comes hot on the heels of such similar, variably satirical screen statements as The Menu, Triangle of Sadness, and Glass Onion. Plus, the emotional stakes are so low: Not as yet capable of lending his characters much dimensionality, Cronenberg Jr. here gives the clones absolutely none, so whatever agonies these doppelgangers endure means zilch. They're just a narrative gimmick, as the frequent full-frontal nudity is a presentational one. Nothing here is as shocking as it means to be, because it's all just an aridly calculated, if stylish, surface.
Skarsgard, a good actor more amenable than most to taking his clothes off, is called upon to do just that to a degree many would find objectionable for an actress. Goth, who impressed many with her diverse turns in last year's linked horror features X and Pearl, is rather less impressive in what amounts to a very old school dragon-lady role, the Freaky Kinky Backstabbing Bitch. She's arguably miscast, but even when it's done well—say, as well as Sharon Stone in Basic Instinct—who really needs this kind of "Treachery, thy name is Woman" figure anyway?
But maybe I'm overthinking Infinity Pool, which strikes a posture of intelligence but is really best enjoyed as an arted-up lurid thriller with quite a lot of naked people in it. Or rather quite a lot of naked Alexander Skarsgard, which is certainly quality nudity, as it goes.
A much more earnest, reality-grounded tale of potentially mortal intrigue is Cairo Conspiracy, the latest from Swedish director Tarik Saleh. After taking a break for last year's English-language debut feature, espionage thriller The Contractor, he is back in the terrain of 2017's laureled The Nile Hilton Incident—indicting corruption in his ancestral homeland Egypt, albeit in the context of a European production (this one shot in Turkey), because actual Egyptians can't make such movies on home turf.
Previously known as Boy From Heaven (it's been retitled for North American release), this fictive narrative introduces us to shy, studious fisherman's son Adam (Tawfeek Barhom) as he learns he's been accepted to the Al-Azhar University in Cairo. It's an almost unimaginable leap from village life to this ancient (1051 years old!), prestigious, powerful center for Islamic education. He's such a greenhorn, he's awed by the sight of umpteen books at the campus library.
But despite its purported separation from secular matters, the institution, its staff and leadership are all too important to be immune from political influence. When the current Grand Imam passes away, the selection of his successor is a process the nation's President and others will do anything to control. Somehow this results in wide-eyed Adam being recruited as an informer, expected to infiltrate the inner circle of candidates in order to (presumably) find dirt that will disqualify them. This is dangerous business, as our hero soon realizes—in fact, he witnesses the murder of the youth who preceded him as a mole for manipulative minder Colonel Ibrahim (the excellent Fares Fares).
The result is a nightmare of duplicity and entrapment echoing the Slovakian Servants, about a campaign of political terror at a seminary school, which came out in the US last year. That B&W film was much more strikingly crafted, however. Saleh's approach is contrastingly straightforward in a smooth, engaging but somewhat uninspired fashion. Nonetheless, we care about this guileless hero's fate. The extent to which he'll be able to avoid being "gotten rid of" (with or without Ibrahim being sacrificed as well) once his usefulness is exhausted maintains a decent amount of suspense.
While this story is an invented one, it clearly hits close to home: Saleh and his films have remained banned from Egypt since that nation abruptly withdrew permission for him to shoot Nile Hilton Incident there six years ago. Cairo Conspiracy, which won Best Screenplay at Cannes last year, opens Fri/27 at the Smith Rafael Film Center in San Rafael.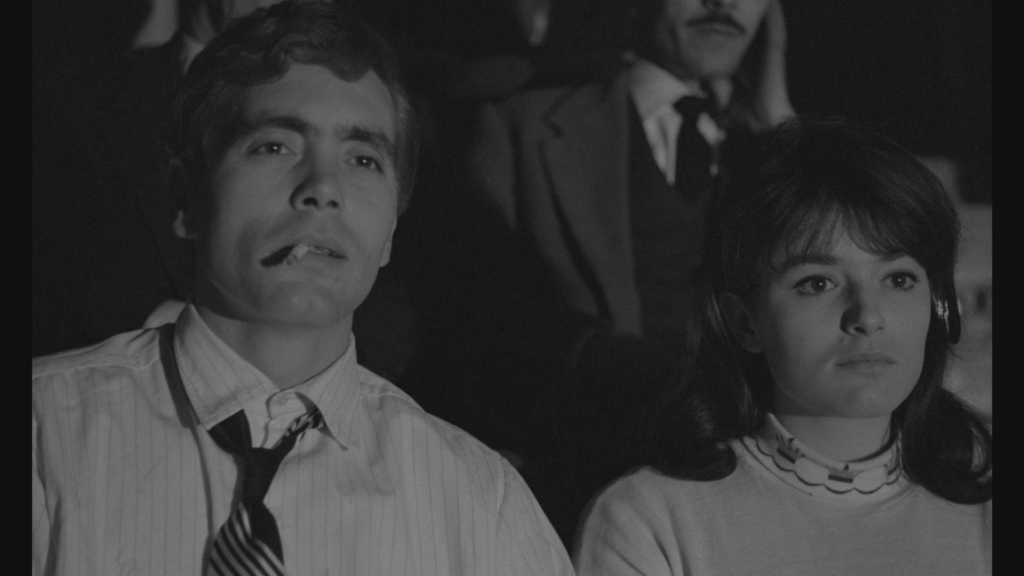 Two very different vintage features getting newly released By Kino Lorber this coming Tues/31 also underline (as a character notes in one of them) that "Providence is not to be tampered with." Well, the protagonist in Paolo Heusch and Brunello Rondi's 1962 A Violent Life hardly seems in control of his own existence from the start. Tomasso (Franco Citti) is part of a loose gang of young men in a slum on the outskirts of Rome, where la dolce vita has yet to reach and probably never will. They'll cause a riot as neo-fascist thugs one minute, viciously attack a middle-class couple found necking in a car the next.
But when their leader Lello (Angelo Sante Amantini) gets sidelined in an accident, for lack of any better ideas Tomasso drifts towards respectability, including courtship of "good girl" Irene (Serena Vergano)—even if he does it ineptly enough to draw a prison stint at one point. He may yet be on the road to redemption… if fate allows him. This B&W drama, landing between late neorealism and somewhat hysterical delinquency melodrama, was adapted by Pier Paolo Pasolini from his novel. He presumably declined to direct it because the material hewed too close to his own debut feature the prior year, Accattone!, though that film's breakout star Citti was happy to take the lead role.
Franco Citti—whose brother Sergio was also a writer, director, and Pasolini associate—is a squirrelly little bully-cum-striver here, not the musclebound satyr he'd later become. (Apart from Pasolini's films, he's probably best known abroad for his close-mouthed appearances as an enigmatic assassin the Godfathers I & III.) Tomasso is not a particularly sympathetic figure, but life hardly gives him a chance. We catch glimpses of the person he might've become under different circumstances, however, and the grudging soulfulness Citti imparts to this haplessly self-destructive character ultimately makes A Violent Life (which is coming out on Blu-ray plus major Digital/On Demand platforms) poignant, and memorable.
Those adjectives aren't quite applicable to The Asphyx, an English sci-fi horror movie that came out a decade later, and has accrued a minor cult rep in the years since. Set (after a brief modern-day prologue) in the Victorian era, it has Robert Stephens as a gentleman scientist whose photography experiments seem to capture "the soul at the moment it departs the body at death"—or is it Death itself, invading the expiring body? In any case, it looks like an angry, screeching Capuchin monkey.
This "psychical research" takes a personal turn when a family tragedy strikes, leaving our protagonist, his daughter (Jane Lapotaire) and adopted son (Robert Powell) to carry on dangerous research in hope of unlocking the key to immortality.
The Asphyx (not to be confused with 1970 rock spoof The Phynx, or 1973 horror meller The Pyx) was the only feature directed by cameraman Peter Newbrook. One can see why: His pacing is turgid, even in a shortened cut—the original UK release had an additional twelve minutes that now apparently exist only in badly deteriorated form. There's little feel for atmosphere or suspense, and some fine stage actors do clumsy work for obvious lack of directorial guidance. The film isn't even visually exciting, despite the presence of usually exemplary cinematographer Freddie Young, who shot Lawrence of Arabia. Still, its rather stodgy idiosyncrasy may appeal to those seeking retro fantasy located somewhere between Conan Doyle and H.G. Wells. It's getting released to Blu-ray, the Kino Now streaming platform, and Amazon Prime.