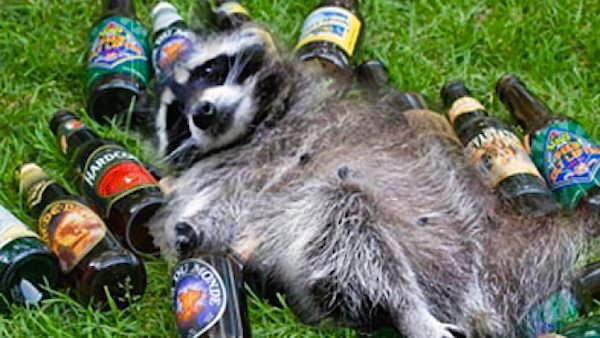 PARTY RADAR Yes, yes, New Year's Eve gets all the press — and this year offers a plethora of ways to stomp out this cursed year on the dance floor (read my guide, dammit!) — but the real survivors, the party legends, the gilded livers dance right on through to the other side, nightlifing through New Year's Day. Here's my seventh annual roundup New Year's Day happenings you shouldn't miss. Take a brief shower, drink some orange juice, and shine on, you crazy diamond.  
PS The 2018 newbie look doesn't have to be all sticky sparkles and torn-through baggies. For those seeking communion of a different ecstatic nature, might I suggest gathering at the Wave Organ at 4pm on Monday for "literary mixtape" of local author readings, hosted by Quiet Lightning … or simply taking a long nap and waking to gaze up into a Supermoon of hope and love (and yoga on the beach). 
IT'S A NEW DAY Massive gathering outside massive Great Northern club for "four stages of the best music, art installations, mutant vehicles, aerial performances, food trucks, interactive games, special surprises and lots of nice people." With house and techno heavyweights DJ Tennis, Steve Bug, Marques Wyatt, Honey Dijon, and dozens more. Mon/1, 4am-9pm, $25+. Great Northern, SF. More info here. 
BREAKFAST OF CHAMPIONS Burning Man stalwarts the Space Cowboys continue their nouveau-hippie tradition for the umpteenth year — now at the gigantic Midway SF venue. DJs include famous peeps like Doc Martin and the Stanton Warriors, but the real treat is seeing thousands of hyper-smiling people swimming in sequined cowboy hats and champagne cocktails. Mon/1, 6am-6pm, $20+. Midway, SF. More info here. 
BRASSTAX SUPPER OF SURVIVORS Make your transition to the next level of heliocentric consciousness — or just keep your buzz on and get shot with a glitter cannon — at this insanely great post BoC tradition. A great lineup of local DJs who won't stint on the drum and bass, a special "triage station" with toothbrushes and other freshening aids for your epic party journey, and something new called "Game of Cones" which, well, you'll just have to find out for yourself … Mon/1, 3pm-Midnight, $5-$20. Public Works, SF. More info here.  
HOE IS BRUNCH Hitch up your panties, hoist up your falsies, and head your fine self to El Rio for a rip-roarin' drag brunch, courtesy of the Hoe is Life party crew. I adore Nicki Jizz and her posse of POC beauties — this special daytime edition features fantastic dance music, performances galore, "mama's comfort food, bottomless mimosas, and unlimited bussy!" Mon/1, 1pm-6pm, $5 before 2pm, $10 after. $15 for bottomless mimosas. El Rio, SF. More info here.  
DAY ONE, CARRY ON Techno hotbox Halcyon offers a New Year's Day Night of nonstop dancing, starting at 6pm and featuring Sunshine People, Funky Teknomics, and a special surprise guest, which, knowing Halcyon, is probably going to be a stunner. Mon/1, 6pm-late, $20+. Halcyon, SF. More info here. 
UNDERGROUND SF NEW YEAR'S ROLLOVER Lovely, funky Lower Haight techno mayhem from some of my favorite crews, including Kosmetik, Romper Room, and Werd DJs, at this hangout to pre-empt/prolong your hangover. Swing through. Mon/1, 7pm-2am, $5. Underground SF. More info here.