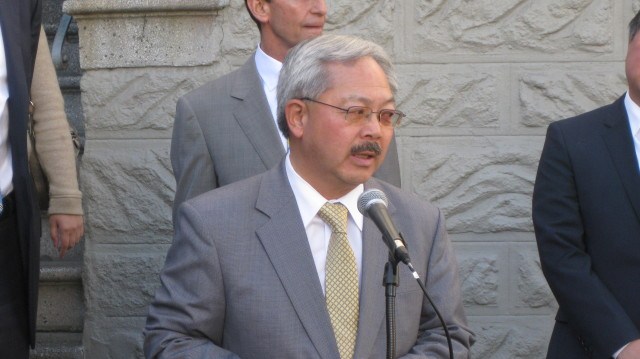 If we can say anything about the process for choosing the person who will run San Francisco's executive branch for the next five months, is this:
Most of us have no clue what's going on.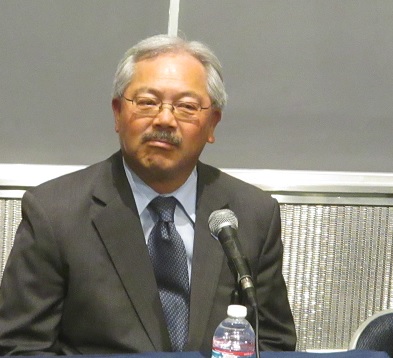 There are lots of discussions, I'm sure, lots of backroom deal-making. There has to be; in two more weeks, the supes will meet and either talk about choosing an interim mayor – or duck the issue and leave Board President London Breed in charge of both branches of government.
We hear rumors. We hear names. Maybe City Attorney Dennis Herrera has close to the number of votes he needs; maybe he would get the job and run as an incumbent. Maybe not. Maybe Mark Leno has six votes. Maybe Breed has six votes; maybe she'd rather not resign her supervisorial seat. Maybe David Chiu wants to be mayor, and would cut a deal to support of of his potential rivals for his state Assembly seat.
Maybe nobody running for the office has six votes. Maybe there's a caretaker everyone could agree on; maybe there's a caretaker who could at least cobble together six votes.
Maybe this supervisor is working a deal on that candidate; maybe that supervisor is working a deal on this candidate. Maybe it changed yesterday.
It's the Maybe, Maybe Mayor-Go-Round. Which doesn't seem to me much of a public process for choosing a mayor of a city.
The last time we went through this, a secret arrangement at the last minute brought Ed Lee, who wasn't even in the country and had previously said he didn't want the job, into power. That didn't work out so well. There has to be a better way to do this.
The Board of Supes is hiring someone for a job. What if all the contenders did what applicants for other city jobs (and commission posts) did? What if they applied? With a public letter and a resume?
What if the board set minimum qualifications, held a public hearing and considered the different applicants?
What if the public had a chance to be heard, to organize around candidates for interim mayor the way we organize around candidates for every other elected job?
I know: There's a lot that could go wrong with this scenario.
Lots of people who have absolutely no business being mayor of San Francisco might apply. So the board would have to quickly narrow the field down to a few finalists.
There are probably people who are iconic public figures, who would love the job, and would be perfect caretakers, but who don't want to go through the public humiliation that former Sheriff Mike Hennessey had to face when he was at City Hall the day of the vote to replace Gavin Newsom, had six promised votes, and lost after Bevan Dufty, after calling a recess and having a secret conversation with Gavin Newsom, switched to Ed Lee.
They might balk at applying and getting rejected. The city might lose the best interim mayor.
Of course, the supes have no legal obligation to vote for someone who openly, publicly says they want the job and is willing to undergo public discussion and scrutiny. If all of the applicants are people who have no business being mayor, then the process failed, and we would, for better or for worse, go back to where we are now.
Who decides who has any business being mayor? That's easy: Six supervisors decide. Like it or not, that's what the City Charter says. The board can set the qualifications, select finalists and eliminate others, entirely at will.
Yeah, the "qualifications" will be a bit random, they always are. In my mind, you don't have to be a career politician, but you have to have some serious political experience, in or out of elected office, and you have to have a credible community base; you don't get to play in the Big Leagues without at least some time proving yourself in the minors.
I'm not saying this process would necessarily lead to a win for the progressives. It could all go the other way. I imagine that if the supes, without a public process, had picked Tom Ammiano for mayor instead of Ed Lee, and Ammiano had decided to run for a full term, a lot of progressives would be really happy (and, I suspect, a lot fewer people would have been evicted over the past six years, Ron Conway wouldn't rule City Hall, and we would be living in a very different city). Politics isn't always pretty; in the Big Leagues, you deal with making sausage.
Still: the last time around, the process failed. There was no public input at all, no chance for anyone in the city to think about or weigh in on whether Ed Lee would be a good mayor. The first time his name even came up was during the board meeting where he was selected. It was a backroom deal in every possible sense (including the fact that some of the people who pushed for him as a caretaker then convinced him to go back on his promise and run for a full term).
I can't see how we could do a whole lot worse.
So maybe some sunshine around the Mayor-Go-Round make sense. I'd like to know who wants the interim job; I think most of us would like to contact our representatives and say that this candidate would be better than that one.
As I said, it might not go well for the progressives – we are famously fractured, and all kinds of agendas come out at times like these. If the left can't agree on a candidate, and the conservatives can, they might win the vote on a board that is split 6-5 against the progressive agenda.
But again: Last time around, with no public process, we got Ed Lee. I don't see how a little sunshine this time is going to make anything worse. It generally doesn't.