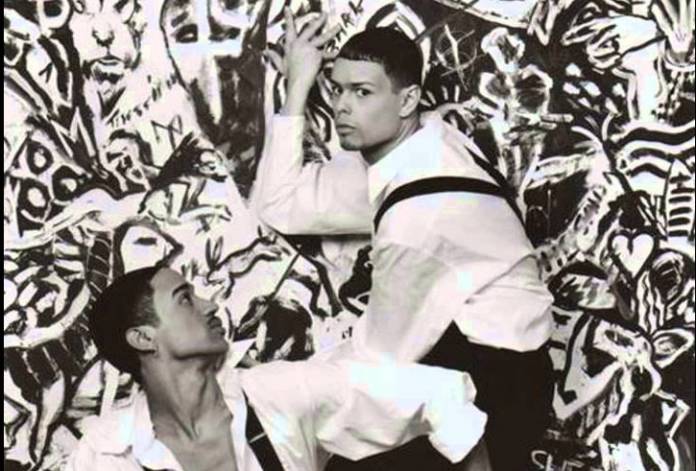 PRIDE "One of the reasons vogue is coming into vogue again," legendary practitioner of the venerated black, queer dance form Luis Extravaganza tells me over the phone from his home in Los Angeles, "is that it's such a powerful form of self-expression. You have classic dances like the Twist or the Mashed Potato, but vogue is different because there's such an essential improvisational element. It opens up and allows people the freedom to express themselves. And it keeps morphing into new ideas, it's changed, but at the core it's still vogue." 
Luis should know. Along with his fellow House of Xtravaganza brother Jose (currently starring in vogue-based sensation "Pose" on FX), he helped bring vogueing to out of its subcultural recesses of rented hotel ballrooms and underground clubs and into national consciousness. Yes, they introduced Madonna to the dance style, and then rocketed to fame a she rose to number 1 on the pop charts with her eponymous ode to the dance. (Not everyone was happy about a straight white lady hopping aboard the "giving face" train, but it's undeniable that her MTV performance of the song, with the brothers Xtravaganza at center stage, is one the great queer media moments of the twentieth century.)
The duo even produced their own vogue dance floor classic, "The Queen's English." (Jose told me, on the phone from his home in Los Angeles, "DJs still play that sometimes when they see me in the club if they want to have a little kiki.")
Madonna's 'Vogue" and, even better Jennie Livingston's documentary Paris is Burning were the touchstones of vogue's ascent in the early '90s—and the dance has remained a vital, evolving underground staple since. Now there's a resurgence of pop culture interest in the dance with "Pose," and practically everybody under DJ, musician, and dancer the sun seeming to cite vogueing and the music that accompanies it as a major influence.  (Jose and Luis even starred in a recent documentary about being Madonna's backup dancers, called Strike a Pose.)   
The artform's impact is being officially recognized at our very own SF Pride parade, Sun/24: Jose and Luis have been named Celebrity Grand Marshals—so expect a lot of arms, shoulders, and face, face, face as their car rolls down the parade route. 
I asked Jose, who was just coming off the set at a "Pose" location shoot in NYC, what it's like to be a big part of the vogue revival. "It's full circle, I'm reliving my own history in a way, re-experiencing something that's so symbolic in my life," he said. "It was a little world created by the gays, mostly here in New York City, so now be able to bring it to a major platform for everyone to see what it is, to see where it comes from and the history, the struggle back then, the lives of the people on the scene. It's like art imitating life.
"It was a fantasy world that we created, and that those before me created. I am very passionate about it because it was our own," Jose said. "Now, with social media, it's blown up to a whole other level. I teach it in Japan, Russia, all around the world. Some people see a video and think they can just do it. But it's  like 'Oh no, honey, it's deeper than that. It's not just the movements, you need to feel it. You need to know the story. You need to do the research.'"  
Luis, who teaches a hip-hop-jazz-vogue fusion class in LA ("we get our hearts pumping and we act a little fierce") also sees vogue as a political outlet. "It's a show of strength and artistry that also presents freedom and identity.
"Things are so strange right now, because it feels like we're going back to the '50s, everything is going backwards," Luis said. "It feel like we have to stand up and say, 'we're here, we're queer, get used to it,' all over again. Really? I mean, it's just a goddamn wedding cake. I can't believe we have to go through this all over again."
What is Jose and Luis' message for Pride? "We've always had to fight for our rights to love each other, to fight to not be discriminated against," Jose said. "I want to tell this new generation that now that we have all these privileges and honors and we can get married and you can see us on television…. I want us to not forget that people fought for these rights, people died for these rights. And as we go through more of these these dark times, I want young people to know that the torch is being passed down to them for a reason. And they must continue."
Luis added, "As Jose always says, just be yourself. Just be." 
SF PRIDE PARADE AND CELEBRATION
Sunday, June 24
CiVic Center (Parade starts at the Embarcadero at 10:30am)
More info here.  
See our full rundown of Pride events here.