PARTY RADAR OK! There is a lot going on. But you are ready to dive in. You've shoed your fantasy unicorn, reactivated your quirky Tumblr/Grindr, settled on some earnestly ironic rainbow flourishes, dedicated yourself to empower other queer people, immigrants, trans people, women, and people of color, and reminded yourself to act conscientiously and travel safely though this week we called Pride and the sparkly beyond. I'm here to help direct your wingéd fuchsia Nikes to where you want to be, because I love you to hot pink bits. 
First, please support our 48 Hills Pride Month sponsors Sui Generis + Frameline. We can't do this independent, queer-run media thing without our community's support! (Donate here, advertise here, sign up for our newsletter here.)   


Second, if you have a moment, stop by Grace Cathedral , not only to pay awed reverence to Keith Haring's brilliant altarpiece in the AIDS Memorial Interfaith Chapel, but to reflect on the lives lost to gun violence at the Pulse nightclub shooting. The "49 Farolitos" candelaria exhibit by James Nocito commemorates each victim, mostly LGBTQ and Latinx, with a beautiful illustration and a little light.  
PRIDE WEEK PARTIES + EVENTS
ONGOING FRAMELINE FILM FESTIVAL The world's biggest and oldest LGBTQ film festival is still going strong, 42 years in. 48 Hills is a proud sponsor of the Friday evening showing of LA lesbian strip club documentary 'Shakedown' at the Victoria Theatre! Through June 24, more info here.  
ONGOING NATIONAL QUEER ARTS FESTIVAL Fabulously interesting and deeply cultural performances and events, ranging from an Afro-Queer Masquerade Parade to the retro-queer musical stylings of the Singing Bois. More info here.  
WEDNESDAY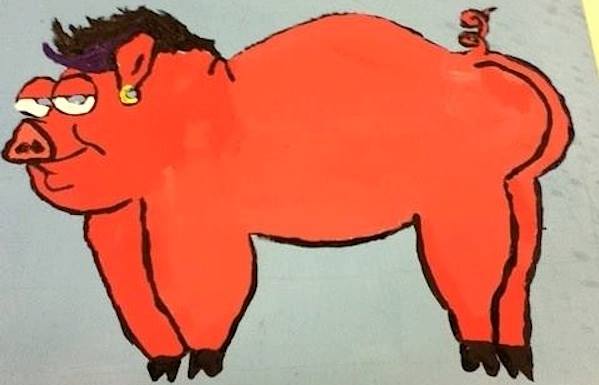 WED/20 PULLIN' PORK FOR PRIDE Come support 48 Hills and the Harvey Milk Democratic Club! This is our 14th annual Pride kick-off beer bust + yummy carnitas (plus veggie option) fundraiser. Lots of surprises! You can win a t-shirt! 6pm-9pm, party is free, $12 for beer bust and food. Pilsner Inn, SF. More info here.  
WED/20 SISTER ACT SINGALONG PRIDE MASS I'm not religious, but I am thankful for this, from the folks who brought us the Beyoncé Mass: "We'll kick it off with a mini-Pride parade and sing all of your favorite Sister Act songs— from "Hail Holy Queen" to "Joyful, Joyful" — led by our #BeyonceMass soloist Logan Williams. And most importantly, we'll celebrate that we are all made in the likeness of God with a special Pride message from Rev. Jude Harmon. Oh, and don't be afraid to wear your fiercest outfit!" 6:30pm-7:30pm, free. Grace Cathedral, SF. More info here. 
WED/20 BONDAGE-A-GO-GO PRIDE Fantastic weekly "gay and straight and bisexual and pansexual and demisexual and asexual, too" free-for-all (one of our longest-running clubs) proudly amps things up with hot performances and DJs Tomas Diablo, Damon, Fact.50, and Jimmy Swear. Hosted by Haley Alice, Ms. SF Leather 2018, and benefitting St. James Infirmary. 9:30pm-2:30am, $10. Cat Club, SF. More info here.    
WED/20 KOSMETIK PRIDE Weekly queer techno night continues expanding boundaries, with an all-vinyl set from DJ Infinite Jess and hometown hero headliner Christopher Orr, whose rare appearances are legendary. 9pm-2am, $5. TheStud, SF. More info here.  
WED/20 RESIDENT SHEVIL: CODE VANJIE "The mid-week drag rave everyone can't stop taking about! Our stage is open to all different interpretations of drag, and all genders/bodies/persons." With DJ Dreamcast and many performers. 10pm-2am, $5. Powerhouse, SF. More info here. 
THURSDAY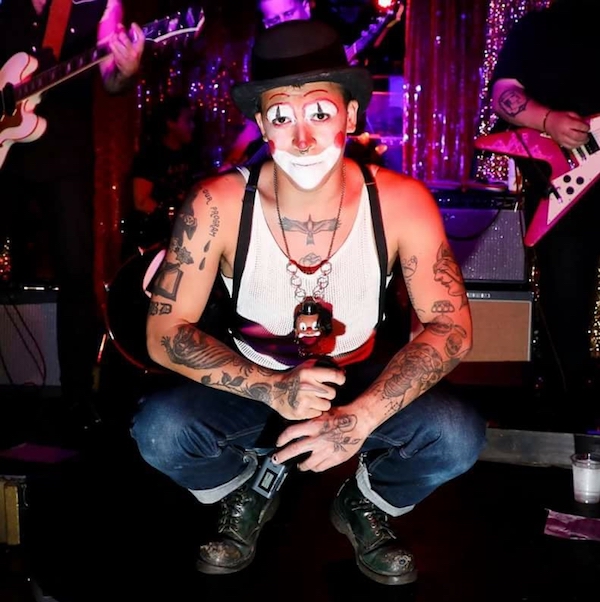 THU/21 LOLLY GAGGERS The hottest queer punk band in SF? Don't lolligag, duh. Opening for The Bobbleheads and the ever-wow Ethel Merman Experience (classic rock sung by Ethel Merman, it is glorious) at the Eagle's live music night. 9pm-midnight, $5. SF Eagle. More info here. 
THU/21 PRIDE WAX Some real fun retro vibes as The San Francisco Disco Preservation Society's DJ Jim Hopkins, Disco Dianna, and Iggy share their vinyl collections of disco, funk, soul, electro and house. 5pm-9pm, free. Hawthorn, SF. More info here. 
THU/21 SWAGGER LIKE US: VOGUE NIGHTS "Join us as we celebrate ballroom culture. Bay Area VOGUE NIGHTS will feature some of the most notable legends from the international ballroom community, including Commentator DaShaun Wesley of the House of Lanvin and DJ Byrell The Great of Qween Beat Productions. Whether you're a long time ball walker, up-and-coming legend, or a virgin just getting warmed up… we want to see you wake it up and BRING IT! Remember, YOU OWN EVERYTHING!" 10pm-3am, $15-$20. Public Works, SF. More info here.
THU/21 PRIDE NIGHTLIFE Love, love, love this event every year at the Cal Academy of Sciences, which turns its great weekly party (dancing in the aquarium!) into a drag-festooned wonderland. Hosted by Heklina, with music from Hella Gay and Swagger Like Us. 6pm-10pm, $22. UndergroundSF. More info here. 
THU/21 THE 9TH ANNUAL OBLIGATORY JUNE GAY COMEDY SHOW! How can you have a comedy showcase in June at queer bar El Rio, and not have the theme be "flaming"??? Featuring Sampson McCormick, Natasha Muse, Nick Leonard, and Lisa Geduldig—your laughter, like rainbows, will flow obligatorily. 7pm-8:30pm, $10-$20. El Rio, SF. More info here.  
THU/21 CRAZYSEXYQUEER A totally tubular throwback '90s night at Virgil's, one of the last queer oases in the Mission. 9pm-2am, $5. Vigil's SF. More info here. 
THU/21 CLUB BEAUTIFUL: PARTY N PLAY This absurd drag monthly has chosen to salute, er, late-night partying during Pride—if you've ever met Tina, or went out in the '90s, you know what they mean. Hosted by VivvyAnne Forevermore, with tons of chasing-the-dragon performances. 10pm-1am, $10. Elbo Room, SF. More info here.    
THU/21 FATAL FEMMES (HOE IS LIFE) Celebrate all that is femme and wild at this intensely fun monthly party. With Cinnamon Maxxine, Hollow Eve, Jillian Gnarling, Stefani K-Monster, Lisa Frankenstein + DJs Yha Yha (Berlin) and Fela Kutchii (Oakland), with Narcissister live and hosted Nicki Jizz. 10pm-2am, $10. the Stud, SF. More info here. 
THU/21 HIGH TIDE PRIDE BOAT PARTY Look, I normally don't do boat parties because I feel trapped. But being trapped with Honey Soundsystem, Le1F, and Saturn Rising? Well, all right. 5:30pm, $40. Hornblower, SF. More info here. 
THU/21 THE TUBESTEAK CONNECTION DJ Bus Station John is a treasure, rescuing authentic disco and bathhouse vibes from the vintage recesses of our collective soul. His long-running weekly club is a must for visitors and (ir)regulars alike. 10pm-2am, $5. Aunt Charlie's Lounge, SF. 
FRIDAY
FRI/22 15TH ANNUAL TRANS MARCH + RALLY Along with Saturday's Dyke March, the most inspiring part of Pride for me. Special Guests our Lady J and Gavin Grimm, plus tols going on. Rally 2pm-6pm, March at 6pm. Free. Dolores Park, SF. More info here.  
FRI/22 BUSTIN' OUT 13: PARTY AGAINST THE PRISON-INDUSTRIAL COMPLEX One party, three venues, tons of DJs and friends at this official after-Trans March event—benefitting TGI Justice Project. 7pm-2am, various prices. At El Rio, The KnockOut, and Virgil's Sea Room, SF. More info here. 
FRI/22  TRANS BLENDER An all-ages, after-march, mashup dance party and performance transtopia! With superstar trans DJ (and Bootie party mastermind) DJ Adrian A, plus special guest Illexxandra, and  live singing, burlesque, pole dancing, and drag by trans and gender-variant performers: Joshuah Ciafardone (Aurora Rose), Gem N'Aye, Jupiter Gatling, KaiKai Bee Michaels, Ryder Moore, Damien Alain Cox (Scroto T. Bagginz), Sheena Rose, and Niko. A benefit for the National Center for Transgender Equality. 7pm-10pm, $10-$20 (no one turned away for lack of funds). Piano Fight, SF. More info here.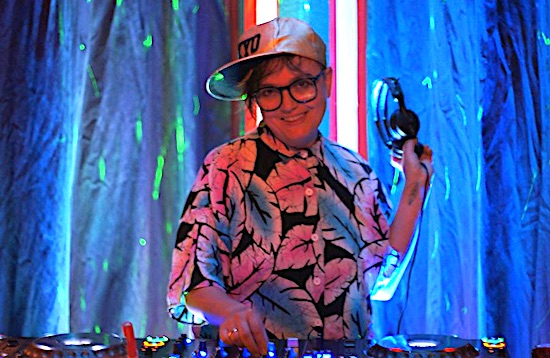 FRI/22 SAPPHO AND FRIENDS PRIDE/BIRTHDAY EDITION Buckle up for some deep and psychedelic grooves! I'm DJing from my rare '80s 12-inch collection, opening up for DJ Justime and super DJ Sappho—plus it's Sappho's birthday! Hop on our intimate dancefloor at Underground SF. 9pm-2am, free before 10pm (come hear me spin!), $5 after. Underground SF. More info here.  
FRI/22 POUND PUPPY PRESENTS STUD PUPPY: MYSTIC BILL Aroooo! The original SF pup-themed party parks its paws at the Stud for Pride, featuring Miami techno wiz Mystic Bill. Time to play ruff. 10pm-4am, $10 advance, $20 door. The Stud, SF. More info here.  
FRI/22 ELECTROLUXXX PRIDE PARTY This art-dance hybrid party is going Pride bonkers, taking over Public Works with at least two dozen DJs and lots of special surprises. With Midnight Magic and Blimes (both live), Kudeki, Merlin the Girl, Steve Fabus, and more.   9:30pm-4am, $40. Public Works, SF. More info here. 
FRI/22 HOT PANTS The legendary lesbian party returns! This jam is ingrained in SF's queer party DNA, but that doesn't mean it's dusty. Cut 'em high with Chelsea Star, DJ Campbell, Siobhan Aluvalot, and Miss Pop. <3. 9pm-2:30, $10. Cat Club, SF. More info here. 
FRI/22 10TH ANNUAL BEARRACUDA SF PRIDE Big, hot, hairy guys! 9pm-3am, $20. Foundry, SF. More info here. 
FRI/22 DISCWOMAN The powerhouse NYC-and-beyond collective comes together in SF, with DJ sets from SHYBOI, RIOBAMBA_dj, UMFANG, stud1nt, Juana, BEARCAT, Dj Haram, mobilegirl, and Ziúr plus our local CLUB CHAI (Jasmine Infiniti, 8ULENTINA, FOOZOOL). Wow! 10pm-3am, $20. 1015 Folsom , SF. More info here. 
FRI/22 STEAM DOES PRIDE This monthly men's sauna-themed party is a hoot; for Pride it's got DJ Guy Ruben behind the decks, plus the usual wet towel contest and power-shower go-go's shenanigans. 10pm-2am, $10 benefitting the LGBT Center. Powerhouse, SF. More info here. 
FRI/22 CLUB LONELY PRIDE Quite honestly one of the best parties in the city, going late and wild. With DJs Vin Sol, Primo, Jeremy Castillo and special guest Brown Amy. 10pm-5am, $12. Club OMG, SF. More info here. 
SATURDAY
SAT/23 26TH ANNUAL DYKE MARCH AND RALLY Probably no Pride experience will equal the year the Dyke March—always the most fantastically radical of the Pride events—broke free of its city-prescribed new path to retrace its roots around the Mission, reclaiming the roots of the lesbian community in SF. I bawled in appreciation. But that's par for the (dis)course for this event, the one can't miss part of the weekend. Rally 11am, March 5pm, free. Dolores Park, SF. More info here.   
SAT/23 LUV 4 LUV The Stud explodes with post-Dyke March luv, with DJs Sassmouth, Sha Sha Kimbo, and Siobhan Aluvalot and Live Performances from Saturn Rising and Cat Mahatta. 9pm-4am, $10. The Stud, SF. More info here. 
SAT/23 JUANITA MORE PRIDE: NIGHTTIME If anyone has the balls to help re-open the site of the famed rock n' roll venue Fillmore West, which used to host thousands for live show (but has since become a Honda dealership), it's drag force of nature Juanita More. Now called SVN West, the spot is perfectly poised between the Castro and SoMa, and Juanita is launching it with a panoply of talent: LCD Soudsystem's Gavin Rayna Russom, Jasmine Infiniti, and of course the House of More. 10pm-4am, $45 presale,$50 door. SVN West, SF. More info here. 
SAT/23 SWAGGER LIKE US PRIDE: TS MADISON, CAKES DA KILLA Our biggest and most vibrant queer hip-hop and future beats party brings in the gloriously sharp-tongued mother of all mothers, TS Madison, to host its Pride party, with rap hottie Cakes Da Killa. 9pm-3am, $30. Mezzanine, SF. More info here.
SAT/23 WILD THINGS WITH KEHLANI Public Works on the Saturday before Pride has traditionally held some forceful lesbian energy, and this year's Wild Things party with indie r&b/pop sensation Kehlani surely keeps that legacy popping off. 7pm-6am, $30. Public Works, SF. More info here. 
SAT/23 POLYGLAMOROUS PRIDE: DJ MINX Oh my goddess, if you know anything about the hysteria this insanely talented Detroit techno legend appropriately evokes in the underground gay dance floor population, you will be heading to this daytime installment of Polyglamorous immediately. (Or at least when doors open.) Also, this party is on a roof. With Atlanta's awesome Vicki Powell and more. 3pm-9pm, $15-$30. Oasis, SF. More info here.    
SAT/23 DEVOTION PRIDE: MOOD II SWING The Devotion parties are absolute guaranteed bangers, with a mixed crowd but always super-gay. House legends Mood II Swing join diva Julie McKnight singing live + Miguel Migs and residents Ruben Mancias and Jay-J for some serious old school soul vibes. 9pm-4am, $15. Great Northern, SF. More info here. 
SAT/23 SUI GENERIS SIP AND SHOP They are literally going to give you champagne while you shop for the cutest Pride looks. Do it. Noon-4pm, free. Sui Generis Designer Consignment, SF. More info here.    
SAT/23 PINK MAMMOTH BLOCK PARTY The annual daytime marathon rave-up is where burners and queers and queer burners (and just plain ol' dance music fans) merge into an orgiastic block party of furry fun. I may have mixed some metaphors there. Noon-9pm, $20-$25. Great Northern, SF. More info here. 
SAT/23 LOVE HANGOVER Another daytime rave-up, this one on the disco tip, at a bear bar, because why not. DJ legend Lester Temple joins Trevor Sigler, Lotus Disco, Justime, and Prince Wolf to cure what ails you. 2pm-8pm, $5-$10. Lone Star, SF. More info here.
SAT/23 WE ARE MONSTERS Psychedelic electronic grooviness is the name of the WAM game, and the crew calling on some big names for deep help this weekend, with Mick Wills, Traxx, Carlos Souffront, Blackmoon77, and Mozhgan. 9:30pm-3am, $15-$20. Monarch, SF. More info here. 
SAT/23 D.A.D.: FATHER OF THE PRIDE Fathers' Day may be over, but Zaddy's Day is forever at Dudes And Disco, this hot little daytime dance party at the Pilsner. With Michael Romano, Colin Bass, and Kelly Naughton. 3pm-9pm, free. Pilsner, SF. More info here. 
SUNDAY
SUN/24 PRIDE PARADE AND FESTIVAL What a grand hullabaloo for Pride's 49th birthday! Like we said, there's a lot. (The main stage has some actual great things this year! And head to the Fringe Indie Dance stage for some cute moments!). More info about it all here. 
SUN/24 MIGHTY REAL POOLSIDE PRIDE: CRYSTAL WATERS  Soulful house legend DJ David Harness's annual party at the Phoenix Hotel always brings in the house music royalty. This year? Crystal Waters (who's back at the top of the dance charts) and New York's Tedd Patterson. noon-6pm, $60. Phoenix Hotel, SF. More info here.  
SUN/24 JUANITA MORE PRIDE: HORSE MEAT DISCO Drag goddess, civic patron, party-you-under-the-table queen: Juanita More does it all. She also holds the most coveted ticket of the year for the fashionable and daytime-ready. This year, especially, will be "off the hook," as brilliant UK DJ foursome Horse Meat Disco rick the party with our own DJ Carrie On Disco. Disco party! Noon-7pm, $50. Jones, SF. More info here. 
SUN/24 ANNUAL PRIDE "POOL" PARTY Lol, I love this silly thing. The Oasis venue used to famously have a pool on the roof; now they inflate a little kiddie pool and serve yummy cocktails so you can gawk at the Pride revelry below, from the tipsy safety of your poolside seat. 1pm-6pm, free. Oasis, SF. More info here. 
SUN/24 THE STUD IS SO PROUD OF YOU! Hot-hot DJs, drag shows, and live performances all day at this 52-year-old queer institution, celebrating its last year in its current space! Come out and dance, dance, dance (and drag, drag, drag). 2pm-10pm, $5-$10. The Stud, SF. More info here.  
SUN/24 HARD FRENCH <3 LOS HOMOS: EVELYN "CHAMPAGNE" KING Classic soul shindig Hard French seems to top itself every year with jaw-dropping guests (and one of the most diverse and energetic crowds of the the whole dang thing). This year? The disco and funk goddess who brought us "Shame," "I'm in Love," and "Love Come Down." Plus UK indie outfit shopping! So good. 3pm-11pm, $30-$35. Mezzanine, SF. More info here. 
SUN/24 QUEERLY BELOVED This annual super-queer. Mission-based party is a relief from the crush of the Civic Center Pride crowds. Hosted by Country Trouble, with guests Micahtron, Chelsea Starr, and tons more, it's some of that ol' SF queer spirit on a big, colorful patio. 3pm-9pm, $10-$20. El Rio, SF. More info here. 
SUN/24 HELLA PRIDE: A QPOC CELEBRATION "Hip-hop x dance x R&B x reggae x house x trap with Dj Sweetest Threat, DJ Climaxxx, MC Mysterious, and Lil Waifu on the soundtrack!" 6pm-midnight, $15. The Chapel, SF. More info here.  
SUN/24 DISCO DADDY One of our utmost disco daddies, DJ Bus Station John, dedicates his delightful dance party to the disco sounds of Pride. "A Festive Pit-Stop For Non-Stop Party People!" 7pm-2am, $7-$10. SF Eagle. More info here. 
SUN/24 HONEY SOUNDSYSTEM: YAEJI Our heroic hometown underground techno crew bringing in this Korean-American wunderkind, whose riding a huge wave of well-deserved hype? And at brand new venue August Hall? Well, if course. With the whole Honey crew providing backup, decor, weird moments, etc. 8pm-4am, $35. August Hall, SF. More info here.    
SUN/24 TEENAGE DREAMS Some amazing Oakland-style queer vibes (remember when SF had those?) at The Stud, with an "actual dream team of queer/trans poc babe sweetheart geniuses": 8ULENTINA, Brown Amy, The Creatrix, Piano Rain, Shawna Shawnté.  10pm-4am, $10-$15. The Stud, SF. More info here.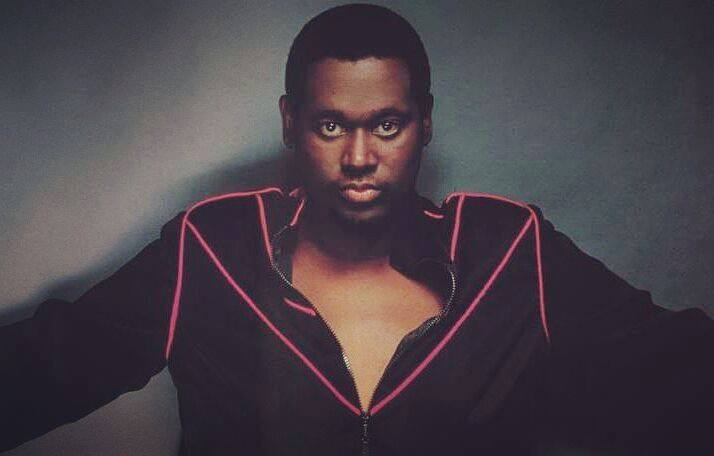 SUN/24 SWEATER FUNK'S THIRD ANNUAL LUTHER VANDROSS TRIBUTE Eternally grateful to live in a city where queer allies put on an amazing, all-vinyl, annual Luther Vandross tribute night during Pride, and don't make a big fuss about it. 10pm-2am, $10. The KnockOut, SF. More info here.