ONSTAGE There should be more tummlers.   
A Walk on the Moon (at ACT through July 1), brings you right into the world of Jewish summer vacationers in the Catskills—where overworked husbands toil in the city all week, clocking their time on Route 17; women play mah-jongg and fantasize about life without men; and teenagers chafe at having to do the same old thing, especially when Woodstock is happening right next door.
Still, what really characterized the Catskills were the tummlers—those guys with the corny, slightly off-color jokes who knew everyone and kept the activities going. In this show, there's only one (Vincent Randazzo, who also plays the larger role of Irv, one of the weekend husbands) and he makes just a brief appearance.
But, genug, enough already, there's plenty to keep this show going, especially the gorgeous voices of the lead singers—Katie Brayben, Jonah Platt, and Brigid O'Brien—and all the singers, in fact.
This is the world premiere of A Walk on the Moon, a musical adapted by Pamela Gray, the screenwriter of the 1999 movie of the same name, and directed by Tony Award-nominee Sheryl Kaller.
It's a good choice of movie to be transformed into musical. Composer Paul Scott Goodman (Bright Lights, Big City) and choreographer Josh Prince (Beautiful: The Carole King Musical) skillfully use music to highlight the gaping generation gap at the core of the story.  The 30-something parents dance swing and ballroom, while the teens thrill to rock-and-roll.  Teenage guitarist Ross (Nick Sacks) even creates his own folksy protest songs, leading Alison (the bright, full-throated Brigid O'Brien) to fall head over heels for him in her first crush.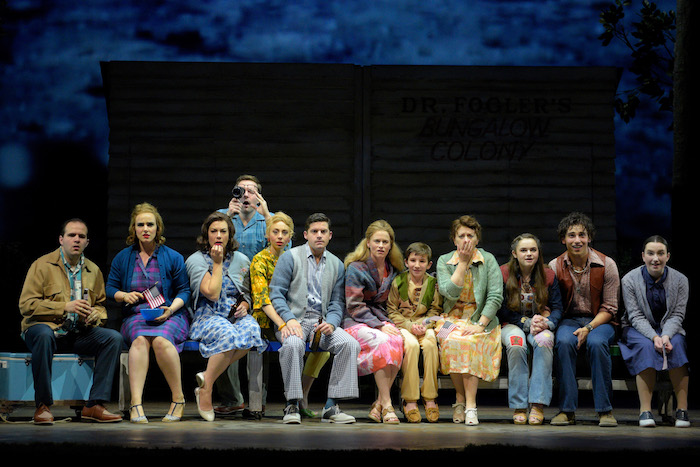 A Walk on the Moon is set in 1969, against the backdrop of the war in Vietnam, the women's liberation movement, and a country still reeling from the assassinations of Martin Luther King, Jr. and Bobby Kennedy a year earlier.  Amidst the turmoil, everyone seems to come together—at least in front of their television sets—to celebrate Neil Armstrong's "one giant leap for mankind." Even at Dr. Fogler's Bungalow Colony, where the generations are fiercely at odds.
Scenic designer Donyale Werle evokes the Catskill resort with just the right combination of shabby and haimish. The tiny cabins with the rollaway cot in the kitchen and the webbed lawn chairs stacked on the front porch contrast perfectly with the abundant greenery and starry, starry night. The dazzling lighting design by Robert Wierzel also does tricks with contrast: the colors of the patriotic Fourth of July fireworks are transformed into a psychedelic light show at Woodstock—and both pale in comparison to the luminescent moonshine and twinkling stars.
The story follows Pearl (Katie Brayben) and her rebellious teenage daughter Alison who are locked in conflict over, well, everything. Alison bristles at being confined in the traditional family resort, proclaiming, "It's the summer of '69 out there, it's the summer of '59 in here."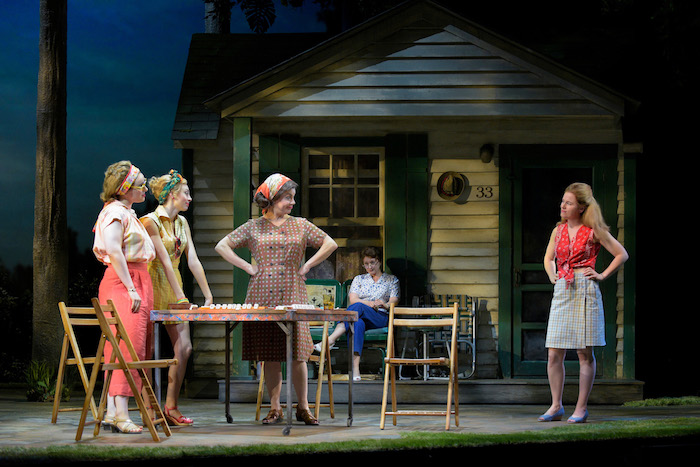 Pearl tries to keep up appearances, dolling up for the weekend when her husband Marty (Jonah Platt) will arrive, fixing tuna lunches for her son Danny (Elijah Cooper) and trying to persuade Alison to confide in her.
Unbeknownst to those around her, including her family and her close women friends, Pearl also feels confined. Inspired by the moon landing, she secretly desires to explore and discover something new, perhaps her own inner self. She deeply regrets "what might have been" had she not become pregnant as a teenager and given up her dreams of being a reporter. Her longings transform into dangerous reality when she falls for Walker Jerome (Zak Resnick), the traveling salesman with his van full of cheap blouses and seductive tie-dye T-shirts.
To her daily chores, she adds hiding her trysts with the Blouse Man from her mother-in-law Lillian (Kerry O'Malley).
Brayben (who won an Olivier Award as best actress in a musical for her role in Beautiful) has a stunning voice that seems to shimmer in the moonlight when she sings of breaking out of her conventional role as wife and mother.
Several of the minor characters also add zest and talent to the cast. Notable among them is O'Malley, who sees and hears many things that others (especially Pearl) would like to keep hidden. She tells the future by reading tea leaves and Tarot cards, and her warm relationship with her grandchildren Alison and Danny provides respite from the family conflicts. O'Malley's solo is particularly moving when she reveals her own lost dreams.
Cooper plays Danny with little brother perfection, down to being thrilled by a frog in a shoebox and the rare opportunity to sing "The Name Game" about Chuck. And Nina Kissinger, as Myra, Alison's Orthodox friend who must wear long sleeves and can't even think about kissing a boy, is especially delightful when she sheds her restrictions and sneaks off with Alison and Ross to Woodstock.  Afterwards, she tells Alison that she's not allowed to talk to her ever again—or until she's married or dies, whichever comes first.
The script is sprinkled with familiar Yiddishisms: Bobbe (grandmother) and Tateleh (pet name for a little child), knishes, and plenty of "shtups," capped off with Pearl singing a hilarious bluesy version of "I got the I-Shtupped-the-Blouse-Man Blues!" But, unfortunately, the Yiddishkeit underscores the major flaw in this production: inconsistency of the accents. 
Like the rye bread ad says, you don't have to be Jewish to have a Brooklyn accent. But anyone who's spent time on the East Coast will wince at the lack of authentic accents, especially when Pearl proclaims (without one), "And I live in Flatbush!" (The accents of several of the ensemble, especially O'Malley's, were spot on.) It may be tolerable for a San Francisco theater audience, but the show would benefit from a little more dialect training if this play is headed to Broadway.  
A few more appearances by the tummler might also help do the trick.
A WALK ON THE MOON
Through July 1
ACT, SF. 
Tickets and more info here.