Filmmaker Michael Almereyda has been living with Nikola Tesla for nearly as long as he has been alive—no wonder that he wound up making a movie that follows the engineer and physicist's life.
As a teenager, Almereyda befriended comic book artist Alex Toth, who would regale him with stories of the 19th-century inventor, effectively passing his obsession onto the adolescent.
"I was a suffering, alienated teenager and Tesla answered some of those feelings for me," says Almereyda of the early fandom that took flight so many years later in his latest work, Tesla. "It carries over into the film, even if I feel a little more cheerful than I did at 16. His sense of idealism, but also his sense of alienation, his sense of being an outsider—those are things you never entirely shake if you're a sensitive person in a world full of injustice and confusion."
By the time Almereyda dropped out of Harvard, he had already written a Tesla script, one that was good enough to land him an agent and to pique the interest of one of the biggest movie stars in the world; Jack Nicholson, who heard a rumor about the project from an enthusiastic cab driver. In 1982, a 22 year old Almereyda found himself in London working on rewrites of the screenplay with Moonlighting director Jerzy Skolimowski.
That iteration of the film wasn't to be. Financing fell apart, and Tesla went into a drawer, winding up a typewritten relic of a bygone era. Almereyda went on to become the celebrated maker of both fictional narratives (Hamlet, Experimenter) and documentaries (William Eggleston in the Real World, Escapes). Then one day on the set of Almereyda's 2017 sci-fi drama Marjorie Prime, producer Uri Singer asked the director about other scripts. At long last, the time was right for Tesla.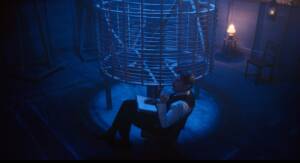 There have been other recent portrayals of the inventor and futurist on film. David Bowie played him as a kind of rock star figure in Christopher Nolan's 2006 mystery The Prestige—casting that Almereyda applauds. Bowie's portrayal of space alien Thomas Jerome Newton in Nicolas Roeg's The Man Who Fell to Earth was an inspiration when Almereyda began writing about Tesla all those years ago.
More recently, Nicholas Hoult took on the role of the scientist in the 2017 historical drama The Current War, a sober recreation of the race for electrical supremacy between Thomas Edison and George Westinghouse.
Almereyda's Tesla is a different animal altogether, with Ethan Hawke as the titular character, dropped into a witty framework that offers biographical detail while underlining the ways Tesla was a man ahead of his time. The story also diverges from what Almereyda originally wrote. Revisions were undertaken in San Francisco, where the filmmaker was in residence at the SFFILM FilmHouse as the inaugural recipient of Sloan science in cinema filmmaker fellowship.
"I can thank SFFILM for many aspects of this movie… it was such a great spirit," Almereyda says. "It was like having wings at my back."
"Tesla's story didn't change," he continues. "But our awareness of Tesla and our perception of who he was and what he achieved and what he tried to achieve, I think that deepened, and in some ways, darkened. I was trying to narrow that down to what was essential."
"[The new script] grew out of the revised reality of who I happened to turn into in the last 40 years and how my thinking about Tesla changed, and it just seemed appropriate. I was both rewriting myself and annotating myself."
Twenty years ago, Almereyda cast Hawke as Hamlet, but he always imagined a European playing the Serbian inventor. It was seeing the actor portray a Russian on stage in Tom Stoppard's The Coast of Utopia and utterly transform himself into troubled jazz legend Chet Baker in the film Born to Be Blue that convinced the director he was man to inhabit Tesla.
Casting was only one part of the equation. The look of Tesla was another important consideration. Lois Smith, the star of Marjorie Prime, introduced him to Carl Sprague, a longtime collaborator of Wes Anderson who most recently worked as a concept artist on the director's Isle of Dogs and The French Dispatch. In Sprague, he found a production designer with the creativity, skill, and imagination to re-create the Gilded Age on a miniscule budget.
"He can just do a lot of things," Almereyda says. "He's got great knowledge and great draftsman skills and great insight. He really saved the day. He's kind of the unsung hero of this movie."
"The kind of bonus, the selling point when we first met is that his great-great-grandfather was a contemporary of Edison and Tesla's. He worked with Edison, as did Tesla. His name was Frank Sprague. Within that history, he's a well-known figure. He's not as well-known. He didn't make as big a contribution as the monumental, mythical creatures we know. But that resonance seemed like a lucky signal."
Nikola Tesla died in New York in 1943 at 86, but Almereyda narrowed his focus to between 1884—when the inventor worked for Edison—to around 1901, after which Tesla's life unraveled. The filmmaker wanted to hone in on what Tesla achieved and the years during which his future seemed bright and limitless.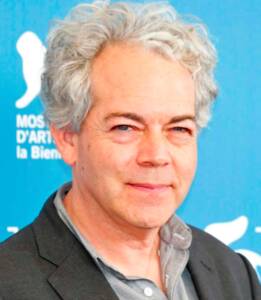 These days, of course, the name Tesla is associated with the electric car company. (Almereyda points out that it was not eccentric billionaire Elon Musk who named the company but the men who started it, Martin Eberhard and Marc Tarpenning.) At the same time, there has been a wealth of new material written, and greater interest in Tesla's inventions.
Almereyda is not done with Tesla yet himself; he is now writing a book on the man that he describes as an extended essay. He expects to see more movies about Telsa, and maybe even new discoveries of details from his life as scientists and others pore over the papers the inventor left behind.
"The future's always open; there might be some surprises," Almereyda says.
"Tesla's a world builder, but it's funny to imagine him in the contemporary reality of Silicon Valley. Part of the fun is imagining Tesla in the world today. He'd feel both vindicated and a bit miffed, I guess, to have his name appropriated. That's just one of the many absurdities in the world."