There's never a scarcity of funk-face when Stephen "Thundercat" Bruner performs.
From jump, there was a light emanating—just beaming—from the Grammy Award-winning virtuoso's visage at his densely packed, sold-out show at The Warfield this past Wednesday. For close to two hours, he sang and shredded on his trademark Ibanez six-string bass guitar, backed by Dennis Hamm on keys and Justin Brown on drums.
Dressed in his signature anime-esque attire, Bruner caught a whiff of heavily-scented, kush-enhanced air. "I know I'm in San Francisco for sure," he teased the crowd. The entire venue busted a gut.
But once these performers broke into the celestial gossamer of "Great Scott / 22-26," the first track from Thundercat's Grammy-winning album It Is What It Is, all jokes got put on pause.
Closed-eyed intensity, a vision of inner joy exposed. Bruner shared these moments candidly with his audience, while running math-rock patterns on his transcending bass. Here was the naked truth—leaving all in attendance the option but to connect.
A transition followed ​into the thunderous "Interstellar Love," the first big-sounding jazz arrangement of the evening serving as a pointer to the legacy old Thundie packs in his show.
Twenty-five percent of the patrons came dressed in late-season Halloween costumes. (Who knew young elves, ram horns, and hobbits dig fusion?) It was an energetic rave constituency ready to turn up for a party. While some (aHEM) older heads were just waiting—fiending, Jack—for the funk to get ready to roll.
All in attendance latched on the rocketship. With Bruner front and center, communicating through smiles. looks and head nods to Hamm and Brown, the power trio locked into and connected with the legacy of trailblazers George Duke, Chick Corea, Rush (that's right, dammit, I said Rush) Stanley Clarke, Herbie Hancock, and Jaco Pastorius.
There too was the adventurous nature of Bruner's experimental home label Brainfeeder. Founded and run by like-minded artist and longtime writing partner Flying Lotus, the imprint counts Bruner as a cornerstone, having released all four of his albums (2011's The Golden Age of Apocalypse, 2013's Apocalypse, 2017's Drunk, and 2020's It Is What It Is—the latter a winner of Best Progressive R&B Album at the 63rd Grammys)
But don't get it twisted, to acquire that gold hardware, you gotta have hits.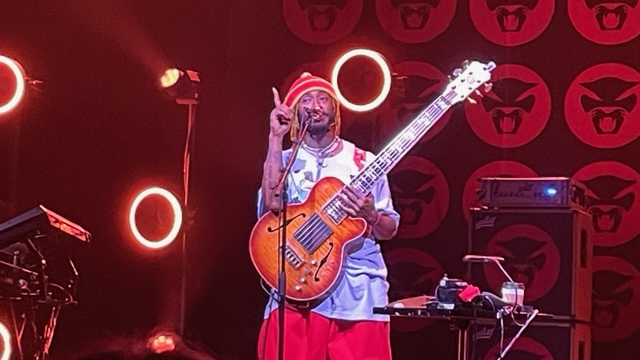 So in between asking the crowd to show him photos of their cats on their phones, querying their favorite anime characters, and giving vocal praise to his friend and fellow Brainfeeder artist Louis Cole, Bruner shared the story behind his hit mega-hit "Dragon Ball Durag." Its providence involves him dating British woman who knew nothing about the silk wave cap on his head. But she dug it.
With that vibe out, it was sing-a-long time. He crooned in hallmark falsetto, "I may be covered in cat hair" and the crowd sing-shouted back—on time, mind you—"but I still smell good".
This audience was feeling it, dancing, swaying, pogoing up and down like those Charlie Brown animated kids. The scene was a good representation of the current musical movement, a renaissance that has found its center over the past 15 years or so in Los Angeles. There, one finds an exciting amalgamation of soul, funk, jazz, fusion, EDM, hip-hop, indie, experimental. The Los Angelenos are charting new pathways. In addition to Bruner's earliest work as a member of Suicidal Tendencies (the fathers of crossover thrash), he has also played bass in Erykah Badu's band, and had input on Kendrick Lamar's classic album To Pimp A Butterfly. Due to this last accomplishment, Bruner won a Grammy, for his collaboration on the track "These Walls." But despite this impressive resume, Bruner is decidedly a jazz musician first.
During a face-melting tribute to the late jazz-fusion master Chick Corea, who played, the band covered "U Have To Be Odd" and "Got A Match," two obscure choices that still brought the crowd to a thunderous standing ovation. They offered low-key features for keyboardist Hamm—who was bringing the Jan Hammer meets Joe Zawinul vibes all nite—and Brown on drums, comping and coloring in pockets, pushing and pulling swing. These tracks fired up the time machine portal. Maybe it lost some of the young ram horns, but it did win over the kids, putting a pause to the recording of Instagram Stories. Remember: You gotta take something in before reflecting on it.
Getting back to that funk-face? Consider it not just an essential part of the movement. It's culture.