This post is sponsored by Acterra. Learn more about sponsored posts here.
On March 25, 2022, Acterra will hold our annual "Promise to Our Planet" on-line benefit. We will combine this event with recognition of our 32nd Business Environmental Awards recipients. Our theme this year is Truth. Justice. Action. We are committed to increasing awareness about climate change solutions with an equitable approach to local climate action. 
Please join us for this fabulous virtual event, including special guest speakers and the celebration of award winners from our Bay Area community of changemakers. The VIP Networking Session will begin at 5pm PST and the main event will begin at 6pm PST. Tickets are free, with optional VIP networking reception at 5pm ($100 / person, proceeds help support Acterra's educational programs).  REGISTER TO JOIN US HERE!
Schedule:
5-6pm VIP Networking Reception featuring Leah Stokes
6-6:25pm 32nd Annual Business Environmental Awards presentation
6:25-6:50pm: Truth, Justice: Keynotes
6:50-7:05pm: Climate Action Fund-A-Future
7:05-7:15pm: Action: Breakout Sessions
7:15-7:30pm: Champions of Promise
Network Reception: 
Leah Stokes – University of California, Santa Barbara
Leah is an Associate Professor in the Department of Political Science at the University of California, Santa Barbara (UCSB). She works on energy, climate and environmental politics.
Ashia Ajani (they/them) – Youth Speaks Poet
Ashia is a Black storyteller soulchild hailing from Denver, CO, Queen City of the Plains and the unceded territory of the Cheyenne, Ute, Arapahoe and Comanche Peoples. They are an environmental educator with Mycelium Youth Network, freelance writer and book reviewer, and above all else, a dreamer.
Keynote Speakers:
Panama Bartholomy – Building Decarbonization Coalition
Panama has worked on climate solutions in over 30-countries, presented at and collaborated on products from the United Nations, the International Energy Agency and the European Commission.
Jermaine Fowler – Humanity Archive
Jermaine Fowler is a historian, author, and producer of The Humanity Archive, a groundbreaking podcast exploring the untold stories from history.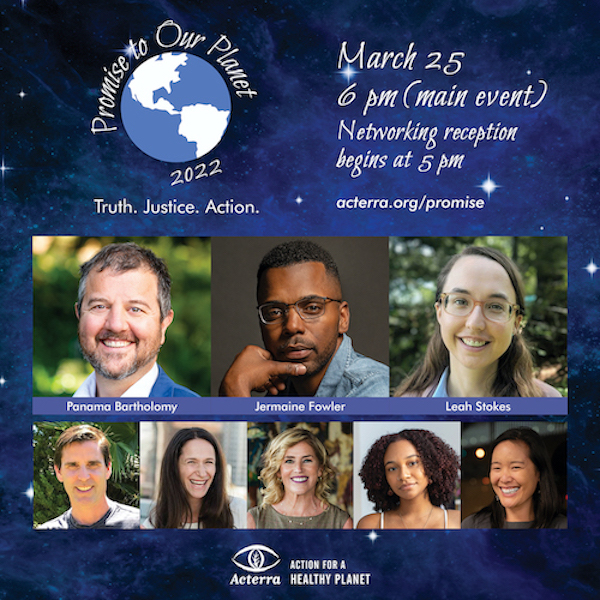 Breakout Speakers:
Professor Mark Jacobson – Stanford
Mark Z. Jacobson's career has focused on better understanding air pollution and global warming problems and developing large-scale clean, renewable energy solutions to them.
Dana Gunders – ReFED
Dana Gunders is Executive Director of ReFED, a nonprofit focused on advancing solutions to U.S. food waste.
Lauren Ritchie – The Eco Justice Project
Lauren Ritchie is the Founder and Editor-in Chief of The Eco Justice Project, a digital platform that educates on global climate justice, promotes intersectional climate action, and amplifies the voices and stories of marginalized communities and people.
Kat Taylor – Beneficial State Bank
Kat serves as Co-Founder and Co-Chair of the Board of Beneficial State Bank, a certified B Corporation whose mission is to bring beneficial banking to low-income communities in an economically and environmentally sustainable manner – and to change the banking system for good.
Monica Chen – Executive Director of Factory Farming Awareness Coalition. 
FFAC is an educational nonprofit that contributes to the eradication of factory farming through a range of educational programs. A veteran teacher, Monica has taught at all grade levels and as an instructor for the Prison University Project at San Quentin.