Acclaimed multi-instrumentalist and humanitarian Pete Sears loves getting into a psychedelic groove.
The London-born, Marin-based musician feels fortunate to have achieved that sought-after state of gravitational buoyancy innumerable times throughout his career—whether playing with Jimi Hendrix in the '60s, Jefferson Starship in the '70s, Jerry Garcia in the '80s, or the Lester Chambers-fronted psychedelic soul collective, Moonalice, today.
"We still go off into the ether," says Sears. "There's a strange metaphysical mode the band enters—and that's when the magic happens. We're all like a school of fish, just going together. You just go for it—and that's when the roof gets lifted off places."
Fans can expect plenty of mind-expanding instrumentation and roof-raising when Moonalice hits Great American Music Hall on Fri/22 to celebrate the release of their latest EP, Full Moonalice Vol 1., a six-song psych-soul set, featuring singles "Woo Woo," "Time Has Come Today," and "Let's Get Funky." 
I spoke to Sears (also a member of other retro-leaning projects like Steamhammer, Steve Kimock's ZERO, and David Nelson Band) about Moonalice, his experiences working with some of the greatest rock legends of all time, and how his decades-long determination to question authority continues to shape his humanitarian work and music. 
48 HILLS You've played with so many groups over the past five decades. How does Moonalice compare to the other bands?
PETE SEARS There's nothing better than the new Moonalice, with Lester Chambers and his son Dylan and the T Sisters. As far as us playing in the background, it's wonderful to have such a strong front line. Lester is one of the soul singers from the old guard and sang on those original Chambers Brothers songs, and we're sort of redoing that stuff. We just released "Let's Get Funky," and "Time Has Come Today," a big Chambers Brothers hit in November of last year. With the T Sisters, we released "Woo Woo," a song they sing that's great.
48 HILLS I'm so curious about so many of the icons you've worked with, particularly Jimi Hendrix. Going back to the '60s, you met Hendrix through his manager and former Animals' bassist Chas Chandler, and eventually played with him in the psychedelic rock band Sam Gopal's Dream. What were your impressions of him?
PETE SEARS I was with a band called Fleur de Lys in early '67 and a couple of the guys in the band were staying at The Animals' Eric Burdon's house in London. I was visiting them and sitting in the kitchen and Chas Chandler walked in with this really humble, sweet guy—no airs.
We talked for half an hour and he seemed really cool. I had no idea he could play as well as he did. He took the whole London music scene by storm.
I was playing keyboards with that particular band and he came down and we were recording a single, a song called "Amen," an old Impressions song and Jimi came by and overdubbed on that.
Then after that band, I played with another band at psychedelic blues clubs around London. Jimi sat in and played our guitar player's guitar backwards, and played it amazingly, and used the mic stand to rub against the strings in this cool, psychedelic way. 
48 HILLS You worked with Rod Stewart on four of his earliest albums including the career-defining Every Picture Tells a Story. Talk to me about the recording of that album.
PETE SEARS He'd bring us over to his house, this motley, ragtag group of guys, Ron Wood, Ian McLagan, and Martin Quittenton. Martin Quittenton really came to the front. He helped Rod write "Maggie May" and some of the other beautiful acoustic guitar-based stuff. Ron Wood added his magic with the slide guitar. All the basic tracks had a live feel to them with Micky Waller on drums, who hit everything in the right way.
Rod's production style was to go with the feel rather than this precision-perfect thing. If you listen carefully, you can hear little mistakes or the wrong note. A lot of that production style was lost in coming decades, especially in the '80s when everybody was obsessing over perfect notes and arrangements. So that had a freshness and spontaneity to it.
48 HILLS By the mid-'70s you had moved to the US, joined Jefferson Starship, married your wife and co-writer Jeanette, and settled in Marin County. You and singer Grace Slick would end up writing together throughout that decade. What made her such an amazing collaborator?
PETE SEARS When Jeanette and I first flew over from England in 1974 and I joined Jefferson Starship, we went to Grace's house and just hit it off. I started messing around with the piano, she started scribbling down lyrics and we wrote "Hyperdrive" for the first album. Then we kept writing and had a good writing relationship.
Grace was a great talent, very individualistic, with a distinctive vocal style and that natural charisma. For any woman to break through in any field, back in the '40s and '50s, there was so much pressure to conform to this sexualized way of being largely invented by men, in this male-dominated society, especially in entertainment.
Or you were fiercely independent and tried to challenge it, which is what Grace fell into. She did things her way and wouldn't listen to anyone else. She had a substance abuse problem but she was very talented.
48 HILLS She always seemed so tough to me, whether onstage or in music videos. Was she that way behind the scenes?
PETE SEARS She was a very generous person but she did have that tough exterior sometimes when she drank. I think she was vulnerable on certain levels. Like anybody, to some degree, you want to please; but most of the time, she was her own person. Her vocal style was who she was and she had a wry sense of humor, and then I think sometimes she was trying too hard to be tough. Who's the real Grace Slick? A combination of those things created the Grace Slick that people who liked that music responded to. 
48 HILLS I am such a huge fan of Jefferson Starship and the song that got me interested in the band was, of course, "Miracles," off the band's chart-topping 1975 LP, Red Octopus. It's so beautiful and hypnotic. How did you feel when you first heard it?
PETE SEARS It had magic to it. The long version, which we recorded for the album and played live in '75 and '76 had this hypnotic quality that weaved a spell. I felt that while I was playing bass and piano on the recording. My feeling was that it was the best hit we ever had.
48 HILLS Leaving Starship in the mid-'80s at the height of the band's commercial success was a very courageous act because you were putting your own integrity ahead of the promise of a steady paycheck.
PETE SEARS I had become a fish out of water in the sense that I had kids, a family, and got a lot of partying out of my system much earlier on. [Singer/guitarist] Paul Kantner had left, and the band was on a trajectory totally different from mine. They were about escapism, and my wife and I were focused on humanitarian work. It was a very heavy time—and having to film the "We Built This City" and "Nothing's Gonna Stop Us Now" MTV videos, I was at odds with everybody and not really talking to the band. I was very pissed off. When I left, I started playing blues piano for a while. My income dropped drastically, but I got much happier. 
48 HILLS In 1988, you worked with Jerry Garcia on your Watchfire charity album. Garcia, as we know, has become a saint-like figure to so many people since his death. Who was the person behind the icon?
PETE SEARS Certain people just gave off this aura. Jerry used to laugh and ask, "What the hell is all this fuss about?" He wasn't one of those guys who reveled in his own greatness. One of the most important things to him was giving a good show to the fans. He really cared about it. He was very nervous before shows. He was kind of humble in that sense. He would, more than anyone, be flabbergasted by how iconic he's become.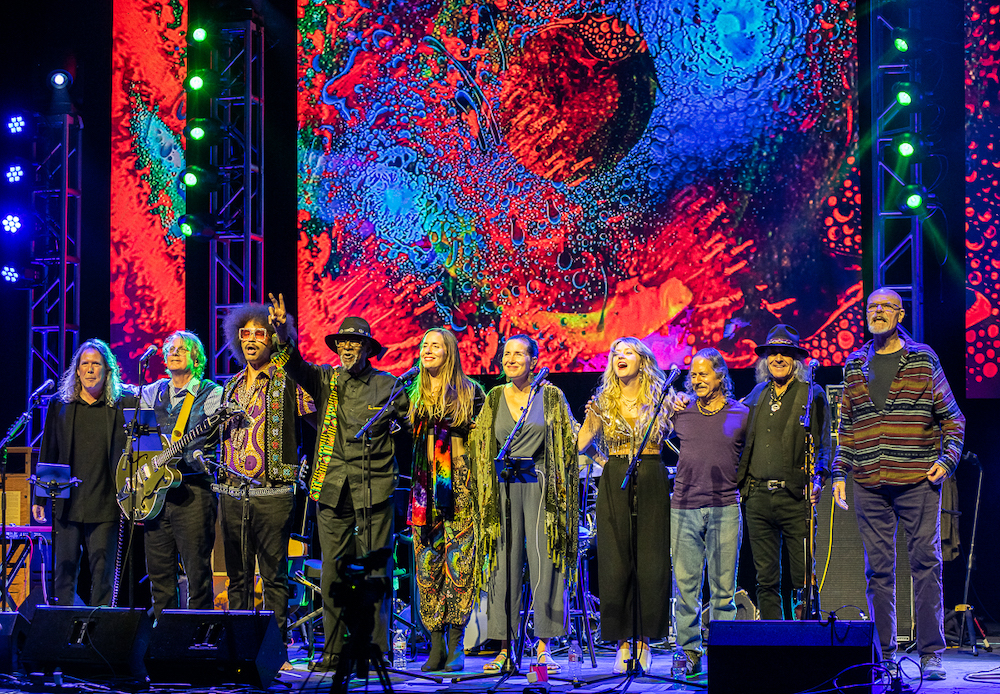 48 HILLS Tell us something about him that we don't already know.
PETE SEARS Jerry was always ready to help people. Jerry was always quick to get involved in benefit work. He did a lot for the environment and human rights. It's a side that a lot of people don't dwell on. There are some books written about Jerry that say that he felt pressured into doing benefit work, like it was a hassle and that he wasn't happy, which is untrue. He did so much to try to help people—and we need to be more in that mindset now. 
48 HILLS In 1988, you and your wife, Jeanette, were recognized by California Institute of Integral Studies for your humanitarian work in the Bay Area. How would you describe the contribution your generation made to the protest movement?
PETE SEARS That questioning authority instead of blind obedience, which is a good thing for any generation to do. I wasn't on the front lines in the '60s, but we did our bit and played psychedelic clubs. Then in the '70s, we got more involved, and then in the '80s, got heavily involved. But that was all combined with the feeling from the '60s, so it was good to have that in my background.
Also musically, anything went in the middle of a one-hour-long jam in one key without vocals. That idea of improvisation still looms itself often when I'm jamming. Sometimes, without thinking about it, I'll draw on that period.
48 HILLS What's coming up next for you?
PETE SEARS Aside from my work with Moonalice, I play British blues with Freddy King's backup band, Steamhammer, and we have a new album coming out in June. I also have some tour dates with Steve Kimock's ZERO and David Nelson Band.
Moonalice, Fri/22, 8pm, Great American Music Hall, SF. $16. Tickets and more info here.
ZERO & David Nelson Band, Sun 5/15, 7pm, UC Theatre, Berk. $47.50. Tickets and more info here.
ZERO, Sat 10/15, 8pm, The Fillmore, SF. $35. Tickets and more info here.