When times get tough, the music of Howard Jones provides a much-needed reminder that "Things Can Only Get Better."
"No matter how bad things get, like the song says—if we decide, things can get better," Jones told 48 Hills.
Almost 40 years after the synth pioneer encouraged listeners to break the "mental chains" of cynicism with debut "New Song," he remains on the bright side of the tracks.
Even his eight-song, electronic-based lockdown album, Dialogue, is full of hope.
Out Sep. 9, the LP's soaring lead single, "I Believe in You," offers encouragement to those struggling in isolation. The haunting "My One True Love"—a sort of sequel to Jones' 1984 hit, "What Is Love?"—reminds listeners to lead with their hearts on their sleeves. The spun-up "Who You Really Want To Be" is an admonition to always aspire to one's highest self and the effervescent "Celebrate It Together" promotes the power of community.
Long realizing the value of coming together in perfect harmony, Jones envisions his "Dialogue Tour," featuring special guest, Midge Ure (Thin Lizzy, Visage, Ultravox), as "a celebration of being together, enjoying the power of live music again." 
I spoke to the singer-songwriter about his latest promotional outing (stopping in San Francisco at Bimbo's 365 Club on Wednesday), the new album, and maintaining a cheery spirit in the darkest of times.
48 HILLS How does it feel to embark on your first tour since the world's begun to open up again?
HOWARD JONES It's a little bit nerve-wracking because it's been such a long time since I've done the big shows with the full band. You think to yourself, "Oh, can I remember how to do this? And how's my confidence doing?" But what I'm hoping is when I get out there, it'll all come back to me and it'll all fall into place.
48 HILLS "The Dialogue Tour" is, of course, in support of your new Dialogue album, which is the third in a quadrilogy that kicked off with 2015's Engage and 2019's critically acclaimed Transform. Why did you decide to group the albums together in this way?
HOWARD JONES Starting with Engage, which was the first of the four, I just wanted to set myself a challenge over a decade to do that because I was very motivated by the question: How do you make yourself get the most out of life whilst helping the people around you to do the same? Well, first of all, we have to engage; we have to decide that we are going to not be bystanders, but people of action.
Then with Transform, I thought we have to think about transforming ourselves and our behavior so that we respect others and the Earth. So that's a process of personal transformation.
Then Dialogue because we were hardwired to talk to each other; we really can't survive on our own. We need to live and cooperate with others and have dialogues and find out about our similarities and our differences.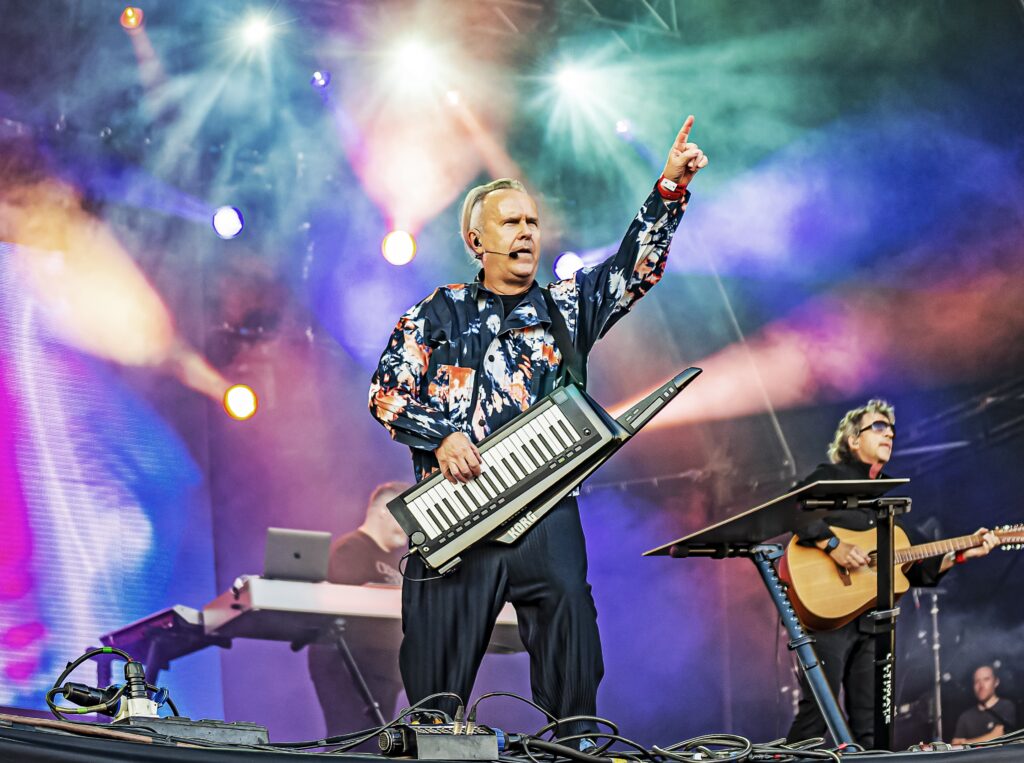 48 HILLS "I Believe In You," from Dialogue, was the first song you wrote during the early days of lockdown. How did you handle that exceptionally difficult period?
HOWARD JONES At the beginning, it was kind of a novelty, wasn't it? I felt like, "Oh, this is something different that we've never experienced before. But then when we realized it was going to carry on and there was going to be more of it, the isolation and the lack of contact with other people—I really missed the interactions. Something that we crave is contact with people and looking people in the eye and being able to hug them—and all that stuff was suddenly taken away, and you realize how devastating.
I felt for people who are living on their own, having to go through that. [My wife] Jan is here with me, so I've always got somebody here. But for people who lived on their own, I was thinking, "Oh, this must be absolute hell."
But, as an artist, it gave me a lot of time to experiment and work in a lot of detail. I didn't want to write lyrics at the time because I thought, "I'm not in the right frame of mind to write lyrics. It's OK coming up with music, but lyrics have got to be left until things brighten up and I'm in a more hopeful frame of mind." I did that and I think that worked because they could have been quite downbeat otherwise if I hadn't waited.
48 HILLS In "My One True Love," you sing, "The truth of our love has always been the root of my darkest fear." What did you mean by that?
HOWARD JONES It's that when we love, we're taking a big risk, aren't we? We're giving our hearts away to somebody unconditionally and we don't know how it's going to turn out. So the fear is losing that and being ultimately rejected. And I wouldn't want the fear to win in that equation.
But I do have these dreams where my nearest and dearest turn their backs on me and I walk away and I wake up in a cold sweat. That's my darkest fear—to lose the ones I love.
And I just really wanted to be honest in this album about who I really am and what I'm really about. So I thought it would be good to have a song where this is a genuine thing for me, a struggle for me that I am working on. 
48 HILLS I know that some people associate synth-pop with a cool remove, but, in my opinion, they're missing the immense heart at the center of it. You, in particular, were never afraid to be vulnerable in your songwriting and explore life's most challenging moments. Do you feel a responsibility as an artist to get audiences through some of the tougher times in their lives?
HOWARD JONES I'm totally motivated by that; I always have been. From the first album, the first single, I wanted the music and the lyrics to be of use to people to help them get through difficult times in the same way that music helped me. It had been such a comfort and an inspiration to me as I was growing up. So I wanted to pack as much of that into my music as possible.
For me, I was consciously writing the music for the times when people, including myself, needed a boost, to get over some really difficult situation that life is constantly throwing at us. I wanted my music to be there when you needed a cheerleader—to just cheer you over the next hurdle to get through to the next part of your life.
As I got older, I felt even more committed to doing that—and this album is the closest to the bone that I've got. I really feel that I'm trying to reveal myself as much as possible in the work now. There's no time to waste. Just say what needs to be said and do it in your own unique way. And actually, that's part of my message as well—that we need everyone on this planet to be functioning at their highest, most positive level if we're going to overcome the difficulties we're facing.
48 HILLS The song "Things Can Only Get Better" has been running through my head so much over the last two years for all the obvious reasons. What would you say to a fan of yours that is feeling a little despondent right now?
HOWARD JONES Well, it's a question of one's attitude to life, right? We can choose to feel everything's going wrong and things are getting worse and worse. Or we can choose to be hopeful about the future. And having that attitude makes the future better already, right? I will overcome this. I will get through this. I will be stronger. I will be an amazing person at the end of this difficult time. I'm deciding that things can only get better.
The Dialogue Tour with Howard Jones & Midge Ure Wed/22, 8 pm, Bimbo's 365 Club, SF. $55. Tickets and more info here.