Under the Stars is a quasi-weekly column that presents new music releases, upcoming shows, Bandcamp Picks and a number of other adjacent items. We keep moving with the changes, thinking outside the margins, and feeling kinda good about our pesky hoop fans being back in the national spotlight. It took the Golden State Warriors two years to return to the NBA Finals. But bruh, you gotta chill on throwing stuff at the announcers. Bad enough the rest of the country is chugging the haterade, homie. OK. Let's get it!
Yaya Bey – 'pour up'(feat. DJ Nativesun)-Remember Your North Star (Big Dada)
When you read the press notes for Yaya Bey's next album Remember Your Northstar, it becomes clear that she's a truthspeaker, sharing stories about herself and others. Bey is pulling strength from hard lessons cultivated in marriage, divorce, weed peddling, and visual art.
Other observations came with a price. Marching in Ferguson, Missouri, she caught a black eye from a white agitator. Then in Baltimore, seven months later, when Freddy Grey was killed in police custody, Bey had a gun drawn on her by a member of the National Guard while protesting. Regarding both instances she recalls, "All I ever saw was Black women." They were sacrificing their bodies in ways that have yet to be matched.
So, in listening to Bey's songs about going down, feeling low, one suspects that somewhere on this hell-ridden planet, things do get better. Recognize her blues as a culture salve. And by blues, I do mean Bey's bouillabaisse of neo-soul, rap, reggae, and jazz.
Track "pour up" speak truth to how Black people have been conversing culturally—their blues—with one another for hundreds of years under the weight of capitalism.
Remember Your North Star, out June 17, was written and produced by Bey, with help from Phony Ppl's Aja Grant and DJ Nativesun.
You need to pre-order it here.
Emma-Jean Thackray, Cafe Du Nord, August 3
Finally, San Francisco. We get to see Emma-Jean Thackray, the multi-hat wearer, live and in-person. This composer, producer, multi-instrumentalist, vocalist, bandleader, and DJ is a tornado of many talents that span numerous genres of music. Working with the London Symphony Orchestra, hosting a diverse and prestigious show on Worldwide FM, and putting on a clinic with trumpet and quartet? Everything is in order.
Thackray's cosmic jazz album Yellow from 2021 merges "psychedelic funk, hazy ambient tones, and deep hypnotic vocal harmonies," according to TJ Gorton's extremely detailed review on BeatCaffeine. When she pulls up at Cafe du Nord in August, be ready.
Buy your tix here, this show will sell out.
The Maghreban feat. Nah Eeto, "Got Your Number"
I interviewed Afrikan Sciences a few years ago and asked him, spur of the moment, to whom he was listening. One of the responses was The Maghreban, and I've been hooked ever since on Ayman Rostom, the son of Egyptian and Saudi immigrants. He says his artistic name relates to the region of North Africa surrounding the Mediterranean Sea, and that he regularly takes cues from African music.
"Growing up, I remember long car journeys with my Dad. He always played a bunch of Arabic music; Mohammad Abdel Wahab, Om Kalthoumm, and Abdel Halim Hafez", Rostom recalls. "He used to drum on the steering wheel like a tabla with his palms and fingers, which I think definitely helped me understand rhythm and syncopation."
"Got Your Number" featuring Nah Eeto, off Rostom's next album Connection (which will be released on July 15) is a stepped-up breakbeat stunner with all the Maghreban accents. There's heavy micro-climates, which he dubs "the seductive sound of bewilderment," a sickening patina of heavy dark jungle over a half-time rhythm, and keyboard strains that lean in on minor chord progression. Add Eeto's rapping to the mix: "about being a commander, a boss in Swahili Not your mother." This is why Ben UFO, Benji B, Trevor Jackson, Optimo, Mr. Beatnik, Nicolas Jaar, and many more are fans of this original artist.
Pre-order Connection here.
45 King Westbound Beats, The 45 King (Westbound Records)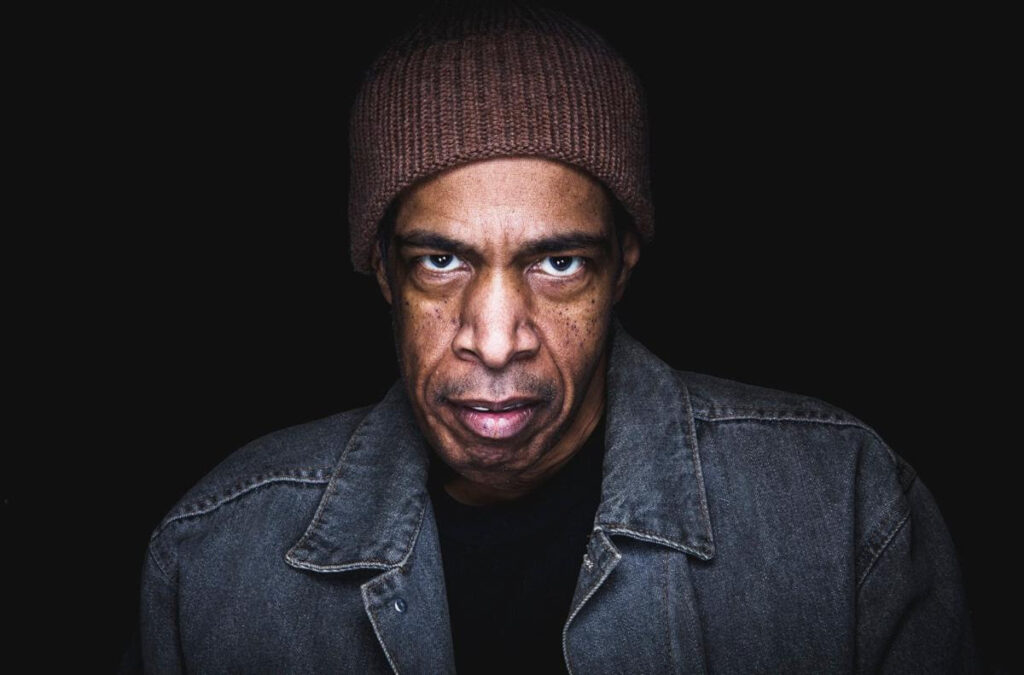 Motown branded itself as "The Sound of Young America" during its height in the mid-1960s, and it was true. A more straightforward message is obtained by substituting "young" for "Black." But there was another Detroit label putting out a different type of sonic fare. Westbound Records was founded by Armen Boladian in Detroit in 1968, and it served the non-mainstream, off-the-beaten-path, expressive Black music of the day. Funkadelic was the label's most successful and influential act, with the iconic "Maggot Brain." Here, funk was being pressed to wax for those who desired the uncut.
So The Ohio Players, Junie Morrison, Dennis Coffey, and the Detroit Emeralds all followed suit and released records on the label. After many years of legal wrangling, Westbound Records is coming back with a limited-edition vinyl collection of five 45s dubbed Westbound Beats, mixed by legendary hip hop producer The 45 King. Given unprecedented access to the label's vault of rescued master recordings, the beatmaker creates brand new tracks that turn forgotten bits into classic breakbeat material.
We're talking "900 Number" flavor. These darts are a must-have for beat junkies everywhere.
Out on June 24th, pre-order here.
Michael Rault, The Chapel, June 22
Michael Rault performs the words to his song "Right On Time" as if he were a Muppet character sitting in with ELO. Harpsichord, big flat percussion, and a psychedelic-van-blippy-echo effect in the background propel this soothing earworm via some sort of dreamcatcher mechanism.
Miss Piggy and Jeff Lynn are clearly missing, having removed their control freak selves from the sesh. But Rault's Venn diagram of sound, forever traveling without moving, if you get my drift, wafts from solo McCartney-era to Pet Sounds Beach Boys heights. "Right On Time," from the eponymous new record by the trip-tour vocalist and musician, with its psych-rock heart and progressive feel, is here for those mint-tea-and-olives-sort of a day.
Pre-order Michael Rault, out June 10th, here. Purchase tickets for The Chapel show on June 22 here.
Oxbow RiverStage in Downtown Napa returns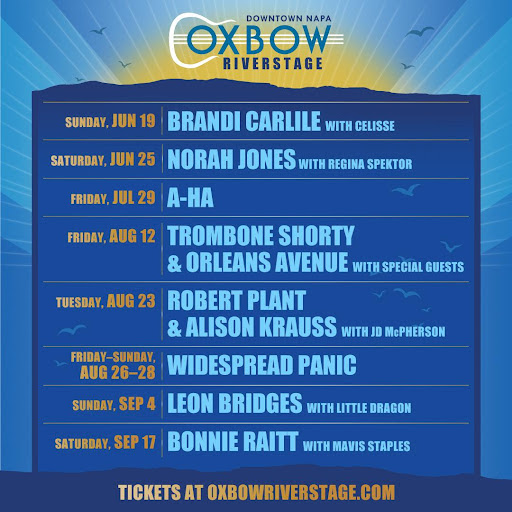 Oxbow RiverStage, a Napa outdoor music venue, returns for its first full season since 2019 with 14 concerts from June through September. It features an assorted line-up that hints at organizers aiming to reach all styles, featuring the pioneering Swedish band Little Dragon and the 82-year-old American rhythm and blues and gospel vocalist Mavis Staples, who make this festival's comeback a must-see.
The shows kick off with Brandi Carlile on June 19, and further artists that have been confirmed include Norah Jones with special guest Regina Spektor on June 25, A-HA on July 29, and a Voodoo Threauxdown with Trombone Shorty and Orleans Avenue on August 12. The playbills continue with Robert Plant and Alison Krauss with JD McPherson on August 23, Widespread Panic for three nights on August 26, 27, and 28, Leon Bridges with Little Dragon on September 4, and Bonnie Raitt with Mavis Staples on September 17. More intriguing performances will be announced shortly.
For more info go here.