By happenstance, my attendance for the opening of the West Coast premiere of Wives (through July 24 at Aurora Theatre) coincided with the toxic Supreme Court's repeal of EPA factory standards and the arrival of my personal Aranet4 CO2 monitor.
I spent the rest of the day walking around with the latter to gauge potential COVID exposure—the ppm numbers weren't encouraging, and at one point in the Aurora Theatre, the reading hit levels as high as 1607ppm. That was with everyone apparently masked and the HVAC system mentioned in their official COVID policy. I tried my best to put that out of mind during the show, even as I explicitly detailed each rising number in my notebook.
The show itself wasn't bad. In a way, Jaclyn Backhaus's script is a riff on the 20th century saying "Behind every great man, there's a good woman". It's the story of several historical wives—both real and fictional—who find themselves defined only by their marital status rather than any thoughts of their own. From the perspective of July 2022, when callous conservatives have pushed the rights of women back half-a-century (while the centrists in power do nothing to stop them), the idea of a wife as nothing more than a man's sentient property is less "a thing of the past" than it was when Aurora chose the script for their season.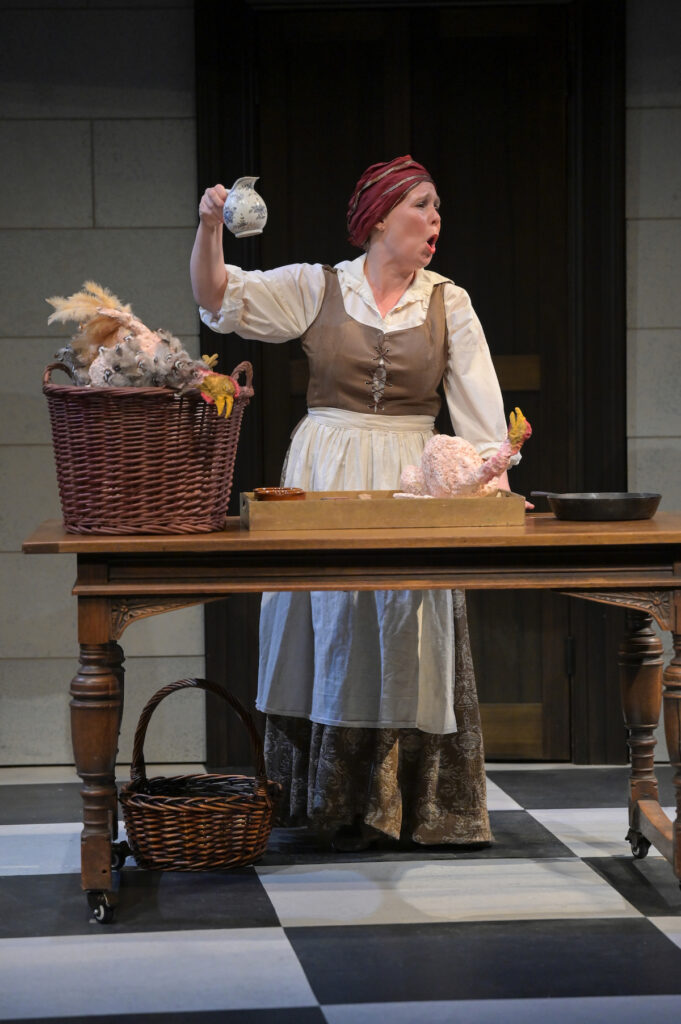 The wives in question include Catherine de' Medici (Jasmine Sharma) and Diane de Poitiers (Anisha Jagannathan), wife and mistress, respectively, to King Henry II of France (Kunal Prasad); Hadley Richardson (Sharma), Martha Gellhorn (Jagannathan), and Mary Welsh (Rebecca Schweitzer), wives of Ernest Hemingway (Prasad); and the concubine (Sharma) and wife (Jagannathan) of a maharaja (Prasad). Surprisingly, Shakespeare and Anne Hathaway don't make an appearance. But that may be a good thing, given the story's derisive view of England and its history with India.
That history is just one way the play benefits from hindsight. The script uses a mix of classical and contemporary dialogue to satirize the structural norms of days gone by. The opening Henry II segment begins with Julia Child-esque cooking segment by a royal servant (Schweitzer, whose accent veers between French and Cockney) and is highlighted by a jousting scene that recalls Monty Python. The Hemingway segment recalls a celebrity roast. And the maharaja scene goes all-out supernatural. That supernatural part plays an important role in the play's final scene, in which the feminist witchcraft club of the fictional Oxbred U has to find just one member before they lose their on-campus status.
Through it all, modern sensibilities ask why the wives had to be competitors for the affections of a guy who used them as status symbols and arm-candy. We know this because they ladies explicitly ask one another these very questions. De' Medici and de Poitiers, who begin barely able to speak one another's names without sneering, recognize their combined power in a way that almost suggests a mafia alliance. Hemingway's widow and two exes get happily soused as they ponder their marriages to a cartoon of masculinity who wrote of his wives the way athletes write of former opponents. When patriarchy is all you know, it's hard to imagine anything else, even if that something else is to your benefit.
Hell, when a rep for the British throne (Schweitzer) observes the open marriage of the maharaja and his concubine, the mere thought of a relationship not conforming to English customs is enough to make the Brit practically destroy English-Indian relations for all time.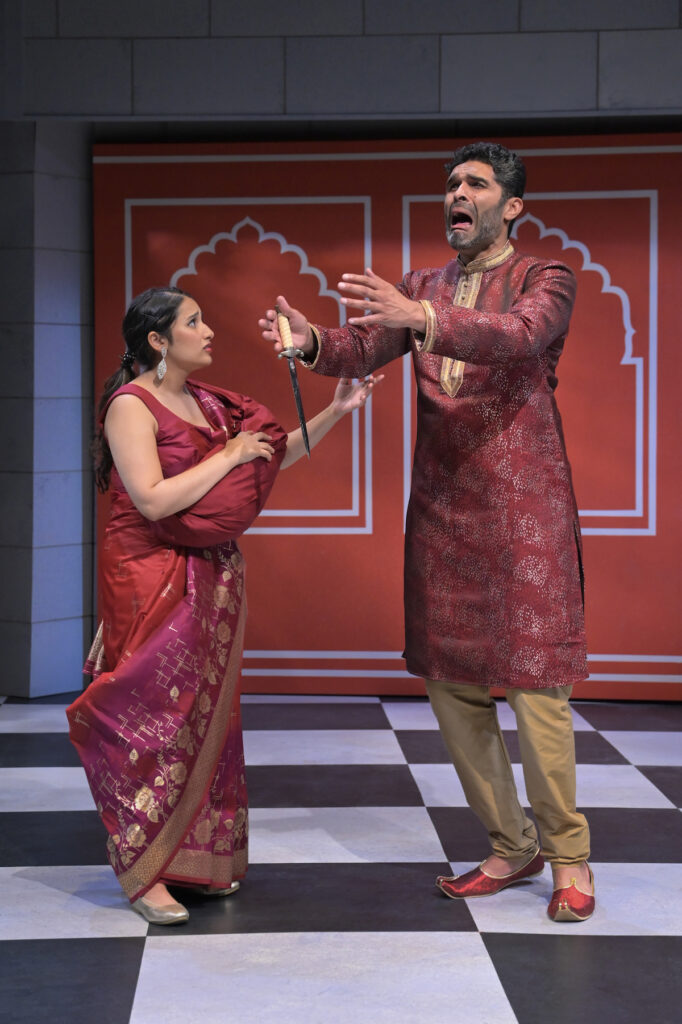 All of this is brought to hilarious and sad life by director Lavina Jadhwani and her cast, most of whom are of South Asian descent. Maybe it's just me, but it seems that whenever I see Kunal Prasad—who's done a lot of work with Cutting Ball in SF—his character is always trying to get out of some relationship quagmire with disastrous results. He's no less entertaining at it here than he has been in the past, even if his stage time is considerably less. That's because the guys he plays are meant to finally stand aside in the stories they've monopolized for generations.
This gives Jadhwani's titular wives ample opportunity to shine, with few missteps. Although Schweitzer's more cartoonish French and British caricatures aren't always rock-solid, she excels at the sadness and reluctant lashing out of Hemingway's widow, and is pitch-perfect as the millennial would-be witch who tends to speak in phrases seemingly designed to be hashtags. Sharma and Jagannathan share the stage with one another most often, and the two play off one another well. Depending on the scene, both have to switch from being "the mature one" to "the mischievous one" in the next scene. They each have the most time to flex and they both make the most of that time.
Though running only 90 minutes, Wives does begin to overstay its welcome with its finale. Despite following a touching sequence in which the millennial trend of "getting in touch with the ancestors" becomes literal, the character who makes that connection goes on a long-winded soliloquy that awkwardly makes explicit what the play's preceding scenes had successfully done more subtly – even in comedic form. Granted, it's from a character still trying to figure out her place in the world (hence her university status), but this play is strongest when it finds the nuance of its message.
I hope that the Aranet numbers I read were temporary. One should be entertained by the action on the stage without having to worry about elements in the air.
WIVES runs through July 24 at the Aurora Theatre, Berkeley. Tickets and information here.