The century-plus-old Café du Nord's calendar does not lack big names, often featuring artists with an international following like Berlin-based rapper Zebra Katz, and Quebec's ethereal Ghostly Kisses. But happily for new-music sleuths, Bay Area residents can also find up-and-coming acts on the venue's lineup.
Such detectives might be intrigued to learn that on certain Thursdays, de Nord's shows are organized and promoted by Breaking Sound, a global "music solutions company" intent on "bridging the gap between unknown to known, unsigned to signed," according to its website. Via BS, artists can apply to perform in venues the company works with, and add their music to its 24/7 radio station.
The result can be alchemic. A November 9 Breaking Sound show at Café du Nord featured strong, emotive solo performances by Hailie Hay and Michael Martinez.
Hay has been performing the last nine years, with Great Bitter Lake—which she says is "on sort of an indefinite hiatus"—online with streaming studio The Complex, and most recently has been taking the stage solo at venues like Café du Nord and Bottom of the Hill.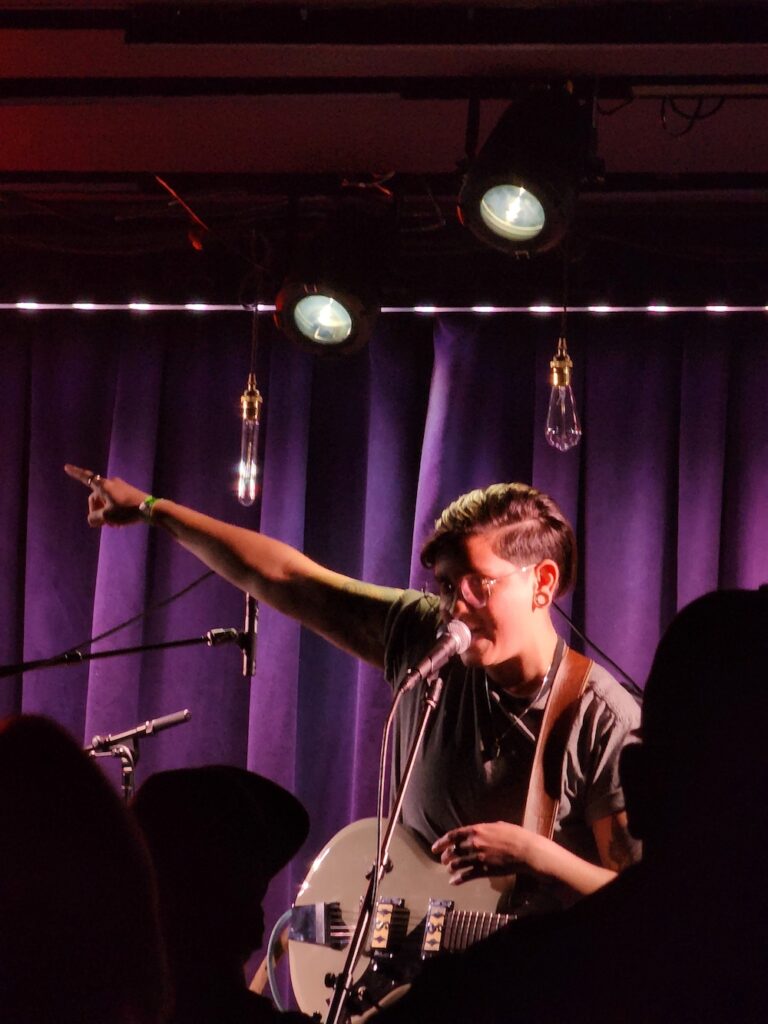 That night at du Nord, Hay's raw vocals needed only balance with her sonorous gray guitar. Her affective vibrato in dolorous tones conjured comparisons to the vocal stylings of Dolores O'Riordan of The Cranberries.
After the show, Hay spoke with 48hills about the birth of her songs. Her songwriting took on a more introspective character during the pandemic.
"It felt like no one was talking about talking to themselves," Hay said. While it felt important to process complex feelings through her music, she worried if those thoughts would resonate with their audience.
"Maybe I'm going to talk about it and no one's gonna get it," she remembered fretting.
But people did. Hay recounted meeting an audience member after one set who shared how deeply they had been affected by "Talk," a song Hay wrote about the conversation that takes place in solitude between an artist and herself.
Following Hay's set that evening was that of Martinez, a local musician who has performed with the Lucky Devil's Band. At du Nord, he turned in a solo set that reflected back the energy he received from the evening's audience, whose "eagerness is pretty palpable and infectious," said Martinez.
His voice ranged from a croon to stentorious boom, with arresting cadenzas. His keyboard appeared almost to work on its own, such was the focus commanded by his voice. He closed his set with Max Embers, a friend and producer with whom Martinez is collaborating on an upcoming project.
"Hell, I've been sick and depressed for the past two weeks and somehow came out of it with a whole new body of work," said Martinez, who has been performing since grade school, and professionally for the past eight years. He added, "I'm grateful I have a creative outlet for processing it all."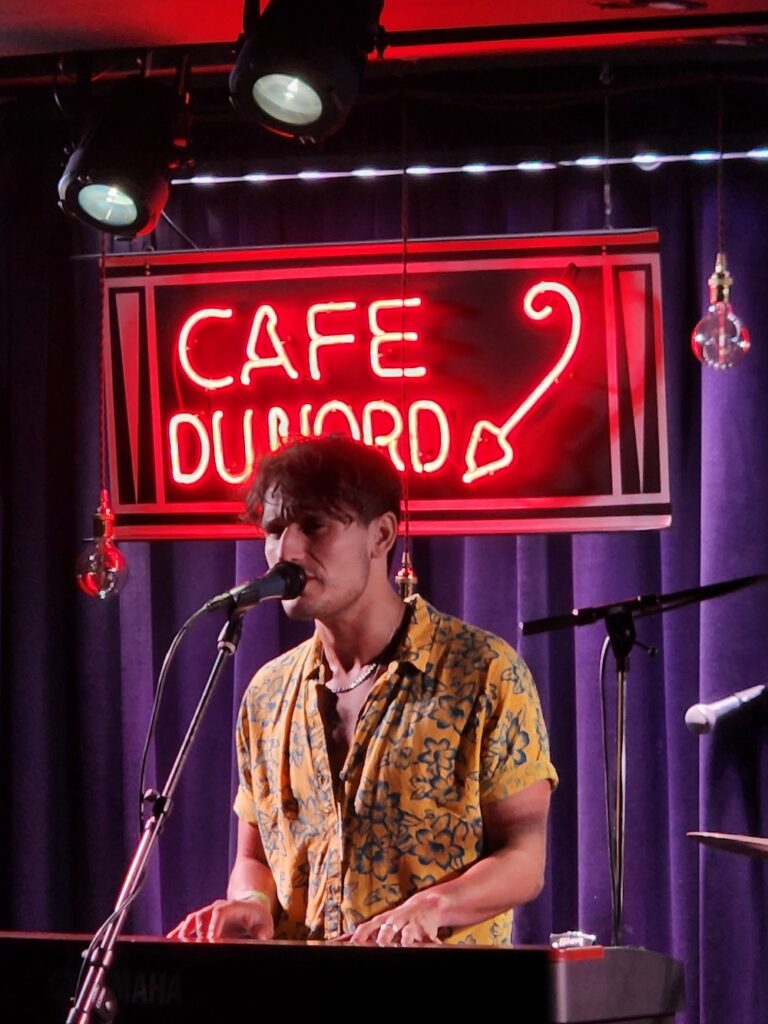 Sometimes, getting in on the ground floor with an exciting new artist takes commitment. Those in the habit of showing up late to catch the headliner should consider arriving earlier in the night—at venues like Café du Nord, opening acts can be tough to follow. Case in point: On November 13, local singer-songwriter ZOLA opened for Vanessa Zamora, capturing the attention of an antsy audience from the first note.
ZOLA's unfaltering voice danced across an incredibly wide range, traversing hand-in-hand with her guitar. In English and French, and often in a blend of both, she sang with a fortified sweetness and earnest force that could silence a room—and frequently did.
She described Café du Nord audience as, "one of the loveliest … supportive and respectful and lovely and super sweet—and it's not always like that as an opener." The crowd even sang along to ZOLA's French language track when prompted, on key and on time.
Such backup may have been well received by the artist. When the pandemic took hold, ZOLA's guitarist moved to South Korea and her bassist-producer to Los Angeles. She said the shift required much adjustment, and prompted her to focus her set on, "the songs that felt the most intimate, and the most personal."
After her set, ZOLA was called back for an encore. "[Zamora's] music is just so fun and upbeat," she reflected on this moment later. "I could not finish this set with a super depressing song—and my mind was blank." An audience member, a friend of the artist, called out a request for a reprise of "Pavement," which she had performed earlier in her set.
She obliged. And as there had been throughout most of her time on stage, there was a palpable, respectful silence as the audience was left enraptured.
Are you picking up on their up-and-coming vibes? Hay, Martinez, and ZOLA are all gearing up for major releases and collaborations in the coming year. Hay is joining East Bay punk band Pity Party as the group's new bassist, and will be taking a trip to the East Coast to work with Brooklyn musician Jordan Popky. Martinez, who has a residency at SHACK 15, performs via artist-gig connector agency Sofar Sounds, and has been featured by SFist for his song "Freedom Within," will be releasing several singles in the coming year, as well as his first EP. ZOLA's newest single "Olive Baby" was released on December 2, and she is charting out tour dates for the coming year.
Check out Café du Nord's upcoming shows here.