Deciphering dreams is difficult.
So much so that historical figures like Joseph Campbell, Ibn Sirin, Edgar Cayce, and of course Papa Freud built reputations on making sense of others' often-illogical mental imagery, ideas, and emotions occurring during sleep.
Over the last decade, the Knights of Revery have wowed audiences with their uncanny ability to demystify dreams.
Relying on quick wit, surreal storytelling, and crowd participation, the intrepid improv duo of Sir Pomp (Robert Wyald) and Sir Psycho (Brian Livingston) regularly aid attendees across the cryptic realm of the unconscious in their Knights of Revery: a Surreal, Comedic Dream Immersion.
Taking place every third Thursday and Friday through June 16 at North Beach's The Lost Church, the pair's playful and highly interactive production provides plenty of otherworldly excitement. (And heads up, lovers: A Valentine's Week special means if you buy one ticket you can bring your date or friend for free Thu/16 and Fri/17.)
I spoke to Wyald and Livingston about developing their unique show, some of the wildest fantasies they've ever encountered, and how holding fast to dreams enables their artistic ambitions to fly.
48 HILLS How did you develop your surreal comedic dream immersion?
ROBERT WYALD: Back in 2011, my friend and fellow improviser Daniel Smith and I discovered we had great chemistry on stage, creating funny yet moving scenarios. We decided to create a two-person improv show, bringing our love of the absurd, surreal, and quirky, and also our desire to touch deeper, philosophical, and psychological places.
We both loved Knights of Revery, and the name sparked the vision for the content and structure of the show. From the word Revery, we knew we wanted to invite the audience into a dreamlike state. Browsing Wikipedia, I then serendipitously discovered the Jungian word psychopomp, defined as a spirit guide between the conscious and unconscious realms. Thus, Sir Psycho and Sir Pomp—the Knights of Revery—were born.
In 2012, Daniel decided to move on, and my friend and brilliant actor Brian Livingston came on and—though much of the ritual experience remains true to the original 2011 vision—Brian and I have been massaging the form of the immersive experience ever since.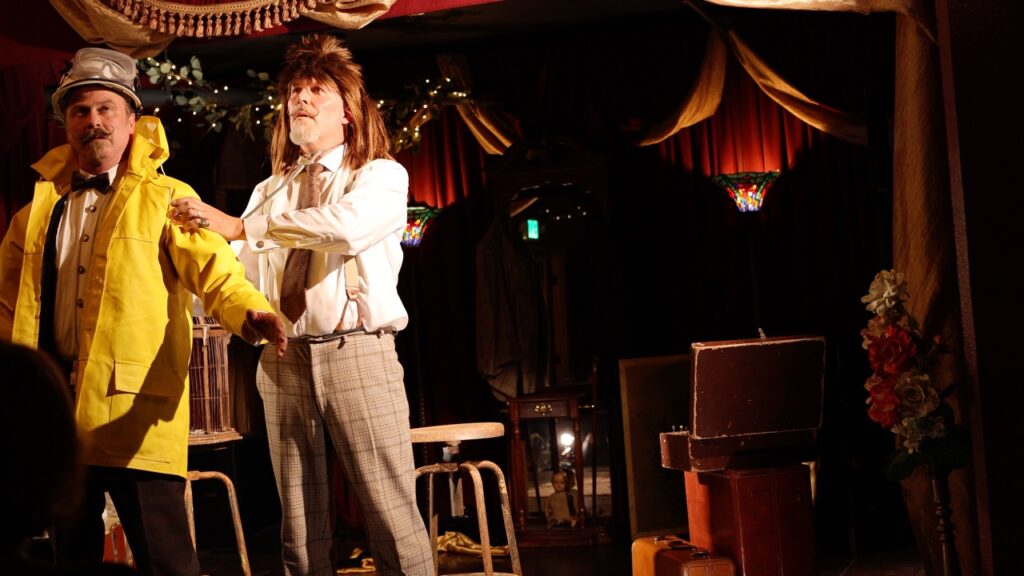 48 HILLS How would you describe Sir Pomp and Sir Psycho? How are you similar to your characters?
ROBERT WYALD Sir Pomp is quirky yet proper. He colors outside the lines, yet he is lovely and attentive to the audience—the constellation of dreamers. He wants to make sure everyone is having a good time. He's an explorer of the unconscious. No question is too small; the smallest questions are usually the biggest to him. He emanates a sense of wonder and curiosity. He shows up at the right time in your dream to contribute the right quip, object, or task to help you expand and grow.
I share a good amount of overlapping qualities with Sir Pomp. I'm probably a bit less proper or formal in my day-to-day and less bumbling. The inquisitiveness of Sir Pomp is very much like me; that part of myself gets to come through in more bizarre and fun ways during the show. If anything, that's the part of Sir Pomp that I'd want to bring more of back into myself and my regular, waking life.
BRIAN LIVINGSTON Sir Psycho, like me, is spontaneous; I, like him, believe in magic. He has a better ability to conjure his ideas from nothing, and I am habitually bound by the real and tangible.
In my daily life, I have aspirations and thoughts that are more esoteric and shamanic, which is where Sir Psycho lives continually. Also, he's able to combine history, pop, and current events into cultural mash-ups, which I love. But in the real world, people don't want to hear or care to understand my inner brain.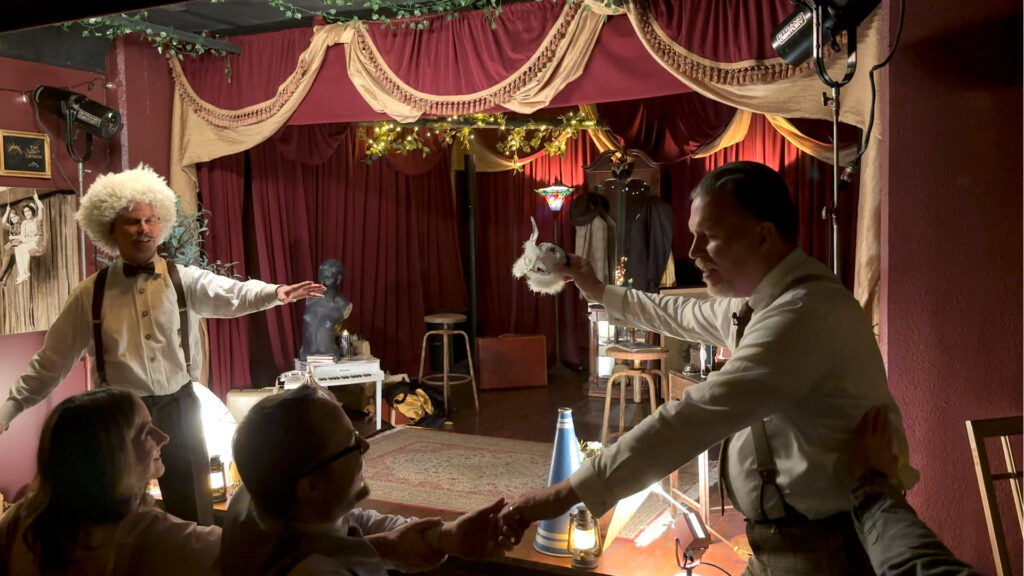 48 HILLS What do you expect of audience members coming to the show?
ROBERT WYALD It's less of an expectation and more of an invitation. I hope the audience comes with an openness to let themselves relax and enjoy. Since the Knights of Revery is a less traditional theater piece, we hope there is a willingness to be open to a new idea of entertainment and performance art.
We also hope that the audience will be inspired to participate because the joy that gets created is contagious and magical. What we want the audience to know, however, is that they can sit back and enjoy the show or they can dive in and co-create.
That's also why we suggest the audience comes dressed in costume. It's an immediate way for them to feel part of the experience and step outside themselves for an evening.
BRIAN LIVINGSTON A suspense of disbelief, attitude of participation, compassionate listening, honesty in sharing their dream worlds, and convivial attitude.
48 HILLS How do you balance the comedic and serious in the reenactment of dream scenarios?
ROBERT WYALD If the shared dream is sincere, we like to honor that sincerity or sadness or whatever feeling is conveyed. We're not afraid to explore a poignant moment, even though it's a comedy. However, we will also add surrealism, texture, humor, and sweetness to any moment, as dreams often do.
BRIAN LIVINGSTON Robert and I take great care in handling people's personal shares. We steer toward consent and compassion. Nightmares, relationships, unmet needs, and grief all have their place in the show and are welcome and delved into as fully as possible within its context. I believe laughter and humor to be some of the greatest intelligence in the human realm, and I steer toward jokes and the ridiculous as often as the opportunity presents itself.
There is an unwritten desire to bring therapeutic healing and integration to the audience. As a consumer of comedy, I emulate what I hope will make the audience laugh from their own sense of humor. I think there is great permission because the show is designed like a dream. It could change suddenly or sullenly, new scenes emerge fluidly and fully, and we attempt to touch them lightly while digging deeply. Like a dream, there is no time to think about the "logic" of how we get from A to B. In a dream, it all makes sense.
48 HILLS What is the craziest dream you've ever had and how would you interpret it?
ROBERT WYALD The craziest dream I can remember is that I could fly through the air and breathe underwater. I was fully naked and felt completely free. I remember going underwater and there was a woman in a half-shell that opened up; she was naked and beautiful. It was a gorgeous dream. I would say I had that dream because I love feeling total freedom and permission.
BRIAN LIVINGSTON Once I had a dream I went to a Shambhala. At one moment in the dream, I slid face up through a wall into the records room or library. When I reached the center of the room, the stupa roof fell on top of me like a stack of books. Millions of images/documents/manuals from Tibet and all historical cultures fell on top of me, and I read each one in detail. Upon reflection, I seem to believe in reincarnation or a continuous learning environment for my soul. I've been here doing the work since the beginning, and there is still more to learn.
48 HILLS Why do dreams remain so compelling to you?
ROBERT WYALD I love the creative and artistic freedom that dreams embody. Dreams are where anything is possible, where the strange unfolds and is accepted. There's also a depth inherent in dreams because they're coming from somewhere in our subconscious and very telling of one's psychology or desires, hopes, or fears. The realm of dreams is the perfect platform for creating surrealism and for surrealism to be understood. Everyone has had a surreal or inexplicable dream, so we're all familiar with how strange and curious they can be.
"KNIGHTS OF REVERY: A SURREAL, COMEDIC DREAM IMMERSION" Thu/16, Fri/17 and every 3rd Thursday and Friday through June, 8:15pm, $30. The Lost Church, SF. Tickets and more info here.