As equal parts an addict to Mediterranean flavors as food porn, I naturally leapt at an invitation to one of my favorite upscale spots, Luce at the Intercontinental Hotel, to try brand new chef de cuisine Dennis Efthymiou's tasting menu. The photos wowed. And Chef Dennis—who, at 29, hails from the kitchen of the UK's famous (and Michelin 3-starred) Fat Duck as well as restaurants in Peru and NYC, where he was head chef at Wicked Jane—promised to infuse the artful dishes with some favorite flavors from his Greek heritage, and others from warm climes thereabouts.
The six-plus course menu indeed reflects the tastes of his youth growing up in the coastal town of Igoumenitsa and in the mountainous region of Ioannina, and the traditional, ethical farming practices of the region, as well as his own worldly experience. It's an Odyssean voyage around sunny isles and through ancient flavors, sails billowing with contemporary haute cuisine techniques.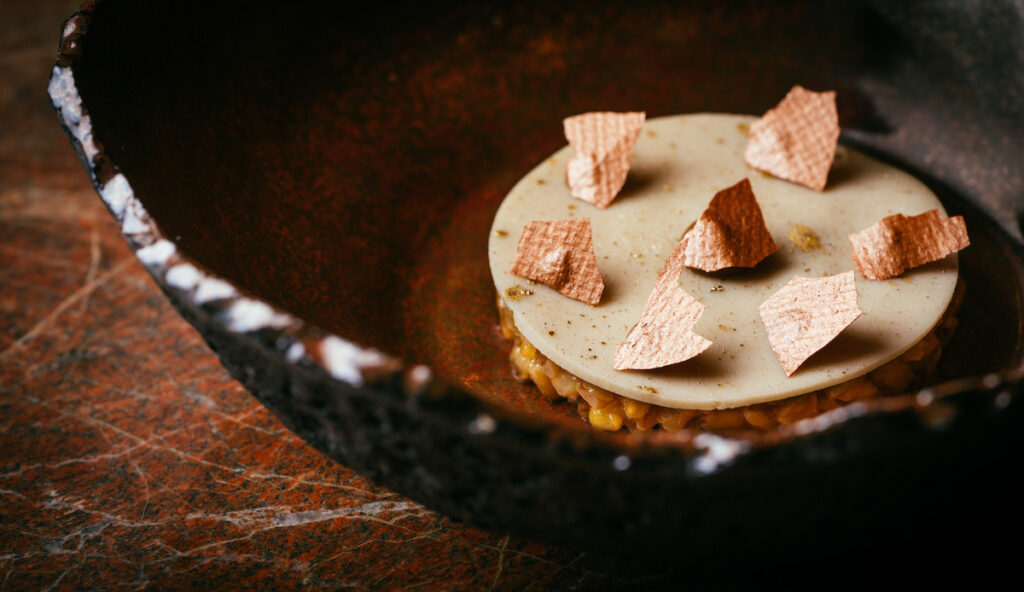 For instance, a semi-sparkling, apple-buttery orange "Paleokerisio" wine, sourced from his hometown (available through the wine pairing), accompanies a transcendently earthy "farro puls": a base of the storied Roman Empire grain is cooked with pecorino cream and plated beneath a delicate, looming bacon veil dotted with shards of pancetta crumble lodged into carmelized onion gel. Then, in an ode to alchemy and sunlight, the decadent disc is dappled with a dripped gold design. It was the most beautiful case of "Mmmm, bacon" I have immediately devoured.
Octopus lasagna made with tomato puree, spinach ricotta sauce, mirepoix, and a béchamel of gram (aka fish sauce, another nod to ancient Mediterranean staples) was a highlight of the menu; with a big smile, Chef Dennis told me the the lasagna was based on his mother's recipe, and it positively vibrated with homey feeling, while the light garum flavor of the sauce gently tied the pasta to a section of roasted octopus.
Kampachi crudo came with an intriguing question: Can a very delicate fish pair with a chocolate sauce? The white chocolate bergamot sauce used here brought out delicate, sweet notes in the paper-thin kampachi, prompting a Peruvian-French-Japanese connection that underlined the global range of flavors.
Back on more Mediterranean grounds, another highlight was the knockout "caviar sunflower," an optional add to the tasting menu, whose "seeds" were golden Ossetia caviar surrounded by actual sunflower petals, perfectly placed. The rest of the flower's head consisted of sunchoke tartelette, smoked sturgeon mousse, confit egg yolk, pistachio, and dill. Paired with a mild, fizzy cadmium-yellow Zero Infinito wine made of Solaris grapes, it was a bright wonder.
As you may have noticed, color is a star here: the deep sapphire colors of final savory course, cubes of beef sirloin, and the pale-gold-and-clay-red checkerboard presentation of cubes of fruit in the pear tamarind desert—abutting a dollop of cardamom sorbet with coconut streusel—matched the intensity of their flavors. Amping the saturation of the pear tamarind was a paired 2018 Vignalta white and orange moscato.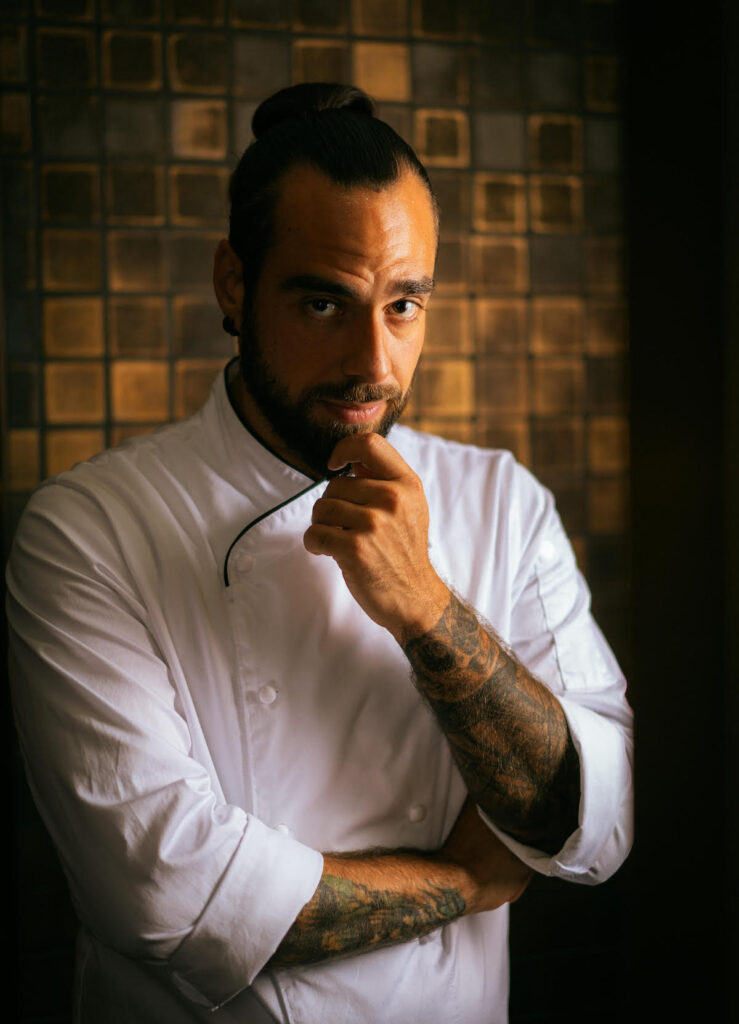 Finally, three "textures of chocolate" (halva cocoa nib soil, halva ice cream, and chocolate sauce) brought us to the eastern Mediterranean, completing a journey that had launched with three delightful amuse-bouches, one of which had spun that old favorite, spanakopita, into a verdant green spinach mini-cone filled with whipped feta. We landed, fittingly, with a port—a 10-year Dow's Tawney, which was a very solid and traditional choice.
The service at Luce is comfortingly old-school, the wait staff take their profession seriously but are neither starchy nor arch—they shared a few grins with us as we navigated the menu, and knew their stuff. And although Luce sometimes seems self-conscious that it's a hotel restaurant (I love the spacious bar just outside, a great evening place to pop into if you're downtown), that just means a mix of diverse fellow diners. Chef Dennis is taking everyone on the trip.