The acting chancellor of City College shut down a meeting and walked out today rather than listen to complaints from students and the faculty union about class cuts.
Interim Chancellor Susan Lamb abruptly exited what was supposed to be an open forum after giving an ultimatum to the union.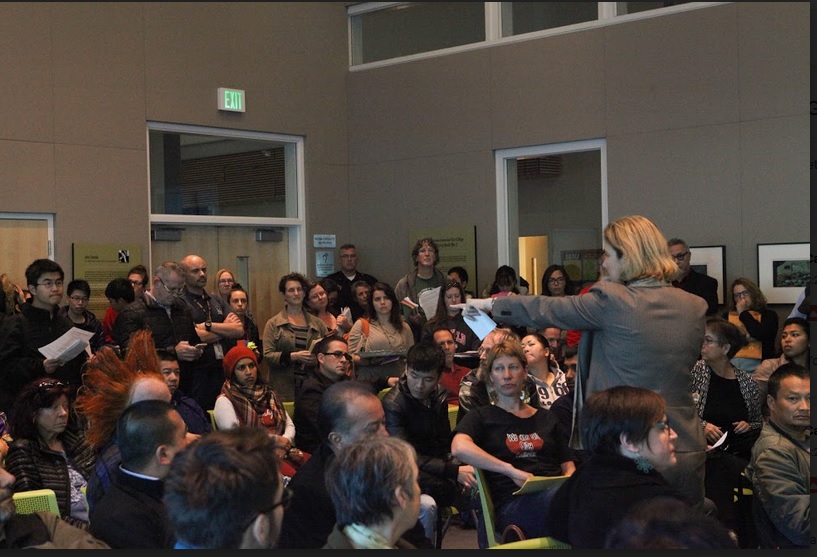 "I don't mind having a discussion," Lamb said to the members of American Federation of Teachers Local 2121. "What I do have an issue with is when we have a meeting where we're trying to have some open conversations. I am a little bit upset when it feels like it's a bully situation."
Since the college's accreditation crisis back in 2013, faculty and administration have been clashing over cuts that have eliminated 26 percent of classes.
That could get worse: The college is looking at its last year of state stability funding and will lose some $35 million next year.
"At this point, I don't think any of us want to reduce classes––that's a given," Lamb said in an interview. "But we are facing this substantial budget issue, and there's ways that we can deal with it that will have less impact on students."
AFT Local 2121 demanded that classes cut for Spring 2017 be restored. Cutting classes – and thus discouraging enrollment – at a time when the school's biggest financial problem is declining enrollment makes no sense, the union argues.
"Evidence suggests that when you cut a class, students aren't all going to another class. Many drop out, or enroll at another college," said Tim Killikelly, president of Local 2121. "Instituting a policy of cuts makes no economic sense if we want to rebuild enrollment."
In fact, since the school's funding is based on enrollment, the chancellors plan "looks to many like a disastrous strategy that will permanently down-size the college's programs and course offerings," the union says.
As Lamb entered the meeting, students raised signs towards the chancellor expressing disapproval towards the class cuts.
Tensions rose as protesters flooded the room and lined the back wall of a meeting that Lamb stated that the faculty union was not welcome to attend.
"I do not feel it is appropriate for [AFT 2121] to take over this meeting," Lamb said. "This is abusive."
Lamb attributed "continual conflict" to negatively affecting low enrollment rates that City College has recently experienced.
The current enrollment at City College is down to approximately 61,500 students from over 90,000 in past years.
Members of Local 2121 were visibly displeased with the chancellor's reaction and raised their hands to address the crowd.
Wendy Kaufmyn, an engineering instructor at City College of 33 years, pleaded to Lamb from the back of the room that protesters were simply attempting to have a conversation about how class cuts would affect students.
When Lamb refused to have the discussion, Kaufmyn called for protesters to stay quiet so the chancellor could continue on with the meeting. Lamb refused to carry on with the meeting with AFT 2121 in attendance.
"I am not going to continue on with the agenda with this type of environment," said Lamb.
While some were opposed to Lamb's reaction, others were in favor of her decision to leave.
"I think she's right about this, and that is we're not getting along and it's not sustainable," department chair of Latino/a studies Edgar Torres said.
The cancellation of the meeting caused a brief but heated verbal back-and-forth between protesters and people who attended the meeting.
Marketing Director Jeff Hamilton defended Lamb throughout the meeting and pushed for AFT 2121 members and protesters to leave.
"The chancellor is correct, if we don't learn to have civil and respectful discussion we are going to continue to have serious problems," Hamilton said. "We are adding classes where there is demand, and we are cutting classes where there is no demand."
"We are one college, okay?!" Lamb said before she exited. "We may have differences in opinion, but if we cannot come together in some way, this college is not going to survive long-term, I will tell you that quite frankly. We have got to figure out some type of way to work together."