PARTY RADAR This has been a huge and heavy week for Bay Area nightlife: So much love going out all who didn't let Ghost Ship anniversary grief stop them from communing on the dance floors, and props to all the parties that took part in the moment of silence for the victims last Saturday. Now we're on to the criminal case preliminary hearings, and it will be a long while, probably, to see some justice.
In the meantime, the dance music community continues to come together to raise money for legal fees and family — and to release some incredible tracks from these talented souls. Three new releases take center stage. The first is based on weekly Monday party Run the Length of Your Wildness, via a stellar EP bearing the name on LA label Hobo Camp, featuring music from Cherushii, who ran the party, and Nackt aka Johnny Igaa, both lost to the fire. There'll be a release celebration, at the party, Mon/18.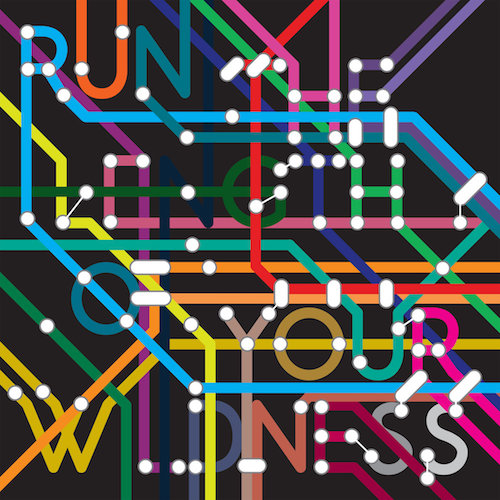 Nackt also has a new four-track EP on local label Left Hand Path, finalized just before he passed, entitled, perfectly, "Private Property Created Crime." You can score a copy here. 
And then there's the monumental Silk to Dry the Tears, an album featuring 31 artists associated with the label 100% Silk, which was originally named in the civil suit, has been released from the list, but now owes huge amounts of legal bills. Proceeds from the sale go to help that out — and you'll be helped out, too, with some incredible tracks, like one of Octo Octa's lovely, kicky peregrinations through house history, "Not Sure What To Do (Variation Zoning 4):
But beyond all this, how incredibly comforting it is to know we haven't let this tragedy extinguish our wild nights together. See you out there! 
FRIDAY, DECEMBER 8
CHULITA VINYL CLUB 3-YEAR ANNIVERSARY Insanely talented collective of vinyl lovers — now with franchises all over the country! — comes together to celebrate three years of kicking ass on the decks, and bringing some gorgeous cambia to the dance floors. Fri/8, 9pm-1:30am, free. Legionnaire Saloon, Oakland. More info here. 
DEEPCHORD + FLUXION An audiovisual world premiere at Gray Area (the perfect place for such a thing) called "Transformations"  from these two lauded dub techno players. Openers bvdub and Chris Zaldua will set the gritty electronic vibes. Fri/8, 9pm-2am, $20-$25. Gray Area, SF. More info here.  
UNIIQU3 Neon-colorful and so-so-styish queer hip-hop party Swagger Like Us brings in this Newark rapper for some tight vibes (and an untouchable crowd). Fri/8, 10pm-2am, $10. Elbo Room, SF. More info here. 
ION LUDWIG I am loving typing out all these names after a glass of wine — I feel like Friday's got a total back-in-the-rave-day lineup, at least when it comes to flamboyant monikers. Ion Ludwig's heady, trippy Dutch techno certainly fits the bill, presented tonight by Housepitality and the Diacritic Collective, which I must write about soon. Fri/8, 10pm-late, $15-$20. F8, SF. More info here.    
NEON BLACK: DIE HARD Synth-happy party Neon Black (think the soundtracks to Drive and Stranger Things but with a tad more Italo disco) is hosting a tribute to Christmas action movies, including Die Hard, which is wonderfully weird and totally in-step with Neon Black honchos DJ Danny Delorean and Fact50's vibes. There are also video games because of course. Fri/8, 9:30pm-3am, $5-$8. Cat Club, SF. More info here. 
LAST NITE The 2000s are back, ahem. This long-running party keeps getting more and more popular, which may be a comment on the growing nostalgia of aging millennials — but probably just because the DJs Jamie Jams and Rocky have all the right Strokes. Fri/8, 10pm-2am, $5-$10. Make-out Room, SF. More info here.  
VIVVY'S GRAND OPENING Ugh I love this party so much! Every month, Vivvy comes up with something drag-spectacular, be it two drag shows happening simultaneously, a 45-minute journey through a dystopian space colony, a very weird Cats, or a dozen drag queens interpreting the same song. Plus, all-night dancing. Fri/8, 10pm-4am, $10. the Stud, SF. More info here. 
SATURDAY, DECEMBER 9
DAVID HARNESS The legendary local soulful house DJ and producer has a new album about to drop (ran into him at the cheese store today and he was ready to let us have it). He'll be making his debut at the Stud, with Berlin's Alison Swing from the Dig Deeper party, at the Mixed Forms party, which is one of those magical "every different type of person is here" type deals. Don't sleep. Sat/9, 10pm-4am, $20. Proceeds go to Trans Assistance Project (TAP) and Community United Against Violence (CUAV). The Stud, SF. More info here. 
WONDER-FULL This is such a positive and affirming event, exactly what we need right now. Every year, brilliant NYC DJ Spinna comes in to pay tribute to Stevie Wonder all night long, with favorites, rare cuts, and surprising edits. Ready for some songs in the Key of Life. Sat/9, 9pm-4am, $25. Mezzanine, SF. More info here. 
CLARK PRICE I love this Pittsburgh techno-ist so much. (He's also staying at my house so I better say nice things! Ha.) His Honcho crew has transformed underground gay dancing over on that side of the country, and now he's coming to play at Pound Puppy, our woofy monthly pawty at he Eagle. Sat/9 10pm-2am, $10. Eagle, SF. More info here. 
ORIGINS BALL We're havin' ourselves a Vogue Ball, y'all! "In celebration of the House of Energi's 15 year anniversary, Founder Ultraa Energi and Father Ryan Energi are proud to present the Origins Ball in San Francisco! With Origins, we honor the traditions and memories of those who paved the way for Ballroom. We look inward towards the source of our own creativity to unleash on the runway." Categories include: FACE – FLAWLESS, FOOT AND EYEWEAR – BODAK YELLOW, BIZARRE – STRANGER THINGS, and BLUE COLLAR DOLLARS. Sat/9, 9pm-6am, $20. Danzhaus, SF. More info here.    
LONG LIVE THE NEW FLESH  A killer night of live electronics from local favorites Stress Therapy, Identity Theft, and Bellona, with intermission tunes from DJ Zlaya and Bit. Hosted by Body Rapture. Sat/9, 9pm-1am, $8. Eli's Mile High Club, Oakland. More info here. 
NINE "Nine is a musical moniker of Nihar Bhatt, member of the post-techno Surface Tension DJ collective and co-head, (with Chris Zaldua), of the Left Hand Path record label. While deeply rooted in the architecture of '90s acid and rave, Nine's live hardware sets are constantly searching the landscape of the modern dystopia for ideas to bring to life." I adore Nihar! This great-looking In Too Deep party also features Kyn, Greg Kappes (visuals), and Jesse Austin. Sat/9, 9:30pm-11:30pm, $7-$15 sliding scale. Studio Grand, Oakland. More info here.   
STUDIO 5'4 There is a party for short gay men and their admirers, and it is wonderful. This month's theme? "All that's little is gold!" Sat/9. 9pm-2am, $5. Lone Star, SF. More info here.