PARTY RADAR Even the fish were saved! The saga of the city's oldest gay bar, the Gangway in the Tenderloin, began a new chapter on Monday, as volunteers gathered to preserve the bar's preciously campy maritime accouterments before the location is demo'ed to become another bar. (Apparently, reported plans for it to become a Kung Fu-themed laundromat are not to be realized. Alas?) 
Members of the Stud Collective and Q Foundation (which is helping to organize the nation's first Transgender Cultural District in the Tenderloin) joined politician/nightlife fan Bevan Dufty, organizer Nate Allbee, and some people who actually have construction experience to take apart the bar and store its parts until a collective of investors can be formed (much like the Stud's) to help reopen the bar in another location.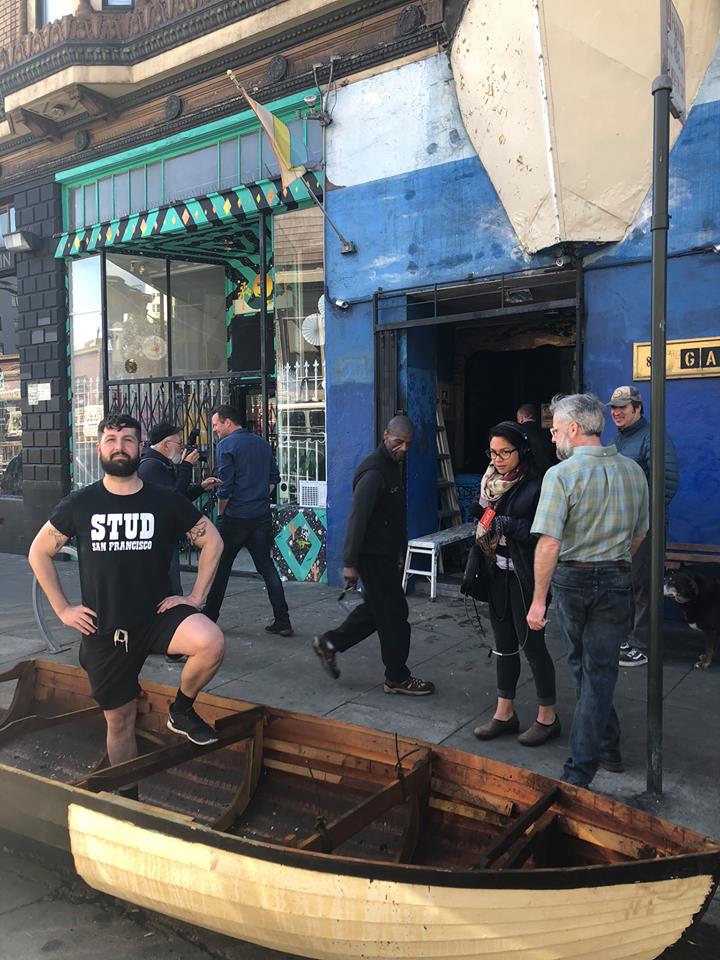 "The fish have been rescued," said Allbee of the cute little aquarium that greeted customers at the door of the 107-year-old establishment, which was first cited for same-sex dancing in 1911. Other legendary pieces, like the boat that hung over the door (which may or may not have contained an urn of a long-gone queen's ashes), a ship's wheel, and some colorful statuary are now stored and ready to set sail again someday.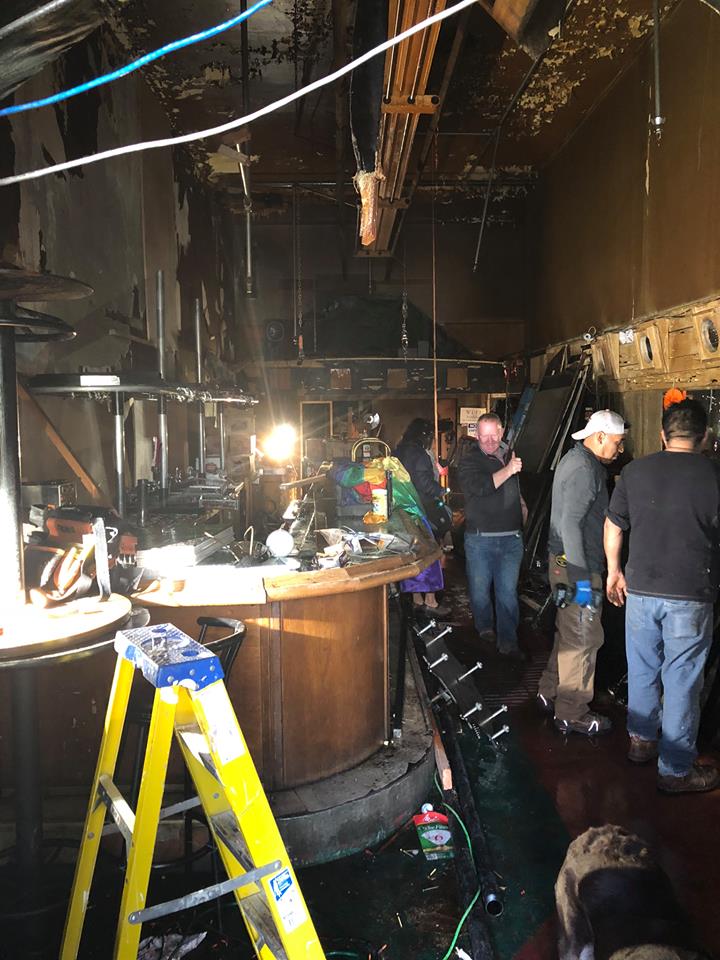 If you'd like to know more about how you can help save this institution, email nate@queercollectives.com.
SAVING DOC'S CLOCK'S SIGN In an intense landlord dispute a couple years ago, classic 67-year-old bar Doc's Clock not only ended up having to move two blocks away from its original location, but it looked like it would also lose custody of its iconic neon sign.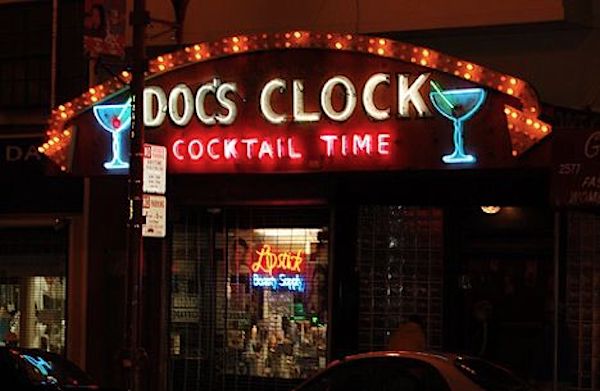 That would have been tragic, since it's such a classic Mission fixture. (he first bar I went to when I moved here in the early '90s was Doc's, and the sign was burned into my young and tremulous retinas.) Fear not however, for owner Carey Suckow has regained control the sign—but it's going to take at least 20,000 to move and install it at the new location.   
So yes, there is gong to be a huge fundraiser at the bar, 5pm-10pm on Fri/2, including a raffle for prizes from great local businesses, and you can even snag a snazzy Fernet bike. (Do you drink it? Do you ride it? Both? Who knows? Find out!) There's also a GoFundMe campaign if you can't make it out. Save the sign! 
PARTIES OF NOTE
FRI/2 DESPERATE LIVING: NIGHT OF 1000 COURTNEYS! Lorde help us, this queer punk rock extravaganza is calling all drag Courtney Loves to come out and rock out with live band the Younger Lovers. 10pm-4am, $10. The Stud, SF. More info here.   
FRI/2 CHEM CLUB: FLORIAN KUPFER Chem Club is a new "record label, party, and after school science experiment"—and here it comes, beakers and all, with Berlin DIY house hero Florian Kupfer and his "tape-saturated" style. With Privacy. 10pm-4am, $10. F8, SF. More info here.  
FRI/2 MADTEO "Voracious culturilizer. Lover of cheap vinyl, producer of exquisitely odd records, mind-bending conversationalist." OK that's a personal ad I would jump at—luckily this Queens wiz will give you plenty to jump to, at one of our best record stores/party spots. 8pm-midnight, $5-10. RS94109, SF. More info here. 
FRI/2 RENT CONTROL A cheap-ass dance party with some awesome (and awesome-looking) DJs, including Juanita More, Steve Fabus, Mark O'Brien, Trevor Sigler, and more. 9pm-3:30am, $5. Public Works Loft, SF. More info here. 
SAT/3 GO BANG! DJ Bus Station John is the special guest at this fabulous monthly disco journey, full of glittery vibe and glistening faces. Happy birthday DJ Prince Wolfe! 10pm-4am, $10. The Stud, SF. More info here. 
SAT/3 CULOE DE SONG South African house has been my go-to for peace and respite for the last decade, and we've been blessed to have key players like Black Coffee and Culoe de Song visit us. Culoe gets so deep you'll be swimming in yourself. 9:30pm-4am, $20. Monarch, SF. More info here.  
SAT/3 BONOBO Gah, I adore this Brit's super-enthralling, fractured-bass DJ sets. He'll be perfect at the cavernous Midway, with Panther Du Prince and Birds of Rhythm. 9pm-2am, $25. Midway, SF. More info here.  
SAT/3 CLUB CHAI The wonderfully queer immigrant global techno crew celebrates the release of founder 8uletina's "Eucalytpus" EP — with fellow DJs Foozool, Nihar, and more. 8pm-2am, $10-$15. Alena Studio, Oakland. More info here. 
SAT/3 POWERBLOUSE Each month, drag goddesses Juanita More, Glamamore, and Voodana Black select a drag newbie and give them the makeover of a lifetime, live onstage,   while people dance to good music. This month is one of my favorite club kids, Johnathan Xavier. Yes, queen, yes! 10pm-2am, $5. Powerhouse, SF. More info here. 
SAT/3 HARDER FASTER BETTER STRONGER Dancing to the classics of the 2000s is hard(er) but fun(ner) work! Now try it with the lights out! This is the "Blacklight Blackout" edition of this too-cute monthly party, so wear something glowy(er). 9:30-2am, $5. Slate, SF. More info here. 
SAT/3 CLUB LEISURE: 2TONE MADNESS Skank it out, rude boy, rude girl to the timeless sounds of the 2Tone label at this tip-top BritPop party, with DJs Kirk and Omar, and a special Smiths room in the front! 10pm-3am, $10. Cat Club, SF. More info here.