ARTS FORECAST Two lovely and illuminating things to kick us off this week. 
The first is the installation of Charles Gadeken's gorgeous 50-foot tall "geometric tree" called "Squared" sculpture on Patricia Green in Hayes Valley. Many may (hallucinogenically) remember several of Gadekan's sculptures on the playa at Burning Man, but this one—which rhymes beautifully with the Words Take Wings sculpture of flying books in SF. Here's a pic of it during the daytime: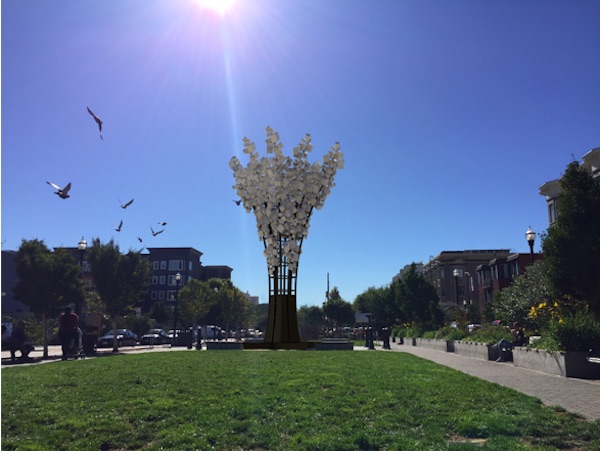 and check out this cool vid of it being constructed and lit up! 
There's going to be an official opening celebration May 5, 6-8:30pm, so check that out — more info here. 
ANOTHER BRIGHT LIGHT: What if corner stores in neighborhoods that don't have easy access to fresh fruits and vegetables were transformed into healthy oases? That's what a group of YBCA youth fellows did in the Tenderloin, teaming up with the Tenderloin Healthy Corner Store Coalition (THCSC), to convert the Daldas Corner Store into a spot that celebrates freshness and personality.
For the past three months, these young people "have taken part in art-making workshops led by YBCA teaching artists to create original artwork and portraits of the store's owners, patrons, and local residents—marketing interventions that reflect the diverse neighborhood. Under the guidance of the teaching artists, they also worked to replace existing neon signs advertising alcohol, tobacco, and unhealthy foods with new neon signs advertising fruits and vegetables now sold at Daldas."
Very cool! The new, improved Daldas Corner Store was unveiled last Thursday — go visit, buy something, and support! Daldas is at 200 Eddy, SF—you can read more about the Tenderloin Healthy Corner Store Coalition here.  
UPCOMING ARTS EVENTS
THU/26-SAT/28 MUSIC KRONOS QUARTET FESTIVAL Our most fabulously experimental musicians host three incredible days and nights of new music, with guests like Amaranth Quartet and Dave Coulter. SFJAZZ, more info here. 
THU/26-SUN/29 MUSIC COSMIC WONDER: "THE PLANETS" Holst's beloved cosmic work gets the SF symphony treatment, with conductor Christian Reif at the helm of this orchestral spaceship. With Wagner's "Siegfried's Rhine Journey" from Götterdämmerung, and Liszt's Piano Concerto No. 2 in A major with pianist Jean-Efflam Bavouzet. Davies Symphony Hall, SF. More info here. 
FRI/27 NIGHTLIFE MERCURY SOUL: DANZÓN One of the niftiest nightlife concepts I've come upon—a blend of classical and new music—this time celebrating Latin composers. It "features a headlining set by Rob Garza (of the legendary Thievery Corporation), with the first-ever live performance of music from his upcoming "Dissolve" EP, joined by singers Shana Halligan, Stee Downes, and Fare, as well as the Mercury Soul Orchestra playing arrangements by Grammy-nominated composer/DJ Mason Bates.
Throughout the night, veteran DJs Masonic and Justin Reed will spin sets interspersed with classical performances by the acclaimed Friction Quartet, Redwood Tango Ensemble, and the Mercury Soul Orchestra." 9pm-2am, $25-$30. Great Northern, SF. More info here. 
NOW THROUGH MAY 12 STAGE TROG File under: Best Things Ever. A live, musical drag send-up of a B-movie classic. "Arguably one of the 'worst / best' movies ever made, and Joan Crawford's last film, follows Anthropologist Dr. Brockton (Matthew Martin) and her discovery of a living troglodyte (an Ice Age 'missing link" half-caveman, half-ape). She manages to domesticate him—until he's let loose by an irate land developer to go on a killing rampage and kidnap a little girl." At Oasis, SF. More info here. 
SAT/28 PERFORMANCE BODY TABOO DEFIANCE Burlesque brilliance at midnight in the Shelton Theatre! "Our performers embody the cerebral, hypnotic, artistically mesmerizing, sinfully intriguing and decadent spirit of the San Francisco underbelly. Unapologetically displaying all forms of gender expression and performance mediums, bodyTABOOdefiance is a show best experienced under a halo of neon lights and midnight chimes." 11pm-1am, $20. Shelton Theatre, SF. More info here. 
SUN/29 FILM/DANCE INGMAR BERGMAN THROUGH THE CHOREOGRAPHER'S EYE The San Francisco Dance Film Festival presents the US premiere of Frederich Stattin's movie, in which "four of Sweden's most innovative choreographers travel to Ingmar Bergman's home on Fårö to explore and get inspired." Special guests at this screening include Ingmar Bergman, Jr. and dancer-choreographer Alexander Ekman. Followed by a reception to celebrate the centenary of the iconic Bergman. 5pm-7:30pm, $25-$75. Jewish Community Center, SF. More info here. 
SAT/28-SUN/29 LIT BAY AREA BOOK FESTIVAL Huzzah! Slip under multiple covers at this giant book bash. "Tens of thousands of book lovers meet hundreds of acclaimed authors over an exciting weekend in downtown Berkeley, California." Plus a fit program at BAMPFA. More info here.  
SAT/28-MAY 6 PERFORMANCE FOG CITY SWING A family-friendly, original circus show developed and presented by the San Francisco Youth Circus. "Join Mia, a young woman who is new to the city, wide-eyed and full of hope. As she explores life in the Bay, she meets a bevy of diverse and colorful characters. She makes friends, learns a few life lessons, and discovers all that's wonderful about life in this town. With circus as her muse, she finds her way through the fog and into the light!" $10-$25, Circus Center, SF. More info here. 
TUE/1 PARTY! 48 HILLS FIFTH ANNIVERSARY GALA Of course i had to slip this in! Come celebrate five years of independent local media with food, fun, wines from Justice Grace Vineyards, DJ Marke B, and special guests Tom Ammiano and Rose Aguilar of KALW. 6pm-8pm, $50 (students and seniors $35). Mission Cultural Center, SF. More info here.   
TUE/1 MUSIC JAPANDROIDS Canadian rock duo tear it up onstage, and if they've been drifting more towards classic thrash rock from intriguing punk, well at least you can still bang your head. 7:30pm, $25. The Independent, SF. More info here. 
THU/3 MUSIC ERIC B AND RAKIM Rakim is still the G.O.A.T., fight me, and "Follow the Leader" contains some of the best verses in rap. You can relive the glory days of hip-hop (today's is not so bad actually, barring those Kanye and Chance tweets) when the 18th Letter, the R, steps up to the microphone with President Eric B. 8pm, $65. The Fillmore, SF. More info here.