In what looked like a publicity stunt gone slightly off the rails, Jimmy Fallon, host of the Tonight Show, seems to have been a little uncomfortable and downright 'shook' during a Madonna sit-down Thursday Night. Madge was on the show promoting her Madame X concert film that is currently screening on Paramount +. Was it the diamond grillz? Her stretching out on his desk very seductively—or the flashing of her rear-end on a nationally televised show—that got Fallon freaked-out and nervous? 
Listen, I am not the biggest Madonna fan. But understand this. My first introduction to her was not some hacky late-night television bit. It was a boom-box playing "Physical Attraction." 
The keyboard is pitch-bending at the top, urging us in. Linn drum machine, Moog bass, and Oberheim OB-X synthesizer working telepathically, forging that smacking cathode ray of everlasting groove. A slick thwacking bassline, Nile Rodgers-type guitar picking, and those synth washes, all announcing something, heavily borrowed, but still very shrewd, is on the purview.
This was 'city' music, as stated by Fab Five Freddy. That era of her music was "attracting those who were more street, savvier, more flavorful." And there she was, Madonna Louise Ciccone, presenting this version, a character-boho street fashion engineer, who would make the whole world dance.
There were other incarnations that got missed. She was in several No Wave bands nobody paid attention to at the time, and a hard rock band called The Breakfast Club. There was also a period when Def Jam Records and Madonna were both circling each other, contemplating what easily could have been mutual exploitation. See early Beastie Boys Licensed to Ill for reference. (Or those grillz, four decades later.)
But it was the dance-pop diva presentation that stuck. At several points over a 40-plus year career, she'd piss everyone off with taxing choices. Still, she'd fight for the right causes, even when they were not popular, while at the same time culturally rip off marginalized communities over and over throughout her career. 
Whew. Introducing Madonna folks…
On her birthday this past August she used the date to announce a campaign to reissue several of her landmark albums in deluxe editions, due to a new publishing deal with Warner Music Group. The series will partially commemorate the 40th anniversary of Madonna's debut singles, 1982's "Everybody" and "Burning Up." On the day she turned 63, the label Italians Do It Better released a savvy compilation of Madonna covers, executive-produced by Johnny Jewel. Italians Do It Better is the t-shirt she wore in the video for "Papa Don't Preach."
Madonna, problematic as all hell, is still a big deal.
But what gets overlooked and slept on, are those first couple of singles that would eventually turn into her first self-titled album. "Physical Attraction," my introduction, was not her first single to chart. It was a B-side to "Burning Up," her second 12-inch. 
"Everybody," her debut single, was released on October 6, 1982. Musically incorporating R&B swung beats, Sire Records marketed the dance song for the Black demographic, and Madonna was promoted as an African-American artist, cutting a radio playlist where the song might chart. In New York, the song was played on 92 KTU, a proponent of Latin freestyle, which had a strong Black audience, similar to its competitors 98.7 Kiss FM and 107.5 WBLS. 
Those early years in the '80s, Black radio in New York made national hits. Period. Records would play, sink in for a year non-stop, all over the city, and then make their way across the country. New York was always at least three to six months ahead. That's not East Coast elitism. The power of legendary Paradise Garage DJ Larry Levan's dancefloor.
How did you gauge a pre-Internet hit in the early '80s? "Physical Attraction" would blare from boomboxes on subway platforms, featuring on those homemade pause tapes that included Bananarama's "Cruel Summer," Bow Wow Wow's "C·30 C·60 C·90 Go!," Vicky D's "This Beat Is Mine," and D-Train's "You're The One for Me." 
The city, the streets, would play it ad infinitum. That was the retweet.
For the cover of her first single, Sire Records had hired illustrator Lou Beach who curated a Romare Bearden-type hip-hop collage of a very 'urban' downtown New York. The label decided against a portrait shot of Madonna. Eventually, a video was made, and we saw she was white. She even started her career kinda cutty.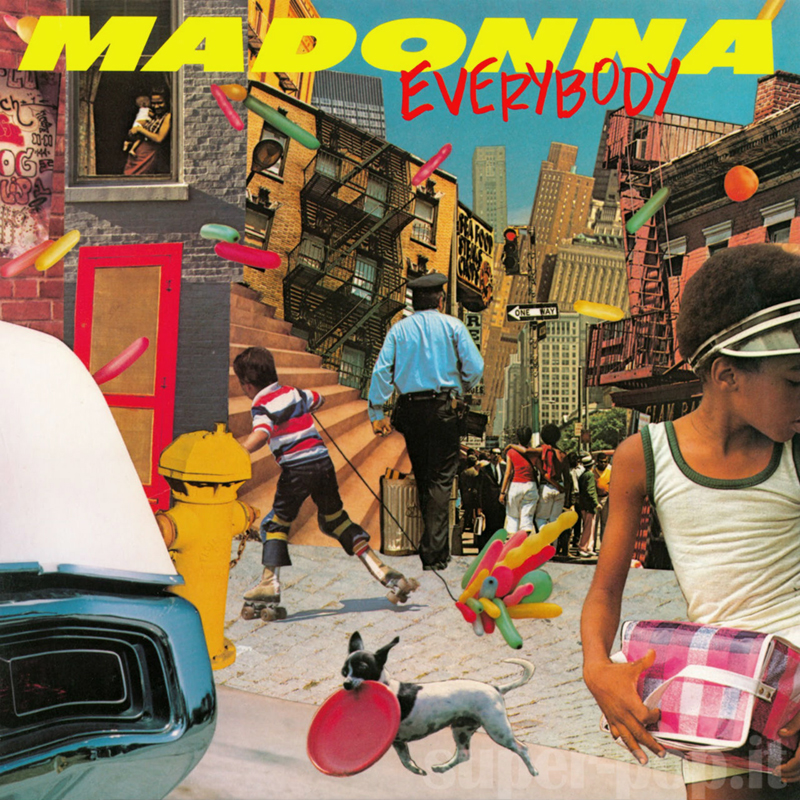 "Physical Attraction" features production credit from John "Jellybean" Benitez, a DJ at the landmark Funhouse club at the time. He contributed to its street cred and sound. Perfecting a template, and prototype for every synthetic-disco diva, female pop phenom, to follow.
With accents of electro, early boogie—that feel of post-punk meets dancefloor attack, by way of Arthur Baker—it draws a through-line from Lisa Lisa, Janet Jackson, Debbie Gibson, Tiffany, the synth-pop '80s edition of Pointer Sisters, Britney Spears, Christina Aguilera to the aughts explosion of slinky bedroom auteurs Nite Jewel, Geneva Jacuzzi, and so forth. Leading us to Lady Gaga and Billie Eilish too.
But in retrospect, "Physical Attraction" is just exquisite, divine pop. Madonna always knew her strength was dancing, Translating that innate feeling of rhythm. She's a million-selling pop icon, despite her slight voice. With "Physical Attraction" she programs her natural body movements to give cues on how to access the production. Her voice moves. It doesn't take over and dominate. Just floats along with the bounce, like a dancer working a specific part, but not the entire dancefloor.
Some have called that "billion-dollar hunch" to emphasize physical dexterity over vocal acrobatics the greatest case of "get over" ever. But making it work for 40 years, that's brilliance by definition… 
A natural rhythm, which she's had since day one, is something that can't be culturally appropriated. Whitney and Mariah can sing for weeks. But Madonna, underneath all that thrift store chic, never came off stiff. Matter of fact, she seemed just the opposite. Wild. See Desperately Seeking Susan for research.
Everything that came after 1985 for Madge was aimed squarely at MTV. It's the early singles that were designed for classic NYC dancefloors. Danceteria, Mudd Club, Paradise Garage—cultural hubs that decided what tracks became national earworms for breakdancers, graffiti artists, pop lockers, and the kids on the street. Not those in the mall.