Finding unique stories within common ground with the people he meets, printmaker David Tim listens, interprets, and shares what he learns by translating them in narrative prints. 
Tim grew up in Montreal, Canada for a minute, but mostly in Ames, Iowa where he also attended college. Receiving his BFA in printmaking and ceramics at Iowa State University, he moved to the Bay area in 2013 for graduate school at the San Francisco Art Institute and completed his MFA in 2015. A resident of San Francisco, he works in his art studio in West Oakland. He exhibits in numerous cities across the US; his piece "Procession" was selected for the permanent collection of the Philadelphia Museum of Art. 
Tim says he became an artist because it allotted him the space to be himself and to determine his own way of creating. "Ever since I was a little kid, the Sunday comics and other art forms were amazing to me. Just being around so many variations of art, creation, colors, styles and fashions drew me into the arts," he said.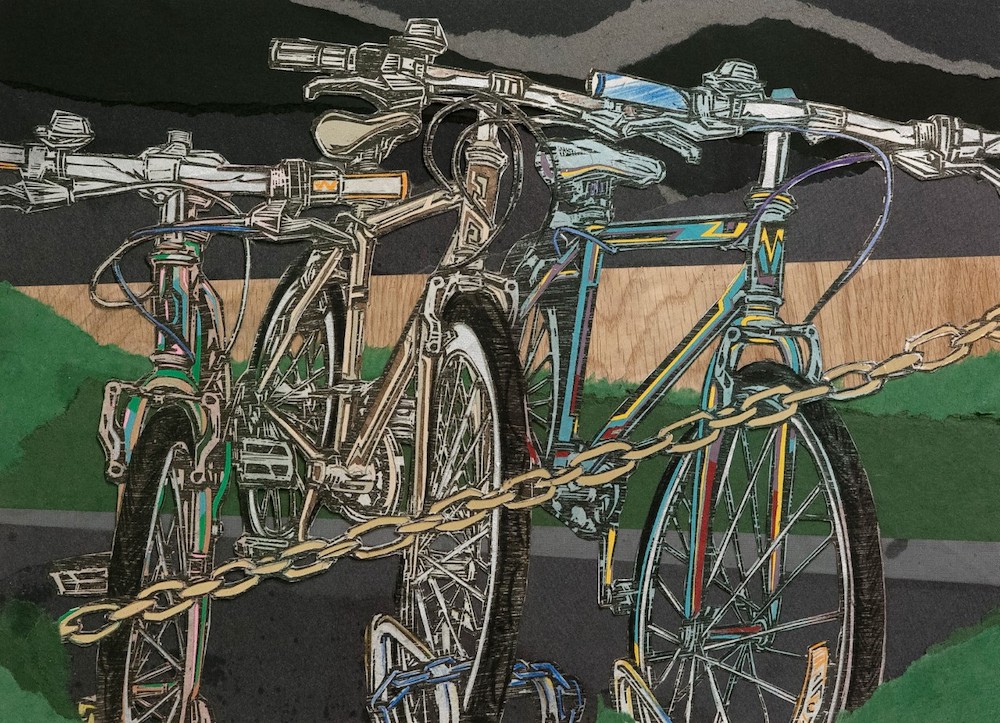 A skilled printmaker working primarily in woodcuts, Tim's work toggles between stand-alone, classic reduction technique prints and multi-layered images enhanced with mixed media. His imagery is a direct reflection of his relationship to family and extended community. Day-to-day interactions with a variety of people serve his work as he takes in each person's life experience, each work a reflection of sui generis yet a discovery of familiar, parallel lines. "It's always interesting to find the moments of similarity as time passes by," he said.
Tim's motto is to always keep challenging himself. To keep pushing the skills that he has to a place where he feels the challenge, to step further outside his comfort zone is a must. Change also drives him to keep creative juices flowing. This urge manifests in his work by adding more layers to a print or trying his hand at incorporating a new element into his art practice or individual piece. He describes his work as unique, layered and timely. Perhaps in the sense that he is capturing a moment or visual image in the way life itself unfolds.
One feels a sense of pictorial pages in a book illustrating a story when viewing his prints. Using a minimal color palette across sekishu paper, one of the oldest papers in the world still made by hand from kozo fibers, Tim brings his surroundings to life with precision. His choice of sekishu is both for its durable and semitransparent properties, which allows for added materials to be seen underneath the paper. Printing by hand as his woodblocks are too large for a press, Tim carves into door skin mahogany or MDF wood blocks and burnishes with a wooden spoon. Utilizing application methods like sponges and paint brushes, he adds color and texture, just enough to provide a perfected contrast to his storytelling.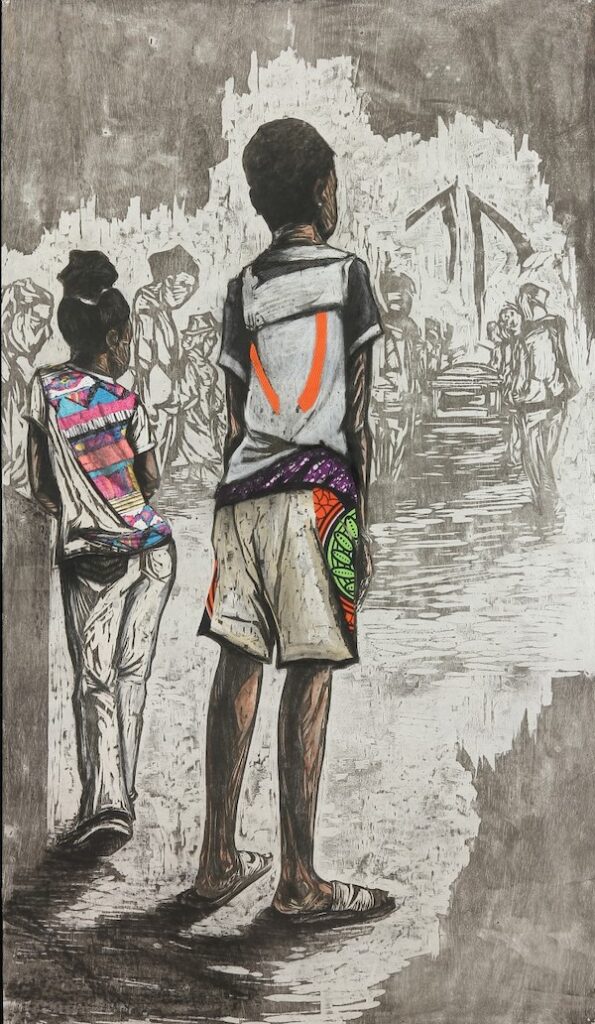 A day in the studio starts with a good amount of contemplation. Running editions of a piece that will be the base image of a print, Tim begins manipulating each print by pulling it in different ways across the woodblock and/or incorporating different media such as acrylic paint, charcoal, and fabrics. Finally, the cutting and mixing of different layers takes place as he decides which areas to highlight, or push back, to create a sense of space and volume. Once each piece is completed, it is then backed one more time into its final dimension. 
When choosing subject, it's the memories and visual stills that stay with him as he moves through life, intuitively knowing when a special moment has taken place and must be recorded, recreated and shown. Acting as griot—the historian storyteller in West African culture who carries the oral tradition through time —he translates through his medium, keeping stories alive and relevant, telling tales that are timeless in creation yet resonate into the future. 
Spontaneity is also key to Tim's process. By surrounding himself with different articles of fabrics, colors and images, he puts the different pieces together to fit into a narrative. Maintaining that quality of freshness and impulse throughout allows the separate parts to come together and culminate into a finished piece, even if the end result diverts far from his initial intention.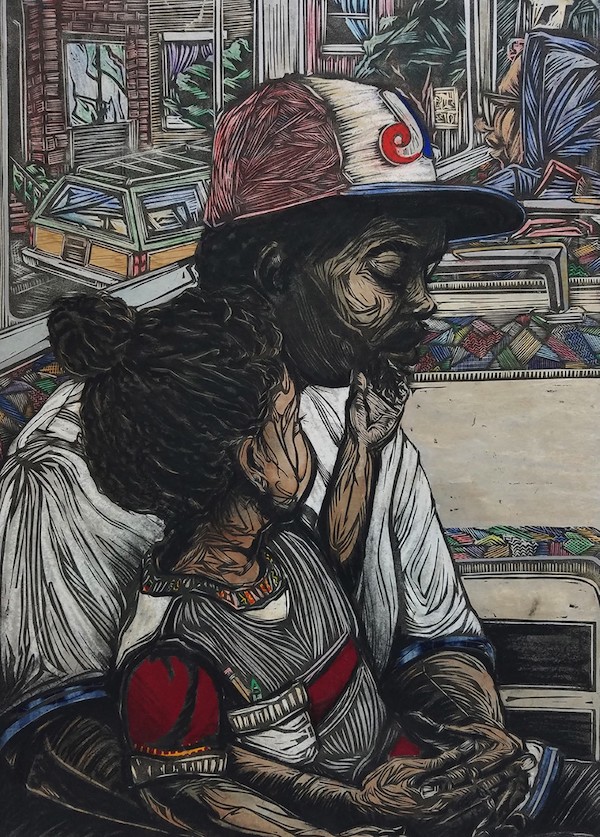 "I constantly try to reinvent and create different ways to manipulate whatever piece I'm working on, so no piece is the same. Accessing multiple media allows me to challenge myself, to explore and struggle," he said. 
Tim appreciates spending time in different places where he can relax and slow down for a minute. Hanging with his family and simply existing in a non-arts environment helps him to remain open to different topics and allow elements in to make an impression. Tim admits that the pandemic has given him more time with family and to put the brakes on activities that normally consume him. He noted how recent challenging times allowed him to quietly observe and find rich source material, highlighting the people in his immediate circle and neighborhood.
"My work is evolving more to express the duality which is life, whether it be about time, love or place," he said.
Tim is busy working on two bodies of work. One collection encapsulates movements in time and space, music and the many forms and venues where rhythms can be felt. The other is a continuation of a body of work that highlights the small moments and aspects of one's life that often get overlooked.
Tim is grateful to have participated in a show at Pt. 2 Gallery in Oakland last July with artists Lenworth McIntosh and John Martin, whose work he admires. He's working on placement to exhibit new work, but mainly, he's focusing on process and creation. And offering two simple words to us in the meantime, until we have the pleasure of exhibition: "Stay blessed."
For more information about the artist, visit davidtim.com.