Through the storefront window of Et al, amidst the whirl of Mission Street, is stillness. A dense, puzzling sort of stillness. A charcoal flat file is visible through the glass, which beckons visitors inside. Closed drawers are like that; there is a temptation to pull them open and discover what lies within.
Andrew Chapman's exhibition, The Strange Case of Theodule Otis (through Sat/23), is indeed a dense puzzle. It is one of those exhibitions that lingers in your mind long after you have left the show. Questions beget more questions in an infinite cycle of wondering.
First: Who is Theodule Otis? Each artwork is titled with a filename containing the abbreviation "TSCOTO," referencing the exhibition's title and the appearance of evidence in a casefile. A series of exhibition cards, TSCOTO_06, seem to provide some answers, promoting past exhibitions or sound performances attributed to Otis, who is presumably the artist. The cards bear the patina of time, use, and authenticity: creases, peeling edges, yellowing cardstock. Throughout the exhibition, there appears to be a notion of truth that can be taken at face value through formal cues of the archive. The viewer seems to be asked to join an ongoing search for clues within this collection of objects.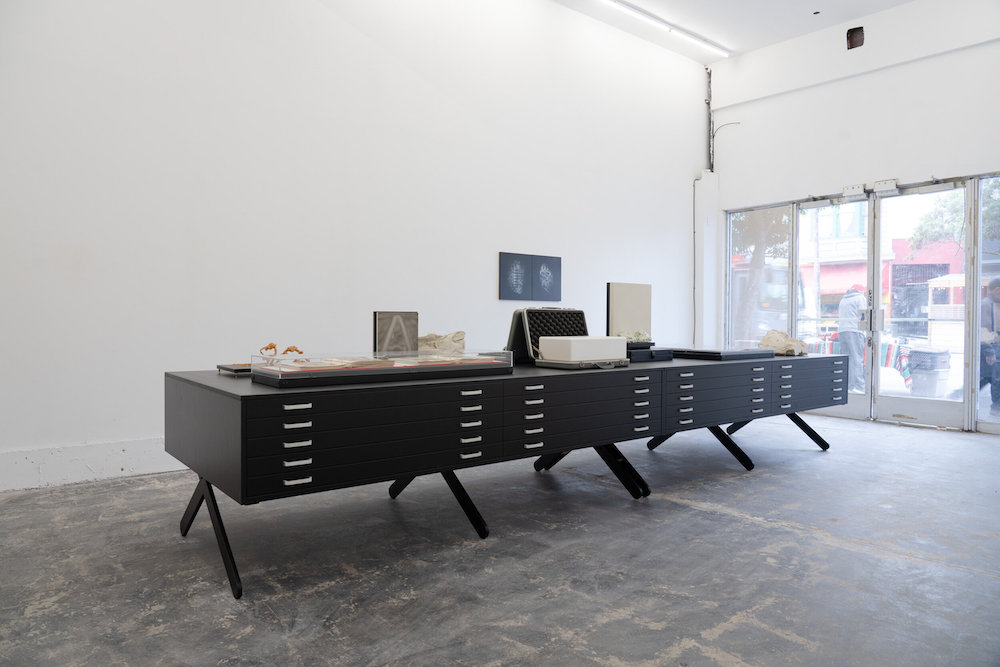 There are several puzzling objects, however, that are almost frustrating in their enigmas. Ripped bits of browned paper (TSCOTO_16) and what appears to be a graphite rubbing of an envelope (TSCOTO_15). These appear to be traces of evidence, but of what remains unclear. TSCOTO_22, alone on a wall opposite the flat file, shows an almost entirely-black square of plexiglass in a simple frame. A closer look reveals light white marks in the center and at the bottom of the frame. Though the marks are painted, there is an undeniable adjacency to a photograph of a UFO.
This association connects to TSCOTO_07, a briefcase filled with what appears to be audio recording equipment. Is that the audio referenced on the exhibition cards of TSCOTO_06? In the continued search for clues, one might turn to the exhibition text. The statement notes that it has been "arranged from various texts," and the attributed authors have written various books connected to occultism, British folklore, and "unsolved mysteries," like that of Bigfoot and fairies. Could this perhaps be the nucleus of the archive? Is this "strange case" another web whose truth must be untangled?
An aged photo album, TSCOTO_17, sits atop the flat file and under a vitrine. It is open to four photographs with rounded edges that are familiar as family pictures. The images are of domestic spaces that are curiously absent of people. As with most objects in the exhibition, the photographs ask for a closer look and this is where inconsistencies begin to emerge. The photographs, though they evoke a visual language of 1970s family snapshots, are pixelated. These are digital images printed and presented to appear like a found family album.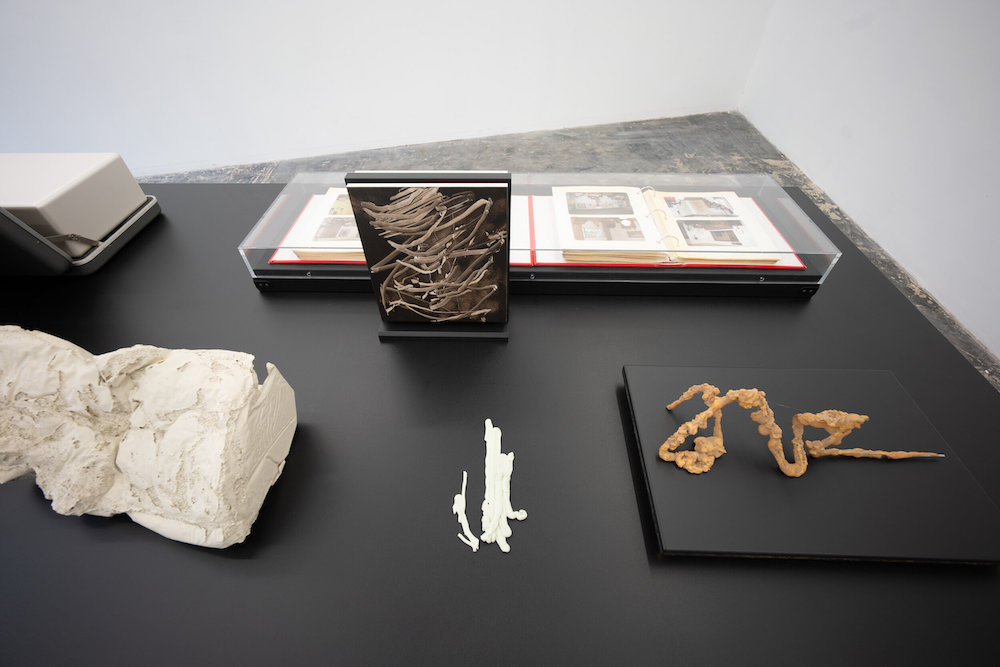 It is in these traces, these uncanny errata that disrupt the seemingly familiar, that it starts to come together that the archive of Theodule Otis is a fiction. Realizing that something is off, the viewer is pulled into a loop of searching; returning to each artwork reveals their constructed nature. The galleries in the exhibition cards, for example, do not exist. Google searches return zero relevant results. Mapping their addresses reveals not art spaces, but instead a decommissioned subway station in the Bronx or a car stereo store in Queens. The drawers of the flat file also refuse to reveal any contents. With drawer pulls on both sides, it becomes clear that the flat file is a red herring, a mirage. The drawers do not open, nor are they really drawers. Instead, these drawers that aren't really drawers point to all the unknowns that can never become known.
Chapman's exhibition underscores the slippery textures of truth. What seems real or logical cannot always be taken at face value. There is a visual language of the factual, which Chapman employs not to trick the viewer, but to encourage a critical eye that looks beyond the surface. And yet, even with that understanding, this archive remains alluring despite its now-obvious fiction. It is difficult to let go of the "strange case." Even after the realization that there are no obvious truths to be found, the exhibition continues to coax the viewer into looking a little longer and a little closer to perhaps find the hidden key that unlocks its logic.
The Strange Case of Theodule Otis runs through October 23 at Et. al , SF. More info here.