Rays of late afternoon light streamed across a wall in a quiet house in Kensington, California, warming the geometries of paper assemblages by Bay Area artist Susan Nakata. Melodies of translucent layers, a dance of teals and earth-tones, coalesce into abstract landscapes that come alive in the changing light.
Susan Nakata is an artist whose lifelong practice has spanned medium and genre, with an unwavering commitment to art-making that continues through present day. As noted in its curatorial statement, Notions stood as a "reintroduction" to Nakata's work. On view for just two days on November 6 and 7, the exhibition shared a range of Nakata's work across ceramics, painting, drawing, and photography from the 1970s through today.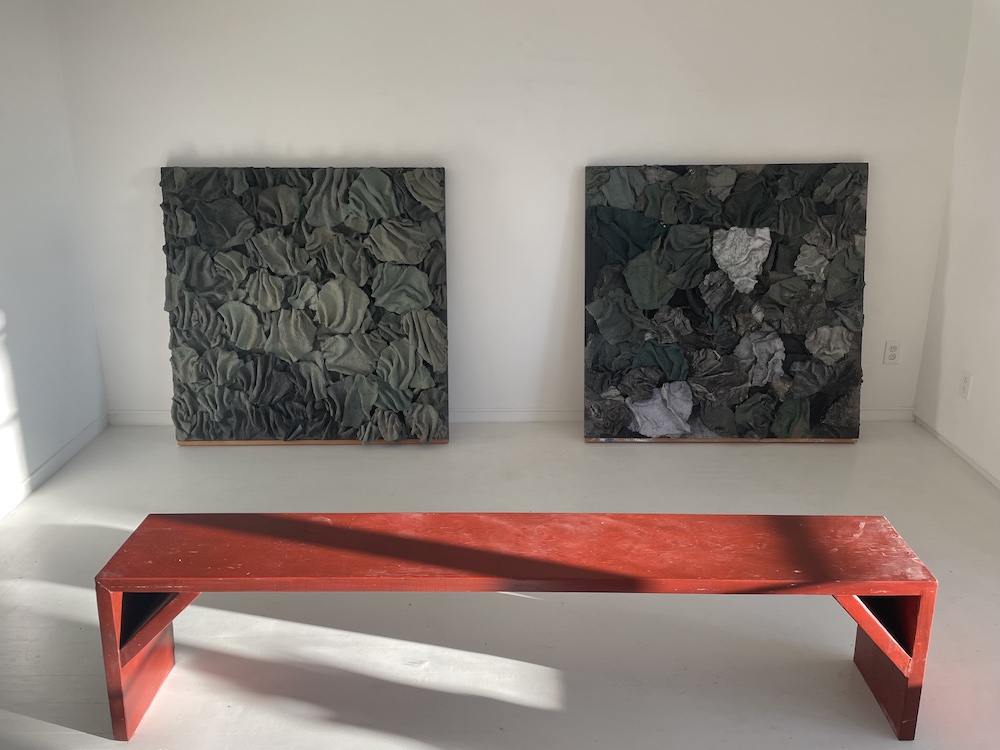 Born in 1945 in Queens, New York, Nakata first moved to the Bay Area to study art at UC Berkeley. After spending a significant part of her earlier days as an artist back in New York City, Nakata returned to live in the East Bay where she continues to reside today. Nakata's presence as a Bay Area artist is underscored through the exhibition's installation in Nakata's Kensington home and studio of over 20 years. Notions was a rare and generous invitation into an artist's work through their domestic and creative space.
A duo of ceramic sculptures in deep sea green leaned against a wall in the entry room, perhaps the artist's former living room. This diptych recalled piles of gathered and crumpled cloth, and simultaneously an undulating, expansive underwater world. Smaller ceramic vessels—hand-sized pots, bowls, and cups—sat in other corners of the room. Their waves and folds clearly draw inspiration from iris petals, forms depicted in several photographs from Nakata's series Of A Certain Age. This array of rippling forms flowed between intimate and infinite, an abstraction that transports viewers into and beyond themselves.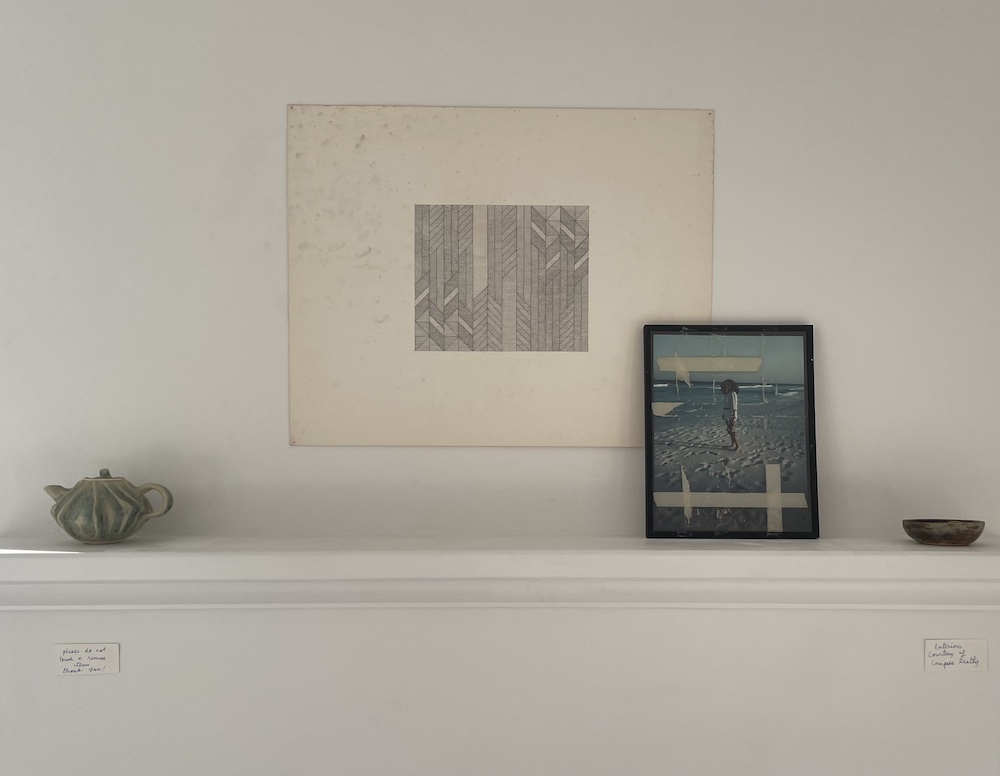 On the mantle opposite these sculptures rested a framed photograph of a younger Nakata standing on a beach under a clear blue sky, behind an aged pane of glass overlaid with strips of peeling, yellowed tape. The photograph leaned against a geometric pencil drawing, with alternating diagonals that danced along with the footsteps in the sand on which Nakata stood. The gentle placement of the artist's photograph atop the artwork was a grounding of the exhibition. Notions provoked viewers to consider an artwork's inextricable link from its maker. Who is the artist behind all of these works? How has their life unfolded and continue to unfold?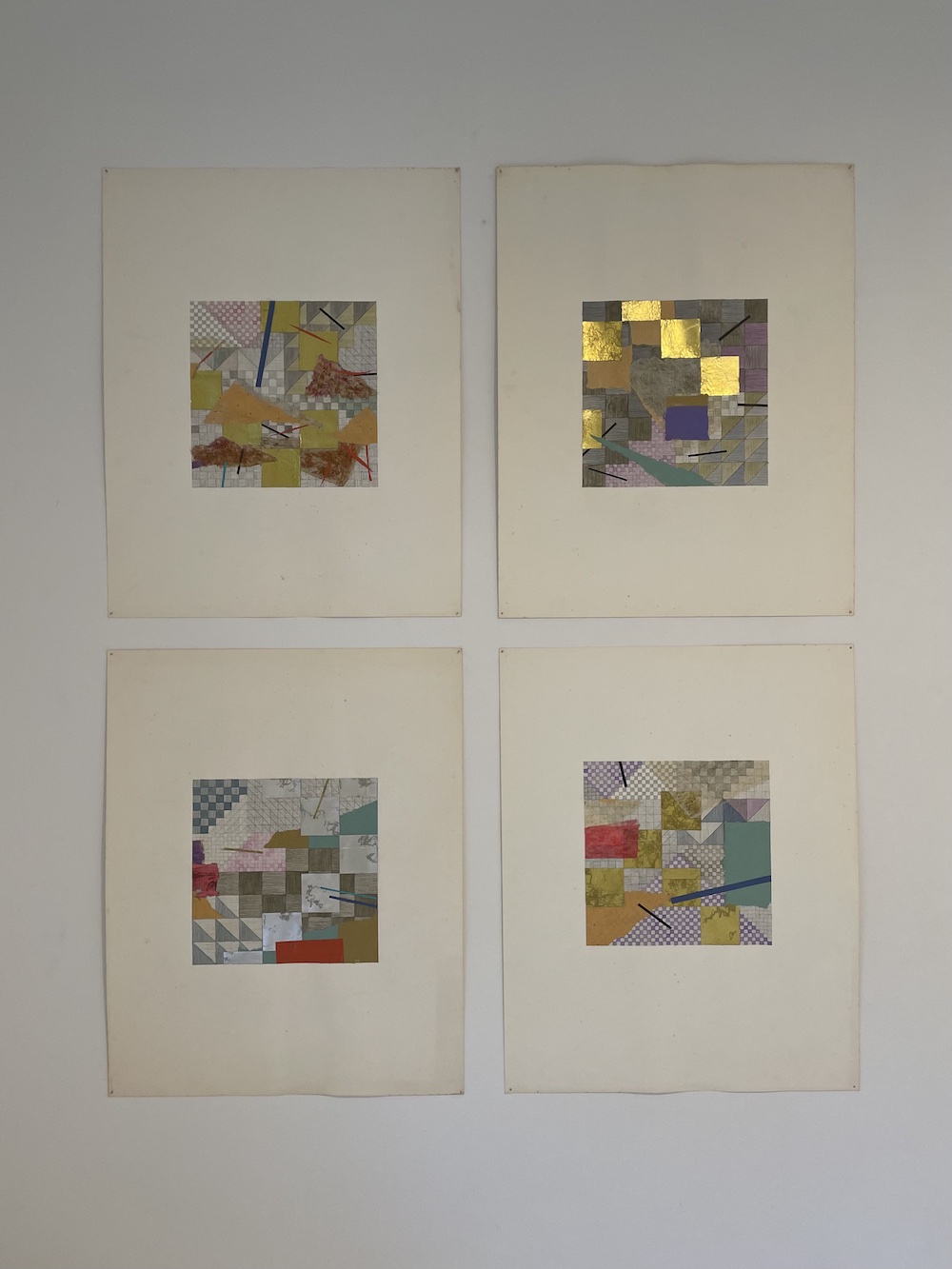 Below the arrangement on the mantle is a placard referencing a realtor, and the staging of the home for its sale. Nakata's house is indeed in the process of being sold, with an unmissable realty sign out front that reads "SALE PENDING." Exhibition postcards were taped to the sign, a declaration that this physical space will always be connected to Nakata's work regardless of who is currently on the deed. Notions was also an homage to space and the significance of home. Installing the work in the artist's house, instead of a gallery, drew attention to the inextricable links between home and creativity. It brought viewers into a sort of farewell to this once deeply intimate space, while also invited a consideration towards the days ahead.
Notions emerged from dialogues between Nakata and her niece, Emma Ishii. Ishii co-curated the show with her housemates, Owen Goodwin and Andrew Kodama. This intergenerational collaboration emphasized that creative communities thrive through intentional support of one another. Kodama created a short film for the exhibition, projected in the ground floor room that once housed Nakata's ceramic studio. Conversations between Ishii and Nakata were visioned through 8mm black-and-white film, with a tender introspection that signals the closeness among all who worked to make Notions a reality.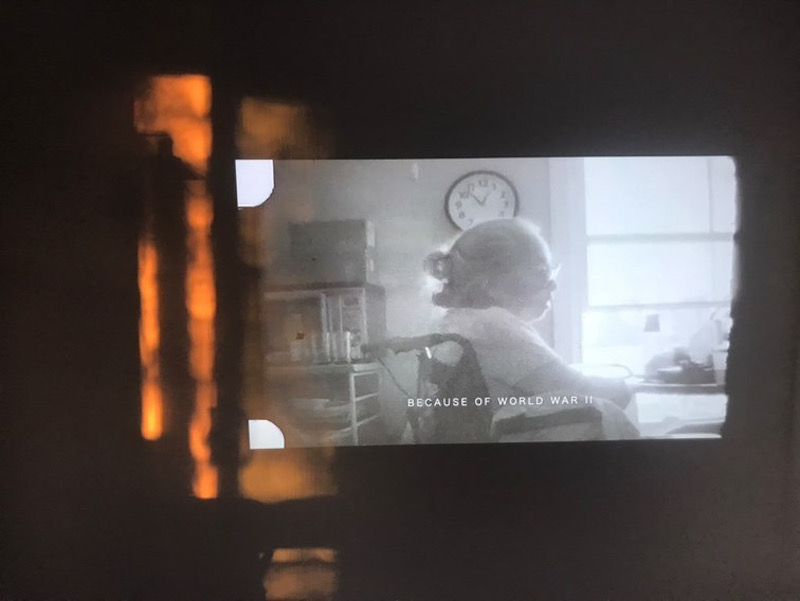 Notions foregrounded the resiliency of artists who maintain a lifelong practice. Nakata addressed questions of aging head-on in the film, noting that "feeling like life is finite gives you a focus because your time is limited. How are you going to use that time?" Nakata continues to commit to her creative practice, a potent reminder that growing older can also accompany a continuation of experimentation and risk. The exhibition intentionally included ceramic works that were fired using new materials and processes in the days preceding the show.
Notions was astutely not a retrospective, but rather a pause to look back, look forward, and reflect in this moment of transition. How might we, as Nakata asked, each use the precious time we have in our lives to care for and support each other?