"Borderless: Artist's Books by Enrique Chagoya" (through March 6, 2022 at the Legion of Honor) showcases the San Francisco-based artist's quick-witted humor and critique. In a series of accordion books and printed objects, Chagoya imagines an alternate history where the Aztecs defeated Spanish colonization of the Americas, thereby reversing the subsequent socio-economic and political stratification drawn along ethnic lines. As Chagoya collides references to American comic books, Pre-Columbian motifs, and European Renaissance architecture, his use of the accordion book astutely disrupts narrative sequence to merge form and content.
As Chagoya employs printmaking—particularly lithography—as a fine art medium, the exhibition also offers an illuminating viewing into his some of sources materials.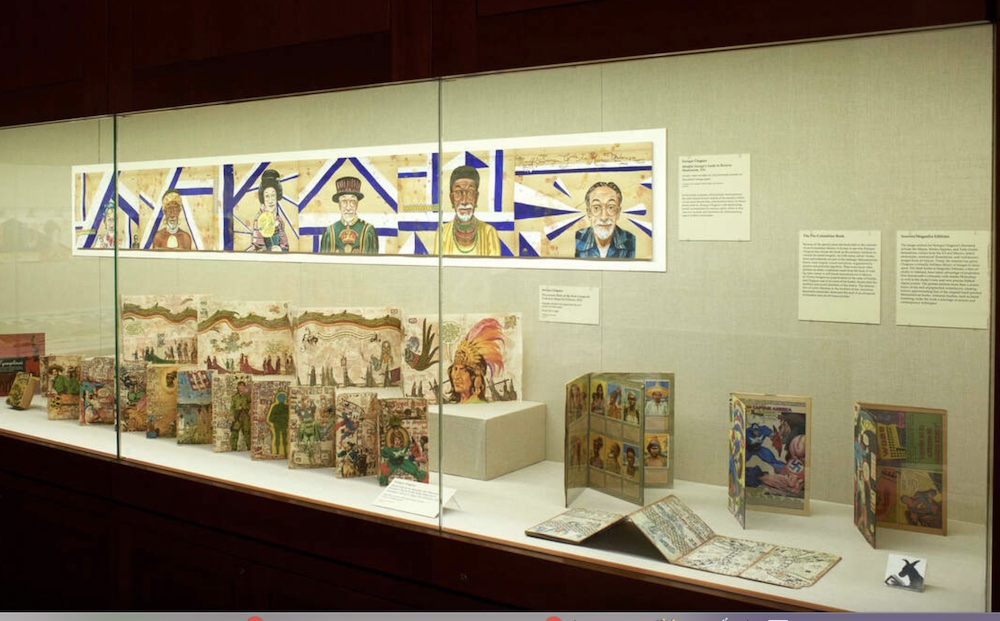 Of particular interest, Chagoya includes a facsimile of "Codex Madrid, Vol. 2," a Fifteenth century Mayan codex that was "discovered" in Spain and is housed at the Museum of America in Madrid; "Raza del Mundo y Banderas del Universo" (1960), a dated illustrated anthropological survey of ethnic stereotypes; and a Spanish language Superman comic book published for Mexican readers. As these books represent colonized objects, people, and culture, Chagoya also displays a Captain America comic book, a relic of overzealous US patriotism during World War II. With Chagoya's sources including "high" and "low" printed materials that have migrated around the globe, the artist lays the foundation that his own narrative fractures.
In contrast to Western book forms where readers flip pages to move through a narrative left-to-right, Chagoya poignantly uses the accordion-folded book, a format used by the Mayans, Mixtec-Zapotecs, and Aztecs that is read right-to-left. With title pages for books on the far right page, Chagoya's books are read in reverse, another aspect of what the artist refers to as "reverse anthropology." While Chagoya displays some books flattened out, the most impactful ones are displayed upright, partially folded. As the books become sculptural forms of zigzagging planes, Chagoya forces viewers to shift our perspectives to see the whole book, transforming the act of looking into a physical gesture of moving backwards and forwards through narrative and space.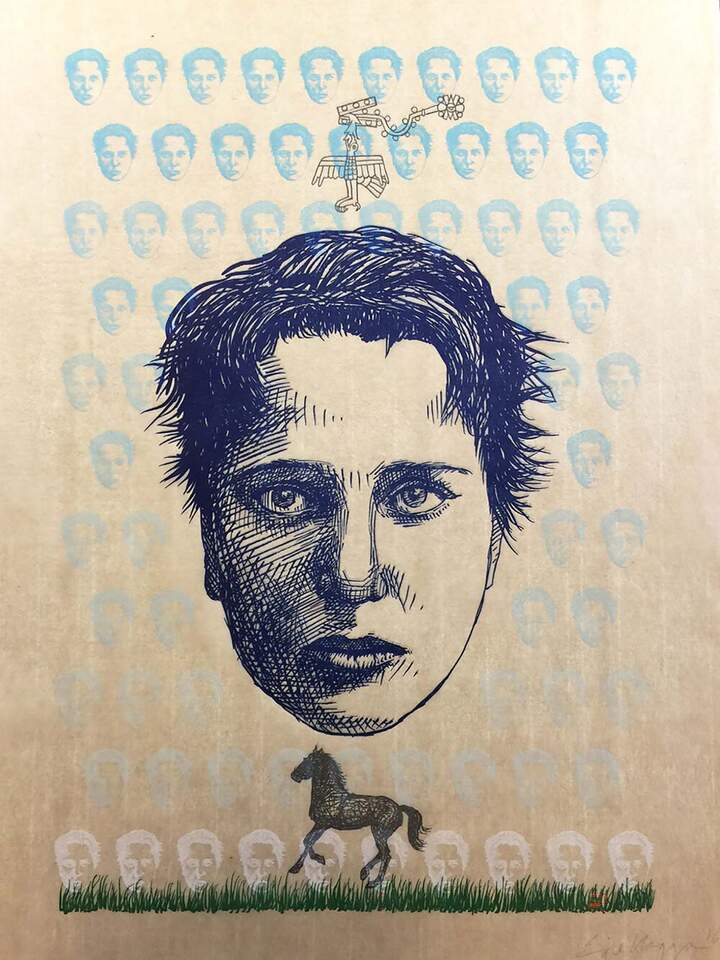 In many of Chagoya's work, particularly "Les Cannibales Moderistes" (2019), the artist uses architecture as an icon—representing culture and time—and as pictorial place. The book features battle scenes that represent cultural colonization, where ideas of "primitive" and "modern" are blurred. For instance, in one scene Captain America appears to be lunging at enlarged Pre-Columbian heads in a European Renaissance arched courtyard, while in another scene machine gun toting revolutionaries in red berets fight at the foot of the Aztec stepped pyramid Tenochtitlán. In these images, place becomes sites of conflict between indigenous and European cultures in a disjointed time and space.
With Chagoya's precise set of references, the exhibition is a tightly controlled journey through a fabulously disorienting world. Attempting to construct a Western linear narrative is not the objective and likely to be met with frustration and confusion, which is most interestingly the heart of Chagoya's enterprise. As the work prompts questions about the construction of narrative, the artist asks who are the authors, himself included, and what are their references. I only wish that Chagoya's books were displayed in a more spacious and well lit environment to really allow viewers to dive into the details of the text and image references.
BORDERLESS: ARTIST'S BOOKS BY ENRIQUE CHAGOYA runs through March 6, 2022 at the Legion of Honor, SF. More info here.