There must be some act of fate placing me in front of maskless patrons in large venues. Much like my recent opening night attendance at SF Playhouse, so too did the re-opening of SF Ballet's Nutcracker find me sitting directly in front of someone who refused to mask up. This person spent the pre-show regaling her companion with disparaging remarks about the SF Ballet staff (whom she said placed her too close to the stage), with similar remarks about the SF Ballet troupe and whining that children "shouldn't be allowed at live performances"—something that (coincidentally?) she said after several Black kids were seated near us. When she tried to tell me how I should properly sit, I scolded her for even talking to me without a mask on.
So began my return to the SF Ballet's live shows. I was there for its last one in March 2020 and have been reviewing its online shows since—including its immersive VR showcase for last year's Nutcracker. Many of the affluent-looking returning audience members this year seemed to treat COVID as a minor inconvenience at best, shirking masks for photos, cocktails, or simply because they wanted to. To further drive the point home, one of the photo ops was in front of Ballet-commissioned honey bear images by fnnch, the highly-criticized muralist whose work is often associated with SF's gentrification.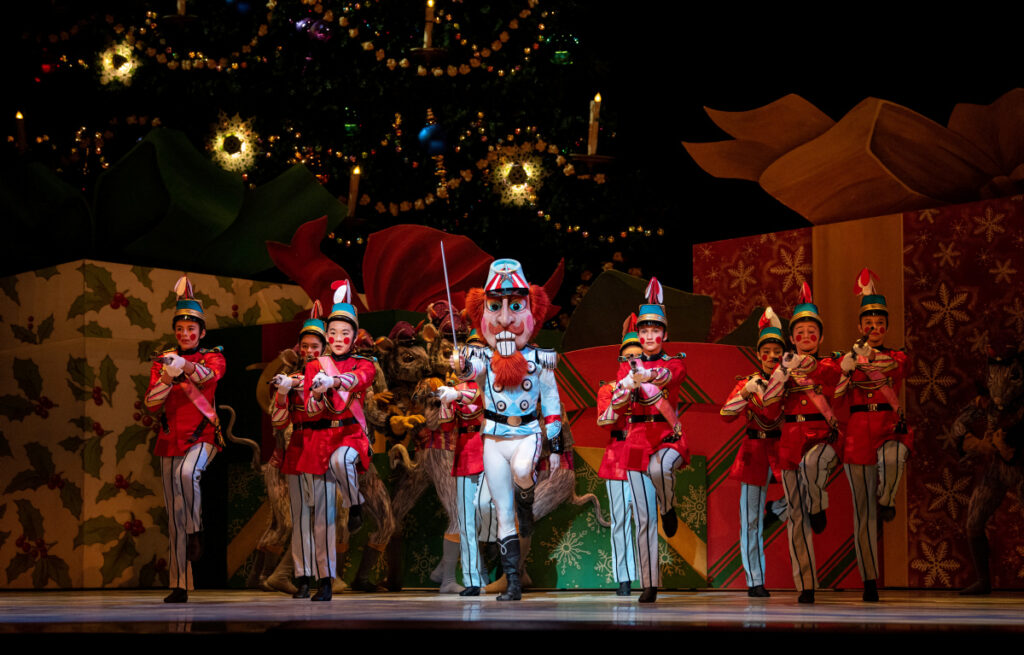 Yet, that's somehow apropos of the evening's entertainment. This version of the story has always been about the child of rich SF family being swept far away from the problems of the world. Granted, she first has to avoid being killed by anthropomorphic rats, but hey, first-world problems. Once the eponymous wooden Nutcracker saves her from said varmints, the two spend the rest of the time as both audience and participants in a pageant of eclectic performances put on just for them.
For what it's worth, those performances are as captivating for those of us in the audience as they are for our two leads. When last performed in front of an audience, the Ballet paid tribute to past performers who were present for the company's 75th anniversary performance. This time, the show was preceded by choreographer and outgoing artistic director Helgi Tomasson simply saying "We are back!" to rapturous applause, one of many over the course of the evening.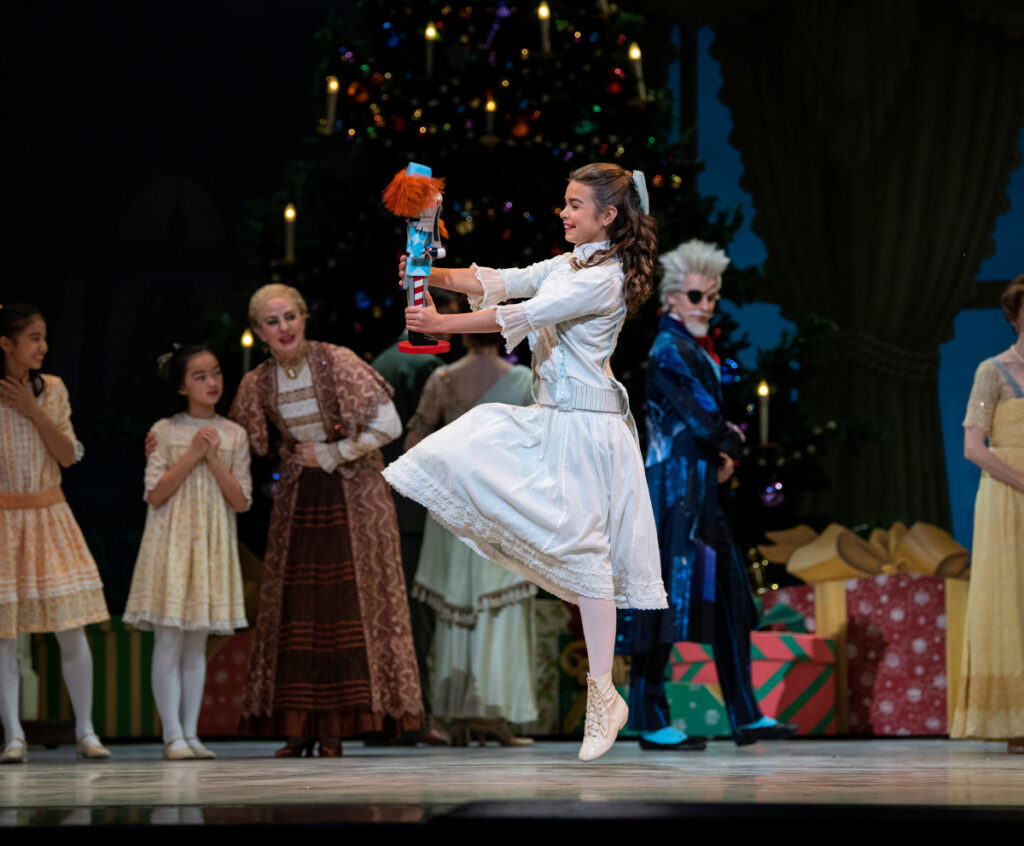 In fact, much of the cast were near-identical to the 75th anniversary version in 2019, right down to young Abby Cannon as youthful Clara. The Sausalito ballerina's steps and smile still project those of a wide-eyed gamine still open to a world of magic. Said magic comes via Tiit Helimets as Uncle Drosselmeyer, whose appearance in the role is as welcome as seeing Jim Carpenter in ACT's A Christmas Carol.
As with most SF Ballet shows, Yuan Yuan Tan can't help but steal the show. Returning as The Queen of the Snow, lightness-of-foot and characterization continue to represent the best of her work as a soloist and the company as a whole. Despite what the maskless woman behind me thought, the SF Ballet is not lacking for talent whatsoever.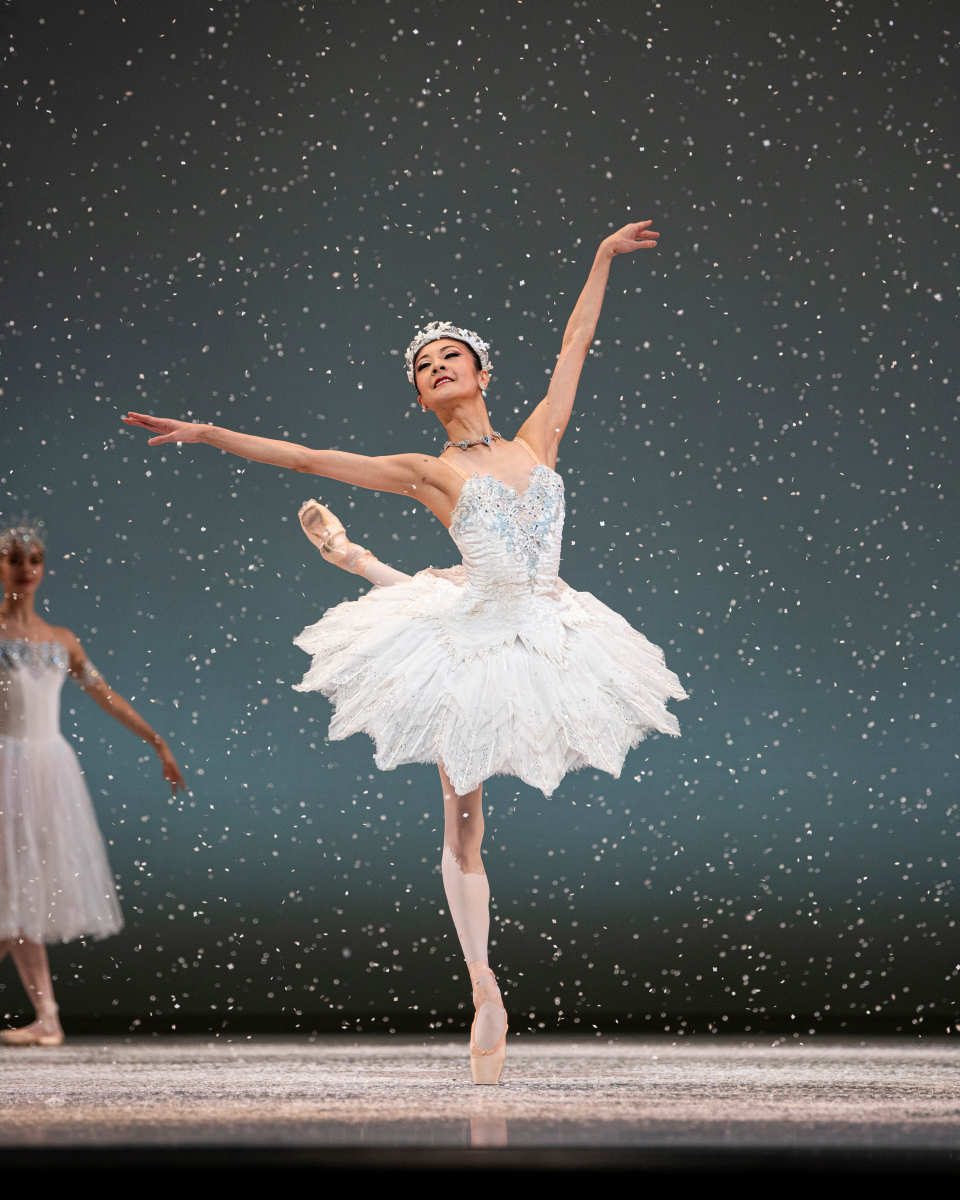 Still, that complainer's attitude is also exemplary of a certain affluent sense of entitlement that has only been exacerbated by the pandemic: the concerns of mask mandates, diverse audiences, and seating capacities mean little to them when it means that they'll be personally inconvenienced by the inclusion of those things. With the recent discovery of the Omicron variant and the return of statewide mandates, they'll likely be inconvenienced all over again.
But that isn't the fault of the SF Ballet. Their purpose in restaging their annual Christmas show wasn't merely a return to tradition (a term thrown around far to often these days), but also a tribute to their talented AD and an entertaining distraction for a city population that may not be fully comfortable interacting again. In those respects, the company succeeded.
It would have been nice for the SF Ballet to once again offer their online, immersive option for the Nutcracker. After all, not everyone is comfortable around crowds yet, and the reinstated mandates may keep even more people at home. Yet, as far celebrating their AD and showcasing the skills of the troupe, the company's annual Christmas tradition remains as welcome a gift as ever.
THE NUTCRACKER runs through December 30 at the War Memorial Opera House, San Francisco. More info and tickets here.