The play Gently Down the Stream (through January 9 at New Conservatory Theatre Center)—making its West Coast premiere—opens with a scene familiar to many-a-rom-com-viewer: "the morning after." As George Gershwin's "Rhapsody in Blue" plays, the lights come up on a stylish London flat to reveal shirtless young Rufus (Daniel Redmond) and silk-robed Beau (Donald Currie) hours after one of those "I don't usually do this" kind of nights. There's awkward discussion and acknowledgement of the age difference between the two, but there's little doubt to a well-versed audience that this is just the start for these two.
It's all mostly well-done, but one can't help but wonder where they've seen this scene before. That's the main problem with the play: It smacks of over-familiarity. As written by Martin Sherman (playwright behind the landmark 1979 play Bent), this 2017 work feels like its author wanted to make a middle-of-the-road contribution to an already overcrowded genre, as if he were trying to channel Wendy Wasserstein's sharp and generous observations, but fell short. Even in its narrative device of jumping ahead in time several years (the play begins some point in the '90s and ends sometime in the 2000s) to follow the evolution of this gay relationship, one is reminded of Terrence McNally's 2007 play Some Men, which played at NCTC in 2009.
There's nothing wrong with an author wanting to tell a familiar story, so long as the author can make it their own. Unfortunately, Sherman's play is less populated with characters than it is with character traits. Chatterbox Rufus is defined by his neuroses (which the play suggests may or may not be the result of bi-polar disorder) and his affinity for "old" things. The New Orleans-born Beau is defined by his being the product of a bygone era: Where once this accomplished pianist rubbed elbows with the likes of James Baldwin and Nina Simone, he's now befuddled by the strange sorcery known as "e-mail."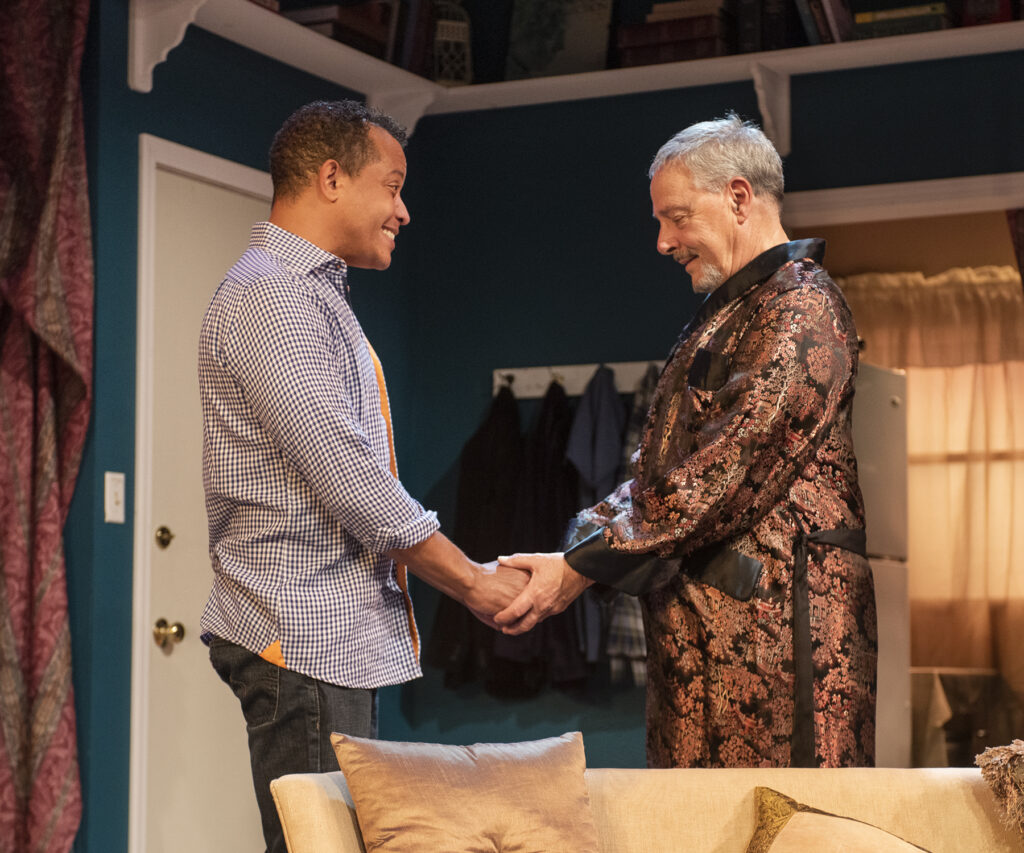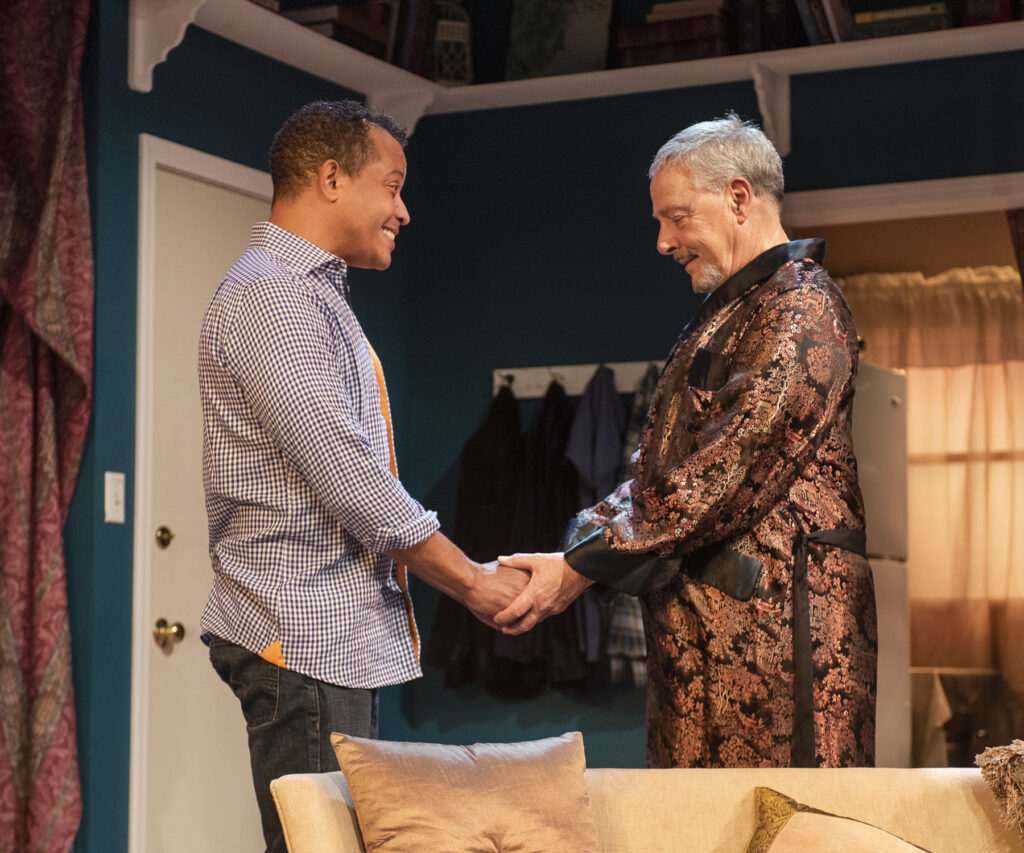 What's more, the relationship between the two is so eager to jump ahead that it doesn't really evolve naturally. We go from the opening scene of Beau, victim of several heartbreaks, wanting to keep the attractive Rufus at a distance only to have the next scene find them living together years later. At least, we think it's years later—there isn't much to indicate the passage of time other than the occasional line of dialogue here and there. Mind you, Kuo-Hao Lo's intricate set, with its post-Victorian tapestries, Dorothy Parker-esque writing desk, and modern fridge in the distant kitchen, is beautifully decorated and a fine showcase for the designer, but it never changes over the course of the story.
One is tempted to think that's the point, but Beau and Rufus do change over the course of their multi-year relationship. Each goes back-and-forth between wanting and not wanting kids; each changes their mind about their job (Rufus works in a firm, Beau is a cabaret pianist), and each has medical concerns through which the other must help. During all of this, we're occasionally privy to video testimonials Beau allows Rufus to record. The point of the recordings isn't all that clear, but given the way Rufus also wants to convert Beau's VHS collection to DVD, perhaps there is something to the idea of Beau's apartment representing his inability to fully move forward?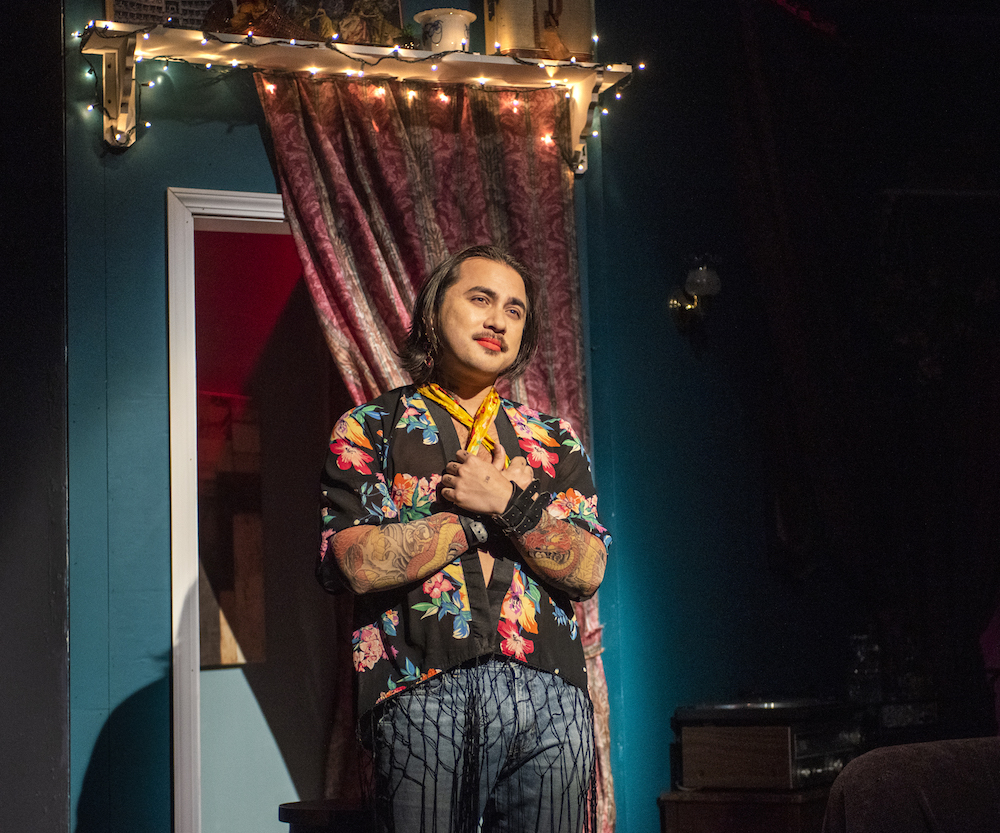 Sadly, the other hindrance keeping one from being fully immersed in the story is a pair of production choices that muddle things a bit. The first is the casting of Redmond as Rufus. Previous productions had both characters white and that's all the more apparent when Beau talks of his old jazz days. After their first night, Beau remarks about how Rufus (Redmond is Black) reminds him of James Baldwin, which suggests a fetishization on Beau's part that's never addressed. In fact, race isn't brought up at all—only how Rufus "didn't fit in" as a youngster because of his affinity for older generations. It's nice that the NCTC went for a diverse cast, but doing so raises questions that the text doesn't answer.
The other technical problem is the performances. As directed by Arturo Catricala, both Redmond and Currie stay on the same note throughout the entire show. Redmond's Rufus is grating, high-pitched, and scattered, like a four-year-old on a sugar-high; Currie's Beau is the opposite, subdued to the point where his occasional angry outburst seems out of character. When actor Sal Mattos later joins the show as Harry, the belated third member of Beau and Rufus's relationship, his drag performance of "The Man I Love" (also by Gershwin) is appropriately showy, but he doesn't quite have a firm grasp on the British accent.
There are a great many stories like this already and there will be more to come. In fact, NCTC just recently produced a great one with Plot Points in Our Sexual Development. It's fair game for an author as renowned as Sherman, but the play will likely be nothing more than a side note in his career. The NCTC's take on it gets the technical down pat, but the thin text and off-key performances make it too gentle by far.
GENTLY DOWN THE STREAM runs through January 9 at the New Conservatory Theatre Center, San Francisco. More info and tickets here.