Figures emerge like apparitions in Sydney Cain's drawings, forms that flow in and out of focus. From within expanses of soft shadow, Cain convenes ancestral spirits of past and future in mercurial gatherings of the present.
In their solo show, Dust to Dust at Rena Bransten Gallery (extended through February 12), Cain presents a series of works on paper and wood that explore memory and ancestry, in a fluid bridge between temporal worlds. This exhibition was organized to be on view simultaneously with a solo show at the Museum of the African Diaspora and a mural commission at the Oakland Museum of Art.
Cain erases solid areas of charcoal, graphite, and powdered metals to draw, rendering figures through highlights from shadows. In Cain's practice, however, erasing is not synonymous with erasure. It is instead generative and gentle. This reductive method of drawing reveals who lies within a space and has always been present. In this gesture, Cain unseats and refuses erasure of Black legacy by colonial systems, instead calling forward omnipotent lineages of ancestral connection.
And They Are Not Afraid of the Night Because They Are the Color of It, a large-scale work of eight-by-twelve feet, anchors the exhibition. It is in this work that ancestral connection across time is most salient. A group gathers around a sleeping figure. They stand larger than life, with faces that appear to span across generations. Some faces are more recognizable than others, as if materializing at different moments. A smaller figure at the center of the work is turned away from the viewer and faces the spirits in the background, as if speaking to and calling on their energy. 
A figure lies on a bed, watched over by the guardians and three others in the mid-ground. With eyes closed and underneath a quilt, this person could be at rest, fallen ill, or passed on. The quilt is rendered in sharper clarity, with muted color tones that are made brighter by the work's mostly monochromatic palette. The quilt points to traditions of lineage: family heirlooms crafted with care by past generations, whose protection is passed forward to children, grandchildren, and beyond.
The quilt's tessellations connect to another recurring symbol: permutation diagrams of the number 2 which appear across different works in the show. In this context, these otherwise mathematical diagrams become genealogical, evoking family trees and the exponential power of heritage. In Generations #2, a circular formation of these diagrams rendered in graphite on black paper expands outward from a single central point, like a map back towards one's origins and looking to what and who lies ahead.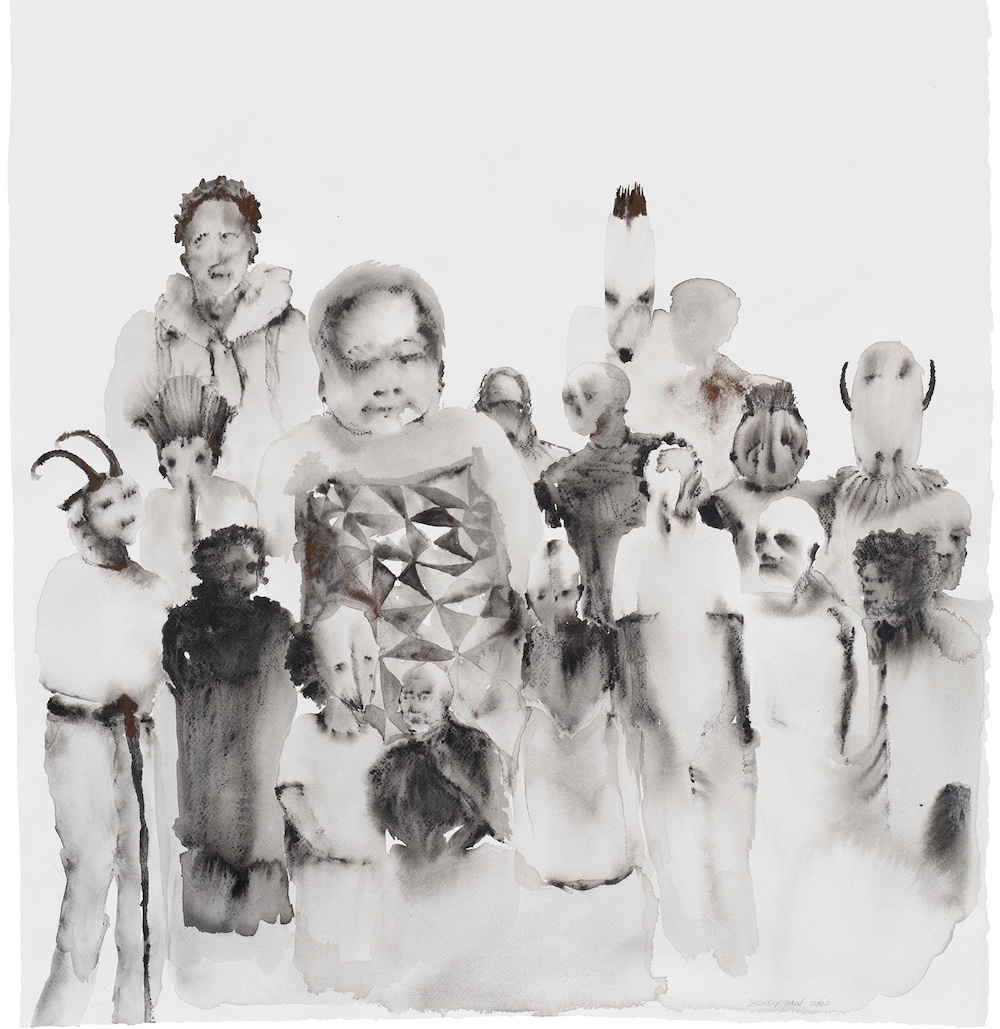 In an adjacent approach to their material process, Cain used watercolor in a series of smaller works on paper called Waterways. Rather than erasing, the ancestral figures in these works are built up with water-based pigment to pool and grow their forms. In Waterways (Patient), a small child sits cross-legged in the foreground. The child looks directly at the viewer with an air of calm and fortitude. Behind them stands a group of larger figures, abstracted in subtle grey washes. Some appear to be wearing masks or have faces that are otherwise not easily discerned. Like in all the works in the show, their collective energy evokes stability and strength. The child feels their presence and is protected.
Cain imbues their works with an almost contradictory sense of motion and stillness. The exhibition is quiet and contemplative, as if taking a breath to recognize the presence and power of history. The figures, rendered in Cain's soft lines and smudges, also seem to shift slightly as viewers look between the different works. At any moment, they might recede into the shadows of memory though they are always there to call upon.
DUST TO DUST shows through February 12 at Rena Bransten Gallery, SF. More info here.