Featuring W.E.B. Du Bois' striking data-visualization charts from the 1900 Paris Exposition, the trailer to Sun Ra's film Space is the Place (1974), and Ruth E. Carter's Dora Milaje costume from the film Black Panther (2018), "Mothership: Voyage Into Afrofuturism" (through February 27, 2022) at the Oakland Museum of California hopscotches through time to interweave history, popular culture, and visual art. As the exhibition refrains from attempting to define Afrofuturism as a singular or linear narrative, it presents a myriad ways in which fantastical imagery, sounds, and narratives serve as proxies for fragmented histories and transcendence. Of the exhibition's roster of global and local artists, the exhibition beautifully claims space for the unfixed, fragmented, and hybridized, particularly in works by Sydney Cain, Wayne Hodge, and Olalekan Jeyifous.
San Francisco-based artist Sydney Cain's mural, "Radio Imagination" (2020), immediately welcomes viewers into an immersive cosmology of wonder and the unknown. With its black and rich mahogany background colors, Cain constructs an ambiguous world in which figures emerge or disappear alongside honeycomb patterns and molecular diagrams. Delicately drawn and smudged in powdered metals, graphite, and chalk, the artist constructs a fugitive world, one that could be erased, altered, or blurred.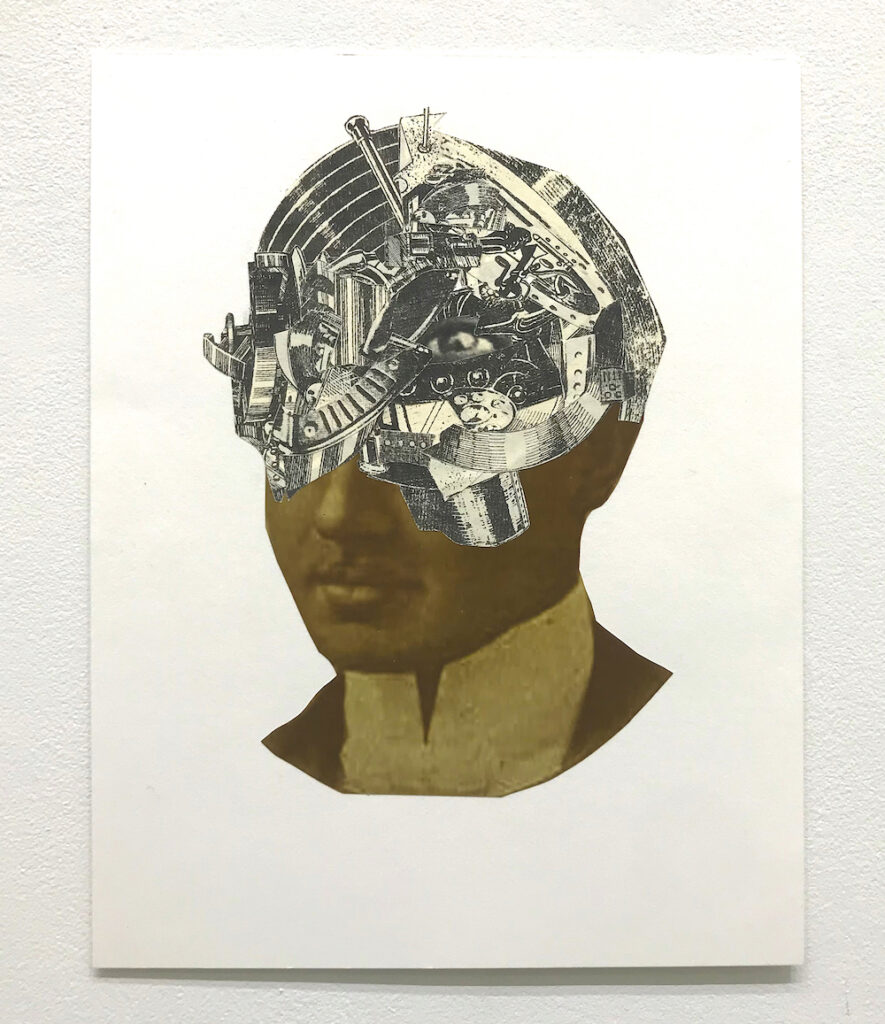 Installed nearby, New York-based Wayne Hodge's, "Android/Negroid #13" (2012) recalls the mechanically inspired Dadaist collages artists, like Hannah Höch. In the small sepia-toned portrait, Hodge collages a jumble of antiquated black-and-white technologies, like phones, telescopes, and pulleys. With the mechanisms overtaking the upper portion of the head, Hodges positions the mind as a whirling aggregate of inputs and processes. The repeated suffix "oid" in Hodge's title "Android/Negroid #13" literally indicates the resemblance, or possession of qualities, which in terms of robotics suggests human-like and in regard to race indicate a sense of Blackness. While "Android" and "Negroid" have historically been considered almost, but not quite human, Hodge flips this hierarchical construction to imagine an entirely new hybridized life-form.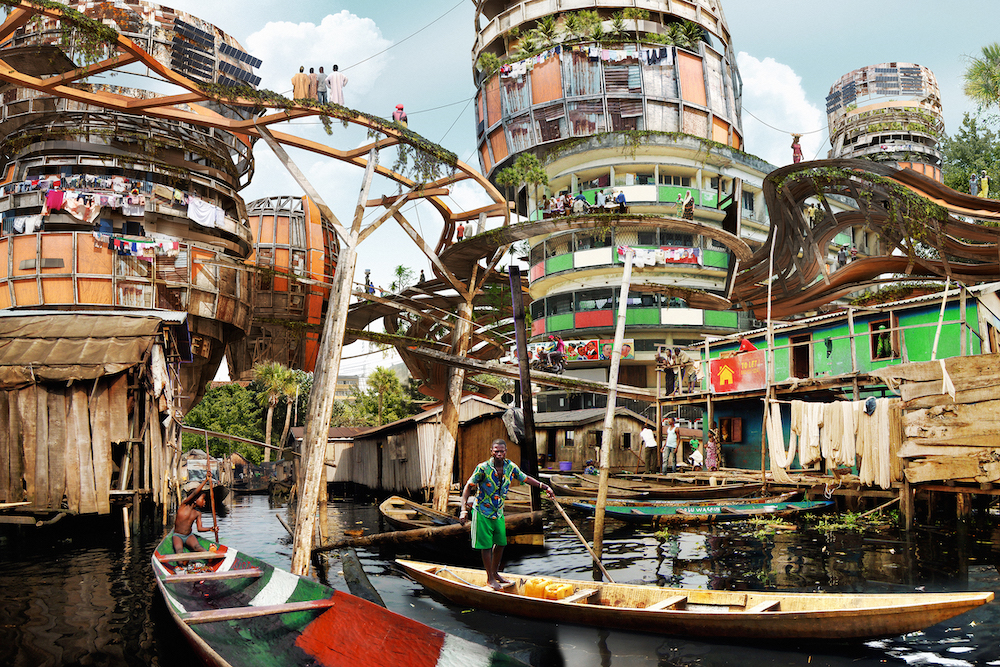 Nigerian American, New York-based artist Olalekan Jeyifous, explores place and home as a construction of past, present, and future in his digital collages "Shanty Mega-Structures: Makoko Canal" and "Shanty Mega-Structures: Makoko Canal" (both 2015). With shanty towns frequently constructed from scavenged or cheap wood, stucco, and corrugated metal, their makeshift construction and materials tend to result in low-lying precarious structures. In his work, Jeyifous reimagines these communities as high-rise towers with aerial gondolas, sky-bridges, and solar panels. Rather than presenting a clean, gleaming utopian vision for the world's poor, Jeyifous proposes a future that draws upon present day shanty towns of weathered wood and metal, complete with balconies dotted with laundry hung to dry. While economic inequality is unlikely disappear in the near future, Jeyifous conceives a future in which people continue to find ways of making place and home with what's available.
With "Mothership: Voyage Into Afrofuturism" originally planned for June 2020, and then closed because of flooding, the exhibition itself has been disrupted by the ruptured world of COVID and climate changes. As a timely reminder of resilience, the exhibition beautifully showcases a snippet of many ways that artists and cultural producers have creatively authored their own worlds within the matrix of history.
MOTHERSHIP: VOYAGE INTO AFROFUTURISM runs through February 27 at the Oakland Museum of California. More info here.