Berkeley painter Lily Simonson became an artist because she believed in the romantic idea put forth by Joseph Beuys: that art could change the world. And because she was in love with learning, and knew that being a contemporary artist meant dedicating one's life to investigating new ideas—and synthesizing that information into something beautiful.
"I'm not so sure about the former, but I'm trying. The latter has proved to be more true than I could ever have imagined," Simonson told 48hills.
Simonson grew up near Washington, DC, and came to the Bay Area as an undergraduate at UC Berkeley, wanting to study art at a research university rather than an art school.
"To me art has always been about giving a physical form to scientific, philosophical, or literary concepts," she said.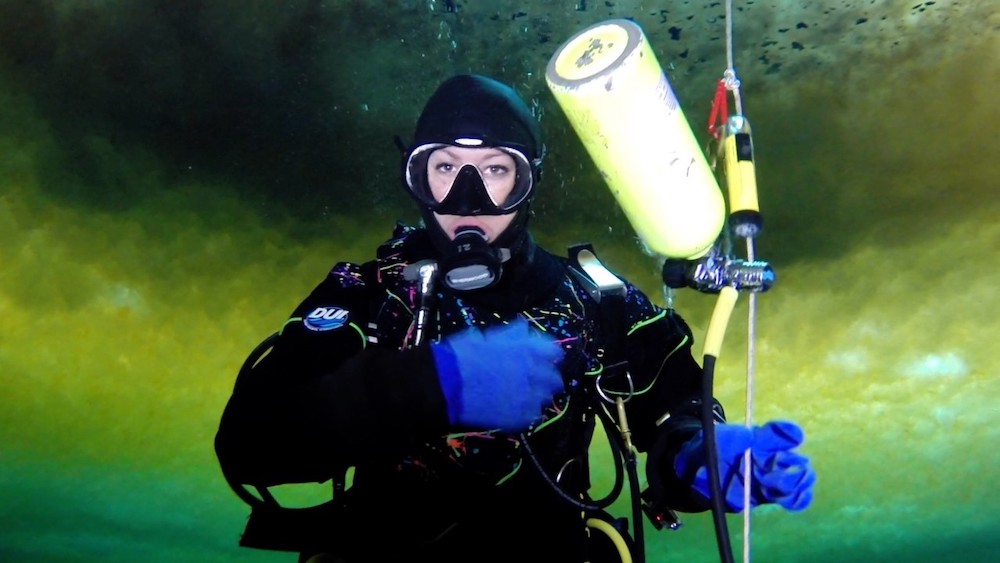 After graduating in 2004, she moved to Los Angeles to complete her MFA at UCLA and spent a decade there before moving back to Berkeley because she missed the Bay Area so much.
In her work, she is indeed driven by the parallel worlds of art and science, and the inherent dedication of both realms to novelty, pushing the limits of human knowledge, and giving tangible form to big questions.
"I have been so lucky to collaborate with scientists at the literal ends of the earth, from deep sea volcanoes to Antarctica," she said.
Simonson used to paint at night, but when she met her husband, she says, she discovered the beauty of a daytime schedule. In her studio, in a building owned by artist friend Squeak Carnwath, she putters back and forth between a handful of large paintings. Her process is loosely based on Renaissance glazing techniques with multiple translucent layers that require ample time to dry.
Recently, Simonson sublet her space to a friend and rented another small studio next to her house that has a great legacy: the building was once occupied by artists David Park, Richard Diebenkorn, and a few other Bay Area figurative painting legends.
"I've been writing a book and have two young babies, so the smaller space closer to home has been great," she said.
This spring, though, she'll be returning to her bigger studio to get back to work on large scale works again. Besides the space it takes for creating her large works, Simonson's requirements are specific. She doesn't like to rely on photographs as source material, but rather works from life—including specimens of critters from the deep.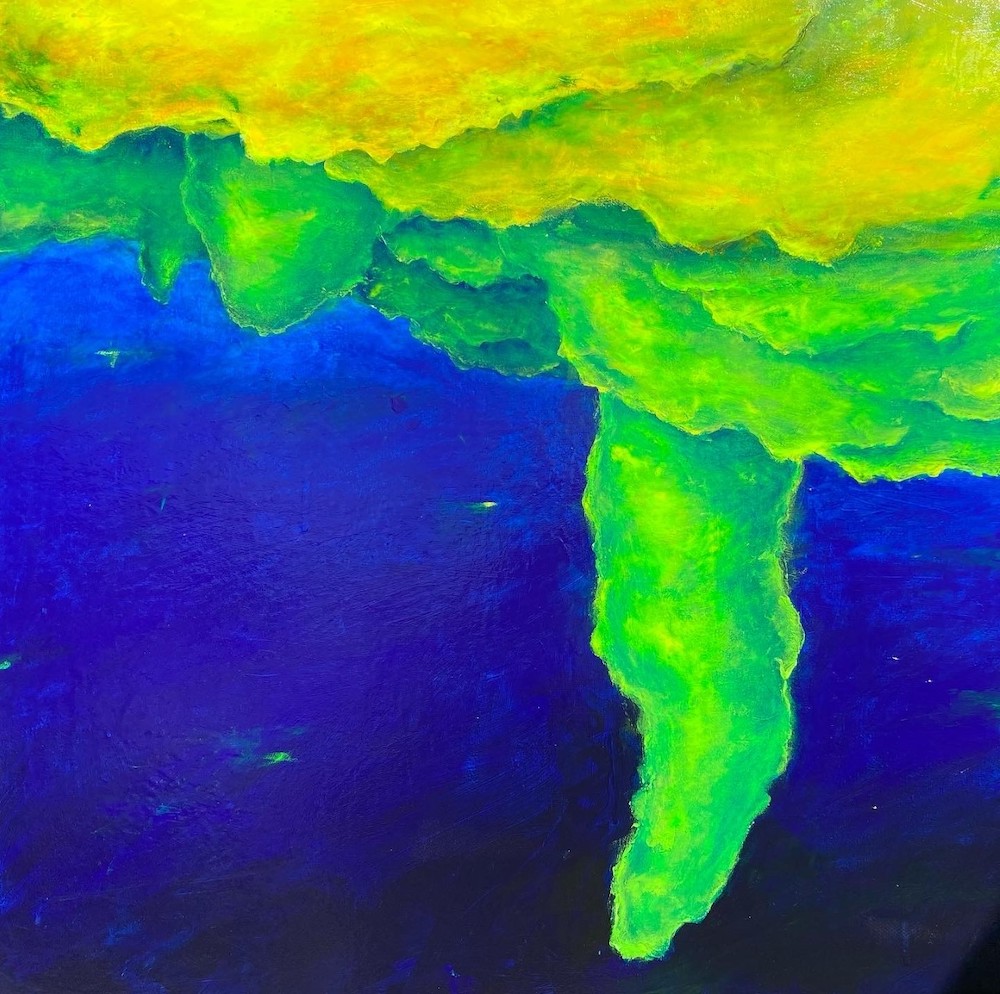 Describing her own paintings as inquisitive, lush, and Freudian is apt. Her richly-hued paintings, some as large as 60"x80", transport us beyond ourselves and into the unfamiliar—or perhaps familiar subconscious—with organic forms that are somehow oddly part of our own embodiment.
Painting the most remote, newly explored ecosystems on the planet, Simonson reaches the places that have been barely touched by humans, sites just beginning to be cracked open. Her subject matter of sublime landscapes and their otherworldly inhabitants are just one aspect of the work, as the research itself is part of her internal trek as well.
"Scientists are constantly discovering new organisms, new phenomena, new modes of existence. As the 'last frontiers' on planet Earth, these spaces embody the edges of existence, and the edges of scientific knowledge," she said.
Simonson acknowledges that our planet is on the verge of a terrifying transformation due to human activities. In painting these remote parts unknown, her hope is to change the world. Through her artwork she asks us to wake up to our impact. To not just assert intellectually that we've got to stop destroying the planet, but to feel it in our hearts. Admitting that her sentiment sounds "cheesy," she concludes that desperate times call for such platitudes.
As for many artists, her thoughts around her work have been influenced by recent events. Simonson believes that for a long time the art world had an aversion to work that was perceived as "activist." But now, multiple crises around racism, public health, and climate change have made it more acceptable to make art that engages these issues directly.
Simonson is at work on a big series of paintings that will be installed at CalTech in Southern California. One of the scientists she works with, Victoria Orphan, studies how microbes turn chemicals into energy in the deep sea.
"It's this incredible magical-seeming alchemy. So, for the first time I will be painting both macro and micro-organisms," Simonson said.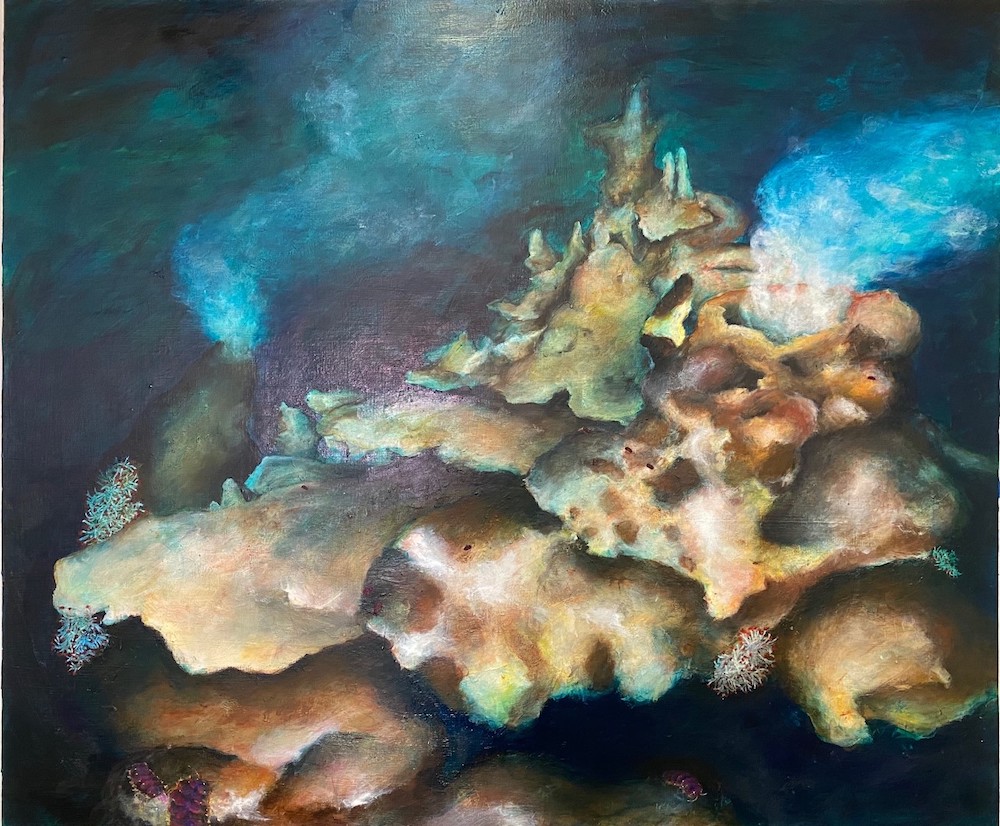 She's also working on a novel that will be published this fall. A gamebook that is part of the Choose Your Own Adventure collection that came to prominence in the 1980s when she was growing up, Simonson is grateful for the unexpected occasion to be part of the legendary series. Set in Antarctica, Simonson expressed how lucky she feels to have spent so much time there and the fortuity to share it in another medium.
"It's such a distinctive, sublime, glorious place and I am excited for this opportunity!" she said.
In whatever medium she expresses herself, Simonson wants us to feel transported to the far-flung worlds that most people never get to experience firsthand. She wants us to feel swallowed up. To understand that biological truths are stranger than fictions. That there are places and creatures here on Earth that are crazier than those we could ever conjure up in our wildest sci-fi dreams.
"I want people to feel deep in their minds and bodies that this planet is weird and perfect and dramatic beyond words, and it should be protected. We need to understand that we're not just in the world. We are part of it," she said.
For more information about Lily Simonson's work, visit her website at lilysimonson.com and Instagram @lily-simonson.