I have spent the past 35 years reporting about what would happen after Roe v. Wade was overturned, but I never believed that today would come. As we know from the leaked draft opinion, written by Justice Samuel Alito and now confirmed by Chief Justice John Roberts, the court is poised to overturn the Roe and Casey decisions that made safe and legal abortion the law of the land, and return us to the dark ages.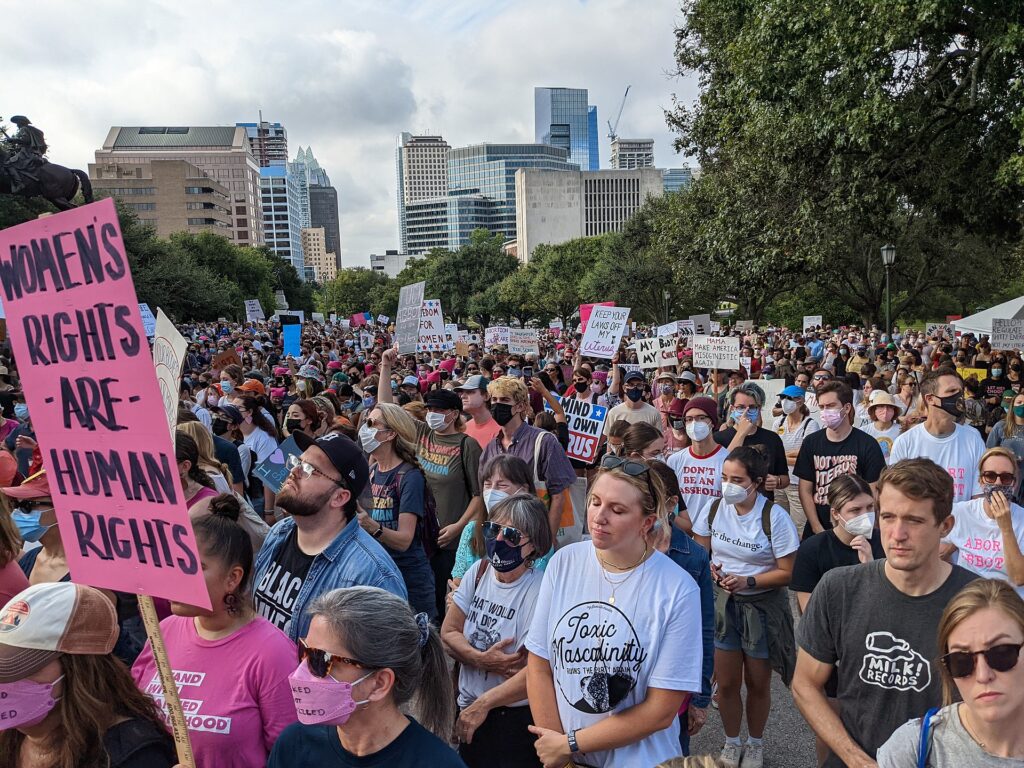 In the opinion, Alito wrote, "The Constitution makes no reference to abortion, and no such right is implicitly protected by any constitutional provision." The same, of course, could be said about the rights of people not to be enslaved, of women to vote, and of gay people to be married, among many other rights that have evolved in our society since 1787. The court has shown its willy-nilly willingness to set aside stare decisis, the doctrine that upholds previous decisions, to legislate from the bench. Questions of abortion must now go back to the states, and thanks to the decades of right-wing organizing on local legislative and judicial levels, nearly half the states in the union are ready with laws to ban abortion and prosecute its providers. In Oklahoma, even relatives of rapists will have more control over a woman's pregnancy than she has.
We know what an abortion ban will mean. Women who can afford to travel will get safe medical care. Women who are poor, unable to pay the travel and medical costs associated with going to a safe state—predominantly women of color—will either resort to illegal abortions (sometimes killing the mother along with the fetus) or go on to have babies they didn't want, closing off options for them, and perpetuating cycles of poverty.
There are no provisions in state abortion bills to pay for childcare, education, housing, food, or any other million things those unwanted babies will need. These laws are not about human life, but about social control in an increasingly authoritarian society.
What happens after Roe v. Wade? In 1992, I wrote a story for Mother Jones in which I learned how to do a "menstrual extraction," otherwise known as a home abortion. This procedure, involving plastic tubing, a speculum, and a cannula, is effective but there's a risk of infection and leaving tissue behind. It's second-rate medicine at best, but women who are desperate will give it a try.
In 1988, also for Mother Jones, I wrote about a promising new pill then called RU486—the "abortion pill." Unlike menstrual extraction, the abortion pill (mifepristone) is, in combination with another pill that helps expel the uterine contents (misoprostol), 99.6 percent safe and effective. A quick Internet search reveals many sites that offer abortion pills for about $249, still a lot for many women to cover, but a lot cheaper than a trip from the Deep South to California.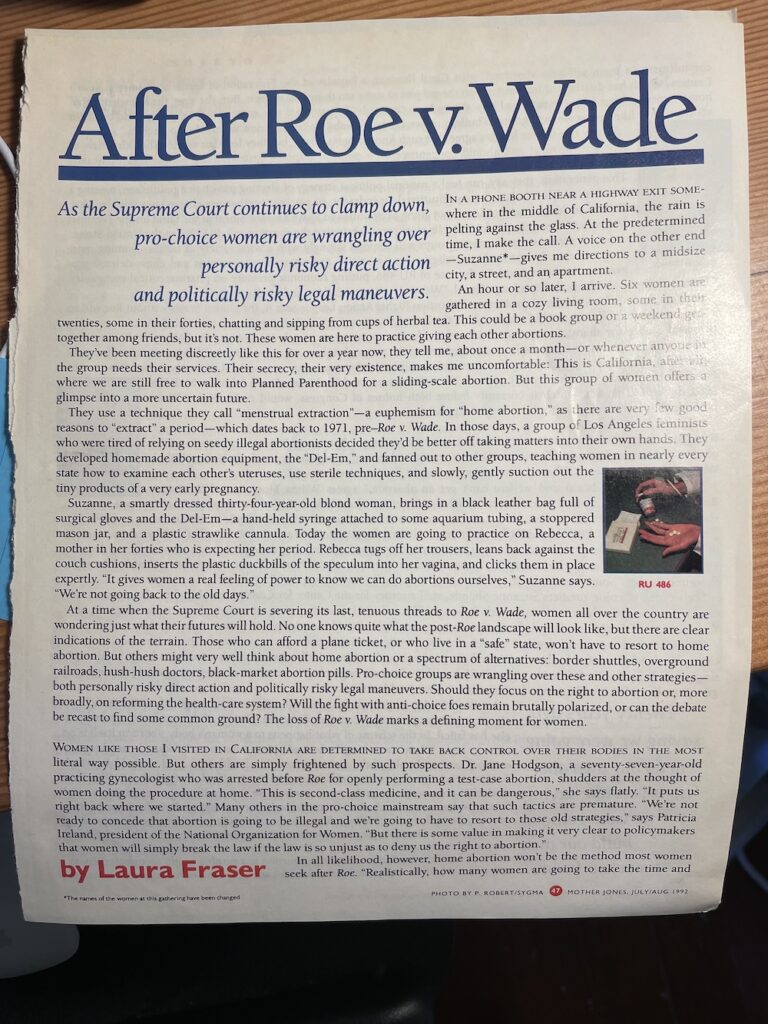 For those who can afford it, we'll have a new kind of medical tourism. Mexico liberalized its abortion laws in 2020, so for women in Texas and other nearby states, it may be possible to cross the border for medical care. There's also an underground railroad of sorts developing, where international women's health groups are working to deliver pills to pregnant women in states where abortion is prohibited, and engaging doctors who will provide telemedicine backup to women who have rare complications.
One such group in Mexico is Las Libres, which receives shipments of medical abortion pills from international health groups and sends them to women who need them. While some states are making providing medical abortion pills through the mail illegal, it will be hard to enforce. So far, we still have the right to the privacy of our own mail.
In the late 1980s, I wrote a story for the San Francisco Bay Guardian where I exposed anti-abortion clinics. I brought a jar of a pregnant friend's urine to two of these centers, where they told me lies about what an abortion might do to me, such as that it would make it impossible for me to have other children and insure a lifetime of depression. I learned then what the religious right makes of its commandment "thou shall not lie." Today, while the centers in San Francisco have been shut down, there are now more of these fake abortion counseling centers in the country than real abortion providers.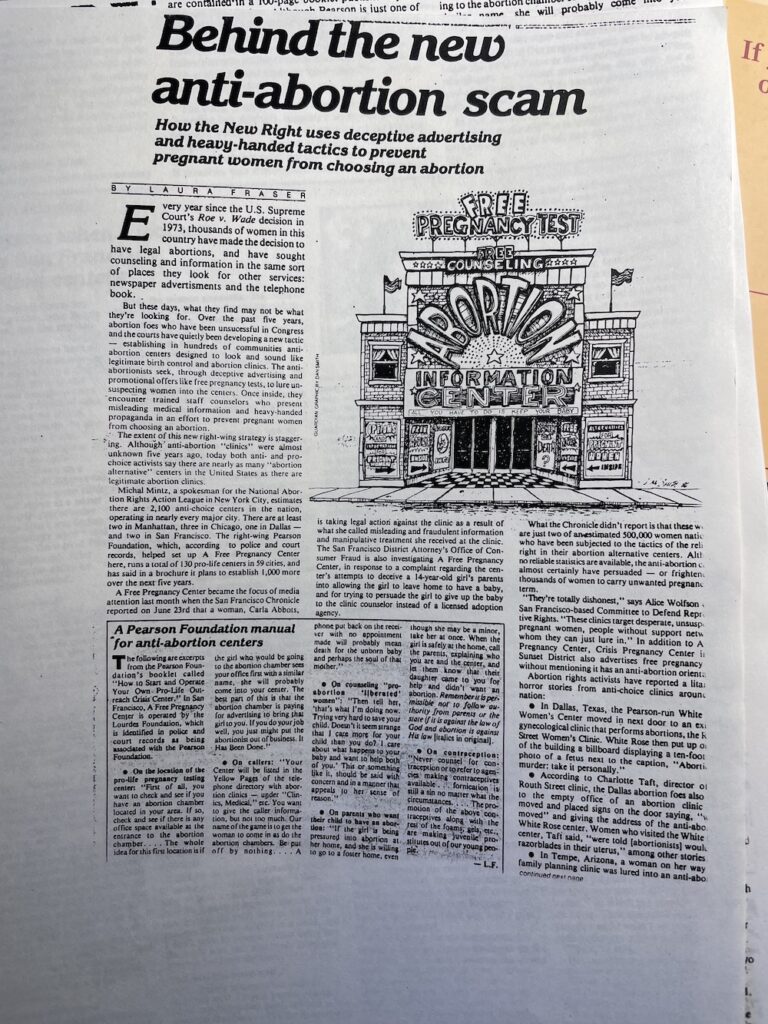 I did that story right around the time I had an abortion myself. It was a quick procedure, involving a little pinch and a few hours in bed with a hot water bottle and a glass of red wine. I have never regretted that decision for an instant.
I was in my early 20s, and the man who got me pregnant disappeared when I told him the news, not even offering to pay for half of the procedure. I never had children, and I don't regret that, either. I think other people's kids are great, but never wanted my own, particularly not with the climate devastation that is coming if we don't wake up fast.
The day after is the day we must protest and organize. Seventy percent of the people in this country say that Roe v. Wade should not be overturned, that women have a right make decisions about their own bodies. Yet a small minority—many of them people who have been vocal about their "right to choose" whether to wear a mask, and who otherwise say they want the least government interference possible in their lives—have managed to organize enough to get baldly political partisans on the Supreme Court and in state legislatures and courts around the country.
It is time for us to use this devastating event to do the same. And in the meantime, we must support organizations that pay for women to travel for safe medical procedures or that offer women choice via the mail.