Having spent my whole life in the Bay Area, I'm always pleasantly surprised when a work of art isn't set around a bunch of white people in the affluent parts of SF. We hardly ever think of the Golden Gate Bridge, let alone see it as often as film and TV shows it. For stories set outside of SF proper, I can think of only one play off-hand (Ignacio Zulueta's Kano + Abe, set in Daly City) and only one film set in Milpitas (1976's The Milpitas Monster, famously shown on Creature Features before KOFY went belly-up… again).
Milpitas is also the setting of Jeffrey Lo's new TheatreF1rst play Balikbayan Box (through June 12 at Live Oak Theater, Berkeley). Like Kano + Abe (which also featured Jed Parsario), it's a story of about the Bay Area's sizable Filipino population set outside of the region's most popular city. Though Zulueta's had little to do with Daly City outside of its extended title, Lo's play has quite a few jokes made at the expense of the San José-adjacent town. Before we even see the contents of the titular balikbayan box—a popular, if crudely-made, gift box sent by Philippines residents—we hear that the South Bay city is cold compared to the Pacific island. And, apparently, it's really dull. Since I can't recall my last time there, I'll just take the play's word for it.
Once one passes through the slightly renovated Like Oak Theater lobby and a decent vax check that doesn't scan for boosters, you'll notice that Jon Tracy's set appears to be a modern apartment (with overly sterile colors, furniture, and appliances) trapped within an actual balikbayan box, represented by walls seemingly made of cardboard and masking tape. The pre-show playlist consists of Filipino pop songs, including Tagalog covers of "Pure Imagination" and "You'll Never Find Another Love like Mine." Add to that characters who switch to speaking Tagalog as easy as most people switch on lights and you have one of the most unabashedly pinoy stories not produced at SF's own Bindlestiff.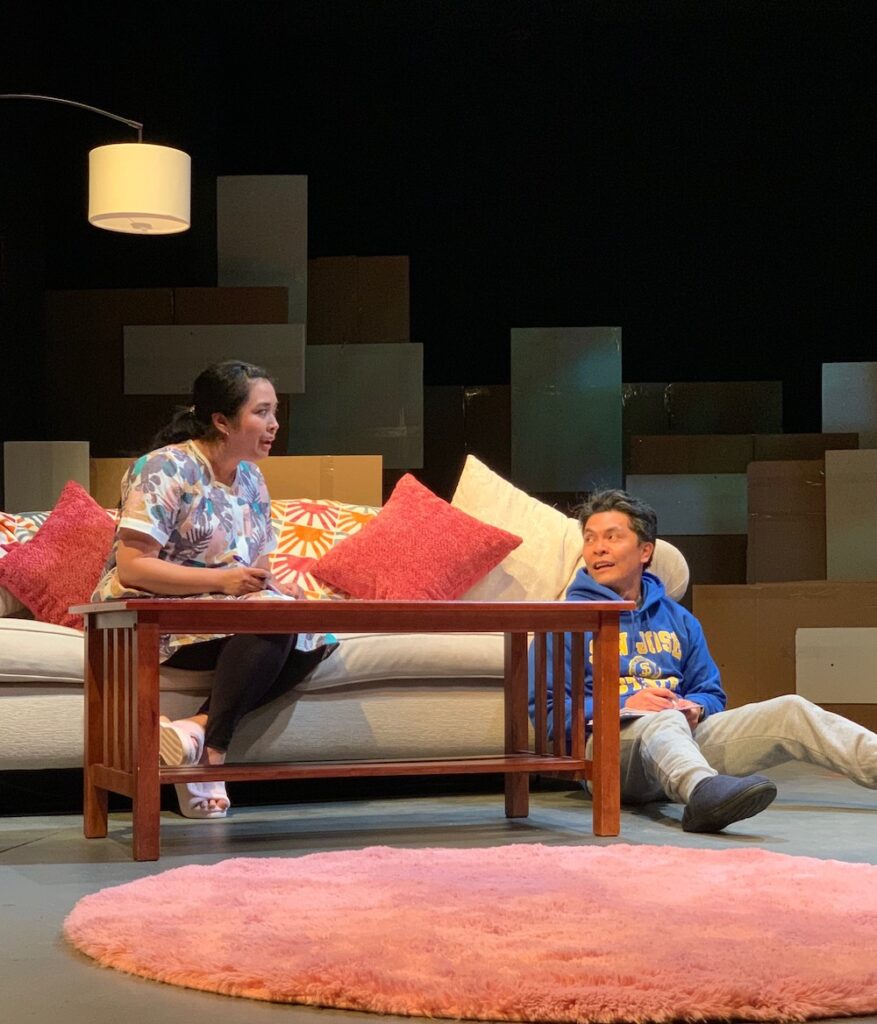 The characters in question are millennials Joseph (Parsario) and Bethany (Lynie Abadilla). US-raised pinoy Joseph co-owns and operates a local Filipino-fusion restaurant called "The Flip Side." Yes, really. He's agreed to a green card-marriage with Bethany, a school teacher back home looking for work in the US. The plan is to remain married for three before amicably divorcing after Bethany has attained citizenship. First, they need to co-habitate for 90 days and face scrutinous interrogation from immigration services. Thus bringing us to the start of our story.
If you see as much theatre as I, then you may know this is the second Jeffrey Lo show within weeks to shine a light on Asian citizens immigrating to the US (the other being SF Playhouse's The Paper Dreams of Harry Chin, which Lo merely directed). Like that show, Lo is at his best when he dives head-first into cultural specificities rather than watering them down for westerners.
Aside from Jeffrey's relatively anti-social attitude, he has a typical US-based obnoxiousness, such as when he insists that he doesn't have an accent, whereas Bethany's is so thick that she mispronounces the name of a popular American band as "The Bitch Boys." Both characters tell the other "You're so Pilipino!" at one point, and when they craft their immigration cover story, they joke about saying they met at a Jollibee. These non-white characters have idiosyncrasies that feel, for lack of a better term, "lived in," and it's a relief that Lo didn't have the play come to a halt just so one of them could explain what sinigang is.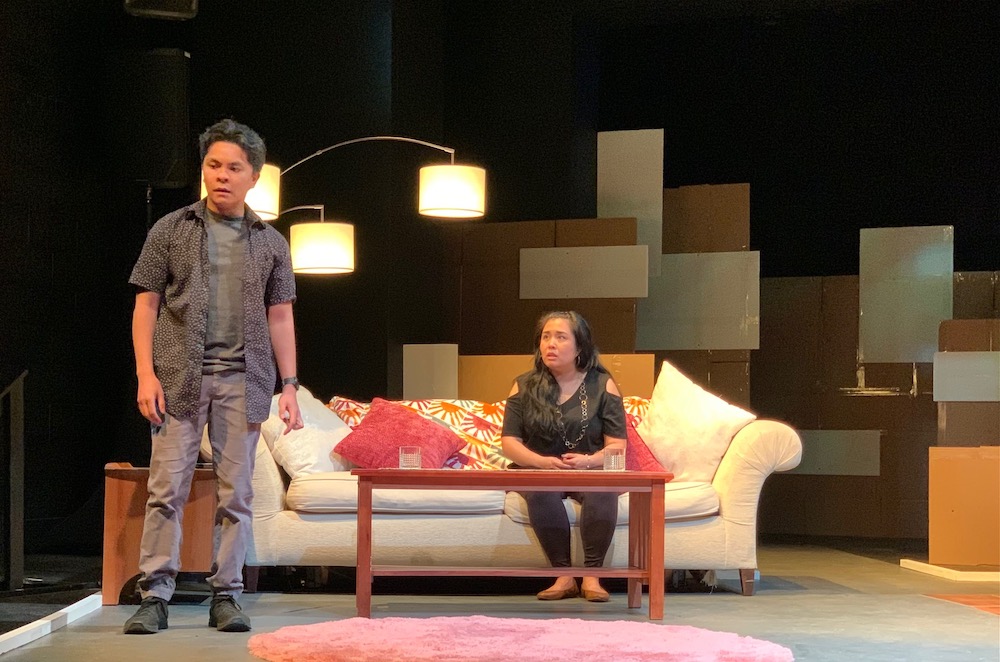 It also benefits from the affable performance of Abadilla. Stories like this often don't know what to do with a woman immigrant, unsure of whether to make her meek or abrasive (see Ang Lee's The Wedding Banquet, which is actually a good film). Under the guidance of director Michelle Talgarow, Abadilla was clearly given room to go big without going "loud," showing a character sure in herself without having descend into stereotype.
Unfortunately, that's where the play begins to show its flaws. Abadilla's performance is so pronounced that Parsario easily vanishes when sharing the stage with her. What's more, we learn that Jeffrey's anti-social behavior is the result of an addiction recovery, but he keeps the addictive substance in his home and presents it to Bethany with the greatest of ease—not the behavior of someone in recovery. Finally, this left turn in the story seems to be leading to an explosive denouement that instead ends rather anti-climactically. Not every story needs to finish like an action flick, but the way this play suddenly stops leaves a lot to be desired.
As with The Paper Dreams of Harry Chin, so too does Balikbayan Box revel in the eccentricities of Asian and Asian-American identity. It challenges cultural norms as easily as it finds comfort in them. The end of the ride is so abrupt that one would think the road is still under construction, but the journey there is no less pleasant.
BALIKBAYAN BOX runs through June 12 at the Live Oak Theater, Berkeley. Tickets and info here.