It's a credit to the infinite appeal of the circus that it has survived a worldwide shift away from animals with little loss. Much the same way the format did away with the "freak show" decades prior, the move away from trained creatures was inevitable, even without pressure from fear-mongering hypocrites like PETA. Sure, traditionalists fall on the side of Chesterton's fence that bellows about the way things were, but progress never moves backward, and for a tradition to continue, it must evolve.
On this particular day of the Yerba Buena Gardens Festival, the pre-show stilt-walking dances of the Oakland-based Prescott Circus so impressed a girl several yards to my right that I had to turn my head when she shouted "Did you guys see that?!" to her parents and infant sibling.
That's the sort of evolution Circus Bella was pushing for with their new show FLIP * FLOP * FLY (through July 23 at various Bay Area parks), the first production of their 13th season and their return to park performances. Lead by director, co-founder, and ringmistress Abigail Munn, the show is aimed directly at the little ones moreso than their parents and guardians.
Oh sure, there may be an entire dance sequence based around an amorous couple who balance on the wine bottles they've consumed, but nothing racy is shown (it's more akin to a Pepe le Pew short if the Warner Bros. animators had any concept of consent).
The fact that they aim the show at tiny humans isn't a bad thing, especially when everyone from SF Circus Center and Misfit Cabaret to DNA Lounge's Hubba Hubba Revue all offer bawdy big top alternatives. The occasional flaws of the hour-long show are when the company doesn't try to do anything more than that.
Even stuck watching from behind the tech booth, I was able to get a good view of the stage, awash in primary reds and blues. To the right of stage was the Circus Bella All Star Band as several audience members sat on the lawn under the sun. Soon, Munn and the entire company pop out for an all-encompassing preview of their new show that runs a bit long.
That preview is where we first see the show's most prolific personalities other than Munn herself: a trio of clowns, including Calvin Kai Ku (in a bright yellow suit with orange flame patterns); the lanky Jamie Coventry; and the bell-bottomed Natasha Kaluza. The three pop in-and-out between acts, delivering their own routines that are done well enough, but have the habit of running over (a repetitive game of "Heads or Tails" goes nowhere), and the opening day performance seemed to show them moving with half-energy at times. Still, a Kaluza solo spot featuring an abundance of hula hoops is one of the best routines in the show.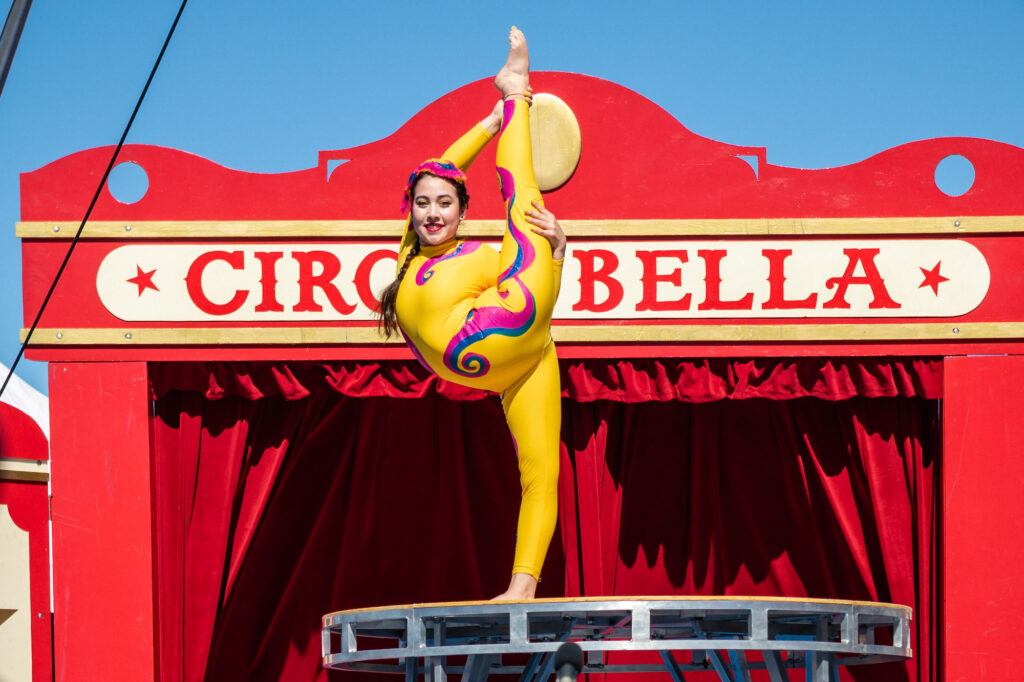 After the trio's first routine, performer Toni Cannon comes out for a solo pole act that's impressive, if a tad routine. This is followed by São Paulo's Jefferson Freire starting a colorful juggling routine that includes orange balls, pink pins, one red ball, and yellow rings. The impressive act becomes even more so when Freire adds balancing to the works, ending atop a unicycle. Definitely the highlight of the early half of the show.
Next is the aforementioned couple of Ariele Ebacher and Jan Damm, playing tipsy lovers who tango and tumble before Ebacher balances atop the empty bottles. It's a very entertaining routine that really plays to the strengths of this real-life married couple. This is followed by the contortions of Elise Hing, which—if I may make the world's most obvious pun—bend the mind of the viewer and well as Hing bends her own back and limbs. At one point, she had her feet behind her arm pits as she balanced on her hands and her pelvis reached the back of her head. The whole time, she appeared to be pulling it off with the greatest of ease.
After another juggling routine and a naming of all the All Star Band members by Munn and Kaluza, Garrett Allen comes out for an aerial rope routine that was fine enough, but it was here that I began to notice that the band's instrumentals sounded familiar. For Allen's act, it sounded as if they were trying to perform War's "The World is a Ghetto," but didn't have the rights, so they made a version that sounded just enough like it not to infringe. The following spot by the clown trio similarly featured a bossa nova number that reminded one of the Santana version of "Oye Como Va" (which would, at least, be appropriate for SF).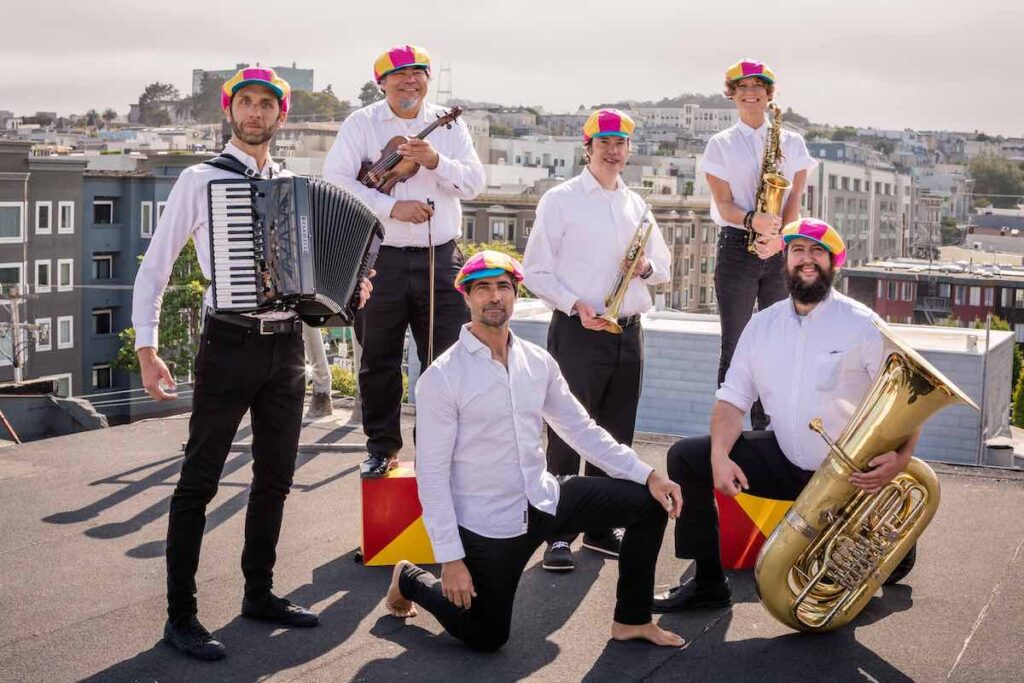 The penultimate routine finds Jan Damm returning for a solo balancing act, first on an uneven platform, then using buckets and additional platforms to climb even higher as he jumps rope and fits himself between rings. He's as skilled on his own as he is with his wife. The entire show concludes with an ensemble-wide juggling routine and the core company members pulling off an impressive human pyramid routine.
As impressive as the international cast was, I found myself at the end of the show thinking again about the Prescott Circus routine that preceded the show proper. It featured a primarily-Black cast of teens and was introduced emphasizing the African origin of stilt-walking and -dancing. Though not the stars of the show (Prescott Circus will only be featured at certain performances), it perfectly captured the true adaptability of circus as an art form, and the value it still has for future generations.
Roughly an hour long, FLIP * FLOP * FLY has more high points than lows, the latter of which were mostly due to some low-wattage performances that may just have been opening day cobweb-dustings. It certainly wouldn't be a bad hour if you caught it touring in your local park. Just remember that the adult version of you isn't the intended audience.
FLIP * FLOP * FLY runs through July 23 at various Bay Area parks. All shows are free. Further information here.