It was the first time in Café du Nord for composer, producer, multi-instrumentalist, vocalist, bandleader, and DJ Emma-Jean Thackray when she brought her quartet to the venue on August 3. The Leeds-born prodigy, a renowned producer of electronic music who has collaborated with the London Symphony Orchestra, filled the house full of scenesters, writers, curious couples out on a date night, and even more musicians and DJs. Their multivarious presence proved Thackray's music has been making the rounds in The Bay for quite some time.
The 85-minute show, throughout which Thackray guided her group mostly through her critically-praised 2021 album Yellow, had its phasers focused on casual settings. Dance floors, basements, warehouses, pop-up jam/rehearsal places were conjured. Planet Lovetron? Man-bun City America? A nasty man-bun crisis was in full swing.
"Just don't say jazz," my friend TJ Gordon, creator of the excellent BeatCaffiene, blog advised me after the show.
Hrrm.
The performance spanned all the climates to which Thackray likes turning her "Where's Waldo" glasses towards, with a mainly-cheerful set featuring some top-notch musicians that flew. They extended the rhythms, improvised when necessary, and fed off Thackary's bright intensity.
That magnetism does stem from her being a jazz musician, a jazz orchestra composer who produces rhythms, thrives on spontaneity, and being "groovy as fuck." Yellow, her debut album, has allowed Thackray's joyous, quirky, effervescent chi to dig into new corners of listenership. She's badass on the trumpet, too.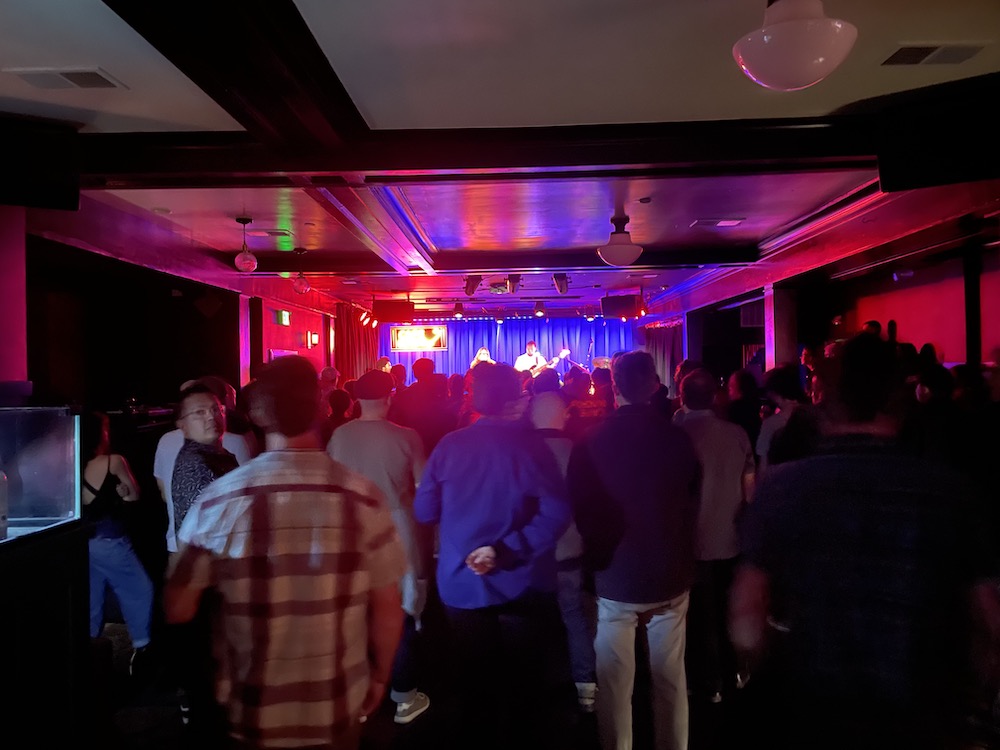 On this particular Wednesday night, however, two days before one of San Francisco's largest music festivals was set to run roughshod over the Bay and all the way up and through Golden Gate Park, serious music heads, aficionados who want to see an artist's first performance in their city, fell deeply under her gaze. Holding down the fort as "vibes merchant," Thackray ran tracks into the 4/4 ecstatic bump of house music. She made very cute and oh-so-hippy-dippy, SF-friendly "earth mama" ramblings between songs, and twisted up vast moods from the expansive '70s fusion of "Sun" into the "Green Funk" pocket, all without interfering with the room's intimacy.
The bass player's over-soloing bordered on camp at points, and the canoodling that went on for a while knocked the oxygen out of the room for a second. As the bandleader, EJT has to rein it in a little. But the keys player understood that a little is plenty, and the drummer punched and kicked away under the supervision of their ring leader. Thackray will be back soon, forever lording over this new mash-up of alternative space social music.
Stream Emma-Jean Thackray here.