Big influences come in small packages, sometimes. Painter Nimah Gobir's first memories of art-making are of her dad creating two-page, hand drawn flipbooks. They usually brought to life things like a person walking or a butterfly flapping its wings, and Gobir remembers thinking that they were magical. She's held onto that belief about the mystic powers of art ever since.
"Being an artist is one of the ways I can be close to magic every day," Gobir told 48hills.
Gobir was born in Los Angeles and moved to the Bay Area with her mom and two siblings when she was six years old. She spent the rest of her childhood in Walnut Creek. After living in a handful of other places, Gobir moved to Oakland in 2018, and currently resides in the Golden Gate district of North Oakland. She completed her BFA with Chapman University in 2015.
"I was raised primarily by a single, immigrant mom," she said. "While the trope is that most immigrant parents push their kids to become doctors or lawyers, my mom was always very supportive of my dreams. She has an embarrassing amount of my old artwork to this day."
Gobir appreciates art's ability to create representation where it may not otherwise exist. Growing up, she did not see a lot of images of herself in books, media, or art. Once she developed the ability to create what she wanted to see, she never stopped.
And now, she uses art to process life.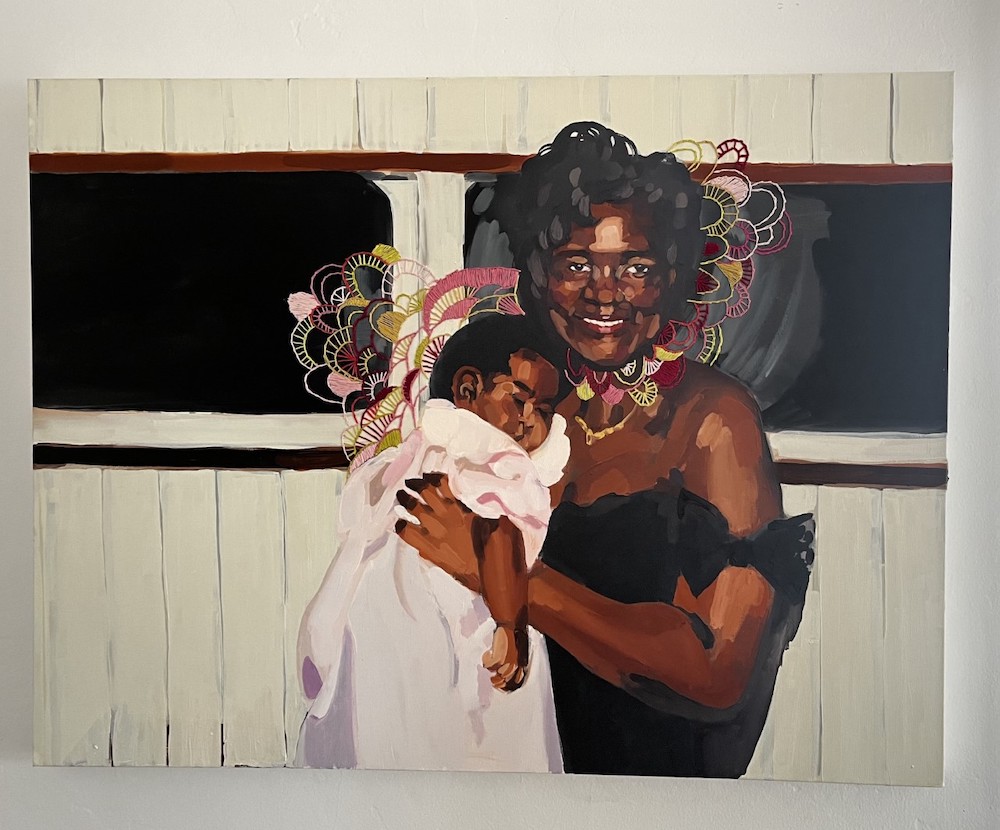 "I'm Black and a first-generation American," she said. "Both of my parents were born in Nigeria. Art-making is a way for me to discover the mix of cultures and memories that make up who I am, and how I move through the world."
Gobir's work examines how she and her familiy develop distinct memories, and allows her to hold the differences in those experiences. She never had a strong adult relationship with her father, but many of her paintings are based on photos he took when she was a child. In that way, she experiences a kind of collaboration with him and a way to be close despite his lack of physical presence in her life.
In her figurative depictions, Gobir mines the hundreds of colors of Black skin, while incorporating the use of embroidery to add brightness and vibrancy with thread. With visible brush strokes and hand stitching, the viewer is reminded by the artist that each piece is intimately and deliberately handmade. These embellishments lend a sense of tenderness, a "cozy domesticity" to her pieces.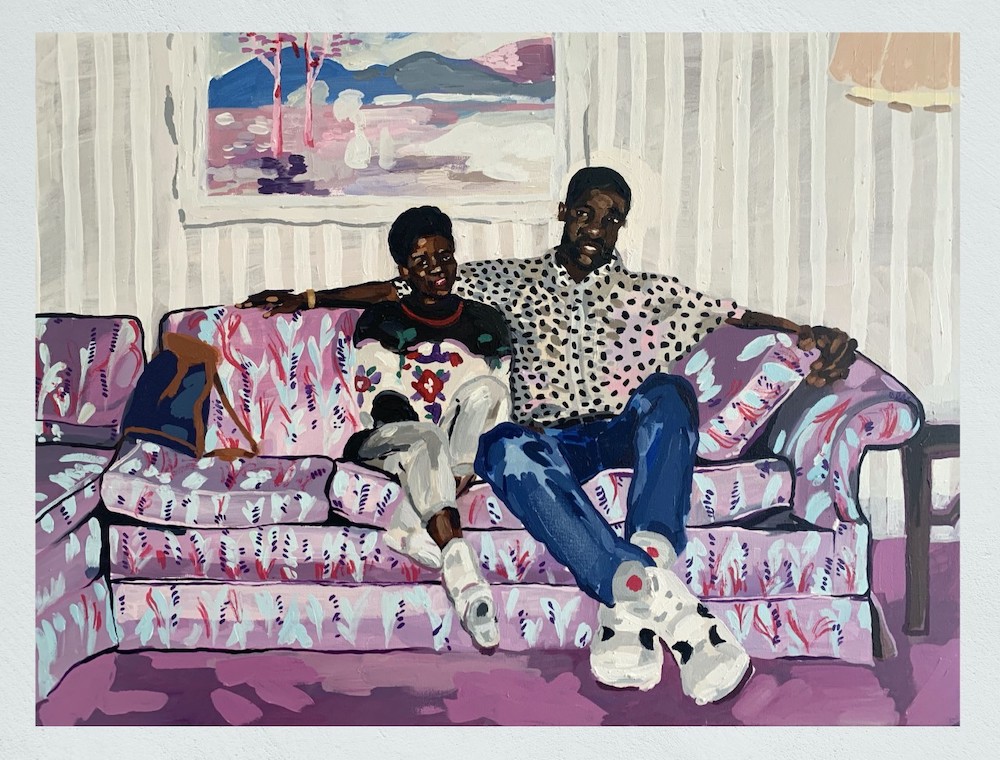 Gobir's intention is to communicate the love felt in the relationships between her figures and herself. Her paintings are an earnest attempt to grab the viewer by the hand, and pull them towards a moment in time, or a particular feeling.
She and her partner Andrew converted their garage into a studio where she has worked for the past year. While some artists prefer that their studio be separate from their home, convenience and spontaneity—and proximity to food—works well for her.
It's a small space with lots of surfaces, an easel, and a peg board with cups containing a rainbow of embroidery thread. There are overlapping rugs on the floor. Sharing the studio with her good friend and neighbor who is a potter, the space has proper air ventilation and excellent light, with its doors flung open to the backyard.
"Studios are such funny little ecosystems filled with mundane things I could not function without," Gobir said.
One such useful object is a tiered shelf on wheels that houses all the tools she uses every day. Because of its design, it allows her to move around the studio and various works-in-progress, with all her tools close at hand.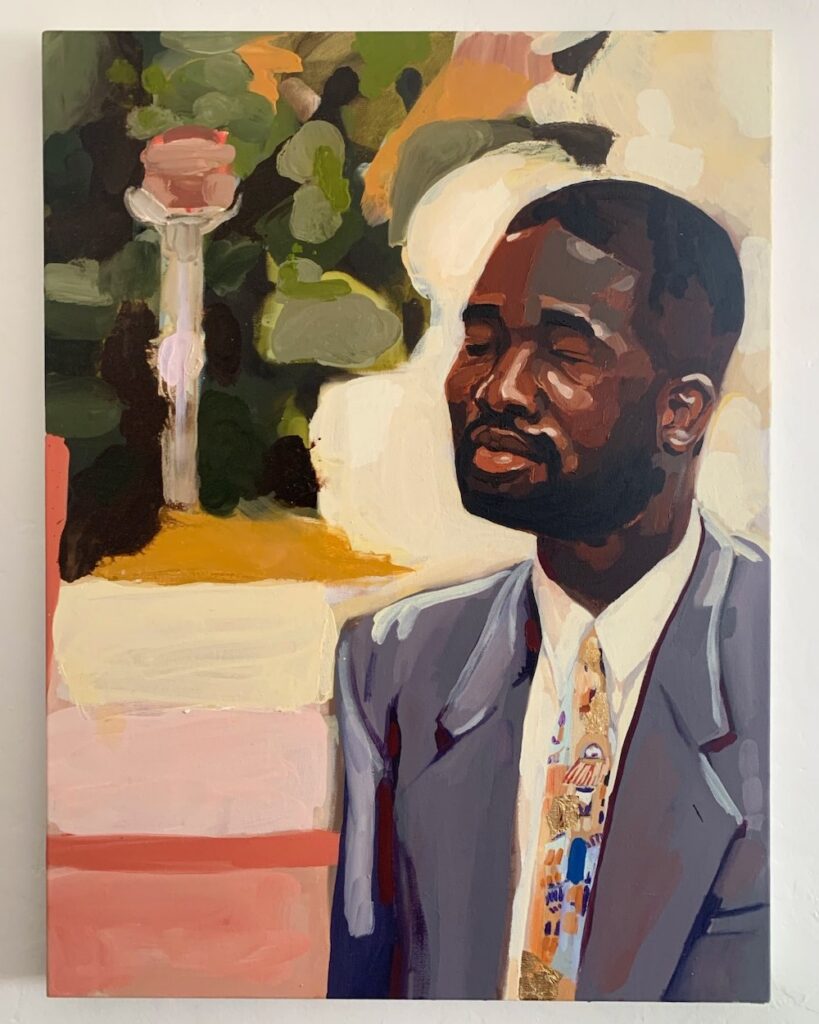 Gobir works on a few oil paintings at once, needing ample time for surfaces to dry before she can adorn them with embroidery. Each day, the artist lays out her materials, choosing color palettes by mixing all her colors in advance and selecting threads and tools. Tea and snacks and a good fiction audiobook are also on hand.
Regarding subject matter, Gobir has always gravitated towards the figure, loving the way people communicate with one another through expressions or body language. She believes that we understand ourselves through others, through our relationships.
"I specifically paint who I do in an attempt to tease out the intricacy of Blackness. I try to explore how I fit into Blackness and understand it in myself," she said.
Ever since the pandemic, she has had a special love of exploring intimate and domestic spaces, approaching scenes of rooms and homes as portraits. She says you can tell a lot about someone from the stuff that is around them. Home, to Gobir, is a site of private, everyday acts of care. She wants viewers of her paintings to feel like they've been invited into her living room, to feel curious and welcome.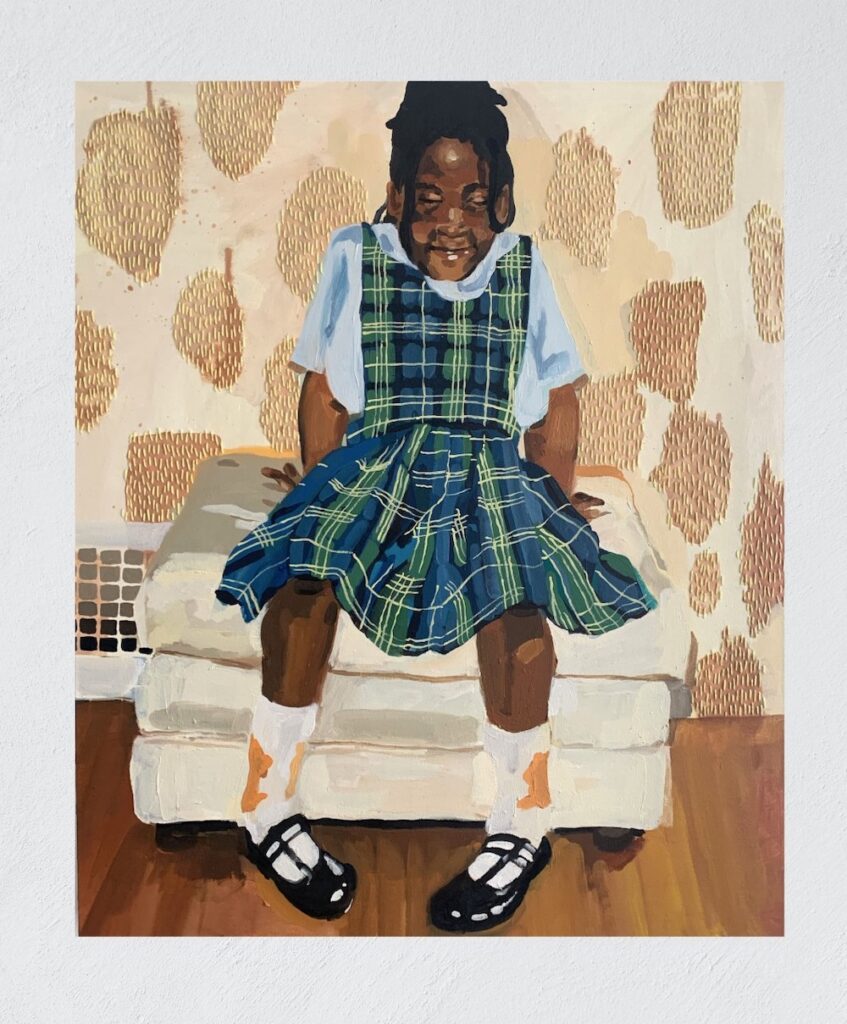 Gobir is not just a visual artist—she is also a word person. She has a day job as a journalist, writing primarily about education. She loves to read and play games like Spelling Bee, Wordle, and Scrabble, though she admits to being in the middle of a long Scrabble losing streak!
She also completed a yoga teacher certification recently, subbing and assisting classes at a local studio. She enjoys being outside, near large bodies of water, hiking, and camping.
As for other ways in which the pandemic has influenced her work, Gobir says she became more curious about what it meant to be in relationship with others, as people gathered in new ways. The pandemic was also a time of heightened attention towards Black violence.
"It feels even more important to have images of Black people living and loving," Gobir said. "Not so that others can see how human we are, but to expand the space that Black people have to celebrate themselves and remember their own earnest, tender moments."
Nimah Gobir continues to develop her body of work about homes, memories, and family, working from recent and old photos of loved ones. Her most recent showing of work was in June for the exhibition "SPOOLS" at Johansson Projects in Oakland.
For more information, visit her website at nimahgobir.com and on Instagram @findingnimah.