Here we are at the end of August. The San Francisco weather is some of the best of the year with warm, sunny afternoons punctuated with a cool breeze that turns cold, chilly and foggy at night. It is a great time to get out and enjoy this great city—and there are a few weed events happening to give you that added autumnal kick.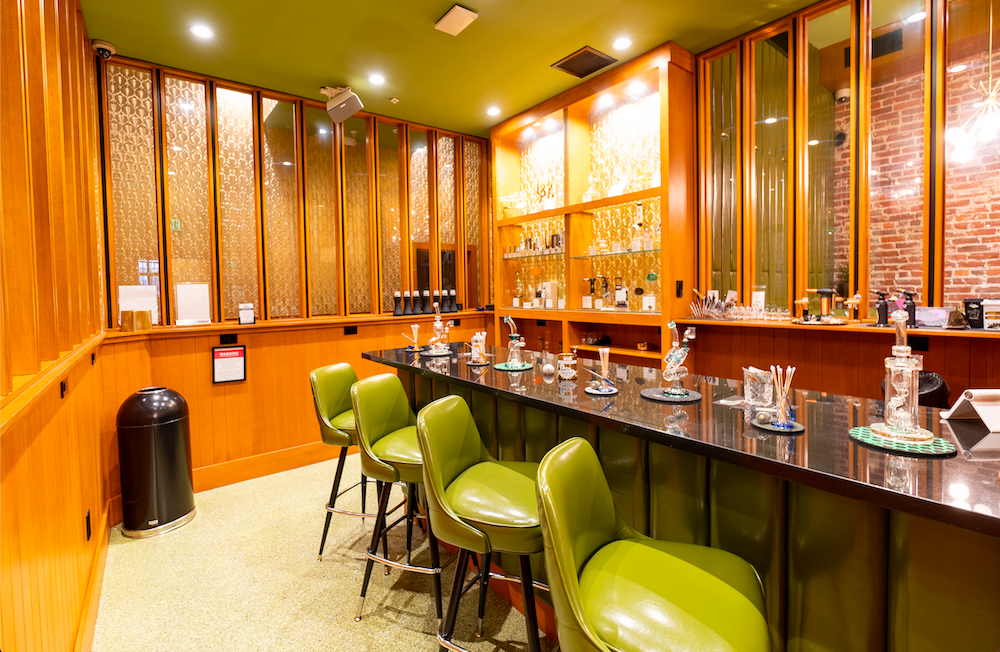 I am most excited about my DJ Dank's Cannabis Cabaret, which is debuting at Moe Greens Dispensary on September 20 at 6 p.m. Moe Greens has a really cool, 1960s-inspired smoking lounge with nice booths and fabulous starburst light fixtures. It's a perfect spot for me to put on a show.
The inaugural cannabis cabaret will feature naughty accordion ditties from Kitten on the Keys and songs of female empowerment and sexuality from Maya Songbird. Those sets will be followed by Latin dance from Andeley Andelay; acrobatics from Ismael Acosta; and two drag performers—legs and dance from Pina Busch and wacky, beautiful art from Thee Pristine Condition. DJ Dingbat will be spinning his "Cheesy Listening" music mix.
Sponsors include Manzanita Naturals, Pure Beauty, Kiva, Timeless Vapes, Cann, 48hills, and more.
There will be a mocktail bar, dab lounge, smokable, edibles and special discounts. Tickets are $10.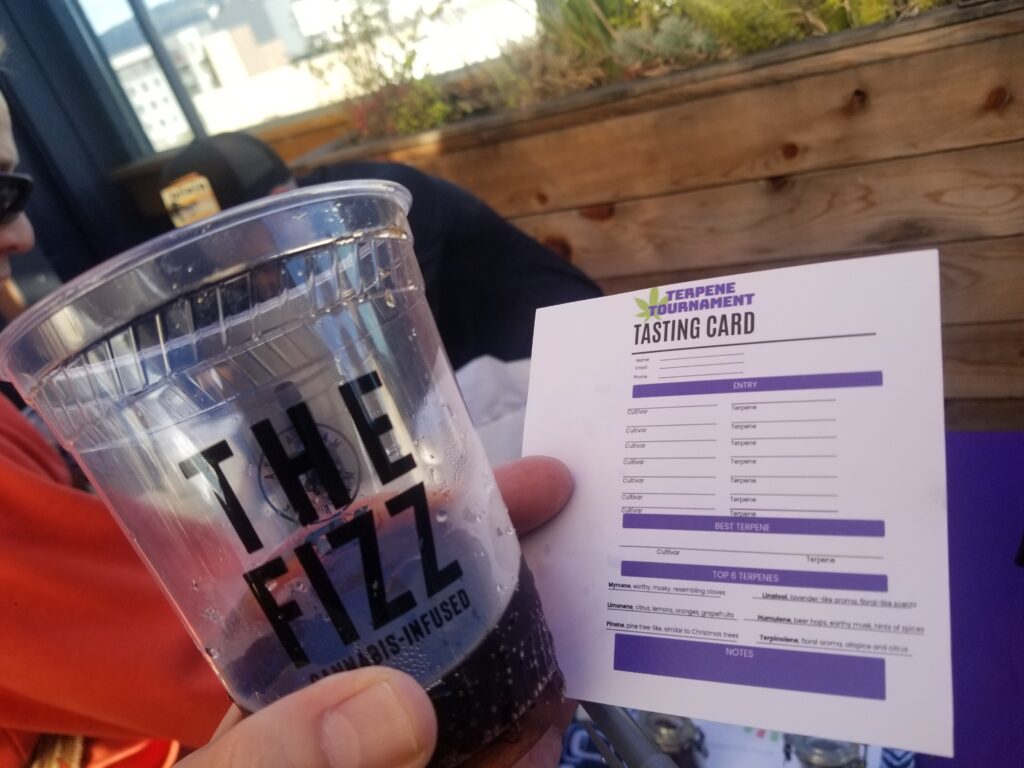 I want to send a shout out to cannabis consultants and community activists Tony Bowles and Samantha Cecilia Sage of Kind Philanthropy for their First Ever Terpene Tournament at Skylab in Oakland.I wrote about it in my last column. It was a beautiful sunny day and the party was on the roof overlooking Oakland. Attendees were greeted with a hand-rolled spliff, mocktails, and a terpene rating card. Not a bad way to start.
We then proceeded to sample products, writing down which terpenes we thought were in each one. We dabbed, smoked, ate, and drank our cannabis while a machine burped up clouds of fog and bubbles intermittently over the party. It was a great event. I made some new friends and caught up with several I had not seen in a while.
I was very excited to finally try Puffco's new dabbing pipe called The Proxy, which sells for $300. It was sleek with a great hand feel, and it hit so nicely. You can also get an attachment to smoke flower as well. What a treat!
For future tournaments, my new strategy will be to hit the dab table last. I got all excited about dabbing and trying the Proxy, so I got super-high right off the bat and was super-stoned for terpene tracking. (I am not complaining, it was a blast nonetheless.) I hope Tony and Samantha Sage continue the Terpene Tournament in the future.
Much appreciation for anyone out there trying to help make our cannabis community grow through parties and events.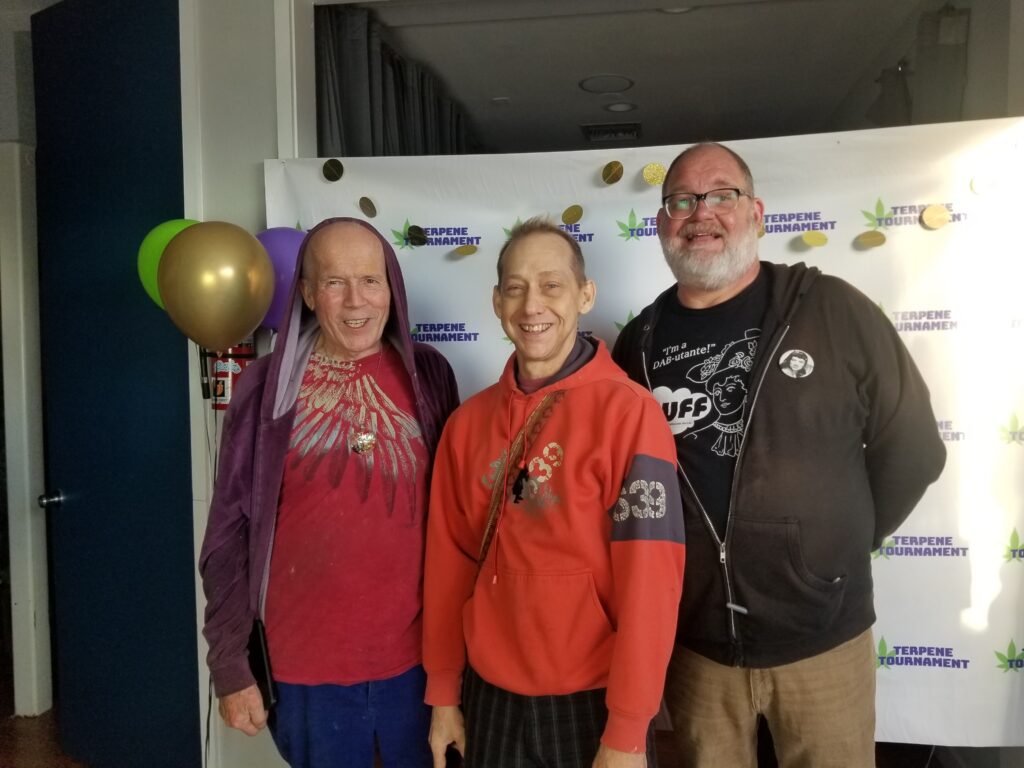 I noticed my neighborhood SPARC dispensary on Polk hosted a cat and dog rescue event by HDBNQ (Hella Dam Bitches n Queens) Rescue in their smoking lounge. I called the dispensary, and they said they plan to have more similar events soon. You can get your weed and a new fuzzy, cute critter to take home and love. It's a great idea.
I do like SPARC's new Polk location. You can actually browse and touch things, which is nice. Many of these dispensaries make you look at a lit sign above the counter, on an iPad, or through the glass to make your selections. The staff was also helpful, but not stifling.
Of course, the big event coming up is Santa Rosa's Emerald Cup Harvest Ball 2022. Pre-sale tickets for the second Emerald Cup Harvest Ball are on sale now for December 10 and 11 at the Sonoma County Fairgrounds. Tickets start at $110 for a 2-day pass, the Emerald Pass VIP goes for $439, and the Super Emerald VIP Pass is $659.
"The Emerald Cup Harvest Ball will offer a robust consumer marketplace that will include fresh harvest flowers, top-shelf genetics, and the year's most highly sought-after products making this an annual reunion event for the cannabis industry and the culture," states the website. "Over the weekend, concert stages will host chart-topping musical guests; Emerald Cup Sessions speaker panels will feature powerful voices, thought-leaders, and visionaries from all corners of cannabis culture, plus consumption lounges, VIP experiences, organic food halls, infused bars and beer gardens, artisan fairs and memory-making moments will be on-site to celebrate the counterculture lifestyle with a full two-day experience"
It's a bit far away for now, but those tickets sell out fast—as does hotel space. So if you want to make the pilgrimage to Santa Rosa for the high holy event, start planning now, stoner.
Always check into your local dispensary and sign up for their newsletters, because many of them are having their own events, parties, and specials.
Just last week, the Barbary Coast dispensary hosted a comedy night in their smoking lounge called Puff Puff Laugh. Let's hope they continue doing them—that lounge is beautiful.
If you are hosting a fun cannabis event in San Francisco, please send me the information so I can plan on being there or maybe feature it in a future column. Hope to see you out there to say "high!"
Be sure and come to my cannabis cabaret!
Now it's time to light up!