Lionel "Vinyl" Williams, the unflappable hypnagogic pop champion from Los Angeles, has built a reputable decade-long career by twisting celestial frequencies. Curt Boettcher and Brazilian master Arthur Verocai reside within Williams' groove-laden bops.
His is the best version of aggressive shoegaze by far, a space rock transcendental arrangement brimming with precise rhythmic accompaniment. Those odd-time signatures come attached with lyrics about inner revelations.
"Time to see, become aware/As you sleep on your bed/Time to see what's all right there," echo from his recent release Cosmopolis. The lyrics come from a burner of a track "Saturnalia," a presentation in which organ, lithe bass patterns, and shuffling drums usher along this shroomed-up dream-pop, buttressed with contemporary production.
Williams and his four-piece band brought that energy to The Chapel on August 30, kicking off a series of concerts commemorating the venue's ten-year run of bringing quality and diverse talent to San Francisco week in and week out.
I have seen Chromeo, Seablite, Osees, and many others at The Chapel during that decade. Each performance, unique and specific, retained its own distinct loveliness—an accomplishment that few venues, local or national, can host.
As Williams, who has previously cited the Bay Area's Once & Future Band as a major modern influence on his music, launched into the bliss-laden "Exopalce," digital animation flew on a screen behind the band. Shiny objects and strange mushroom configurations synchronized with the song, while a crowd of all ages—young twenty-somethings to late sixty-somethings—bopped around, got hyped from the visual stimulations, and engaged with the casual hang vibe.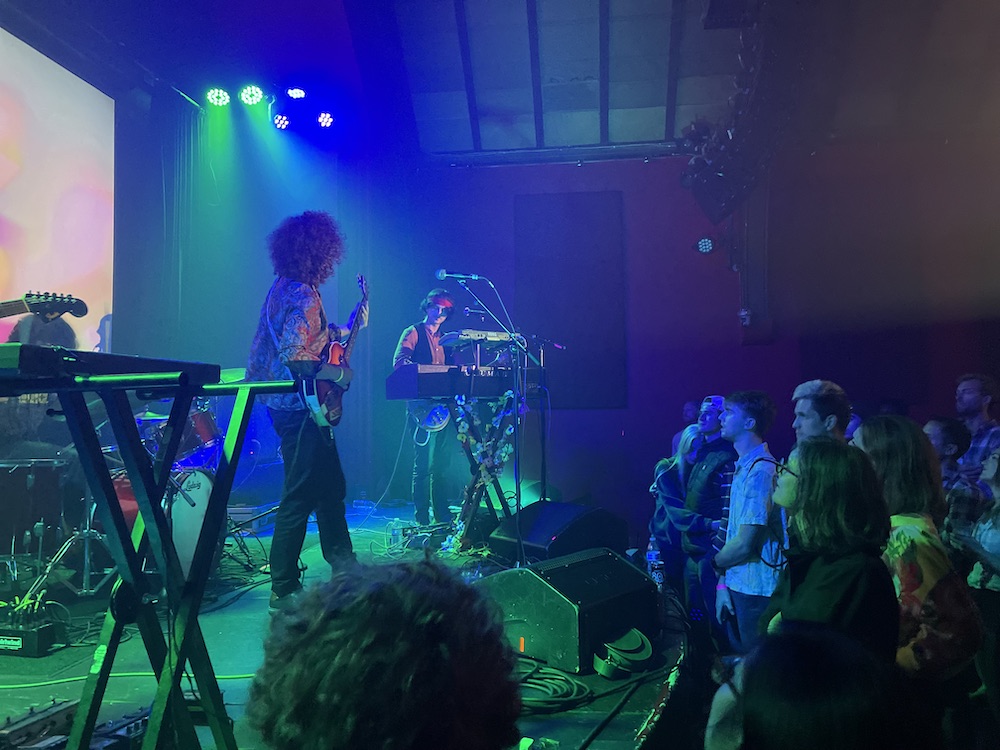 Hearing this music push algorithmic formulas to the digital dustbin, in a computerized, cut-and-paste musical landscape, stood out as being both delightful and strange.
Williams—grandson of acclaimed film composer John Williams, whose 1977 Star Wars score remains a cinematic feat—played and toured with Toro Y Moi's Chaz 'Bear' Bundick early on in his career, and Bear's Carpark imprint Company Records released two of the Los Angeles resident's pop projects.
"As you can probably tell, I'm obsessed with harmony," stated Williams in a 2018 interview I conducted with the artist.
"There's something inside of me that is pushing me to find new juxtapositions of chord voicings, to try to return to that state of frisson, or musical goosebumps. A lot of music I listen to gives me goosebumps, but for my own to do so is extremely difficult. I have to push myself to the fullest degree of sonic risk-taking to allow it to happen."
As Williams and his band ripped through an almost cut-time version of his 2016 hit "Feedback Delicates," from Brunei, a perfectly timed noise delay reverberated all the inner components of that song into a circular loop. It created a different type of harmony, one that mystified and absorbed an already open-minded audience, who may have ultimately achieved their own extrasensory awakening.
Vinyl Williams plays Desert Daze at Lake Perris, California's Moreno Beach on October 1.